Angela has offered me (Eric – Angela's husband) a guest posting at "Oh She Glows", so I was thinking this is my shot to make it big!!!  Keeping with the regular format I figure I would show off my amazing meals this weekend…  Okay I lied, I basically ate Raisin Bran all weekend and I'll spare you the photo (as no matter what angle I tried, it never looked any better). 
So I called in the backup yesterday, and had 4 of my co-workers over for a BBQ.  They brought all the food & drinks, so it was pretty sweet. 
One of my co-workers marinated some chicken wings and chicken strips in his home-made Portuguese sauce @ 3:00am the night before.  Here they are on the BBQ: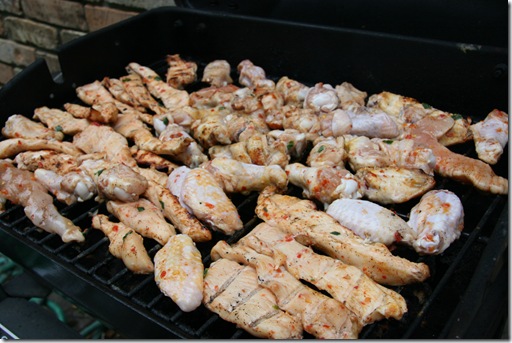 Some of you might be thinking "Damn thats a lot of chicken for 5 guys…" , well that wasn't even all the chicken…  Another co-worker brought over some Steaks as well.  We couldn't let these go to waste so we threw them on as well.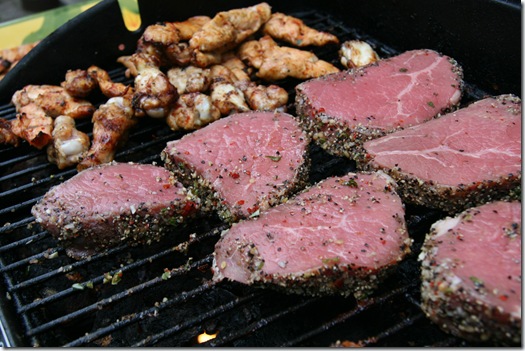 One of my co-workers "Tony", demanded that he BBQ, I think we were outside for 2 hours while he barbequed, we ate the food straight off the BBQ.  Here is a finished shot of the Steak cooked Medium/Well.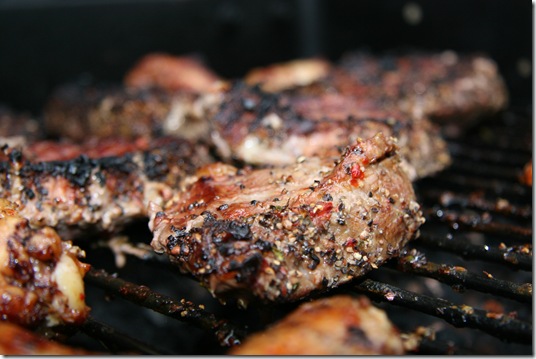 Some of you might be wondering, "did they only eat meat?".  I looked in the fridge to see what we had; Spinach, Kale, Broccoli, Cucumbers, Carrots, etc…  Considering I asked "Tony" to try some of Angela's Aunts amazing spinach dip a few weeks back and he wouldn't even touch it.  I begged him to try because it was so good, and he said "If there is green in it, I don't eat it".  So I figured nothing in our fridge was going to do the trick.  Luckily someone also brought bread.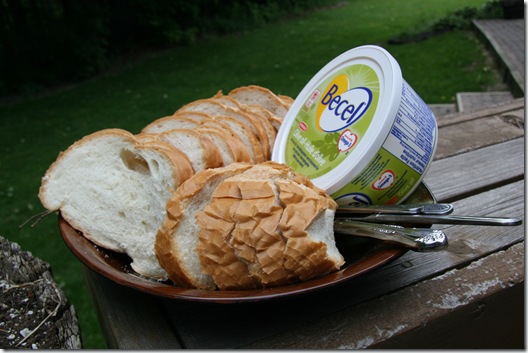 So there you have it, that was "the just" of my meals.  Luckily nobody read the margarine container as I'm sure if they read "Olive Oil Margarine" they probably wouldn't have touched that either.  I tried eating enough of that BBQ so I could hibernate until Angela gets back, but something was still missing.  I searched desperately for some baked goods and NOTHING!!!! So I told myself… "I'm Oh He Glows… I can do what she does!!!".  I searched everywhere for the recipes before I remembered she typed them all up!  So I found this post: Angela's favourite oatmeal Raisin Cookies (luckily I fixed the search function a few weeks ago).
Before you scroll to see the pictures, just remember "Don't judge a book by its cover"…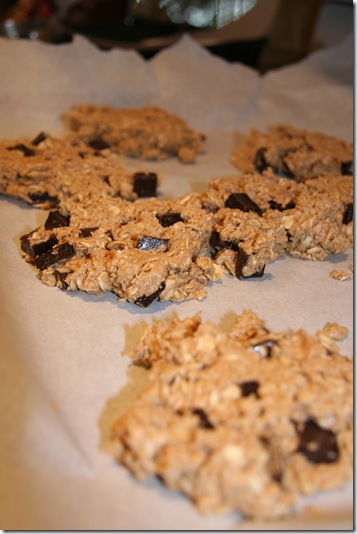 Lookin' good so far..  Maybe a "tad" too close together…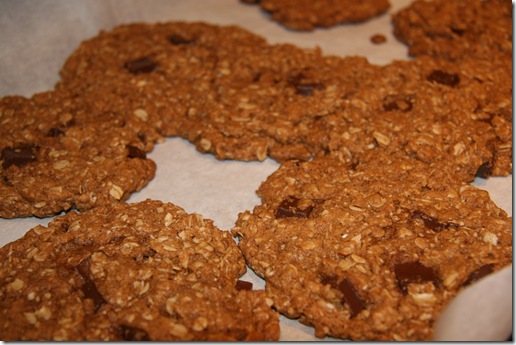 Well all in all they turned out alright…  I almost forgot the egg replacement so I put it in last (probably not best idea), as well when it says 15-17 minutes… I probably should have listened instead of the 20-25 minutes they were in for – but they weren't too crisp (yet).  Oh and I made my own substitute in the recipe.  Chocolate Chunks instead of raisins!  I definitely spoiled my dinner tonight (not that spoiling that leftover bread really matters).
Well, there was my 15 minutes of fame.  Needless to say I'm probably not cut out for the whole "healthy living" blogs.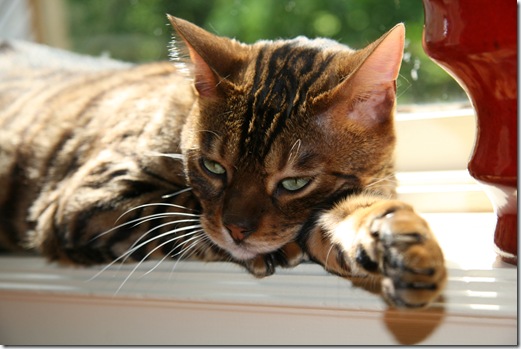 Ange: I miss you, please come home soon!  Sketchie has been sulking since you left.  =(
Eric