Hi everyone, OSGMOM back again for part II. Don't forget to check out my Part I post yesterday morning.
What techniques do I use to de-stress?
For me personally, laughter really is the best medicine. I can't think of anything else that works better for me. So when I am feeling stressed out, I like to read something funny or watch the comedy channel. I also find that talking with a good friend helps me a lot.
Recently, I lost a close relative and have been dealing with grief. A couple of days after the memorial service, I sat down and wrote a poem about her. I had never written a poem before, but the words just flowed. Because of this loss, it put me back in touch with my creative side, and I have since written a second poem, If I Were a Glow Cupcake that Angela posted on her blog. We planted a memorial garden in her honour this week, which I can now look out at everyday. I know that grief is different for everyone. For me getting in touch with my creative side has helped me deal with her loss.
Distraction Number 3: Kristi arrived with family and friend in tow. I got the biggest hug from my grandson. Everyone got loaded back into the car and off they went. I'll be babysitting the boys tomorrow so I don't have to wait much longer for another hug!
My Skin
When I was a teen I had extremely oily skin. At the time, it was a curse and there weren't a lot of products on the market for acne breakouts that caused many crying sessions. However, what once was a curse has now been a blessing. I believe that the excess oil helped keep my skin looking young much longer. In addition to this, I was never a sun worshipper because I am fair, and I have always said I have two colours, white or red. Since I never really tanned there was no point in laying out in the sun. When I was in my early thirties and lived in Florida, I worked with women in their fifties who spent years baking in the Florida sun. Believe me, it wasn't a pretty sight and another reason I steered clear as much as possible from the sun. Today I live in a semi- arid climate at elevation. I have seen the side effects of less humidity and intense sunshine in just four years. I bought a humidifier two years ago that I run constantly in my bedroom as well as we have a humidifier on our furnace. My once oily skin has gone so I moisturize, moisturize and moisturize. We also invested in a water softener in the spring, and it is wonderful for the skin. We use potassium chloride in the softner which is more expensive but has the benefit of much lower sodium since we also drink the water.
Products I use on my Skin
Morning Routine
I wash with a foaming cleanser
Once a week I use L'Occitane scrub
Once a week I use the L'Occitane moisturizing mask
Follow with the L'Occitane daily moisturizer with a SPF of 45
Night Routine
I wash with a foaming cleanser
Follow with a toner
Use an eye cream – usually L'Occitane
Use L'Occitane Night Serum on face and neck
Mosturize my hands
Once or twice a year I use a product with Retinol such as ROC. Of all the mositurizers I have used, I have to say this is the one that seems to help with my fine lines the most. I don't believe there is a product out there that gets rid of deep lines on the face. Unless you are willing to inject BOTOX which I'm not or have surgery, you really have to accept the fact that aging does happen to everyone at some point in time.
Makeup
I have come to realize that I need to stick with soft colours unless I am being photographed then I add a bit of drama for the camera. As I get older, softer colours are more flattering on me.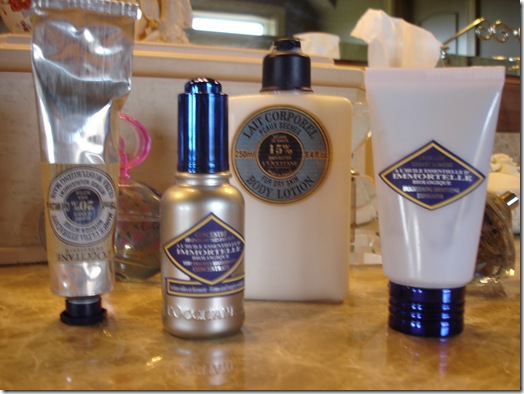 I use Biotherm foundation with an SPF 15
Follow with a light dusting of Physician's Formula bronzing powder SPF 20
Highlight my cheeks with Physician's Formula blush
Use Marcelle's lip gloss light pink or to switch it up, I use Apricot
Maybelline Mascara in black
Elizabeth Arden brow powder
I'm good to go.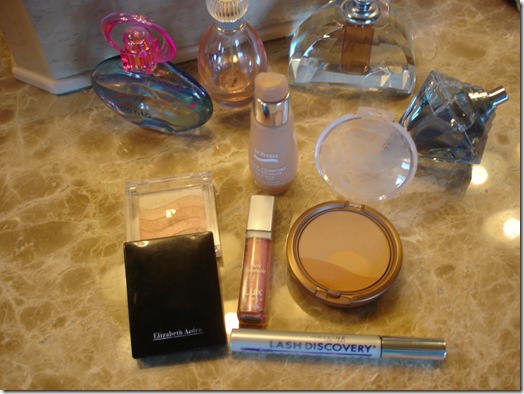 Tips I've learned: Oprah's makeup artist recommends placing blush on the apple of your cheeks if you want to look younger. In addition, filling in your brows with a brow powder creating an arch really adds a lift to your face.
What do I do to keep myself feeling young?
My husband and I both like being active and both of us have a passion for life. We travel a lot even if it is only a day trip to a new location that we have never been to before. We both enjoy golf. I try and stay current with styles that are appropriate for my age and listen to current music. My husband loves Hip Hop and Rap and I tolerate it – I like songs with a good beat that I can dance to or exercise to. Last night we went to extreme motocross. I think we were the oldest people in the crowd – I loved that! We have four children and five grandchildren between us, and I strongly believe they keep us in touch with what is happening in the world and up-to-date with the latest technology. They have brought us so much joy and happiness to our lives.
If I can leave you with one thing, I'd like to say to the younger readers of the blog that you have so much to look forward to. I believe I am happier then I have ever been. I am free of so many stresses of my younger years. I am a much more confident person in who I am and a much stronger person. Take care of your health so that you can glow in your later years.
OSG Mom