Hello!
I have been on my feet all day and just got a chance to sit down! What a fun day it has been. I am currently blogging on the couch as my mom watches Oprah. :D
As I mentioned, we were all starving for lunch today after the workout(s)!
We all prepared it together and it didn't take too long.
O-M-G. My mom bought this La Maison Organic Lemon Ginger Sesame Dressing from Costco and it is THE MOST AMAZING salad dressing ever!!! It is 15 cals per Tbsp and only 2.5 grams of fat! I was so pleased. Yet another reason why our town needs a Costco!! The closest one to our house is like a half hour drive.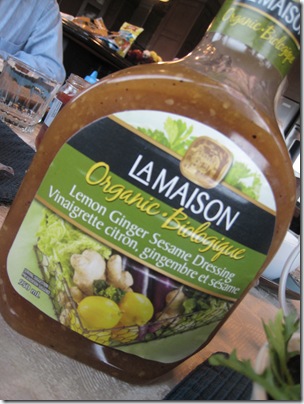 My lunch (times this by 2!):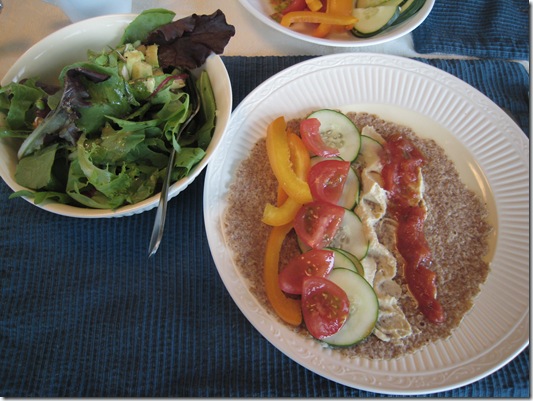 Wrap it up! Ingredients included: hummus, cukes, tomatoes, peppers, salsa :)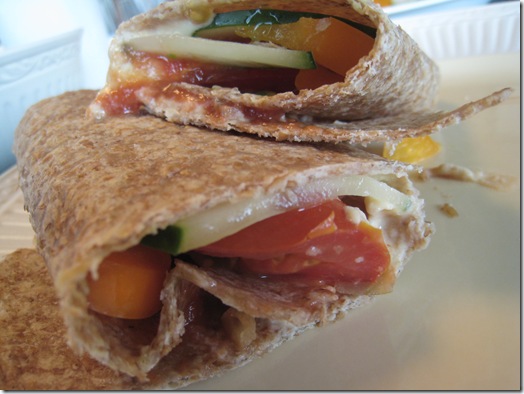 After lunch it was time to bake up a bunch of batches of my Peanut Butter Bars!!!
My mom was so sweet, she picked up all the ingredients for me before I arrived!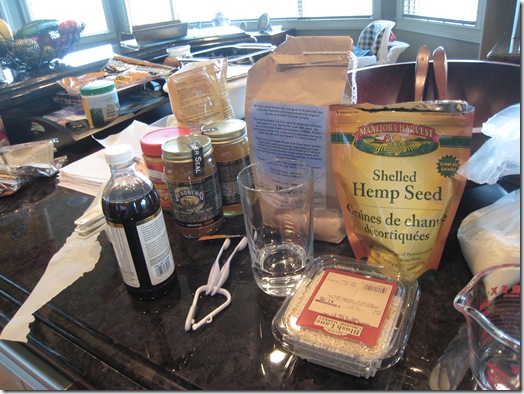 Something I learned today: The bigger the mixing bowl the quicker the process! You can stir your little heart away!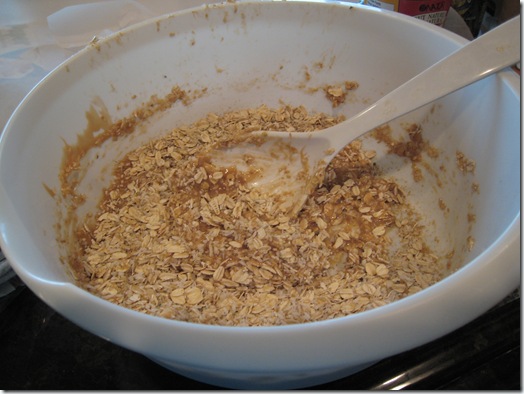 With the laptop open to my recipe page!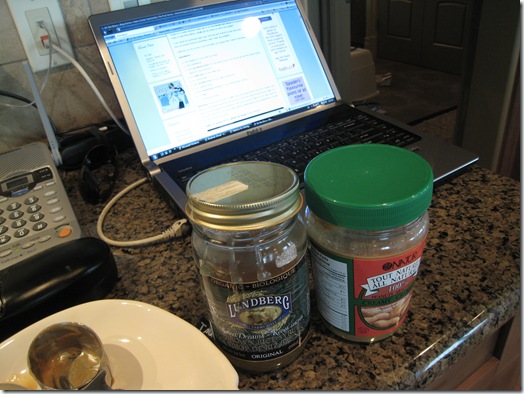 Something else I learned today: Using a pizza slicer saved at LEAST 5 minutes! Seriously it is so much quicker to slice! I was 'rollin' :D They look more professional too!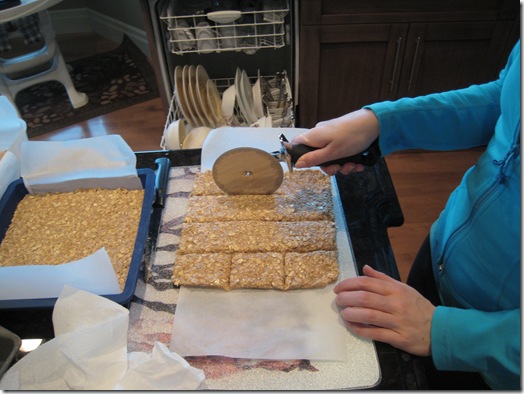 I made 5 batches in about 2 hours- not bad! It helps so much not to have to put them in the oven! :)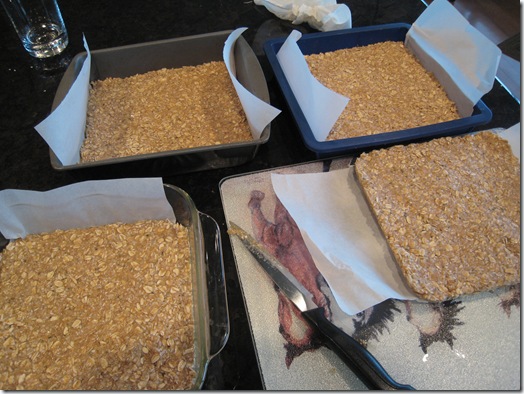 I sliced them all up and put them in a huge Tupperware container, separated by parchment paper. Make sure you line your pan with parchment paper for EASY removal and clean up!
So the real test was giving everyone a bar to try!!!
Here is the verdict, case by case:
OSGMOM: Loved the taste and a great afternoon pick me up!
Kristi: Loves them!
Nephew #1 (note VERY picky eater, I can't stress this enough!!!): Ate THREE and asked auntie for a FOURTH! lmao!!!
Nephew #2: Looooved them and tried to say 'peanut butter' really cute
Stepdad: Said they are a hit!
Well the jury is in! The evidence is conclusive- these bars are a hit for ALL ages! :)
Now, I need your help with naming the bars!
Here are the tops three names that my mom and I came up with today. I wanted to name the bars after the race where I will be donating them, so the runner's can relate to it! :)
Thanks so much for voting! We can't wait to see what you think!!!
Ok, off to do a bit of this…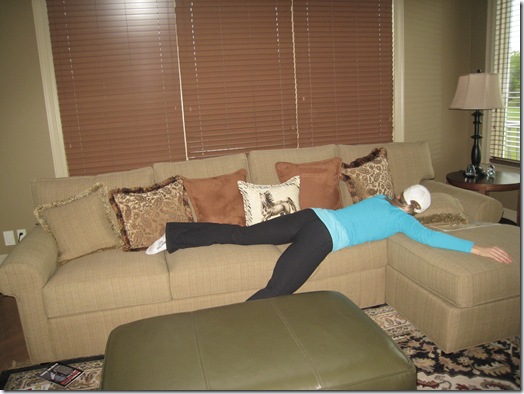 Then we are having vegetarian chili for dinner!
Around 7pm (Mountain time), Kristi is coming over and we are watching HJNTIY, J&K+8 marathon, and the Cake Boss (my mom taped them for me since Eric and I don't have TLC anymore!).
See you tomorrow!!!