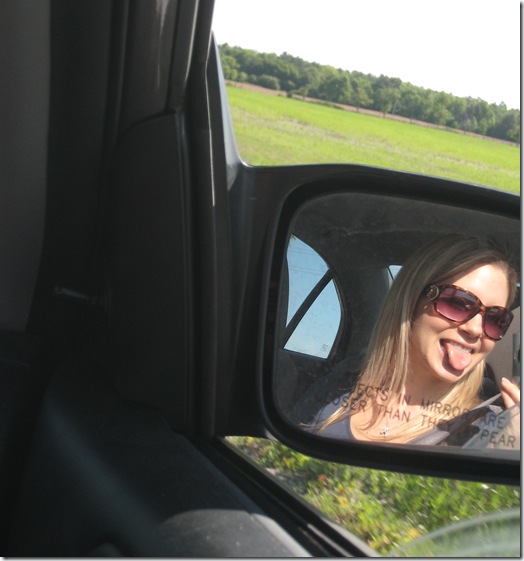 This is me on Thursday en route to a top secret location!
Oh boy did I miss you guys!
GAH! I have been so anxious to get on here and post about the past couple of days. I am sure all of you are wondering what the heck is going on! :)
Well, you will soon see why I couldn't tell you!
It involved a trip to the airport by hubby…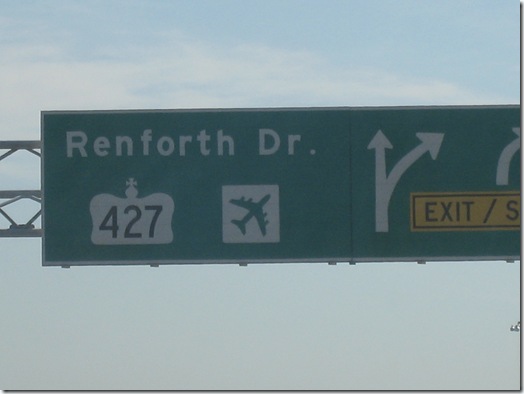 And some top secret planning by yours truly and OSGMOM!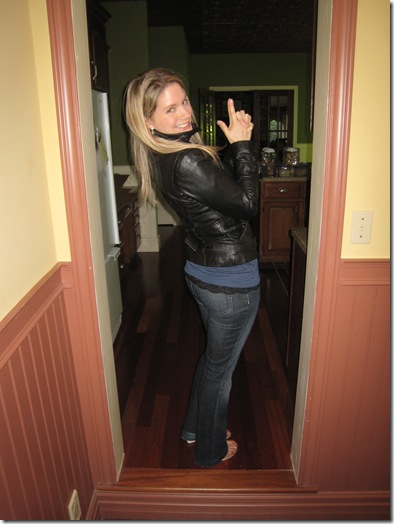 About two months ago, my mom told me that she was going to fly me out West to surprise my sister for her 30th birthday on June 6th! Of course, I was sooooo excited and knew we could put together a great surprise!
So for the past 2 months we have been plotting and planning and trying our best to keep it a secret.
I was busy this week planning and packing and trying to get everything sorted out with guest posts and business stuff before I took off! Now you can see why I was saying that I didn't have much time to prepare my baking for the race next weekend- I will only have THREE days to do it all once I am home!!!!
I made sure to pack all my vitamins, tea, and Amazing Grass products so I could stay healthy while on vacation!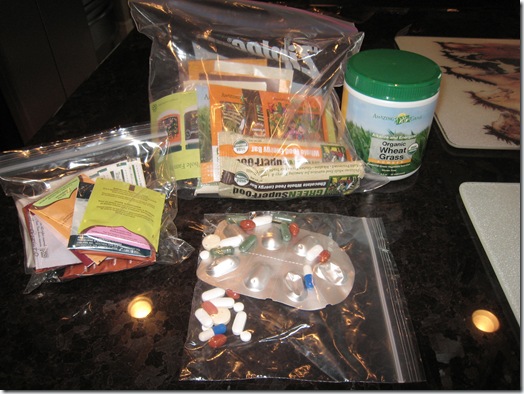 About a couple weeks ago, I figured out a fun way to surprise my sister Kristi. She told me that she wanted to buy one of the tea boxes for herself because she loved them so much. So I decided to buy her one, fill it up, and get it engraved: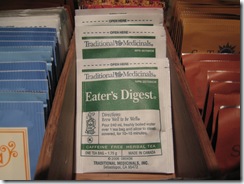 My mom told my sister that she wanted to take her out Thursday night as a special birthday present from me. All we told my sister was that my mom was taking Kristi to the mall and then out to dinner!
And this is where my part came in…
I flew in yesterday morning and my mom and stepdad picked me up and took me to their house. I showered, ate, and we got ready, and then my stepdad drove me to the shopping mall before my sister and mom arrived. I went into a store called Stokes and hid- yes I hid- in the back of the store with the tea box that I made for her!
It was quite funny because I told the store clerk the whole story and I am pretty sure she thought I was a mad lady! Then at the last minute I was like, 'Pssssst…can you do me a huge favour?' My mom and sister are going to come into the store and my mom is going to say that there is a tea box on hold for her. Can you bring her to the back of the store where I am hiding?' She laughed and agreed- I mean, I'm sure she was scared of this crazy lady in the back of her store and felt obliged! lol. So I waited. In heels and my Nicole Miller dress, tea box clutched in my hands. I was dressed to the nines and feeling a bit silly. I waited, hiding in the back of the store. It felt like hours. No days. My feet were beginning to hurt and I wondered if I had gone to the right store.
Finally, I heard it. The heels clacking in the store, followed by my mom and sister's voices. My heart was pounding and I had a huge goofy grin on my face. I made sure I stayed out of sight. The store clerk brought them to the back of the store to 'pick up the tea box' that was on 'layaway' and I made sure to keep my back turned to them. My mom walked over to me and tapped me on the shoulder and said 'Excuse me' and I whirled around.
The price on my sister's face was nothing short of priceless! She was screaming and started to cry and she was truly 100% surprised to see me in that store! It was quite a moment. :D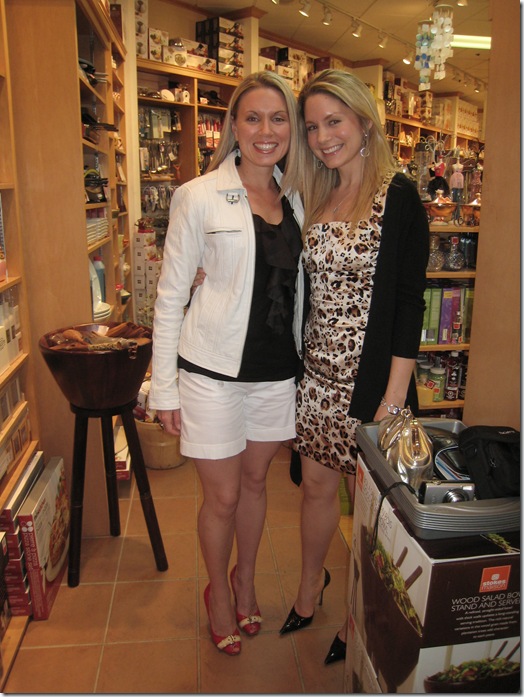 After hugging, laughing, and telling Kristi the plans that were in the works for the past 2 months, we headed to a store where any lady would go- LULULEMON! For the other part of my sister's gift, I decided to buy her a couple things at Lulu since she loves it as much as I do. She got two awesome new tanks (one of them was the same one as my white and blue ones, except in pink) and then a really nice orange one. She was just thrilled and all of her hard work at the gym has really paid off because she looked just amazing in the workout gear!!! Doesn't she look fab? She told me that since January she has been consistently going to the gym 2-3 times a week and she has never felt better. She loves the weight classes at the gym and does them 2 times a week (they are 1 hour weight classes). Go sissy!! :)
And then we were off to a restaurant called Milestones!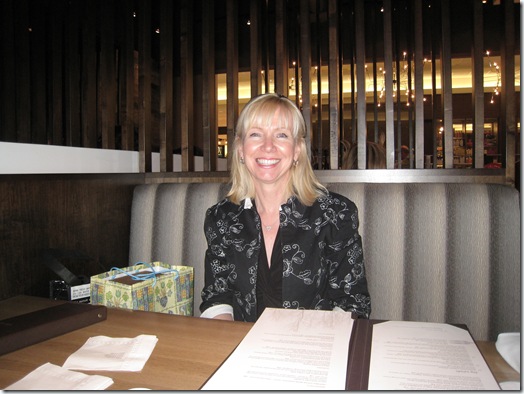 We had such a great time and the food was amazing!!!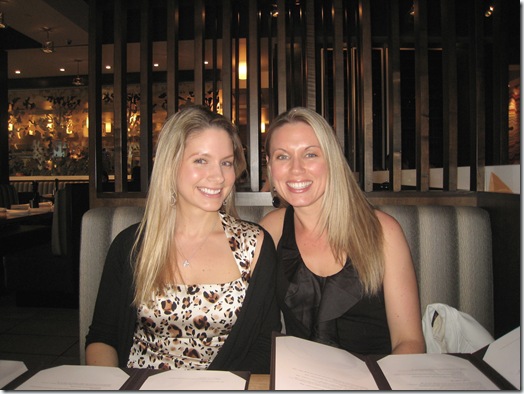 Kristi and I had a mojito. I had a delicious Mango mojito. It was my first mojioto ever and I was in love! In it was crushed mango, white rum, lime juice, and fresh mint. Pure heaven!!!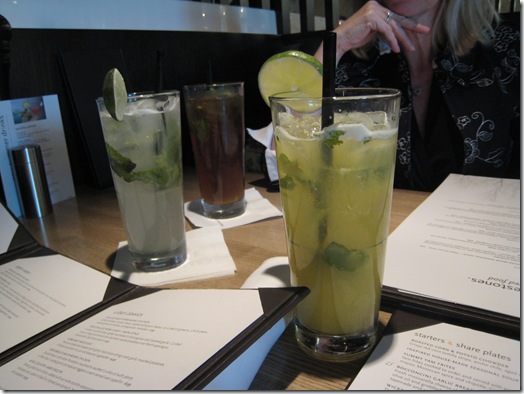 Then we shared an appetizer. It was garlic pita wedges with goat cheese, roasted garlic, and three kinds of salsa: corn, cranberry, and mango. I had 2 wedges and tried all three of the salsas. They were all fab.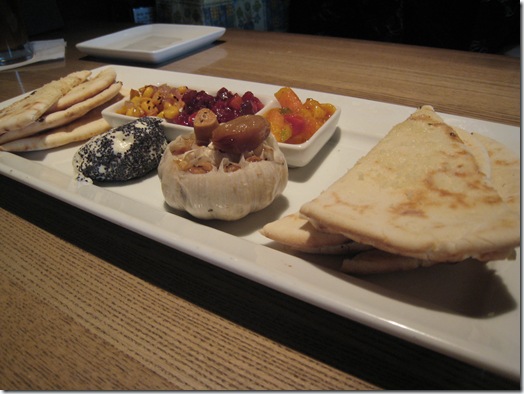 For my entree, I had the grilled salmon on a bed of rice with seasonal vegetables: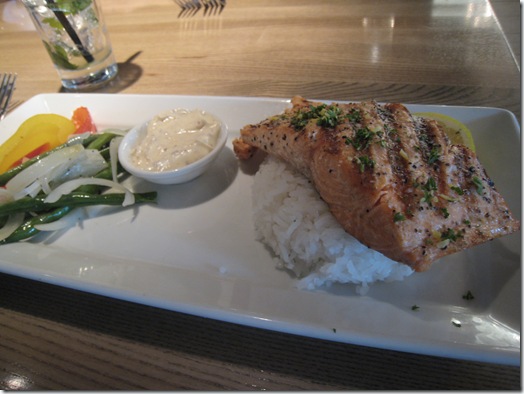 It was really good, but the salmon was too salty for my taste. I ate 3/4 of the salmon, all the veggies, and half the rice.
My sister had Portobello mushroom pasta in a cream sauce: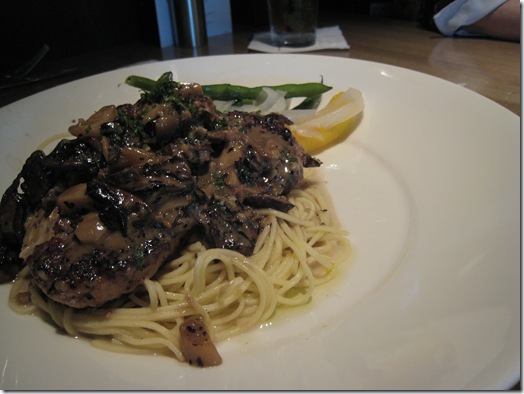 And my mom had butternut squash ravioli with garlic bread: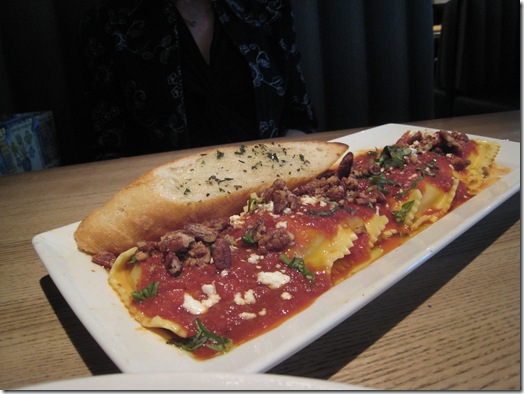 Both of their dishes tasted amazing! I loved the mushroom sauce. :) Mmmmm.
For dessert my sister and I shared this double chocolate white macadamia nut cookie explosion with caramel, chocolate sauce, and a scoop of homemade gelato. I had about half of the cookie and it was out of this world amazing! All doughy and warm in the middle. Just in case you can't tell from the pic, that is a HUGE cookie the size of my face! lol.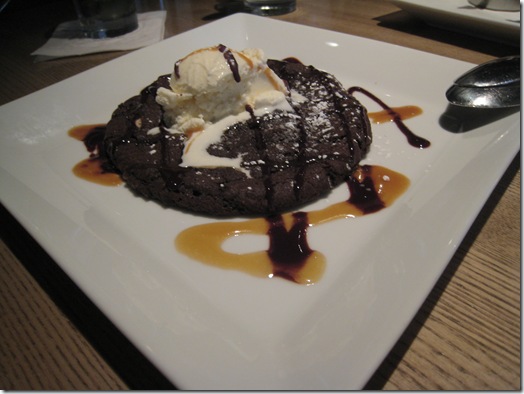 My mom had a bowl of the homemade gelato drizzled in caramel sauce: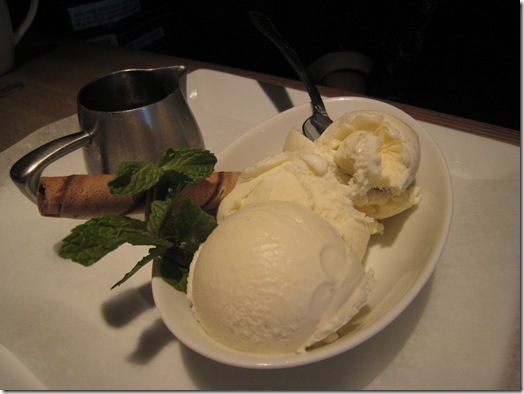 Then I gave Kristi her tea box! She loved it, especially the quote.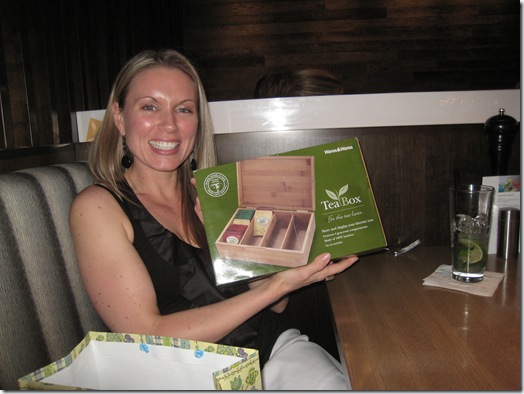 "My sister taught me everything I know and she was only in the 6th grade at the time" LOL!!!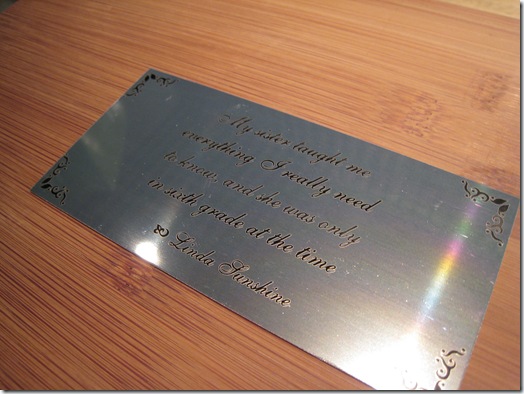 If you know my sister, OR if you have an older sister, you know what I'm talking about!! She loved it. On the inside, I engraved 'Happy 30th Birthday, Love Ange'.
Needless to say with a 2 hour time change, by 10pm I was zonked (midnight my time!). I was starting to zonk off on the drive home.
Rudi comforted me with his big ball of cuteness!!!!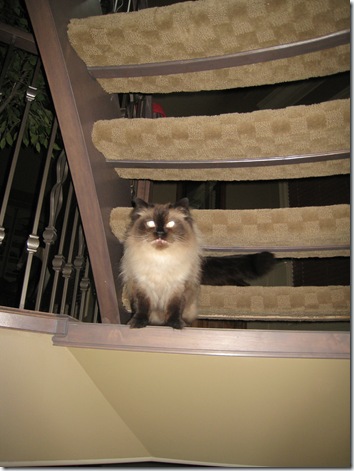 I think I mulled him to death!!!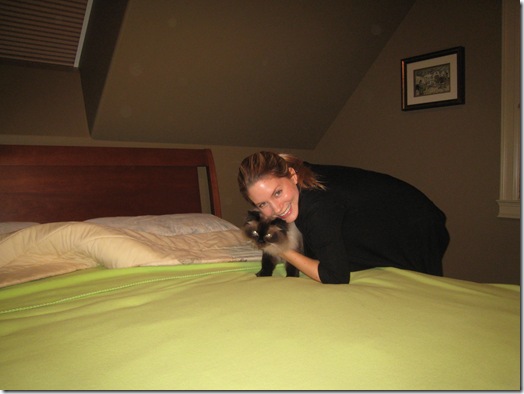 I called Eric to say hello (he was out with the boys up to no good- on a worknight! GASP! lol). And then wouldn't you know it, I couldn't fall asleep!!! I was soooo tired but I was still wired from the day. I didn't fall asleep until about 2am my time!
This morning I was awake early- 7am MDT (which is 9EST) and not a soul was awake in the house but me! And Rudi too…
So what did we do? We headed down to the gym to get in a good workout before anyone was awake! This is one of my best tricks for staying healthy while on vacation. Get up before the rest of the family is up (or the guests arrive) and squeeze in a good workout!
The workout room is in the basement: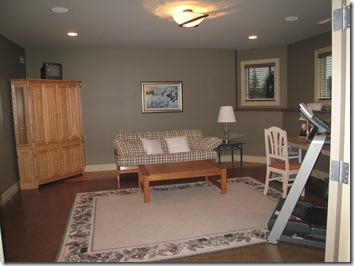 Rudi joined me- workout buddies are a must!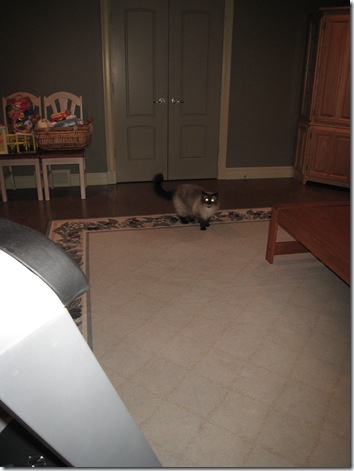 He whipped me into shape!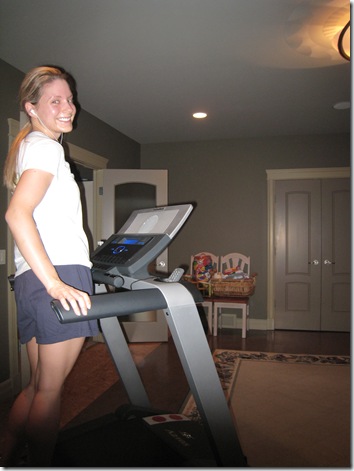 My workout was fabulous! I don't know about you, but when I get the chance to workout in a 'new' place, I find my motivation is renewed. Just having a change of scenery was nice!
The workout:
Duration: 45 mins
Treadmill hill walking (incline 10%, speed 4.2-4.3 mph)
Max heart rate: 168 bpm
Avg heart rate: 159 bpm
It was a really great workout and I was drenched in sweat at the end! My mom came down during the last 10 minutes and visited with me.
Then of course we were starving, so we made some green monsters!!
Mine, on the right, had these ingredients:
3 cups steamed spinach
2 garlic capsules
1/2 cup blueberries
1 T almond butter
1 1/4 cup almond breeze
1 T flax
1 banana
tons of ice (the AB wasn't cold)
It was soooooo delicious!!
Then guess who called? Kristi asking me if I wanted to go to the gym with her! Of course I didn't want to say no and make her go by herself so off we went! I finally got to see my two nephews and I was so happy to see them I cried. I missed them SO much. I squeezed them for a LONG time. My oldest nephew (3.5 yrs) started screaming and smiling when he saw me- it was just priceless. He told me, 'Auntie Angie, you are my favourite girl in the whole world. I want to marry you!' :D He's got me wrapped around his finger that is forsure!
En route to the gym I had a Larabar to give me some more fuel until lunch.
At the gym: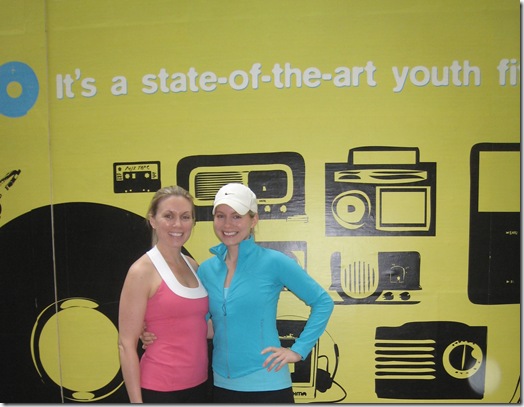 She's rocking her new Lulu scoop neck tank! Love it! :)
Workout #2:
The second workout of the day kicked my butt too!
We ran around the track for 20 minutes
Then we did the step mill for another 15 minutes
Needless to say we were starving for lunch when we got home!
Well, I need to get back to the visiting fun!
On today's agenda:
Baking for the race!
MOVIE NIGHT: He's Just Not That Into You (I hope its good!!)
Tomorrow (Kristi's Birthday):
GYM in AM
Day- not sure??
Night: Kristi, BIL, and I are going out to this French restaurant called Rouge for dinner and then we are hitting the bars! :)
All weekend up until Tuesday morning I have a slew of awesome guest posts lined up for you! I have about 3 per day scheduled! Many of the guest posts features bloggers and their journey to health stories! You don't want to miss these!
I will also be posting updates on the trip over the next several days :)
'See' you soon!