Sometimes the most simple dinners are truly the best dinners…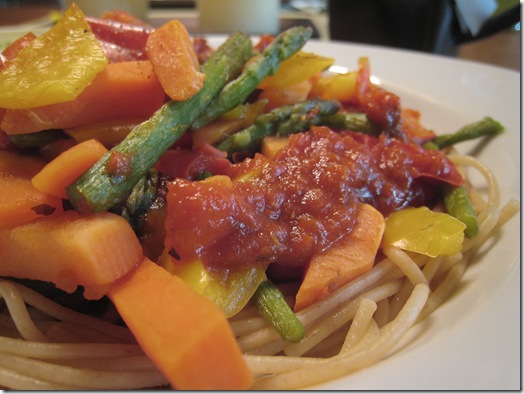 Tonight I made Vegetable whole wheat spaghetti and boy was it delicious!
The products included Eden Organic Salt-Free Pasta Sauce, PC Frozen Veggie mix, and PC Whole Wheat Spaghetti:
It was a lovely meal!
I had a side of a PC flatbread bun (toasted) with 1/2 an avocado: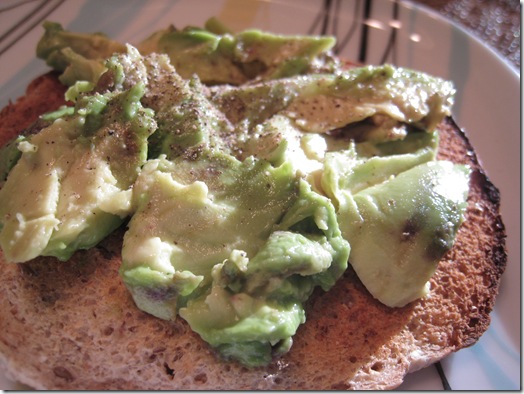 YUM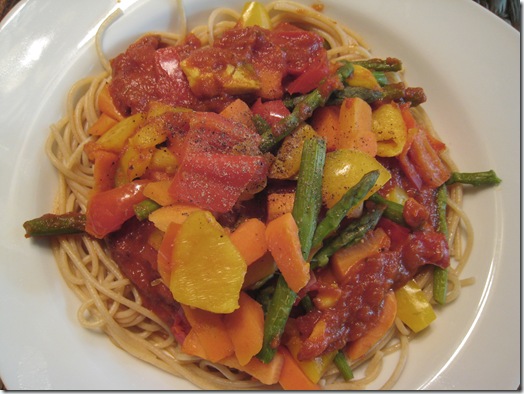 The whole she-bang: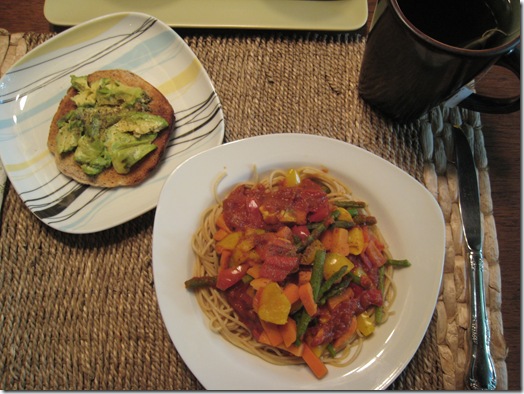 Dessert was one of these addicting lil guys! :D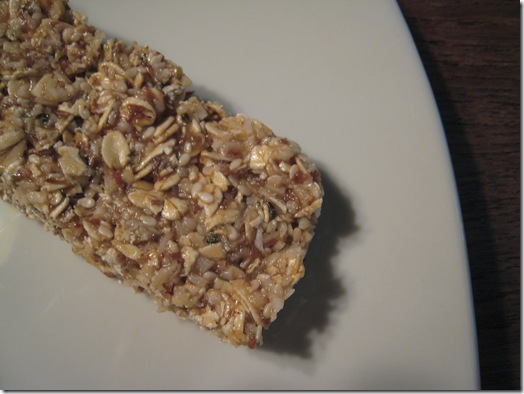 Mmmm…nothing beats it! :D

My workout today was quick and to the point! I was super busy today so I had to be efficient!
The workout:
Duration: 35 mins
Treadmill hill walking, speed 4.0 mph incline 15%
Max heart rate: 169 bpm
Avg heart rate: 157 bpm
Distance: 2.3 miles approx.
I was prepping for my interview today so my mind was occupied. :)
No strength today- I am resting my muscles! :)
You know what's kinda sad? I am MISSING the BBBC! *sniff, sniff… :(

1. RE: Oh She Glows new logo!
I've had a couple questions about the logo, so I wanted to do a quick poll on it!
I thought Zesty's idea of the 'G' coming through from the O and the S was pretty cool! I didn't even see it myself at first glance, but Eric saw it right away! Maybe it is a guy thing! :) I was like 'ohhhhhh there's the G!!!"' lol.
Ok, go back and take a look at it- Do you see the lowercase G now? :D
2. Don't forget to enter my Hip T contest! It ends tomorrow!
3. If you participated in the BBBC and you want a chance to win the Glo Bakery Prize package, please email me your results! ohsheglows at gmail.com
4. Are you looking for a quick way to print my recipes? Keep your eyes peeled for a new easy PRINT button courtesy of Eric (resident techie genius!!). He has been hard at work for a couple of nights getting this put together! I can't wait to try this bad boy out! :D
5. I am hoping to be able to sell my Glo Bakery goodies at the upcoming race on June 14th. The only snag? A hefty vendor fee! :( I will keep you updated on the situation! I have decided that all of my profits will go to my charity for the Canadian Cancer Society- woot woot! I just hope I don't have to pay a large fee because that money could be going to the charity, ya know? So if I can't get the fee reduced I won't be able to participate. :( I may look into simply donating some goods for the runner's bags, but I will have to see. I'm hoping for good news tomorrow…
6. My media interview today went well! I hope to be able to show you something quite exciting IN PRINT this November 2009! :)
7. Shop 4 A Cause is scheduled for Thursday June 11th, 2009! mark your calendars!
8. Thank you for all of your amazing and thoughtful comments in today's hot topic post!
Ok, I am off to work on my OSG and GB FLYERs- man it never ends! :) Eric and I are also going to squeeze in a walk- it's beautiful out.
Canada's Next Top Model is on TV tonight! Can't miss that… haha. My weekly guilty pleasure…
Have a lovely evening whatever you may be doing- ENJOY IT! :)