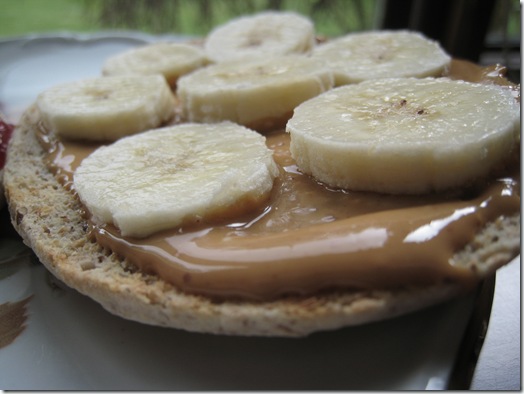 Remember the other day when I said it had been a couple years since I bought my last jar of peanut butter?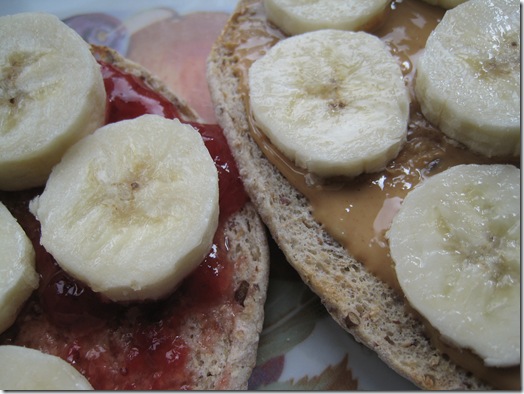 My friends, those days are long over. I don't even know who that girl was.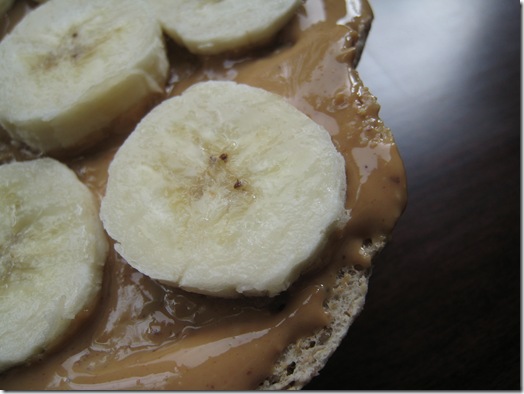 She was clearly misguided.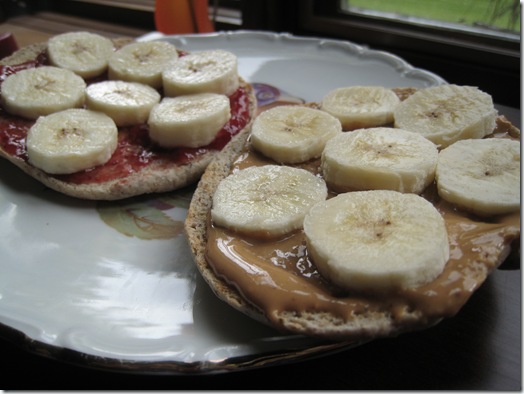 And missing out on some of the finer things in life such a peanut-buttery goodness.
So naturally for my breakfast this morning, I had an ooey-gooey openfaced PC, J, and banana sandwich.
And then I had a Peanut Butter Granola bar from last night.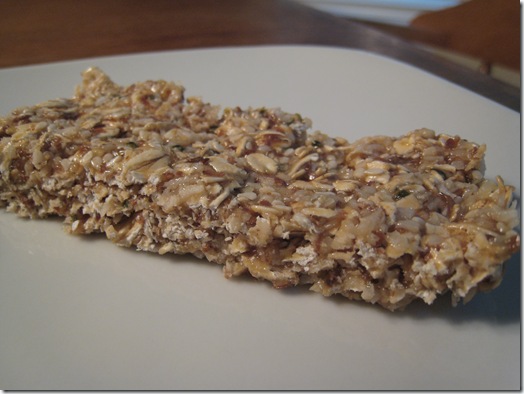 They are just fabulous and I hope you make them very soon! :)
I did a rough calculation of nutrition info and 1/16th of the recipe is about 225 calories. I need to do a formal calculation though. I currently use Nutrition Data to calculate my info and I really dislike that website. I can never find the ingredients I am looking for!! :( So calculating recipes can take a LONG time. I have to explore other programs…surely there has to be something better?

I had a granola bar last night before my workout and WOW did it ever rev me up!! I had such a kickbutt workout! :) I felt on fiya! lol. All that goodness really gave me lots of energy. I can't wait to make these bars again and again!
The workout:
Duration: 1 hr 10 mins treadmill hill walking
Speed 4.0 mph, incline 15% (for first 55 mins, then cool down the last 15 at 3.5 mph/incline 10%)
Max heart rate: 168 bpm
Avg heart rate: 148 bpm
I also did Level 2 of the Shred (Circuit 1 and a tiny bit of 2) which was about 12 minutes of strength training. Did I mention I really dislike Level 2 (circuit 1) of the shred??? I just don't think they moves are great and I find myself bored. Back to level 3 I guess! :)

1. You may have noticed my fancy pants new logo at the top of the page! I was hard at work last night until about 1am working on it! My next project with the logo will be re-designing all of my clothing items on my shop page!
GREEN MONSTER emails are flooding my inbox lately! lol.
2. Veggiegirl does green monsters!
3. Angie from Angie All The Way documented her first and second green monster attempts!
4. Brooke made my granola bars and green monster with great success: "Firstly, I started drinking green monsters, secondly I started eating more veganish things and thirdly I ditched the stupid scale and today….I WAS GLOWING. Seriously. I think its probably the first time in my life (minus being a kid and having that childhood glow) that I really saw how eating well and exercising and being good to your mind and body can have such an effect on everything.
I love reading your blog. Last week I made the raw granola bars (amazing). My best friend couldn't keep her hands off them. I am going to have to make more now!!!"
5. Elizabeth made my granola bars too! Her boyfriend also enjoyed them very much! Boyfriend friendly- I agree!
6. Don't forget to enter my fun Hip T giveaway! Contest ends tomorrow!
Today I have a full schedule:
Baking for race
catch up on EMAILS!!!!!
Order more business cards
Design Flyer
Media Interview @ 3pm
Workout
Pick up packaging order
Logo stuff
Recipe print
See you this afternoon for the next Hot Topic- Clue: It is about RAW food!