I ended up doing yet another evening workout last night! It was a great workout because I was feeling fairly energetic and I had my Shuffle tunes playing loudly. :)
I was also thinking about some exciting news that I got yesterday and that kept my mind busy!
The workout:
Duration: 1 hour treadmill incline walking
Distance: 3.8 miles
Speed: 4.0 mph, incline 15% for 45 mins, then 3.5 mph at incline 15% for 5 mins, then 3.5 mph at incline 10% for 5 minutes, then for the last 5 minutes slowly decreasing speed and incline until arriving at 3.2 mph incline 3%.
Max heart rate: 172 bpm
Avg Heart rate: 153 bpm (During the first 45 mins my heart rate was around 165bpm on average! That just shows you how much it decreases in those last 15 minutes)
I also did Circuits 1 + 2 + 3 of Level 3 of the 30-Day Shred! I am loving level 3 so much!
Duration: 26 mins.
Max heart rate: 146 bpm
Avg heart rate: 110 bpm
A GREAT and intense workout!! :)
As many of you know this is the last weekend of the Bikini Body Boot Camp! Monday is June 1st!
Here is my training plan below:
Friday: 1 hour cardio, Level 3 of 30-Day Shred

Saturday: 5 Mile run

Sunday: Level 3 Shred + BBBC Blast (see below) + 30 mins cardio
Day 64 + 65 (May 30 + 31): This is the last weekend of the BBBC and time to blast those bikini bodies! This weekend we are going to do 3 intense workout videos:
For those of you have have never checked out Exercise TV before you definitely should! They have hundreds of free workout videos. You can ever search by what type of exerciser you are! Very cool.
Enjoy the last weekend of your BBBC!

This morning I got up early and was experimenting with a new recipe- this time for delicious Blueberry Oat Streusel Muffins…YUM!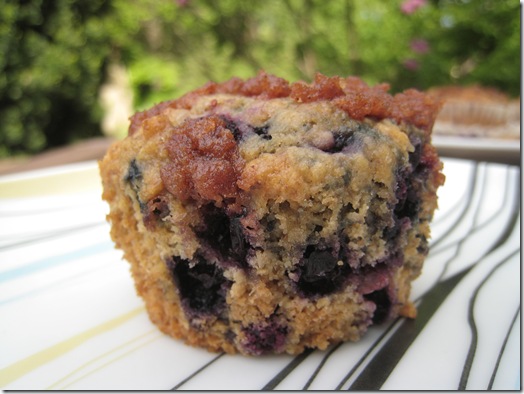 These muffins rocked!!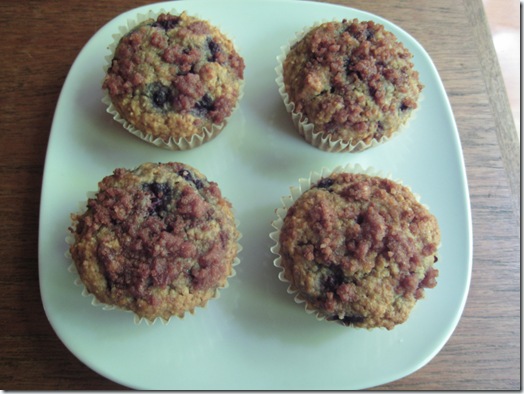 Eric and I ate outside this morning it is so nice out!
He had- get this- 4 blueberry muffins!- and I had 2. They are addicting!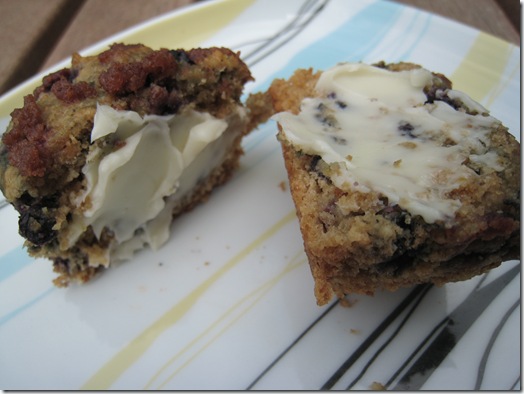 I love a little Becel Olive Oil Margarine on them!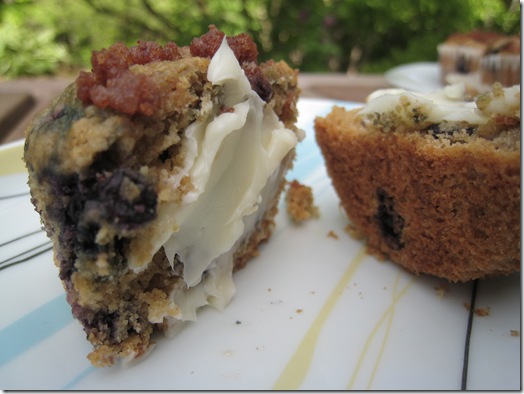 This was our pre-run snack. We are off for our bike/run-athon now :) I am hoping for 5 miles today! I am really enjoying doing 2 strong runs per week now with cross training on other days. I think my joints are thanking me!
I hope you all are enjoying a healthy and fun Saturday morning!!
Today's question: What is the best exercise tip anyone has ever told you?
For me, it was probably when someone told me that I could do exercise until I was blue in the face, but if I didn't enjoy it, I would never see the results I was after. It totally makes sense to me now, even though at the time I didn't get it.
PS- You can track Frayed Laces in the Ironman race today!! Her bib is 1252!!
See you this afternoon for some exciting news!

The best index to a person's character is
a) how he treats people who can't do him any good and
b) how he treats people who can't fight back.
~ Abigail Van Buren ~