Good afternoon health lovers! :)
Oh boy I think I totally jinxed myself this morning when I talked about strong runs! My run today was anything but strong! I felt weak. I think it was because I had such an intense evening workout last night. Still, I tried my best to re-fuel my carbs before the run- I had two blueberry muffins and 2 servings of Mary's Crackers! I thought forsure that would do the trick but I just felt quite blah on my run. Not hungry by any means, just blah! I hate when that happens.
It was also super windy outside so I felt like I couldn't run very fast at all! Then I remembered some running advice I read the other day on Hal Hidgon's website. He said that long runs should be done at a much slower pace (often 11:30 minute miles or slower) than your shorter runs. This helped me realize that I was doing something good for my body and not 'failing' myself. Long runs tend to be anything over 3-4 miles. Since I planned for a 5 miler today I took it nice and slow. To be honest it was a nice relief not to have to worry about my pace! Plus I had Eric by my side so we chatted away anyways. :) My route also included a couple huge hills so I just took it very slow on those today.
If there is one thing I have learned from my injury this past winter it is to always always listen to your body!
The workout:
Duration: 55 mins
Distance: 4.77 miles (close enough!)
Max heart rate: 153 bpm
Avg heart rate: 137 bpm
Avg pace: 11:37 min/mile
It was a nice leisurely 'jog' although I just wished I hadn't felt so blah because the weather is so gorgeous! I guess I will have to remember not to have intense workouts the night before a planned AM run!
Today's question: How do you space out your runs? Do you follow a set routine?
Our Money Tree has really taken off the past couple of weeks! Maybe it is a sign?? :)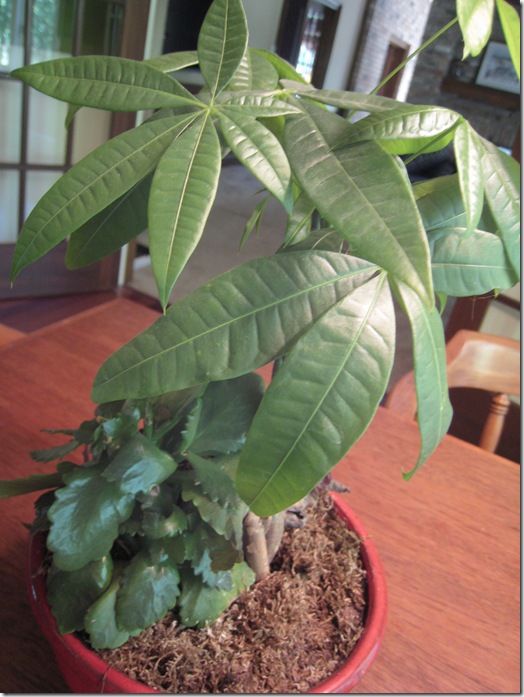 After my run I had a lovely green monster: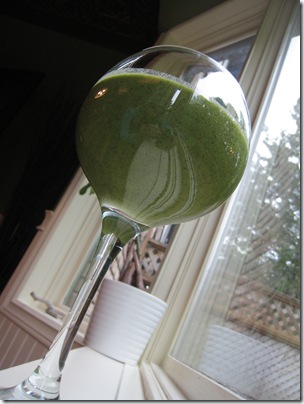 Ingredients:
1 serving tofu
1 cup Almond milk
3 cups spinach
1 T almond butter
1/2 banana
ice
The star of my lunch today is my new Ruth's Hemp Balsamic Dressing!
Very low in fat and loaded with all natural ingredients! The sodium is also very low for a salad dressing!! The Kraft one I normally use is 190 mg of NA for 1 T.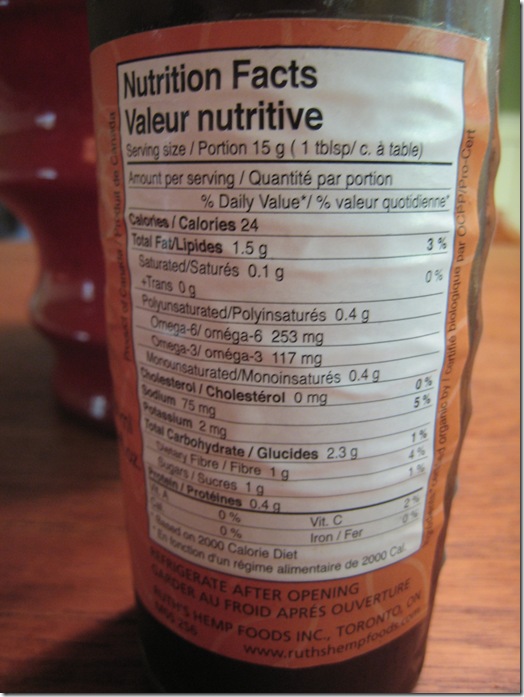 This dressing is SO good!!!! GAH!!!! I need to learn how to make it! lol
I am doing shots of Apple Cider Vinegar!
I tried it yesterday in my smoothie and the smoothie was AWFUL- please don't make my mistake!
Now I just do two 'shots' each day with food (about 2 tsp per shot). I actually don't mind the taste all too much. Don't get me wrong I don't love it, but it's not that bad. :) I also use my Kyolic garlic in my green monster's in the morning and then I do 1/2 tsp at night!
Eric thinks I am bonkers! But what else is new :)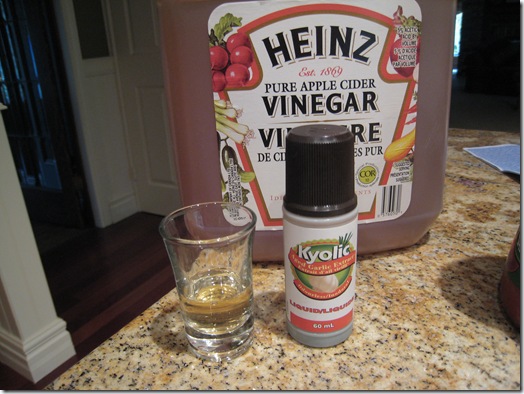 My tea box is so much fun!!!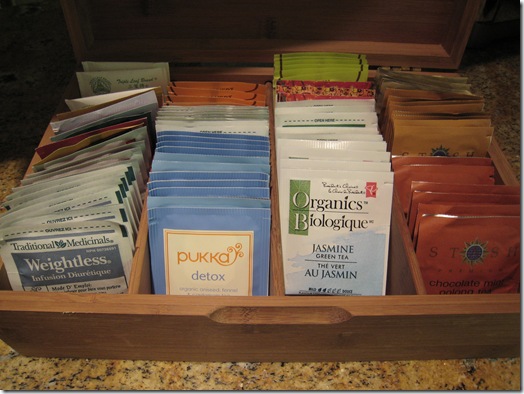 This is a new tea that I am loving: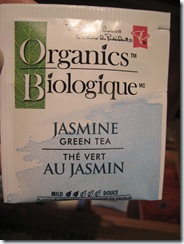 Today's lunch was veggie packed: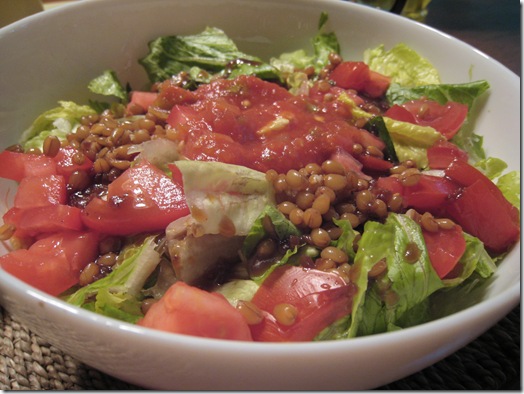 1 heart of organic PC romaine
1 cup wheatberries (I'm still using these up!)
1/2 tomato
1 T ground flax
Ruth's Hemp Dressing
With about 2 cups of my new PC frozen veggie mix and balsamic: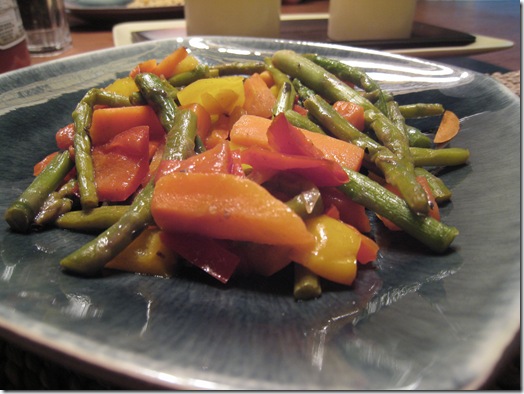 It was probably the best frozen veggie mix I have ever had!! WOW! PC you have outdone yourself!!!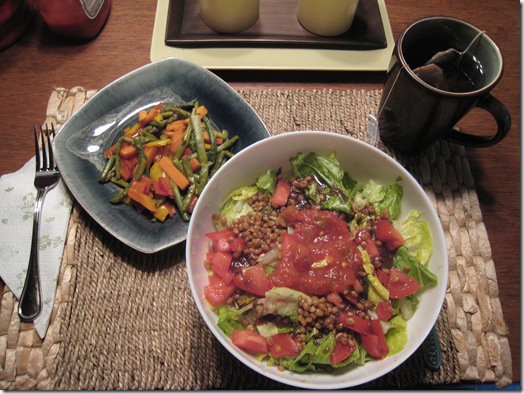 My belly is really happy right now :)
And now for the exciting news I got!!
The Race Director for the Niagara Wine Country run that I am participating in has asked me to sell my Glo Bakery Goodies during the post-race festivities! How awesome is that?! I admit I freaked out a bit because I have never done something like this before and I am still waiting to hear about the details on how it would work.
I am worried that I won't be able to bake enough- the race is going to have thousands of runners/spectators!!! I also don't have any promo materials except for my business cards yet. Eek!
I am thinking about baking my best power muffins and cookies. I don't want to bring anything that may melt in a hot sun (e.g., cupcakes or raw food!).
Any other ideas?? :)
1. Don't forget to enter my 30-day Align Probiotic giveaway! Contest ends tomorrow!
2. Check out my new right sidebar icon called "Reader's Favourite Posts of all time"!
3. I also have a very exciting My Hip-T contest giveaway coming up on Monday!!
Adios Amigos! See you tonight for a delicious slow cooker recipe!