So last night's late evening workout was a success!
All I can say is thank goodness that The Office reruns were on (there was like 4 in a row!) because it kept me laughing and semi-distracted. I watched about 2.5 episodes while I worked out and I had a kick butt workout! Certain parts of my workout were super challenging…I was panting, out of breath, and wanting to stop and reduce my effort level.
I said to Eric, who was in the office happily watching The Office, that 'I need some encouragement please!!' And he goes, 'You can do it- Feed the Warrior!!!'. :) Him, and The Office, were enough to get me through the 1 hour workout!
The workout:
Duration: 1 hour
35 mins @ 4 mph/incline 15%; 10 mins @ 3.5 mph/incline 15%; 15 mins @ 3.5 mph/incline 10-5%
Max heart rate: 162 bpm
Avg heart rate: 145 bpm
Of course, I always do the BBBC after my workout, and yesterday's was a really awesome 2 min ab blasting bikini workout- check it out if you haven't already!
Also, just to warn you- Jillian Michaels is giving you a way to boost and tone your bust in today's 4 minute challenge! Visit the BBBC page– you won't be disappointed!
Don't forget, there are only THREE days left of the Spring BBBC! I am gearing up for my final set of measurements on Monday, so this weekend is going to be an intense workout weekend! See this weekend what I add to my workouts to crank up the intensity and make the last few days GREAT! You don't want to miss this!
Also, on Monday there is a new and exciting contest giveaway coming up with My Hip-T!

Green Monster spottings!
Hey Angela-

I finally jumped on the vegetables-in-smoothies-for-breakfast bandwagon! I wasn't ambitious enough for kale (plus I didn't have any the fridge) but I did make a spinach smoothie. 

The taste? Delicious! I couldn't detect a veggie flavor at all.  The strawberry and banana flavors really shone through.  I'll definitely be making one of these again!

—
Anna
Blue Plate Special
http://bpspecial.blogspot.com
Sighting #2:
Rose says:

I had to try a taste. I was really scared, which I know now is dumb. But I thought I'd have spinach all through my teeth and that the first gulp would be miserable.

Um.

Why didn't anyone say that the Green Monster tasted just like any berry smoothie? Oh, yeah that's right. You may have said that, but I was too busy not believing. Oh, Rose.

Anyway— oh my! The Green Monster is GOOD! Everyone in blogland is right! You can't taste a difference, but it's packed with so much more power.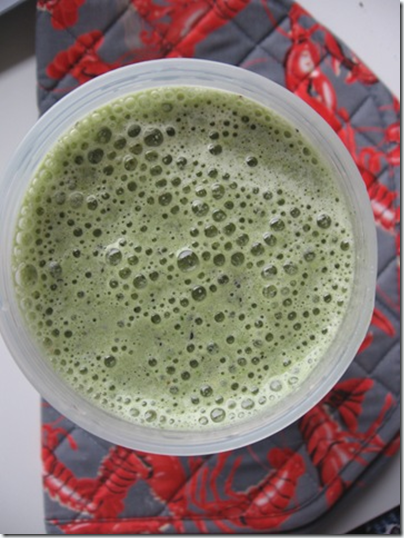 Love the commentary ladies!

ALERT!!!! New Health Food to Try:
Apple Cider Vinegar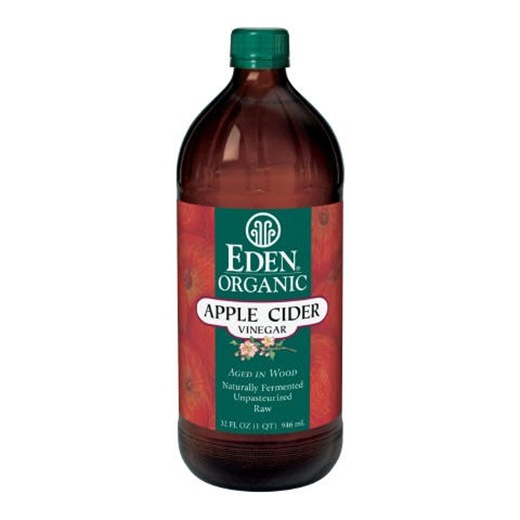 Apple cider vinegar is made from fresh ripe apples that are fermented and undergo a stringent process to create the final product. The vinegar contains a host of vitamins, beta-carotene, pectin and vital minerals such as potassium, sodium, magnesium, calcium, phosphorous, chlorine, sulphur, iron, and fluorine.
Did you know about these awesome health benefits of apple cider vinegar?
CHOLESTEROL FIGHTER: Pectin in the vinegar is a fiber which helps reduce bad cholesterol and helps in regulating blood pressure
STRONG BONES: This vinegar helps extract calcium from the fruits, vegetables and meat it is mixed with, helping in the process of maintaining strong bones
SKIN and NAILS: Potassium deficiency causes a variety of ailments including hair loss, weak finger nails, brittle teeth, sinusitis, and a permanently running nose. Apple cider vinegar is loaded with potassium
It is detoxifying thanks to the potassium
ANTI-AGING: The beta-carotene helps in countering damage caused by free radicals, helping one maintain firmer skin and a youthful appearance
WEIGHT LOSS: Apple cider vinegar is good for those wanting to lose weight. It helps in breaking down fat which helps in natural weight reduction. Umm heck yea!!!
ANTI-FUNGAL: Apple cider vinegar contains malic acid which is very helpful in fighting fungal and bacterial infections
JOINT RELIEVER: This acid dissolves uric acid deposits that form around joints, helping relieve joint pains
[Source]
You can be sure that I am going to be using apple cider vinegar for much more than my vegan baking! I am going to try using 1 tsp. in my green monster this morning. I am also going to try my first homemade salad dressing at lunch! I will be doing a review of it of course. :)
Today's questions:
1. Do you use apple cider vinegar? What do you use it for?
2. I encountered a dilemma last night after my workout- it was 10:30pm and I was hungry. I wanted to eat, but not too much before bed. How do you evening workout-ers solve this problem? What is a good post workout snack if I am going to be hitting the hay in an hour?
I ended up having fruit and veggies (kiwi, strawberries, and a red pepper with salsa) and that did the trick as I wasn't too full but just satisfied, but I'm sure I should have gotten more protein in there.
See you this afternoon for the next HOT TOPIC!!! Oh this is going to be a good one!

Goodluck to Meghann who is off to San Diego to run a MARATHON this weekend!!
The most common way people give up their power
is by thinking they don't have any.
~ Alice Walker ~