Good morning!
Angela here…
but wishing I was there…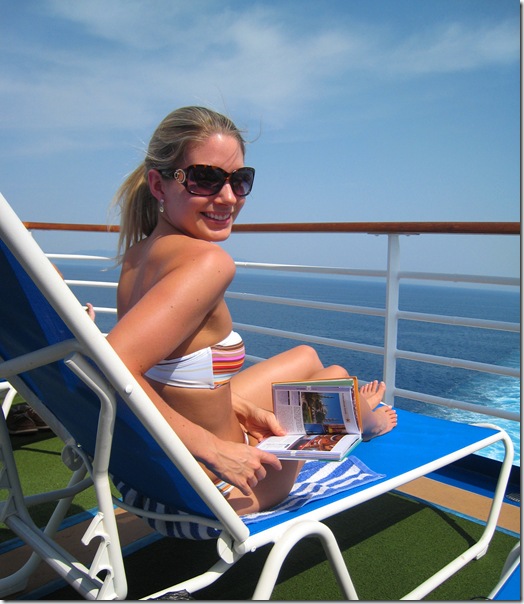 Instead of here…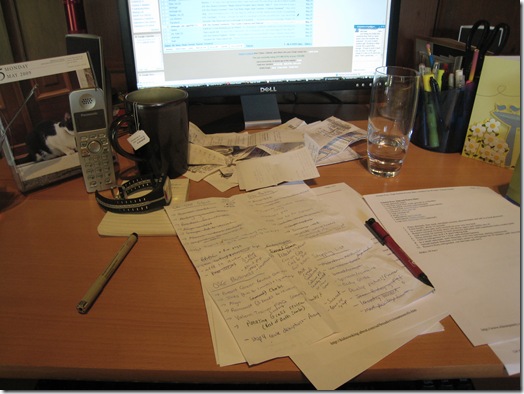 While Kath is off gallivanting on her Bermuda Cruise, I am clearly hard at work!
'Hard At Work' (H.A.W) = Daydreaming and looking over old pictures, specifically honeymoon pictures!
I would like to argue that daydreaming first thing in the morning activates my sleepy cells (technical word) and prepares them for actual work.
Anyone with me on this?? ;)
The truth is I am actually preparing for a VIM (very important meeting) this morning so I threw this post together last night since I will be busy with that and unable to post.
I thought I would put together some of my most popular posts for shits and giggles!
Are you a new reader to Oh She Glows and wondering where to start?
Or do you have this sneaking suspicion that despite your best efforts you have missed some of my

578 posts

that you would really enjoy to go back and read?
Yes, I said 578 posts. It is no wonder my wee poor fingers are even working at this point!
Sit back, relax, and don't let your boss catch you slacking off! ;)
Here we go…
1. My very first post: Boo. I admit, this is a no frills post, but at the same time my potential is just oozing out of it. lol. Notice how 'Spooky Sketchie' is a prominent feature in the post- no surprise there! There was a very similar Sketchie featured in one of my posts this week- anyone remember?
2. My 4th post ever: Running and Sketchie. Sketchie was an overnight celeb. I was dog meat.
3. Sketchie gets SAD No, not even cats are immune to Seasonal Affective Disorder!
4. My favourite ab exercises in pictures This was before I had ever heard of vlogging. Or drogging for that matter!
5. OSGMOM's first appearance on the blog! I'm a nice daughter, I waited until we were outside of the airport before I snapped her pic!
6. Pumpkin-Apple Streusel Muffins– I LOVE these muffins and many readers have raved about them too. Take a gander at the pictures, you can't go wrong when muffins look like that!
7. How To Beat the Freshman 15 (4 part series)– This was my second most popular series next to my Road to Hell, err…Health, that is.
8. All About Me and How OSG came about! My background education, work history, and the evolution of Oh She Glows and Glo Bakery
9. Where I got the name for Oh She Glows Isn't that what we all wonder? Why the heck did she call it that?
10. 2008 In Review: Part 1, Part 2, Part 3 My life in 2008 at a glance. Tons of pictures!
11. Project Glow How to get healthy, glowing skin. I created this program for Caitlin over at HTP. PS- It worked!
12. Our Engagement Story– How Eric proposed. Notice that the first few pictures include tequila.
13. My Road To Health: Part 1, Part 2, Part 3, Part 4, Part 5a, Part 5b! My whole journey…from the bad days to the good days, the ups and the downs, and everywhere in between! This is by far my most popular series to date. I will be writing Part 6 in the near future.
14. My Before and After picture What everyone wants to see!
15. Glo Bakery: Skinni-Mini Glo Buns My most recent and hugely popular healthy cinnamon bun creation! 75 calories a pop and vegan to boot!
16. How To Design The Website of your Dreams (Guest post): Part 1, Part 2 Some interesting info if you are looking to improve your website
17. Angela Interviews Kris Carr from Crazy Sexy Cancer I get the chance to interview my idol!
18. Shop 4 A Cause Charity Auction: June 11th- Visit OSG to place bids on awesome stuff! My goal is to raise $2,000 for my first race on June 14th!
19. Bikini Body Boot Camp! Also, see here for the past 61 days! What us gals are doing each day to squeeze into that bikini come June.
20. How to Learn to Love Your Body– I address a very important reader question!
21. HOT TOPICS!!!
My love of writing and health intersect:
22. My recipes- including reader's favourite recipes Only read if you want a puddle of drool on your keyboard.
23. Wedding pictures The happiest day of my life!
24. FAQ's: 28 installments! That's a whole lotta reader questions!
25. My birthday celebration OSG goes wild!
26. What's inside my fridge? Parts 1-4. Part 5 What does my fridge and cupboards look like? What do I eat?
And just because…more Sketchie!
Sketchie was quite the awkward looking kitten…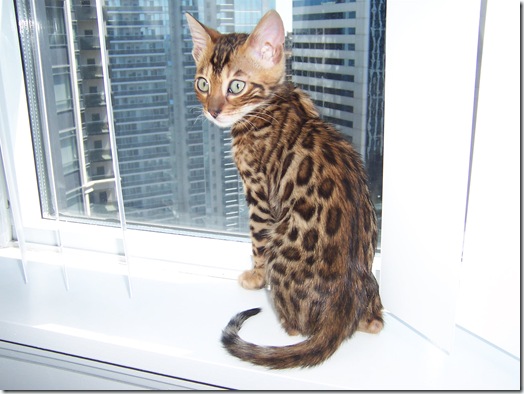 A born hunter…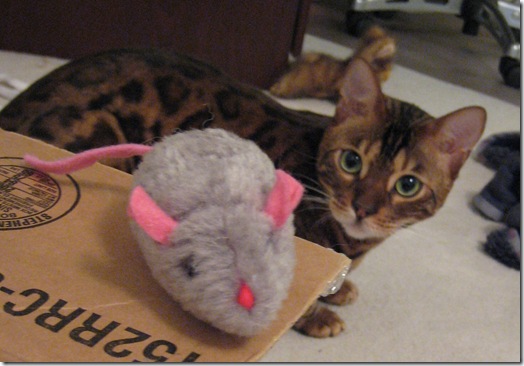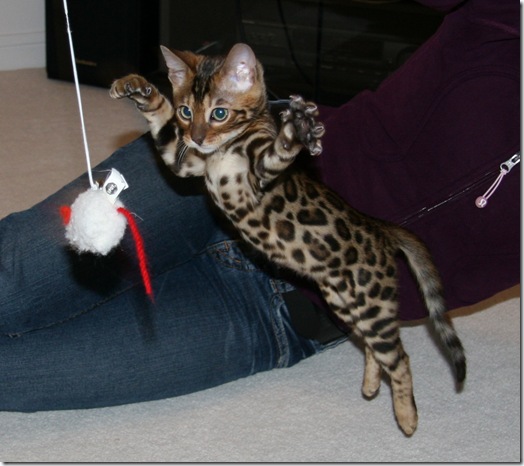 No, we didn't declaw him. I have the scars to prove it!
And a born ninja…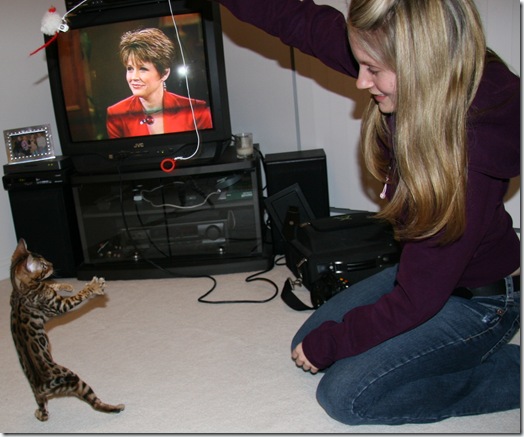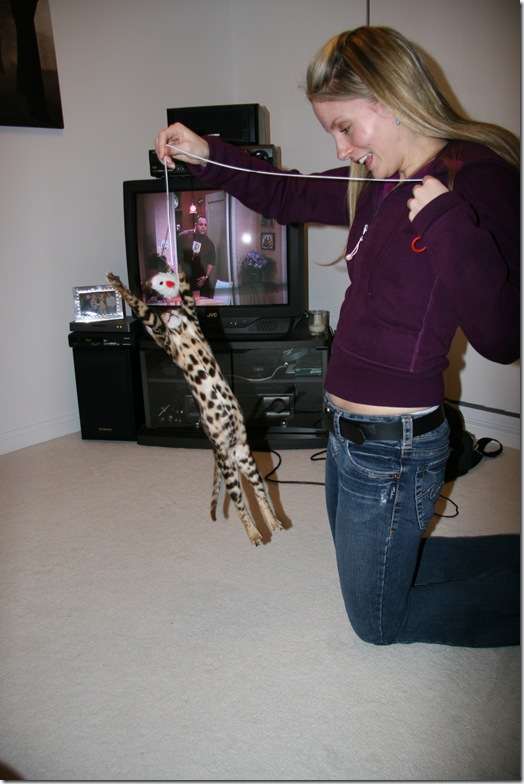 He's a great listener…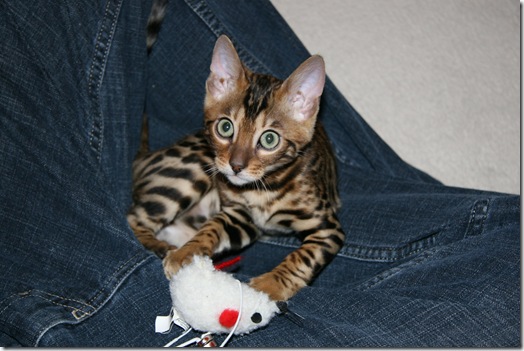 bwhahaa.
Today's question: What is your favourite post or posts that you remember fondly? What posts would you like to see more of?
See you this afternoon for fun & eats!