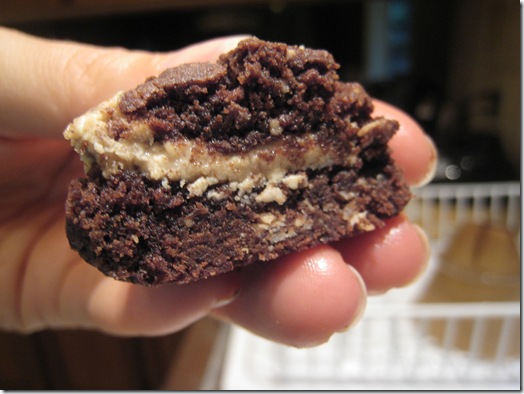 This baking experiment wasn't really a bomb per say, but it wasn't a bakers dream…!
Sorry folks, no baking demo video as promised. My camera battery died half way through filming. LOL. Don't you hate when that happens??
I'm sure that doesn't happen to MARTHA!!!!!! bahaha.
Almond Butter Bombs
Dough:
1 cup flour
1/2 cup oats
1/2 cup unsweetened cocoa (I used Chatfields)
1/2 teaspoon baking soda
1/4 cup sugar
1/2 cup Sucanat (or brown sugar)
1/2 cup Earth Balance, softened
1/8 cup almond butter
1 teaspoon vanilla extract
Egg replacer equal to two eggs (I used Ener-G)
2 T coconut oil (added after to try to reduce the crumbly factor of the dough)
Filling:
1/2 cup peanut butter
1/2 confectioners sugar
2 T coconut oil
Preheat oven to 375F. In a small bowl combine flour, cocoa, and baking soda; blend well.
In large bowl, beat sugar, brown sugar, Earth Balance, and 1/8 cup peanut butter until light and fluffy. Add vanilla extract and egg replacer; beat well. Stir in flour mixture until blended and set aside.
In a small bowl, combine filling ingredients and blend well. Roll filling into one-inch balls.
For each cookie, with floured hands, shape about 1 tablespoon cookie dough around one peanut butter ball, covering completely. Place 2 inches apart on ungreased cookie sheet.
Bake at 375 degrees for 7 – 9 minutes or until set and slightly cracked. Cool on wire racks. Makes 30.
Adapted from Vegan Diva.
The taste?
They tasted good although the dough I made was quite crumbly! The cookies didn't spread out nicely when cooking either. All and all this recipe needs some major tweaks! I tried to make it healthier by changing lots of things so I am sure that is why. See original recipe if you want a version that turns out better!
Rating: 6.5-7/10 (I'm quite harsh though!)
It may go up a bit when I try them a day later… I will report back if so.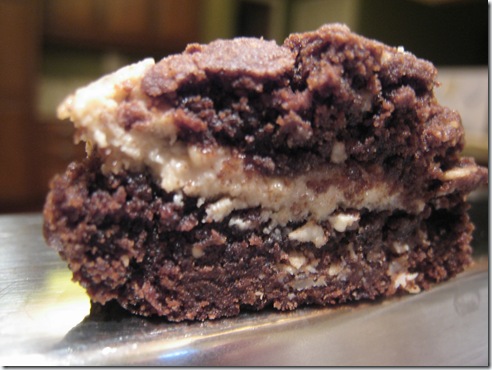 I made bombs or as Eric called them 'blobs' LOL
His tasting plate: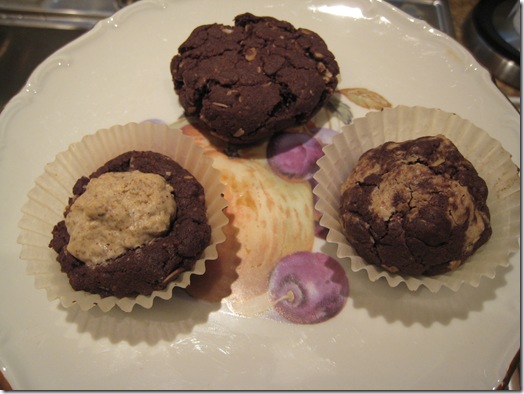 His comments:
"They taste like chocolate"
"They are chewy. I like that they are chewy"
"I'll have more"
"I still prefer your oatmeal raisin cookies, but these are good"
"They are crumbly"
He's a simple man what can I say!!!
Not earth shatteringly good, but not bad either. I'm sure with a few tweaks they could be stellar (or again, just revert back to the version by Vegan Diva).

1. Check out the Shop 4 A Cause Page for the current list of entries. Please let me know if you submitted one that does not appear on this list!
2. Don't forget to enter the 30-day Align Probiotic giveaway!
3. Check out my Skinni-mini Glo Buns over at Whits Getting Fit!
Here is what Whitney said:
Here is the link to my review on the Glo buns. I couldn't wait to try them when I got home tonight and good reason; they are awesome! My dad loved them so much he ate three. Of course three of those are about a third of one Cinnabon.

I also loved your Flax and Oat Power Muffins. They are really tasty; but I did not see any nutritional info on them. Do you have any or just some rough numbers? Thanks so much for doing what you do and providing the rest of us with healthy delicious goodies to snack on!"
Yes, I do have nutritional info on the Flax and Oat Power Muffins. It is actually at the bottom of that post (end of the recipe). Hope this helps! :)
Nutritional Profile (per muffin):
200 calories
9 grams of healthy fats (from flax and olive oil!)
6 grams fibre
6.5 grams of protein
It has been a crazy busy day today and I still have not had time to do my workout! Going to do it now…this is why I RARELY leave my workouts until the end of the day- I hate working out at night when I am tired. Actually, I find my biggest hurdle at night is just getting dressed and ready to exercise, but once I get going I often have as much or more energy than I do in the morning. I think at night time it is all mental for me! I'll put some Office on and get a few cathartic laughs going ;)
Check my run page later tonight to keep me accountable!
Tonight's question: What time of the day are you most energetic to workout?
Off to tackle the mental challenge, treadmill, and then the BBBC!
Tomorrow's FRIDAY already!!! Wow, gotta love short weeks! NIGHT PEEPS! :)
Coming up tomorrow:
HOT TOPIC FRIDAY: Are Food Blogs Here To Stay?