A bunch of exciting things are happening on Oh She Glows!
1. Don't forget to enter my Align Probiotic giveaway! I will be giving away a 30-day box to two lucky winners!
2. A new Glo Bakery recipe will be revealed tomorrow morning at 8am EST on Kath Eats!!! Keep your eyes peeled for this delicious and easy healthy recipe. I have been waiting for over a week to reveal it!
3. Last call for Shop 4 A Cause entries! We have about 38 amazing entries right now!!! Don't forget Shop 4 A Cause will be held on Thursday June 11th, 2009 all day long. Please spread the word on your blog and tell your family and friends about it!
NOTE: I am not accepting bids until the day of the auction: June 11th :)
Here are the entries we have so far!
1) Knitting for Dummies and Crocheting for Dummies
2) 100% Australian Made Pack
3) Sarah Jessica Parker gift pack!
4) Trader Joe's Gift Bag
5) Beauty and the UK Treats
6) Coach purse + 2 Vera Bradley purses
7) Leather purse from Turkey
8.) Leather Fossil purse
9) Bijoux Terner Earrings and Necklace in Gold
10) Blue Leather Fossil Wallet
11) Swarovski Crystal Clown and angel
12) Royal Albert Bone China tea cup and saucer in White Dogwood pattern
13) $50 gift card to Winners
14) Brown leather backpack from Kusadasi, Turkey
15) Indoor Gardening Set with rake, shovel and spitzer bottle
16) Handmade Wedding Countdown board
17) Homemade Necklace in Ovarian Cancer colors made of Swarovski crystals
18) Original Glo Bakery Painting
19) Custom Stylish Homemade Journal or photo album
20) European Chocolate Gift Box
21) Personalized menu planning
22) Book: This Crazy Vegan Life by Christina Pirello
23) NO GYM, NO PROBLEM Workout DVD Pack!
24) ORGANIZE WITH STYLE
25) Carrots 'n Cake GLOW ON THE GO gift package
26) Polly's simple maple granola
27) Kara's Oatmeal Butterscotch Cookies
28) Heather's Maple Nut "Oaties"
29) Veggiegirl's Customizable Blondies
30) Oh Hungry? Oh Hangry! Trader Joe's Fun Pack
31) Priceless Poetry by Acclaimed writer Andrea Scarpino
32) Jenna bakes 'Super Charge Me Cookies'
33) Oh She Glow's Fit Gear Gift Pack!
34) Oh She Glows Girly Girl beauty gift pack!
35) PETA's Vegan College Cookbook
36) $50 ESSO Gas Gift Card
37)  Oh She Glows Book Worm health + Beauty reading Pack and Power Yoga DVD!
38) $50 ESSO Gas Gift Card
Also, I am thinking about donating a Journey to Health counseling e-session (over email or live chat), but I am not sure if there is any interest. In this session you could have one on one time with me and ask me for advice with your most pressing health questions! If you think you would be interested in bidding on this, please drop me an email ([email protected]).
Note: If you have submitted an entry and do not see it on this list, please email me ASAP ([email protected]).
4. Check out my newly updated Recipes page! My most recent recipes are now featured on the page. I have also simplified the page by category. All you have to do is click on your desired category link at the top of the page and it brings you down!
The top of the page now looks like this: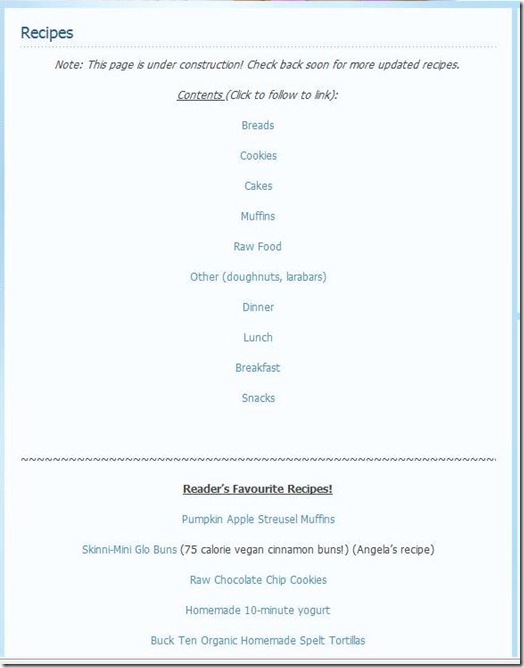 Much easier to find your favourite recipes! :)
I have also included the links to my Breakfast, lunch, and dinner categories if you want to see ALL of my meals that I have filed away!
5. I have some great hot topics coming up including:
Food blogs and the Internet- a passing fad or here to stay?
Why raw food isn't always better
The Weight loss phase- don't forget about us
I am really excited for all of this stuff to unfold! :)

We have a wonderful guest post today!!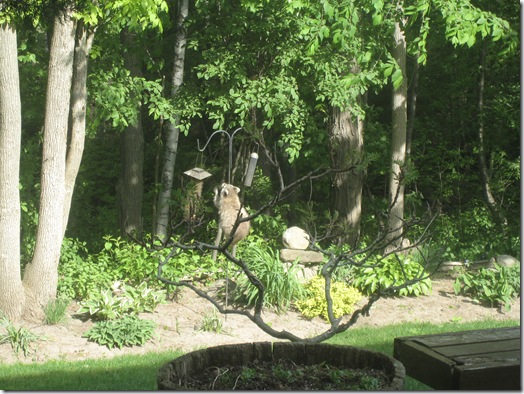 This is Bandit our resident Raccoon!
He enjoys climbing up the bird feeder and stealing innocent bird's food for his lunch!
Boy does Bandit know how to work a pole! He must be taking some pole dancing lessons lately.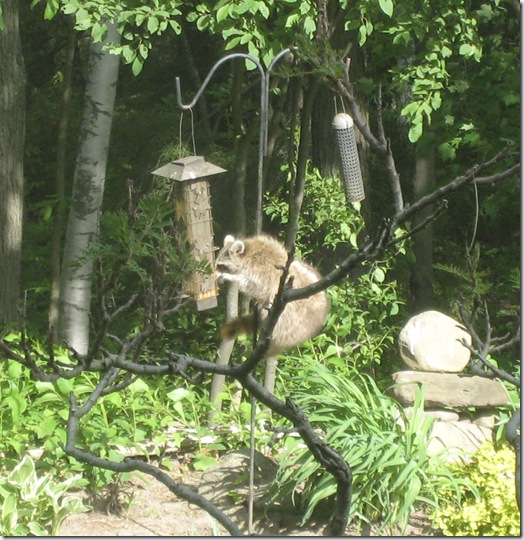 Then, I saw some bunnies!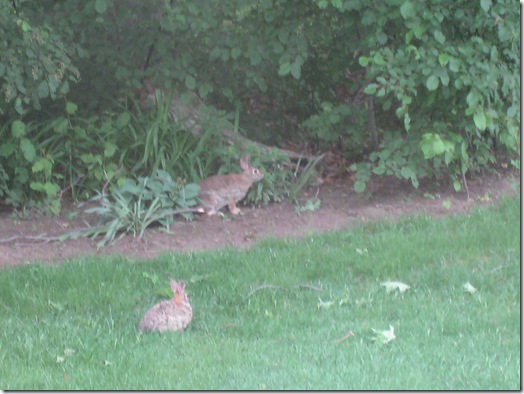 A mama and papa! :) Awww. If only I could see the babies!
Just your average day at the ZOO, ya know? lol.
For lunch, I was craving some grilled brussel sprouts!
Little known fact: I used to HATE brussel sprouts until last year! I used to eat 1 or 2 during family dinners at Eric's house because his mom always makes them. Slowly over time I got used to them and now I LOVE them! Funny how that works!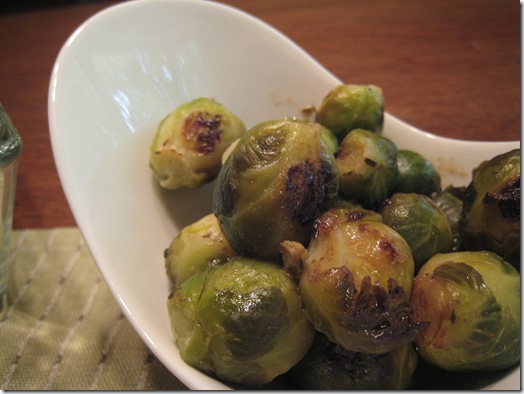 So delicious. I grilled 1 cup in a bit of red wine vinegar.
I also made what I like to call a 'Vegan Sloppy Jane' :)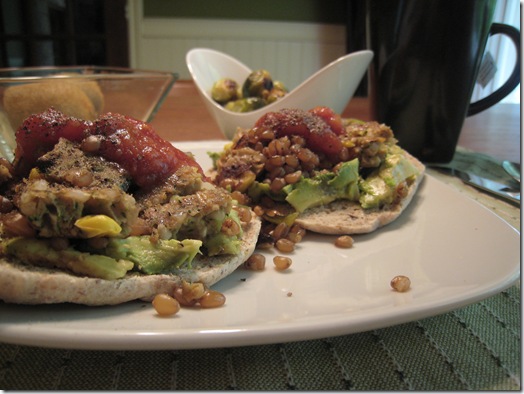 Ingredients:
1 cup wheatberries
1 PC flatbread multigrain hamburger bun, toasted
1/2 avocado
salsa
1 Money's Veggie burger
The Sloppy Jane was incredible!!!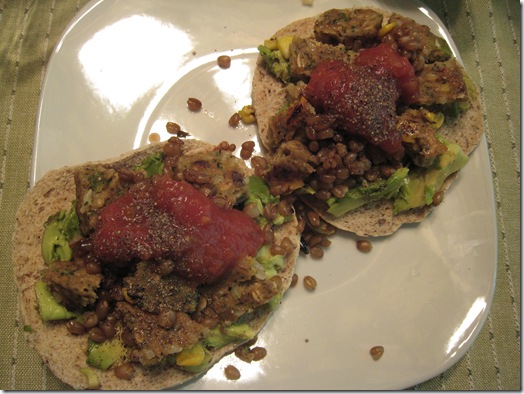 I also had 2 ripe and juicy kiwis: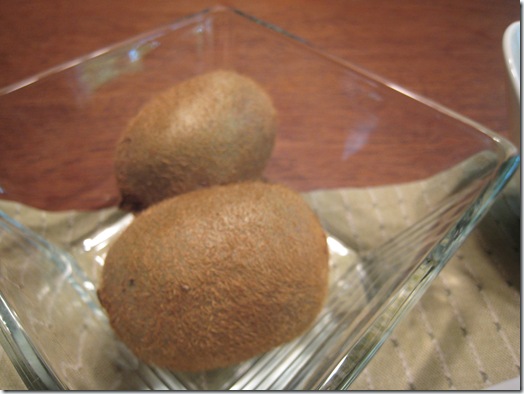 Some new white tea called Saphara from my Aunt!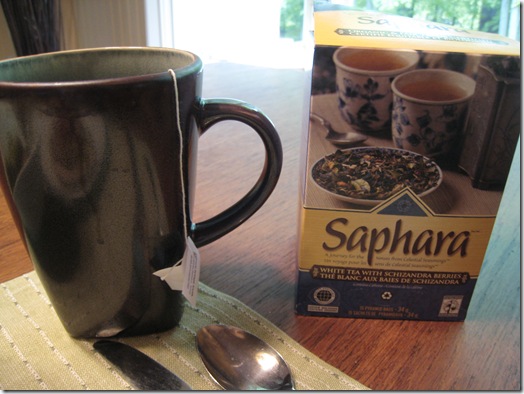 It was the first white tea I have tasted that didn't taste bitter! It was delicious!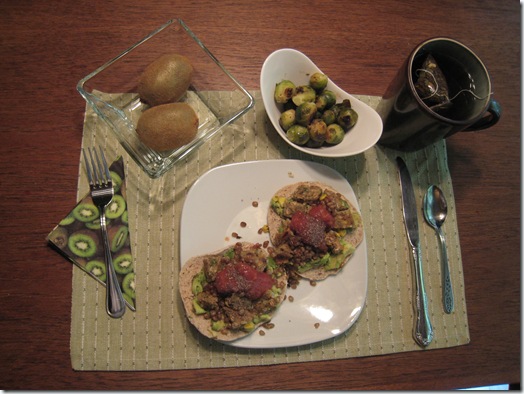 And a Skinni-Mini Glo Bun for dessert- obviously!!!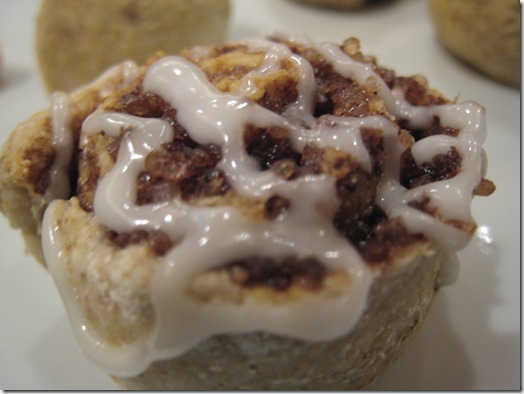 For an afternoon snack I had a big bowl of spelt cereal and a granny smith apple!
Glo bun UPDATE:
Eric brought most of the glo buns to work today and they were RAVED about by coworkers!!! Eric is obsessed with them!!!!! Woot woot! :) And remember- this is coming from someone who says they HATE cinnamon and HATE cinnamon buns! LOL!!! Famous last words in this house…
OFF DAYS RULE:
I'm super busy today preparing for my Glo Bakery meeting tomorrow so I am happily taking an off day! Off days are a GOOD thing, remember? :)
Ok, I am back to work on Shop 4 A Cause. I am so so excited about this guys! It is going to be a truly amazing auction for charity. I wish it was tomorrow! But alas, we will wait until June 11th. Save the date!
Don't forget- tomorrow at 8am EST a new Glo Bakery recipe will be featured on KERF! Be sure to head on over and leave a comment telling me what you think about it!