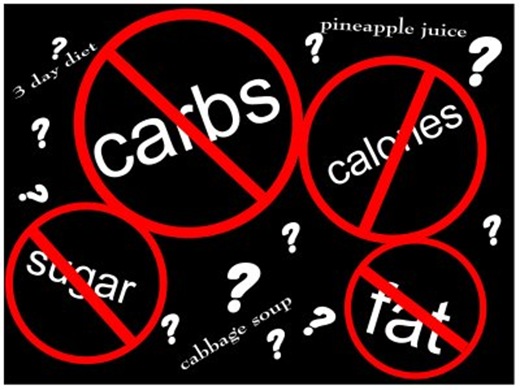 [Image source]
In any field, there are always trends, fads, and followings at different periods of time. The health field has been no exception. Americans spend an estimated $50 billion dollars a year on weight-loss products. Today's Hot Topic post will feature some of the top diet trends of the past millennium.
1930's to 1940's: Smoking and The Master Cleanse
Can you believe that Lucky Strike Cigarette ad campaign actually ran an ad that said "Reach for a Lucky Instead of a Sweet."? Horrifying, isn't it?
1950's: Praying for weight loss
"Pray Your Weight Away," which was published in 1957 was a best-selling book.
1960's: Cabbage Soup Diet and Support Groups
Overeaters Anonymous was formed in the early 60's as well as Weight Watchers in 1963. The Cabbage Soup Diet was also the most popular diet fad at that time.
1970's: Atkins Diet Revolution and Diet Pills
Dexatrim was a hugely popular pill of the era. The appetite suppressant contained the drug PPA (phenylpropanolamine), and in 2000 it was pulled from shelves. Dr. Atkins published the Dr. Atkins Diet Revolution in the 70's and the protein craze began the world's misguided hatred for carbs. Carbs' reputation has never quite recovered from this diet fad!
This two-week high-protein, low-carb and super-low-calorie diet (1,000 calories or fewer per day!) touted that you could lose up to 20 pounds per week without any long-term deprivation of any vitamins or minerals. The diet was restrictive though: no butter, no salad dressing (except lemon and vinegar) and no alcohol. Your snack choices were either raw carrots or celery! Umm, I think I'll pass, thanks.
Damn that Dr Atkins! His diet resurfaced with a vengeance in the 1990's. Suddenly, in every grocery store and in every magazine you saw food that was promoted as low-carb and high in protein. Many people followed this diet consuming massive quantities of protein and very few vegetables and fruits. Dr. Atkin failed to mention that consuming large amounts of protein is actually very harmful for your body.
So what are the top diet trends of today? Well, according to Glamour magazine, here they are:
1. Celebrity-endorsed diets: Stars like Jessica Simpson and Eva Mendes swear by Harley Pasternak's 5-Factor plan.

2. Portion control: 100-calorie pack, anyone?

3. Organic diets: Followers believe that organic foods, without the preservatives and additives of their nonorganic counterparts, may help the body's digestive system run more smoothly.

4. Diet delivery: Services like Chefs Diet and NutriSystem deliver either fresh or frozen prepackaged meals right to your door.

5. Sweet and savory diets: Think Dr. Siegal's Cookie Diet (which originally began in 1975) —Jennifer Hudson is reportedly a cookie-diet fan — or the eat-croissants-for-breakfast-and-veggies-for-lunch philosophy of "French Women Don't Get Fat."
My take:
Diet fads and trends aren't going anywhere. Unfortunately, the majority of society still believes that a quick fix solution to their weight loss problems is out there! It is much more difficult to 'sell' people on the concept of making a lifestyle change for the rest of their life. Many people don't want to do that. Instead, they want a 30 day diet they can follow, lose the weight, and then resume their lives the way they were. I think that is why so many diets fail- many of them require that you cut out food groups all together and it just isn't realistic for most people. Your body will not thank you for cutting out fruits and vegetables!
Today's Hot Topic Questions:
Do you agree with the diet trends of today? Can you think of any more?
What do you think about some of the diet trends of past decades?
Do you think that society will look back at the early 2000's diet trends and gasp in horror much like we do with the earlier decades?
What do you think the up and coming diet trends will be of the 2010's?
Did you ever follow a diet that worked and you have maintained the weight loss? What was the diet?