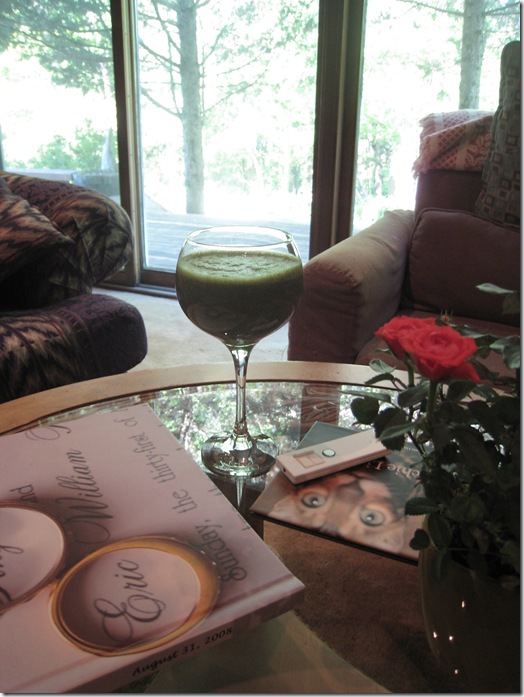 This morning I had my green monster with my two favourite books. Our wedding album and Sketchie album. :) Both are albums that we made on blurb.com. If you haven't checked out blurb.com before you MUST do so! You can design your own high quality photo albums for very little cost. Our Sketchie album was only $20!!!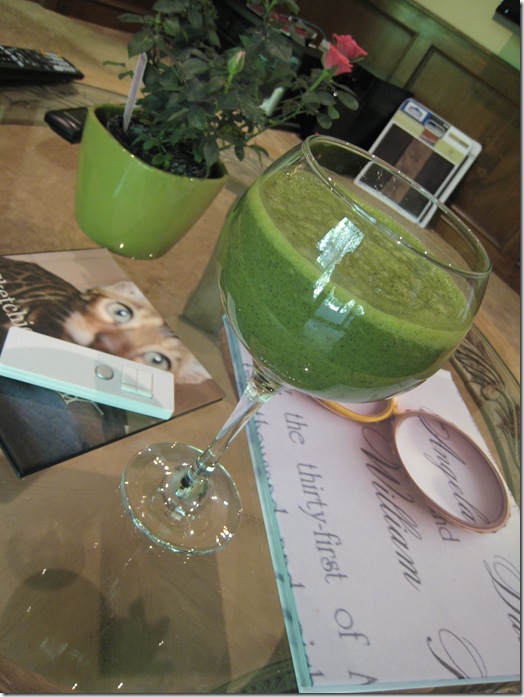 In the green monster: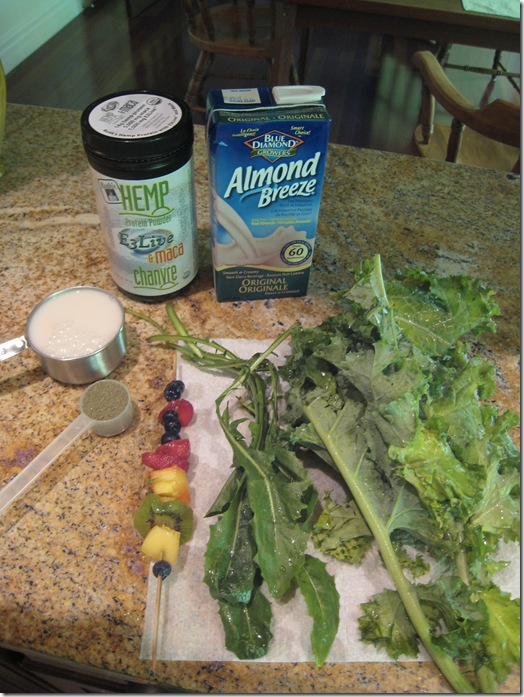 1 scoop Hemp + E3Live + Maca protein powder
1 cup almond breeze
3 organic kale leaves
5 organic dandelion sprigs
1 fruit kabob :D
After mixing, I realized that the fruit kabob made it a bit tart tasting and I added 1/2 frozen banana and 1 T almond butter. Then, it was pure heaven!! I find sometimes other fruits can taste a bit sour in GM's. Anyone else?
Mid-morning snack: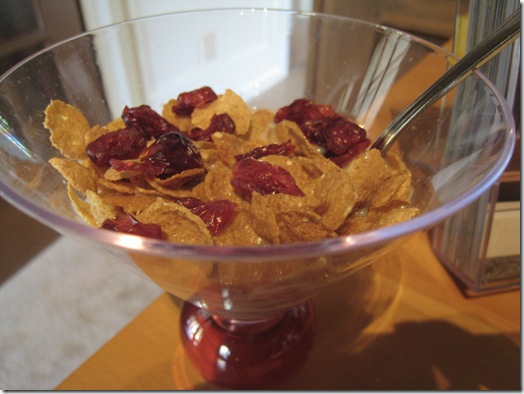 Spelt cereal + soymilk + dried cranberries! Just lovely!
I also had half of one of my cooked granola bars: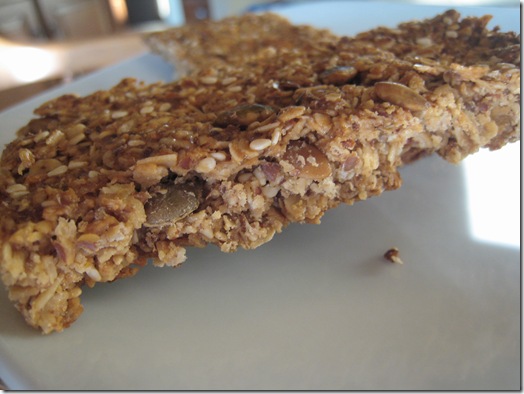 It helped power me through my paper work this morning. I have lots of Glo Bakery things I am working on at the moment as well as preparing for another meeting on Thursday.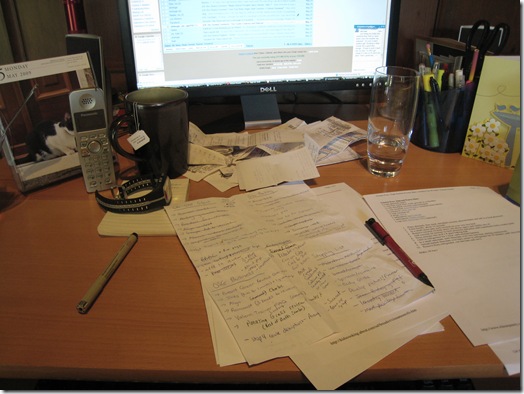 I hate a messy desk :( Must tidy later…
Lunch was another one of my awesome salad combos! The stars of the show were Pace salsa and Irresistibles Mandarin & Poppy Seed dressing (one of my favs!). You can get this dressing at any Metro/Dominion/A+P grocery store. We don't go there often so hubby made a special trip to get this dressing for me. It is the same dressing I used on the spinach salad Sunday night for our family dinner. It is awesome with mandarins, walnuts, and cranberries!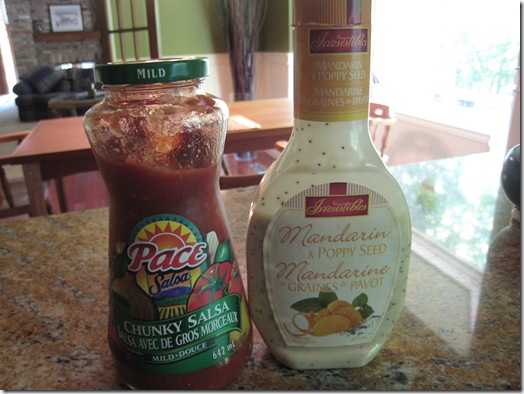 Quite possibly the perfect salad combo today!!
Ingredients:
4 cup organic baby spinach
1/2 tomato
2 T ground flax
1 cup wheat berries (I am LOVING the wheat berries! You must try these!! Cook a batch up and it will last all week for quick meals)
Pace salsa
I had it with a white hamburger bun slathered in Becel olive oil margarine. I don't eat white bread much but when I am craving it, I must have it! It is so so good with the Becel. I also had a pear on the side.
I got a fun delivery too!
The wonderful Chelsey from Raincoast Books sent me these books for review! Awesome!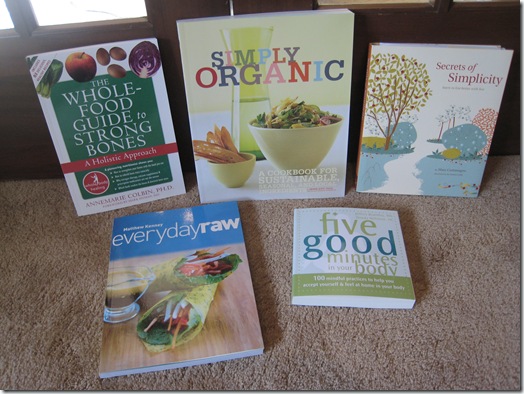 I cracked them open and can't wait to read them. (Click to enlarge)
I had to do a 'Five Good Minutes in Your Body' exercise right away! I really liked this one on 'body talk':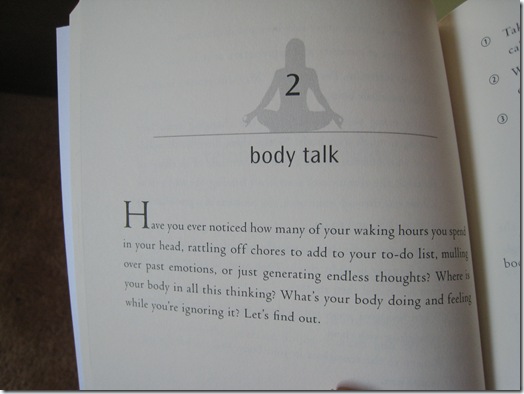 I am not one for meditation, but I found that this exercise didn't really feel like it. I don't know about you, but my mind is always going a mile a minute! So it was nice to quiet my mind for a few minutes. These exercises can be done anywhere too. On the bus, stuck in traffic, at your desk at work, in a line-up, etc. I can't wait to do more! Try this one today and quiet your mind. :)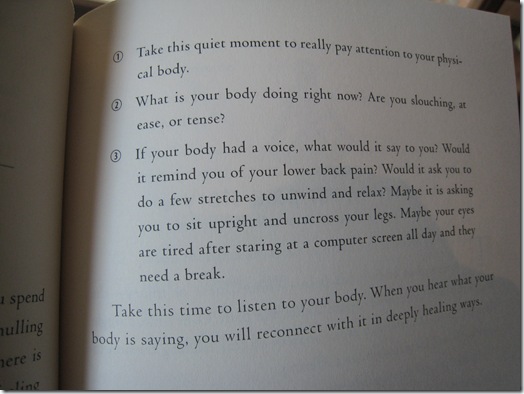 Day 60 (May 26): Wow it is day 60 of the BBBC! Times flies!! There are only 6 days left of the BBBC! It is time to crank up the intensity a bit! On today's menu are bent leg raises to target those glutes! I find I can never do enough butt exercises! Do 3 sets of 50 reps per leg. Add a dumbbell as shown in the picture (or you can use a soup can!).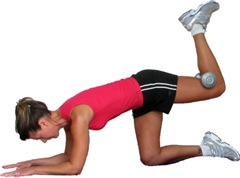 BOO-YAH! :) Now go and tone that butt!

Today's question: It's time for a little feel good conversation! Tell me what you love most about your body- and WHY you like it! The things you always like whether you are having an off day or not! List FIVE- seriously do not leave this post until you have listed 5 things and you are feeling good about yourself! :) I'm not joking here! I want the lurkers to come out too and list 5 things! We all deserve to feel good about our bodies. right. now.
Mine:
Shoulders/chest/neck area– WHY: I think I have a feminine neckline
Smile– WHY: My family has been blessed with straight teeth! I was always asked if I had braces growing up- the answer is nope!
Ankles/Feet– WHY: I think my feet are pretty nice- for feet anyways! LOL!
Cheeks– WHY: I used to hate my round and full face, but now I realize that full faces don't wrinkle as easily and they look younger- bonus! :)
Tummy– WHY: Even though I'd like to change some things about it, I have been complimented a lot on how flat it is. I'm sure this will change once I have kids though. lol.
We need to appreciate our bodies as they are TODAY. Live in the moment and love your body just as beautiful as it is right now. That doesn't mean that we can't have goals or things we want to improve, but it means that you value what you have now, thus making the process more enjoyable!
Now list!