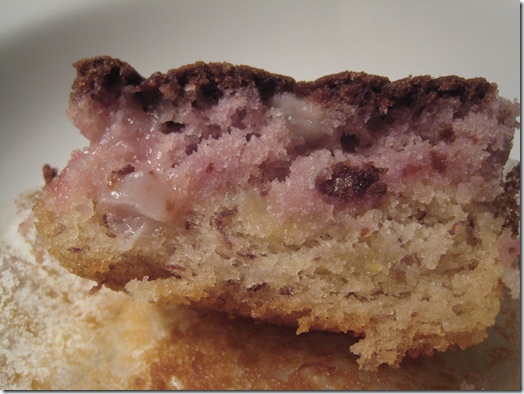 I love banana splits, don't you?
There is just something about them that reminds me of the lazy and hazy warm summer days. I'll never forget the first banana split that my mom made for me. I remember eating it so slowly, never wanting it to end. I truly believed that the banana split was magical.
And so, my friends, are these vegan cupcakes.
Let me explain:
Layer 1: Fresh bananas
Layer 2: Fresh strawberries
Layer 3: Chocolate
If there was ever a better time to cue the Oh Henry's theme song, now would be it!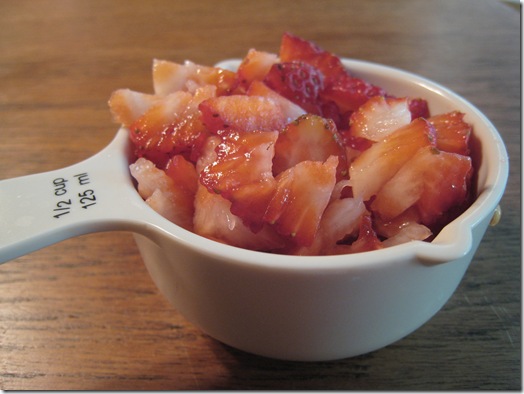 There was truly magic in the kitchen tonight. It was my first attempt creating this cupcake and my husband and father in law both agreed that I nailed it. :)
The 3 layer star players: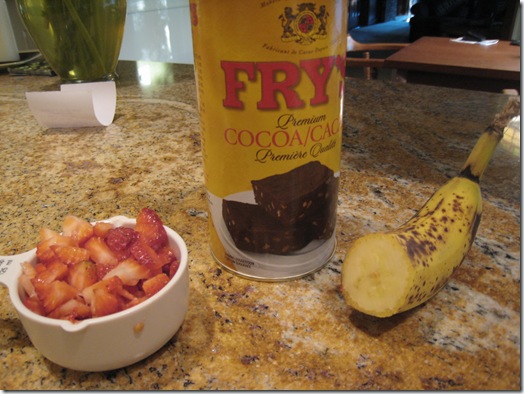 Ingredients:
2/3 cup soy milk (or any type of milk you prefer)
1/2 t apple cider vinegar
4 T Vegan Margarine Spread (or margarine or canola oil)
2/3 cup organic cane sugar (or regular sugar)
1.5 t pure vanilla extract
1/2 t lemon zest
1 t baking powder
1 cup all purpose flour
1/2 t baking soda
1/4 t sea salt
1/2 cup finely shopped strawberries
1/2 medium ripe banana
2-3 t cocoa powder
Milk to thin out (scant)
Garnish: chocolate sauce, cherries, peanuts)
Directions:
1. Preheat oven to 350F. Line cupcake pan with 12 liners.
2. In a small bowl combine milk and vinegar together and whisk. Set aside.
3. Chop 1/2 cup fresh strawberries. Chop 1/2 ripe banana. Set aside.
4. With a blender, whip margarine and sugar together for several minutes until light and fluffy. Add vanilla and lemon zest and blend more.
5. In a separate medium sized bowl, sift together the dry ingredients (flour, baking powder, baking soda, and salt). Now add a bit of the soy milk mixture to the butter/sugar mixture and continue to beat, alternate adding some of the dry ingredients, then more soy mixture, then dry, etc. until fully incorporated. Stop and scrape the sides of the bowl when necessary.
6. Divide the batter into thirds. Each third will serve as a layer. Put each third in a bowl. In one bowl blend in the bananas, in another bowl blend the 1/2 cup strawberries, and in the third bowl add in the cocoa. Add 1-3 t of milk to thin out the chocolate batter since the cocoa thickens it up a bit too much.
7. Scoop about 1 T of the banana mixture into the bottom of each cupcake liner. If you have any leftover just redistribute it as evenly as possible. Now scoop an equal amount of the strawberry mixture on top. Finally, the chocolate layer goes on top- you know the drill! Smooth out the chocolate to the sides very carefully to make sure strawberry layer isn't peaking out too much (it might a bit and that is fine!).
8. Bake at 350F for about 22 minutes.
9. While the cupcakes are baking, make the icing. Tonight I just used leftover vegan buttercream icing, but next time I will probably add some peanut butter into the icing to bring it all together.
This is a classic icing recipe that I have used for years (Makes 1.5 cups of icing):
1/4 cup butter or margarine
1/4 cup vegetable shortening
1.5-1.75 cups powdered sugar
1/2 t pure vanilla extract
1/4 t almond extract (gives a wonderful aroma)
2 T milk
This recipe above may need to be doubled if you are going to use lots of icing. To make it vegan I used vegan margarine and shortening and soy milk. I added a tiny bit of yellow food colouring to my icing to give it a banana look. :)
10. Make chocolate sauce. You can either melt some chocolate and drizzle it over top or you can make your own glaze by mixing together approx. 1 heaping t cocoa with 3-4 t coconut oil. Note that the coconut oil glaze will be messier and not harden up like chocolate will. Next time I will probably just melt chocolate.
11. Chop up peanuts and grab some cherries and whip cream if you wish! :) Get creative as you want.
12. Remove the cupcakes from the oven and place on a cooling rack. Cool for at least 10-15 minutes. In the meantime, place your icing in the fridge so it doesn't get too soft.
13. Now pipe or spread on your icing and toppings! :) The fun part!!!
This recipe was used for inspiration.
I used the over sized star tip: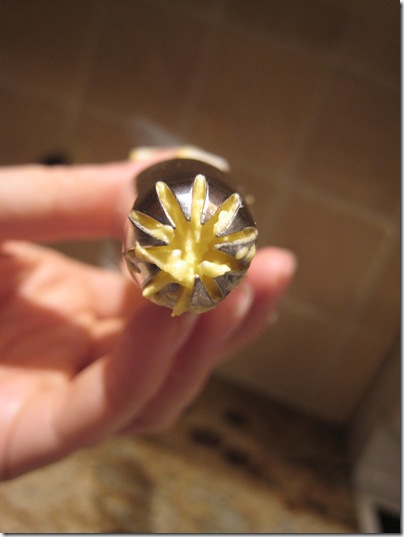 My icing wasn't hard enough so it was too soft. Next time I will add a bit more powdered sugar.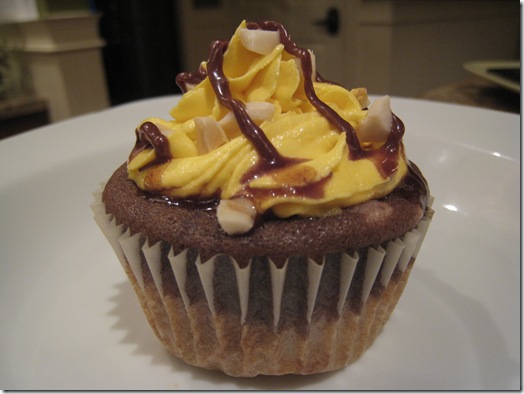 All I was missing was a cherry on top! We will have to imagine for now. :)
The inside of the cupcake was truly fabulous and had 3 distinct layers to it!!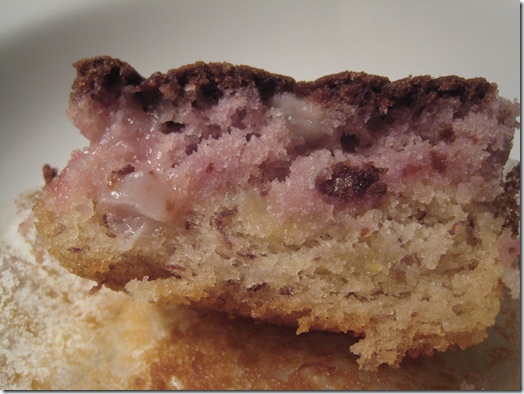 And here are the taste reviews:
Eric is up first: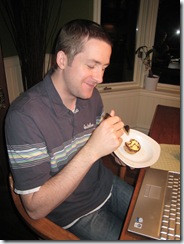 He dove right in. And then he said, "Oops was I supposed to wait for the picture?" lol.
What Eric said:
Wow this is amazing!
It is so light
I love the fresh strawberries and banana
The peanuts add a little crunch which I like
What my dad in law said:
The cupcake was delicious!
Definitely a keeper
What I said:
I can't believe this actually turned out
I love the taste, but they are a bit 'heavy' due to the strawberries and bananas. And by heavy I don't mean that they make you feel too full or they are too sweet- just the opposite actually. They were very light tasting, but the muffin itself was heavier than my normal cupcakes which is of course from all that fruit weighing it down! The bottom layer (banana) was a bit on the wet side, so next time I will probably chop up the banana and then just sprinkle it on top of the first layer (so it sits on top) rather than mixed throughout. Then the banana won't touch the bottom of the cupcake.
Next time I will also make a peanut butter frosting
Next time I might swirl some peanut butter throughout the chocolate layer before cooking.
I will also reduce the sugar a bit-probably to a generous half cup
All and all this one is a keeper!!!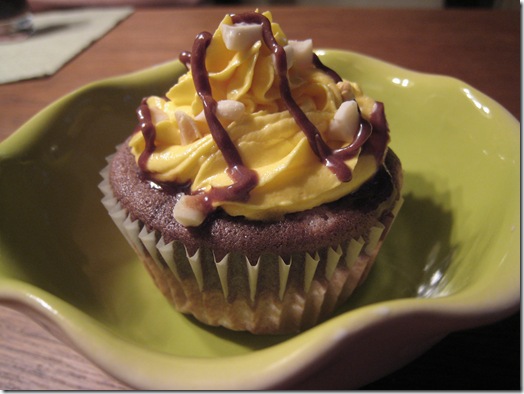 I learned this trick on you tube a few weeks ago! Don't you hate when the flour goes up in a cloud of smoke? A simple solution- a tea towel placed over the mixer! Who knew!?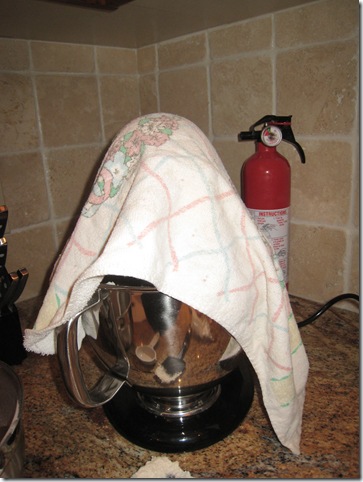 But just in case I had my fire extinguisher handy. lol.

1. For those of you demanding to know where Sketchie is lately…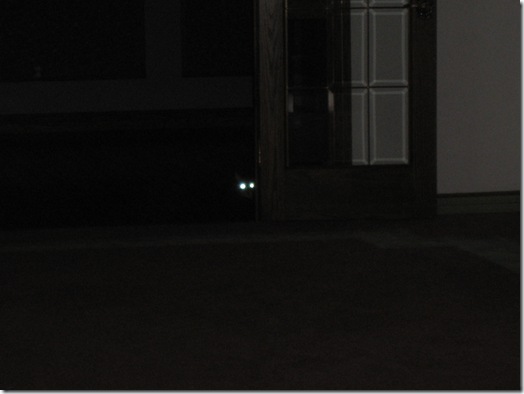 There!! Satisfied??? :) He loves to 'play cat and mouse' with us at night time. He is a true hunter!! I have to walk out of a dark room backwards so he doesn't pounce on me! bahaha.
2. The raw granola bars were spotted over at Eat Live Run. Jenna agreed with me that they are the best granola bar she's ever tasted!
3. For those of you returning from a lovely long weekend- welcome back! In case you missed any, I posted the top 10 posts from the previous week (complete with a poll!). You know, just in case you are bored and work and about to poke your eyes out. *wink, wink, nudge, nudge* ;) Enjoy!
4. Monday's workout (and every workout for that matter!) is posted on my Run page if you are curious!
See you later!