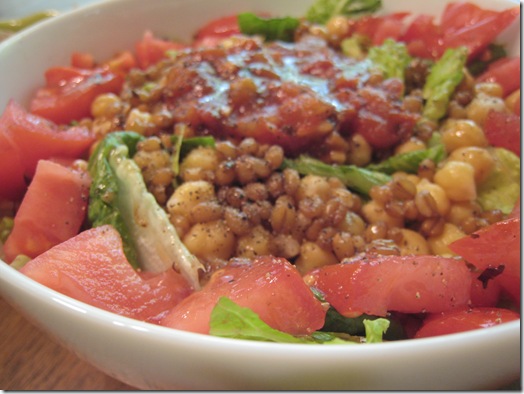 This salad is not for the faint of heart!!!!
After seeing the lovely Leah dress one of her fabulous salads in salsa, I knew I had to try it out!
The object of today's lunch was all about post-workout fuel.
The delicious PC organic salsa in mild: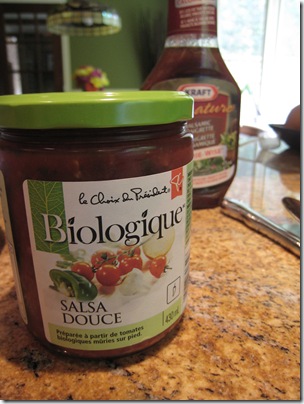 1 week and still going strong!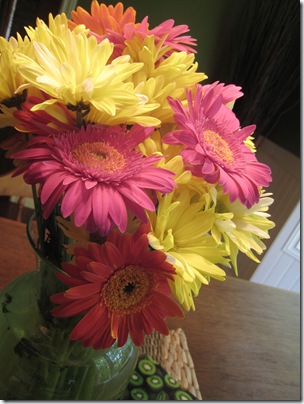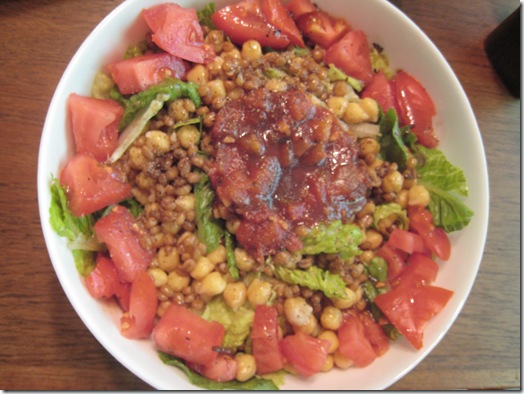 Ok, are you ready for this?
almost 2 full hearts of PC organic romaine
1 cup chickpeas
1 cup organic wheat berries
1/2 tomato
ground black pepper
1/2 cup organic PC salsa in mild
Kraft Light Balsamic
2 T sunflower seeds
With some homemade tortilla chips (using a 12-grain country harvest tortilla sprinkled with paprika) and an orange:
I ate almost all the salad (see below), the whole orange, and only a few tortilla chips. My tummy was pretty darn full and happy after this lunch!! :)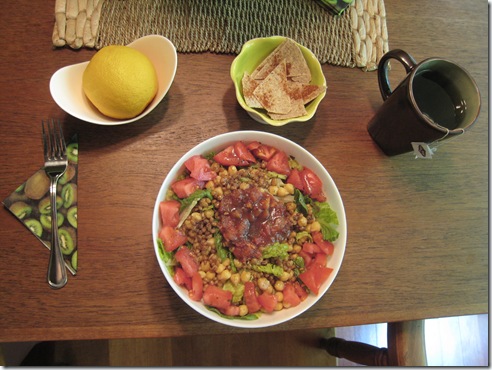 Yogi Tea Quote of the day:
Amen! :)
Breakfast was a green monster of course: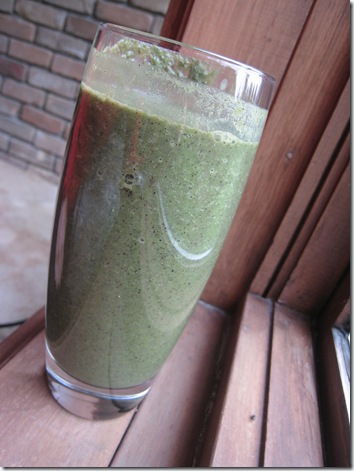 Ingredients:
3 large purple organic kale leaves
5 sprigs organic dandelion
1 scoop Hemp protein powder
1 1/4 cup Almond breeze
1/2 frozen banana
2 ice cubes
1 T almond butter (sooo amazing!)
Soooooo good!! :)

Today I convinced Eric to go on another Bike-Run-athon! :) I love doing these. It is so nice to have a partner when I am out on my run!
He gets the easy part- cruising along beside me while I run! lol.
I wanted to mention a couple things today:
1. KNEE SLEEVES rock my world!
I haven't said much about the knee sleeves since I got them, but they have cured my knee pain. I have no knee pain whatsoever when I wear them. It is a dream come true!!! I highly recommend them. Also, mine were too tight when I got them, but they have since stretched out a bit are fit me like a glove now. :)
2. LACE LOCKING TECHNIQUE rocks my world!!!
I am so happy I switched to the lace locking method! My shoes fit like a glove now and I am able to lace them very tight. Tight shoe = no slippage = no blisters! :)
3. ELECTRICAL TAPE rocks my world!
No, I don't have home renos on the brain. I have been using electrical tape (the black smooth stuff) to cover my moleskin and it works like a charm. The tape is soft enough that it doesn't 'cut into' my skin and not too sticky so it removes easy. I put the moleskin over the blister prone area (with a circle cut out for the blister) and then I put some electrical tape across it to hold it in. Since I have been doing this, I have had no pain or new blisters. The only problem is Eric keeps asking where his tape is…..lol!
The workout:
Outdoor run
Duration: 49:30mins
Distance: 5 miles
max heart rate: 166 bpm
Avg heart rate: 147 bpm
Pace: 9:57 min/mile
Then I came in and did circuit 1 from Level 3 of the Shred!
Duration: 8 mins
Max heart rate: 140 bpm
Avg heart rate: 116 bpm
Eric said yesterday that he notices that my body has toned up since I have been doing strength training on a regular basis- sweet! It makes me want to stick with it. It just goes to show that even just 5 minutes a day makes huge changes.
I feel so happy after this workout! The endorphins are cranking through my system. I feel a lot better today. I had some of my new liquid garlic (I actually doubled my dose yesterday) and it all but took my cold symptoms away! Truly amazing stuff! I slept straight through the night last night and just feel like myself again.
Off to bake + clean + laundry!