Little did you know that my question last night was a trick!
Ok, not really a trick, but I was looking for a new recipe to create in the kitchen! And who better to get my inspiration from than all of you? :)
A healthy Cinnamon Roll was insanely popular in the comments! And trust me, the research for these has already begun. Sometimes I research various recipes for weeks before I even attempt making my own version. Those will be coming- promise!
Last night I was in a cookie mood. A power cookie mood!!!
And so without further ado, I present to you:
'On The Glo' Cookies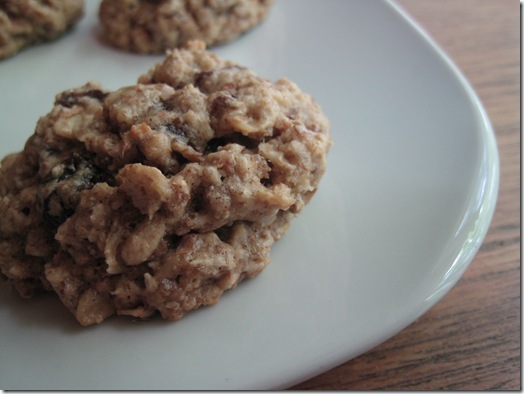 These cookies have so many amazing ingredients packed into them they make an awesome power cookie that is sure to rev you up when you are 'on the glo'. The healthy fat from the flax, almonds, and coconut will leave you feeling satisfied and will ensure a slower release of energy into your system. No 3pm sugar crashes here!
Wet Ingredients:
1/3 cup pure maple syrup

1/3 cup ground flax

1/2 (small to medium) ripe banana

3 T almond butter

1 t pure vanilla extract

1/4 t maple extract (optional)

1.5 T non-hydrogenated coconut oil (or any oil like vegetable or EVOO)
Dry ingredients:
2 T cocoa powder

2/3 cup spelt

3/4 cup raw oats

1/4 t cinnamon

1/4 cup unsweetened coconut, shredded

1/4 cup raisins

3 T dark chocolate chunks

1/2 t aluminum-free baking powder (or regular if that is handy)

1/8th t sea salt (or a bit more if you like salt)
Directions: Preheat oven to 350F and line a baking sheet with parchment paper. Mix the wet ingredients together in a medium sized bowl. Mix very well, allowing the coconut oil to incorporate well. In a large bowl, mix all of the dry ingredients except the baking powder. Stir well. Now sift the baking powder in and stir well. If you are like me and didn't have a sifter until a few months ago, do not despair. Just stir and stir and stir very well. Give the wet mixture one final stir and then add the wet mixture to the dry mixture and stir until just incorporated. Do not mix any more than you have to (I always get nervous when recipes say this, so I am really not sure why I am saying it). Relax it will work out. Even if you stir a few more times than you need to! :) Now spoon the batter onto the baking sheet. The cookies don't spread too much so they only need to be 1 inch apart or so. Bake for 13 minutes (no longer as they dry out) and transfer to a cooling rack.
Yields 15 cookies.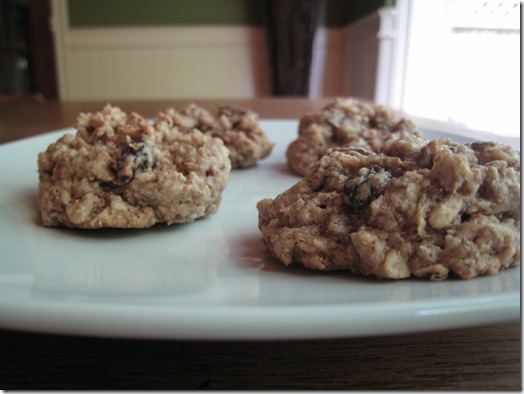 Nutritional Information (1 cookie): 169 Calories (kcal); 9g Total Fat; 21g Carbohydrates; 0mg Cholesterol; 4g Fibre; 4g Protein.
I used both Dreena's Super Charge Me Cookies and Diana's Banana Oat Power Cookies for my recipe inspiration.
The taste?
Eric and I both loved these cookies! They definitely passed the test. I love that in each bite you get something different. The cocoa also adds a nice smooth chocolate-y flavour throughout. I made them both with cocoa and without cocoa and I can't decided which ones I like best. If you decided to leave out the cocoa, just throw in a couple extra tbsp of oats or spelt flour. Eric liked the chocolate chunks the best and the texture of the cookie the most.
Note: The next morning I was disappointed to find that the cookies were very crumbly! I am going to have to tweak this recipe some more.
The best part about these cookies is that you can experiment with different mix-ins. You could try adding dried fruit like cranberries, or nuts like walnuts, or whatever your little heart desires!

Last night's workout was fun. We did the his and her's bike/run-a thon as we call it. lol. Eric gets the easy part- biking slowly while I run! Hmph! That is ok though, I am just happy to see him being active with me. I was happy as a clam!
After getting my gear on (ugh!!) it was time to head out the door!
The workout:
Duration: 35 mins
Max heart rate: 159 bpm
Avg heart rate: 145 bpm
Avg pace: 10:27 min/mile
Distance: 3.35 miles
It was a fun way to get some exercise while Eric and I caught up on our days. We talked a lot about Glo Bakery and some ideas we want to implement. I also got my new business cards yesterday (LOVE them!!!) and we chatted about those. The 35 mins flew by!!! Much quicker than my indoor treadmill workouts that is for sure.
After the run, I felt energized and had a pep to my step. I am feeling more and more confident that I will be able to run the 10K coming up on June 14th. Here's hoping! :)
I also did Circuit 1 of Level 3 of the Shred (about 10 mins). It is so hard, I love (hate) it! I did walking planks, superwoman's, pikes, pile squats (without jumping action to go easier on joints), scissor abs, and more. What I like about the Shred is how you can pick and chose what workout you want to do. If you only have 10 minutes, no problem!

Day 56 (May 22): I learned this move from the 30-Day Shred and it is one of the most effective exercises I have ever done! I was yelling and cursing Jillian Michaels! lol. It is called the Walking Plank. Start in a plank position (like you're at the top of a push-up with your arms straight, hands directly under your shoulders, legs straight behind you and the balls of your feet pressed into the floor). Lower your right arm so the forearm and palm are flat on the floor and the elbow is directly under your right shoulder. Then lower the left arm so the forearm and palm are flat on the floor and the elbow is directly under your left shoulder. Next, place the right hand directly under the right shoulder and press up until the arm is straight. Do the same on the left side, so you are back in the start position. Repeat the move, starting with the left hand. Do a total of 10 reps, alternating the starting arm each time.This move felt like it was literally SHREDDING my core into shape! Awesomeness!!!
On that note I have a full to-do list today so I better get cracking! I am coming down with a cold (I am so stuffed up) and it just occurred to me that I have been forgetting to take my new liquid garlic! So you can imagine what is going into my GM this morning!
Happy Friday!!
Coming up later today- another hot topic!! :)

Who is the happiest of men? He who values the merits of others, and in their pleasure takes joy, even as though 'twere his own.
Johann Wolfgang von Goethe