Food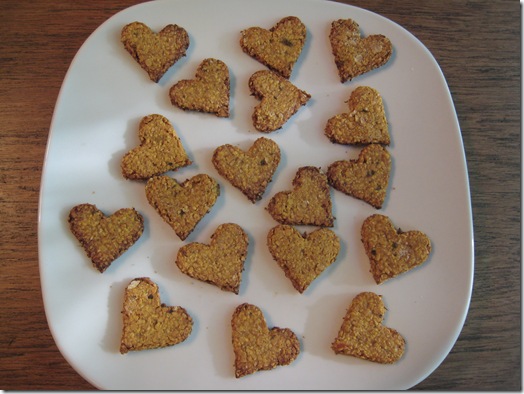 I think we should be reminded to love our body whenever we are feeding it with wonderful and nutritious foods, don't you? What better way to do so than to eat crackers in the shape of a heart!
I decided to use this Relish Oat Cracker recipe and use it as a base for some spelt crackers!
Instead of oats, I used Spelt flakes: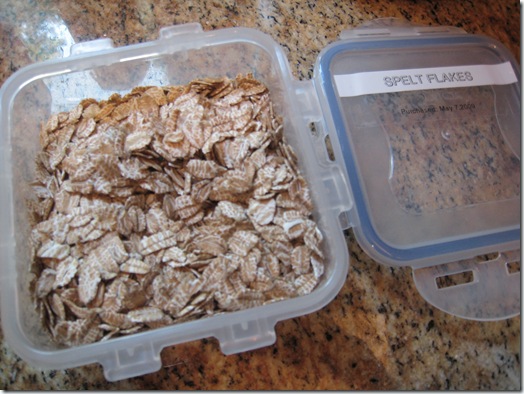 Instead of relish I used some Sable & Rosenfeld 12 vegetable antipasto: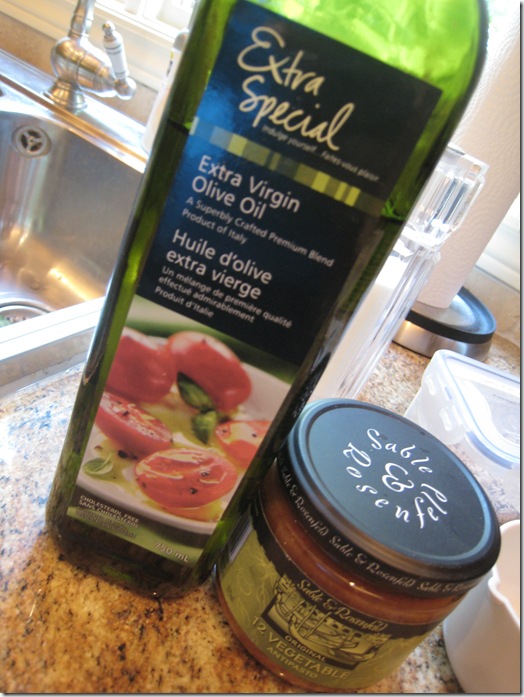 I also reduced the fat by half and I think they turned out just as yummy!
Ingredients I used:
1 cup spelt flakes
1/4 cup nutritional yeast (too much for me, see taste review below)
1/2 tsp salt
1/4 tsp baking powder
1/4 cup antipasto
1.5 T EVOO
1 heaping tsp minced garlic
Directions: Preheat oven to 350F and line a baking sheet with parchment paper. Grind up the spelt flakes in a food processor until it reaches a fine powder. Mine never reached a fine powder but it grinded up pretty well. Now add yeast, salt, baking powder to oats and pulse a few times to mix. Next, add relish (or antipasto or salsa), EVOO, garlic. Mix well in processor until all ingredients are mixed and a lump begins to form.
Place on a non-stick mat or on a floured surface. I used my new silpat sheet and it was WONDERFUL- I can't believe I have waited this long to get one! I folded it in half so my roller didn't touch the dough. It was sooooo much easier than using flour.
Roll until 1/4" thick. You don't want these crackers too thin or you won't be able to get them off the mat without breaking! Err on the thicker side.
Bake for 14-16 minutes. My oven heats unevenly so some of mine burned. Next time I will rotate the sheet half-way through.
Makes approx 45-50 small crackers.
Non-stick rocks.
I made hearts, 'quackers', and a cancer ribbon. :)
These crackers were so easy to make. The prep time, including rolling and cutting with cookie cutters took me a quick 20 minutes. You can be in and out of the kitchen in 45 minutes! The 15 min. cook time was the perfect amount of time for clean up and dishes too.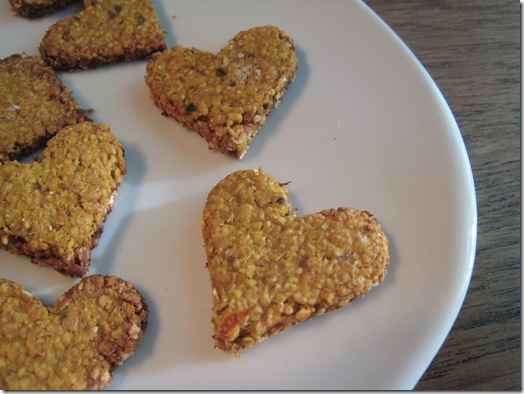 The taste?
So I bet you are wondering what these cute lil crackers tasted like aren't you?
Four words: Too much Nutritional yeast
Now don't get me wrong, I enjoyed these crackers and proceeded to eat about half of the batch standing over the oven whilst trying to decide how to modify the recipe next time. And I think they were just a smidge too 'nutritional yeast-y' tasting. Just a smidge. Next time I make them I will reduce the yeast to 1/8th cup and up the spelt flakes to 1 1/8th cup.
Next time I will also used fresh garlic instead of the minced jarred stuff I have in my fridge. Fresh is always best!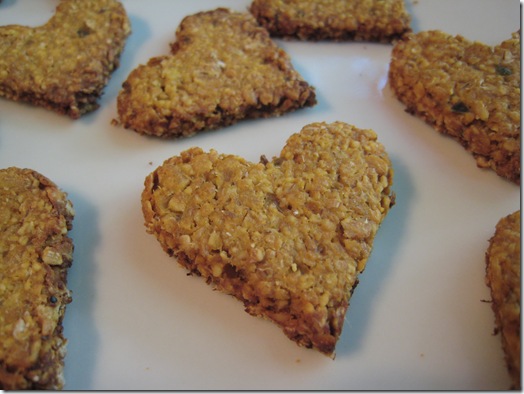 These crackers are just begging to be played with! Herbs, spices, different oats, seeds, etc!!!
The next time I make these crackers I will likely try out this recipe:
1 cup spelt flakes (or maybe next time I will use oats)
1/2 t salt
1/4 t baking powder
1/4 cup salsa
1.5 T EVOO
2 garlic cloves
2 T nutritional yeast- MAX!
2 T ground flax seed
That would be my next attempt! Let me know if you end up making (any) variation! :) There is so much possibility with these crackers. :)
Eric tried them and he said 'Hmm…I can't quite put my finger on the strange flavour' I proceeded to tell him it was the nutritional yeast, lol. The crackers have a cheesy flavour from the yeast, but it is too pronounced in both our opinions!
Freeforall:
1. Raw granola bar sighting!!!
Hey Angela!

I just took a picture of my granola bars-the only difference to yours is that I used peanut butter instead of almond, canola oil instead of coconut, and ground flaxseed!
That was the stuff I had on hand but I am going to try and use the same ingredients as you in my next batch! They were still kind of crumbly, but not that bad. I refrigerated them first but then moved them to the freezer which worked out a lot better. They're pretty solid when I take them out! I have to say, these taste much better than store bought kinds and are a lot cheaper!Thanks for the recipe!
Audrey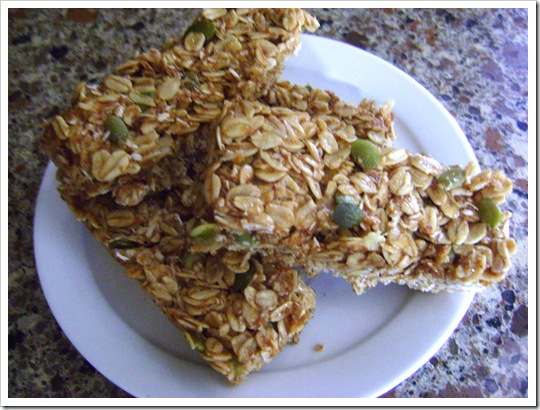 YUM! Thanks Audrey!
2. My Google Ad is down!!! I have been debating removing the ad for a while now due to some disturbing advertisements that I have seen on it that entirely contradict the message of OSG. After a reader informed me of some get thin quick diet scheme ad on there yesterday I knew it was time to take it down.
3. Head on over to the recipes page and check out the list of Reader's Favourite Oh She Glows Recipes at the top of the page!
4. I have been trying out responding to more comments in the comment section. Generally, I respond to my comments via email (that's why if you put a fake email address in the form you will never hear from me! lol), but lately I have been thinking it might be more beneficial for me to respond where everyone can read the answer. If you see text in bold, it is my reply! Of course I don't have time to respond to everything and many questions I save for my FAQ's.
5. CONTEST!
My friends at Align have sent me 3 boxes of their Align Daily Probiotic Supplement to test out!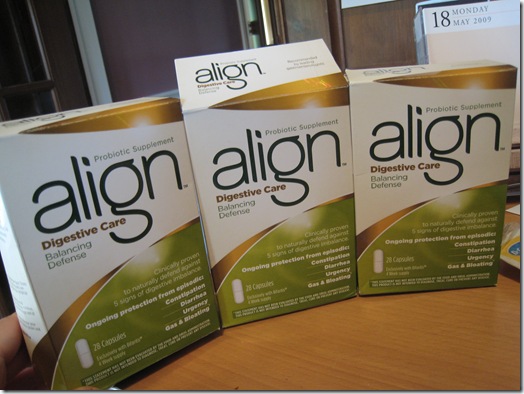 Align is the #1 Gastroenterologist-Recommended probiotic and naturally builds a stronger, healthier digestive system.
Align is a daily dietary supplement that comes in an easy-to-swallow capsule that you take just once a day, every day, to help maintain your digestive system balance and give you ongoing natural defense against episodic digestive upsets that can interrupt your life.
Align benefits people who experience a wide range of episodic digestive upsets, including abdominal discomfort, constipation, diarrhea, urgency, and gas and bloating.*
With Align, you can reclaim your freedom to travel, eat out, and enjoy life without the interruption of these digestive upsets, and experience improved digestive balance.
For more information, visit here.
To Win Your Own Box:
If you'd like to win a box of Align, all you have to do is leave a comment telling me what dessert you would like to see me create for Glo Bakery (I know I've asked before but I am asking again!)….or just leave any comment really! :)
If you want a second chance to enter, link back to this contest!
I will be giving away 1 box each to 2 winners!
Contest closes: Sunday May 31st at 8pm EST
Winners will be picked by random number generator.
Eric and I are off for a bike (him) + run (me). This weather is DA BOMB this week!!! LOL. :) Hopefully the crackers are jiggling all around in the tummy! haha.
Enjoy your Thursday night!!