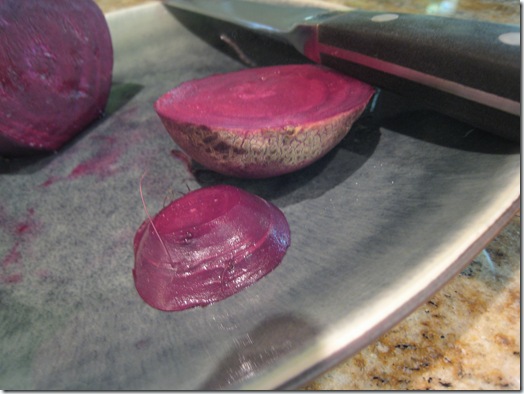 I tried beets in my green monster today!
Bears Beets Battlestar Galactica. I can't say beets without that popping into my head!
Oh, Eric and I finally watched last week's office episode last night. OMG! Jim and Pam!
This is not a green monster! Imposter!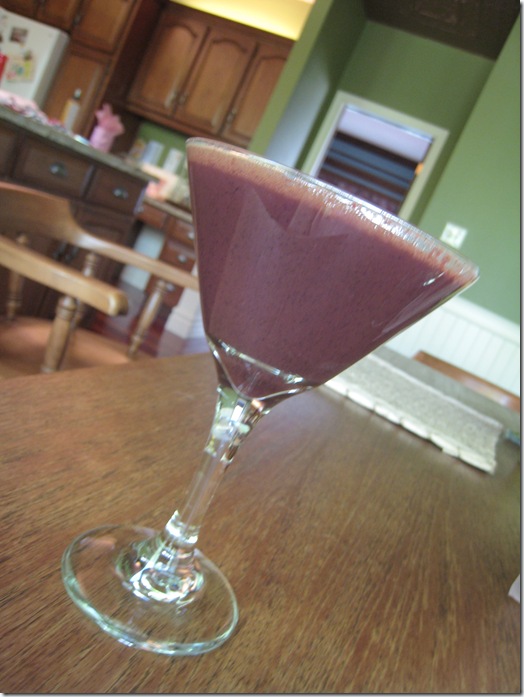 Ingredients:
2 organic kale leaves
1 cup Almond Breeze in Original
1 T flax
1/2 cup frozen pineapple (forgot I had this!)
1/4 cup raw beets (washed but not peeled)
1/2 frozen banana
The taste?
Ick!!!! I could taste the beets pretty strongly. I don't know, maybe I just don't like the taste of beets! But I didn't like this smoothie very much. I had a hard time getting it down! Maybe it was the combination of the bitterness of the beet and the tartness of the pineapple??
Note: Joanna tells me that they are much more bitter raw, so perhaps I would like them better cooked first??
However I drank it like a champ! All I had to do was think of beet's amazing health benefits:
Decreased risk of cancer, especially colon
Decreased inflammation
Decreased risk for cardiovascular disease
Protection against birth defects (from the folate)
You can read all about beets over at World's Healthiest Foods.
Then of course I had to have a vegan doughnut with my breakfast!
I had half of this large one since I was missing the green in the morning: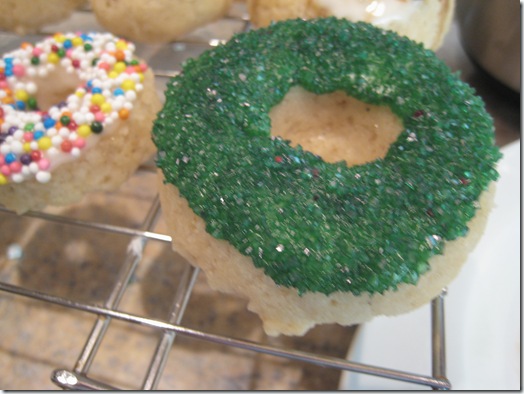 I wiped some of the sugar off because it was way too much sugar for my liking!
Yum yum.

Powering through tough workouts
The weather here has been beautiful and hot and is supposed to be that way all week. All I wanted to do yesterday was to get outside for a run, but since I had just run 5 miles the day before I knew that wasn't a wise decision. I was feeling a tiny bit stiff in the groin region so I made sure to do lots of stretches for that area (clam, lying down and pulling knee to chest, etc).
I really didn't want to workout on the treadmill, but I told myself that I could 1) Put The Doctors on, 2) Read Runner's World, and 3) Listen to my music…loud! With all of these distractions, I was able to get started and get going. It usually takes me a while before I am in the 'zone' as I call it. On bad days I'm not feeling in the zone until minute 25 or 30, on better days as soon as minute 10. Yesterday I felt in the groove pretty fast, and I think it was because I had a bunch of distractions.
What works for me is breaking up longer cardio sessions into smaller bouts. I say to myself, I will get off and take a break after 1 mile. This worked for me yesterday.
I walked at incline 15% at 4.0 mph on the treadmill
For some reason my heart rate was much higher yesterday that previous days when I did this workout. That always makes me wonder why that is so. Is it just from being more tired? Or because it is a different time of the day?
After 15 minutes (1 mile), I got off and allowed myself a quick 1 minute break. I drank some water and lightly walked around. Then I jumped back on the treadmill for another mile. Repeated the same break and got back on for the last mile. This last mile was the toughest!
I decided to do some visualization for the last mile. Visualization is a powerful tool and is used by top athletes to get through tough workouts and competitions!
Here is what I visualized:
I visualized myself running the 10k that I have planned on June 14th. I imagined myself running my first race and feeling strong and fit. I imagined what I might feel when I cross the finish line and think about the journey it took to get there and think about who I was running the race for. Then I imagined how I will design my running outfit. What I will write on the back of my tank or my shorts. The thoughts 'For Chris' brought tears to my eyes. I wondered how much money Shop 4 A Cause was going to raise and how I could proudly write the amount on the back of my tank. I imagined a beautiful sunny day and lots of people cheering from the sidelines. And I completely zoned out.
It was a good 5 minutes later when I 'snapped out of it' but it was just enough to make my workout more meaningful and power me though it!
Runner's World (June 2009) also offers some of their own tips:
Remember your strengths (think of all the other challenging workouts you've gotten through in the past)
Workout with a purpose (Fill in this blank…"I'm working out because ______"
Repeat a Mantra ("Go!", "Do this now!", "Power")
Know it will pass (When pain is not related to injury it will always pass. Pain comes and goes)
Think of the payoff (When a workout is tough it means that you will get that much more payoff!)
Distract yourself (Focus on something else- make your weekly to-do list, plan a party, etc)
My workout Yesterday:
Duration: 49 mins (including 3 quick breaks)
Speed 4.0, incline 15%
Distance: 3 miles
Max heart rate: 173 bpm
Avg heart rate: 160 bpm (much higher!)
I was a sweaty and happy mess when I was done! :)
On that note, today I get to go outside for a run!!! whoot! :) It is already 21C/70F so I better get out before it gets super hot!
By the way it looks like Shop 4 A Cause is going to be held on Thursday June 11th. The race director has agreed to put the auction in both of their flyers going out on May 28th and June 10th to 10,000 runners. I hope that it gives the auction more publicity!!! Afterall, the only goal is to raise as much money as possible! And yes, there is still time to submit items to be auctioned off!

Today's question: How do you power through tough workouts? Do you ever say any mantras to yourself? How do you distract yourself?
See you this afternoon for more thoughts from yesterday's hot topic! And boy was it a hot topic!!!