It was as if everything in my life up to this point was somehow meaningless when we drove up to Whole Foods!!!!!!!!!
I was screaming at Eric, "WE'RE HERE!!!!!!!!!! OMG that looks just like all the pictures that I've seen on blogs!!!" lol
We walked in the doors and I immediately saw all the samples everywhere! I tried everything from fresh bread to carrots and dip! My God I was in heaven!
And then, I turned the corner to see THIS WALL OF STASH TEA!!!!!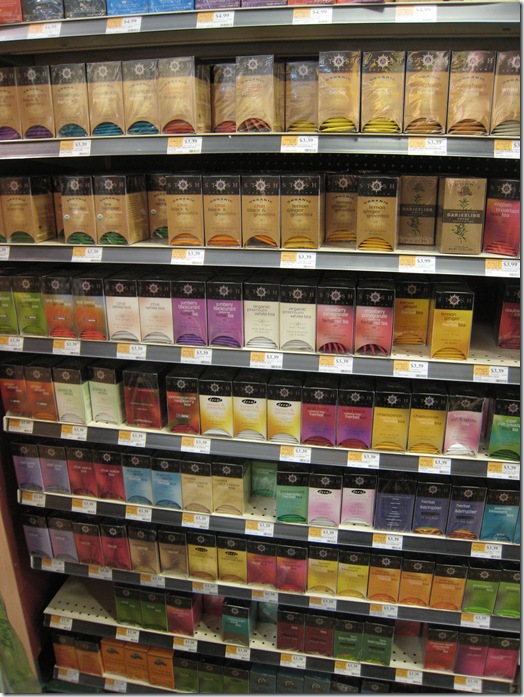 I had to scrape my jaw off the floor. Eric found the whole situation amusing at first and then highly annoying by the time we were done. :)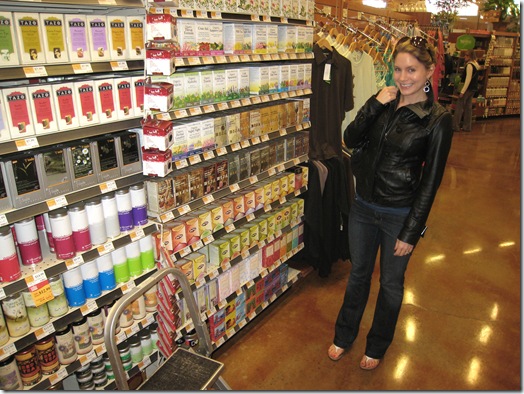 I must have spent at least 10 minutes just trying to decide on the teas I was going to buy!!!
I'm sure all the 'regulars' thought it was quite absurd that I was getting my picture next to TEA! hahaha.
To my delight, they had virtually every organic food product that I have ever heard of in the blog world!! Tofutti? Earth Balance Shortening?  Check! Check! Organic dandelion? Check! Organic wheatberries? Check Check Check!
I had to pull myself together a few times because I was acting like I was a customer in Supermarket Sweep! I kept thinking, "I don't know when I will have the chance to come back here- I better stock up!!!" to which Eric replied, "Ange, we are only 30 mins away!" lol.
I was dancing. This was even more fun than my trip to Cayne's yesterday!
Then Eric made the mistake of letting me loose in the vitamin section…I was in there for a good 20 minutes!
Eric goes, "It's a good thing we got a MINI cart!" It was full to the brim. :)
And here is what I got!
The produce: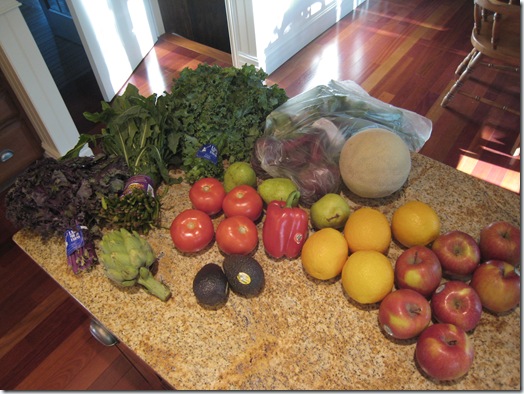 Organic PURPLE kale!!!! (PURPLE MONSTERS!!!! WHO KNEW???)
Organic Dandelion!!!!!!!!
Organic green kale (step aside!) ;)
My first ever artichoke purchase (I'd like to try making a dip!)
4 tomatoes
2 avocados
4 pears
4 oranges
Bears BEETS Battlestar galactica (After seeing Jenna try beets in her GM I knew I had to try it out!)
Cantaloupe
Organic Fuji apples
Red pepper
I'm either going to have some super GROSS GM's this week, or super fantastic earth changing GM's! lol
BEETS! Who buys beets??? Apparently me! I don't even know what to do with them? I don't peel them do I??? lol. I'm so lost.
The grains: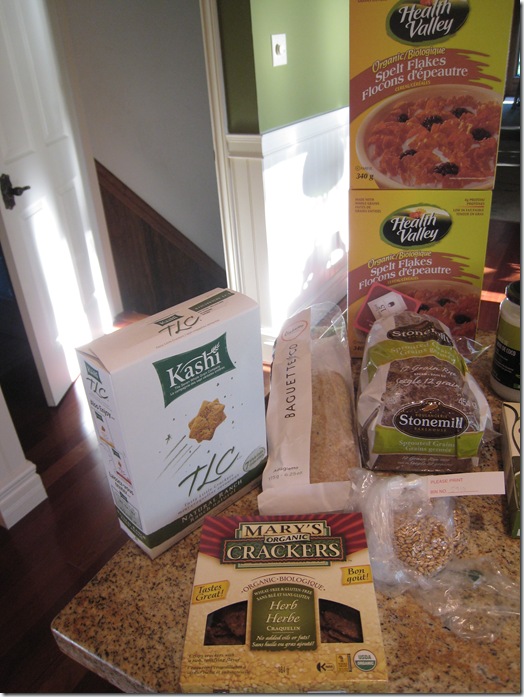 Wholegrain Ciabatta baguette (we sampled this and it was lovely)
Stonemill Sprouted grain bread (first time!)
Organic Wheatberries (first time!)
TLC Crackers in Ranch (my favourite kind of TLC crackers ever)
Health Valley Organic Spelt Flakes x 2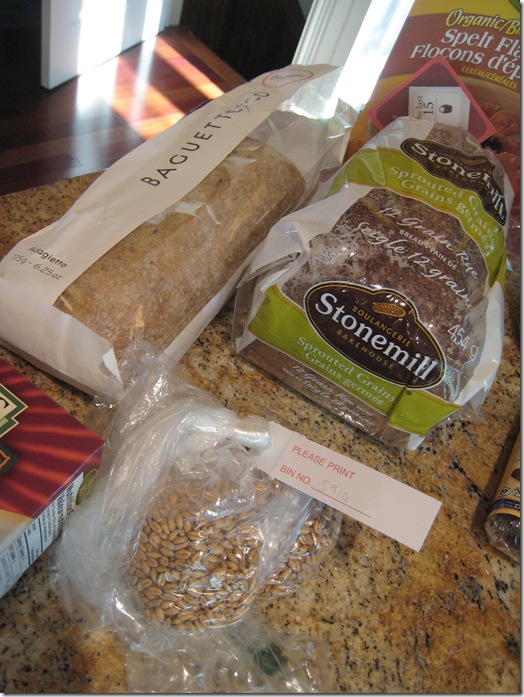 Vitamins,powders, oils, and fun stuff:
Organic non-hydrogenated Coconut oil
Hemp + E3 Live (same stuff I did a shot of yesterday at Live) + Maca smoothie powder (!!!!)
Earth Balance Shortening
Vegn Chocolate smoothie powder
Earth Balance margarine spread
Raw cacao nibs
Happy Planet Shots GLOW POTION!!!!!!
Do you think they will do a giveaway on OSG?? :)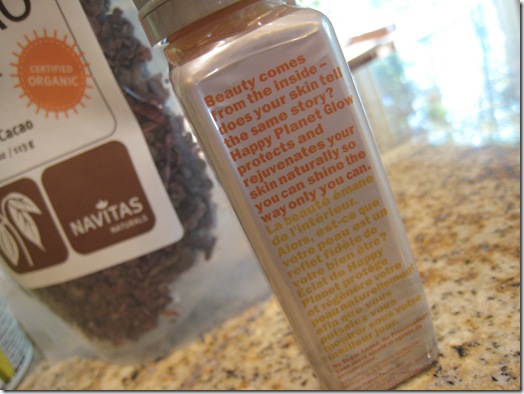 Dr Vie Chocos (first time!)
'
Cacao, pumpkin, sunflower seeds, flax, acai, etc. I am so making these if they turn out yummy!!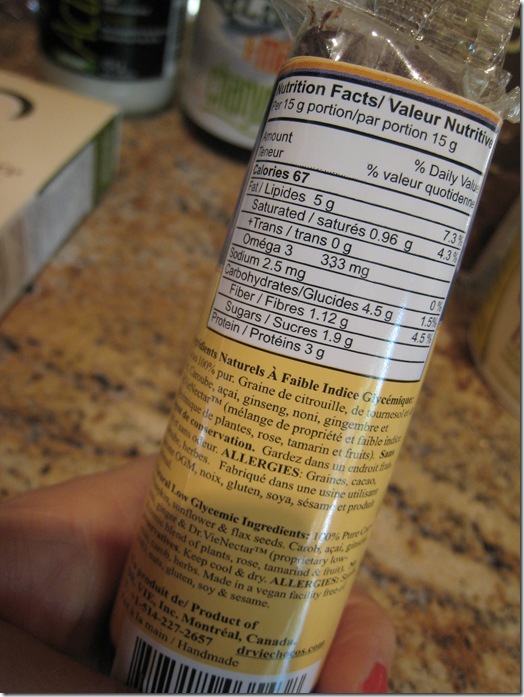 I also got Liquid Kyolic Garlic to put in my green monsters! Garlic is so super healthy. I used to take it everyday but got out of the habit.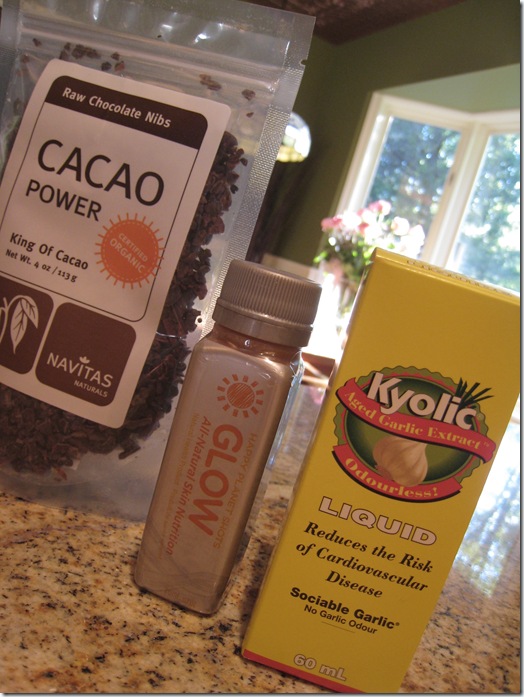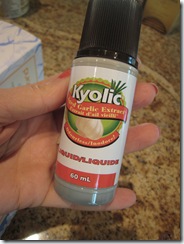 TEA TIME: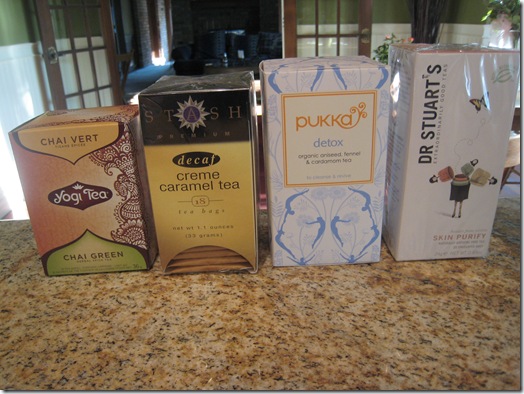 When I got home, I inhaled about 2 servings of Kashi crackers and I made a Pukka DETOX tea. It was SO GOOD! Sometimes those detox teas can be nasty, but this rocked my socks.
I'm super excited to try the Dr. Stewarts SKIN PURIFY! It will be great for project GLOW.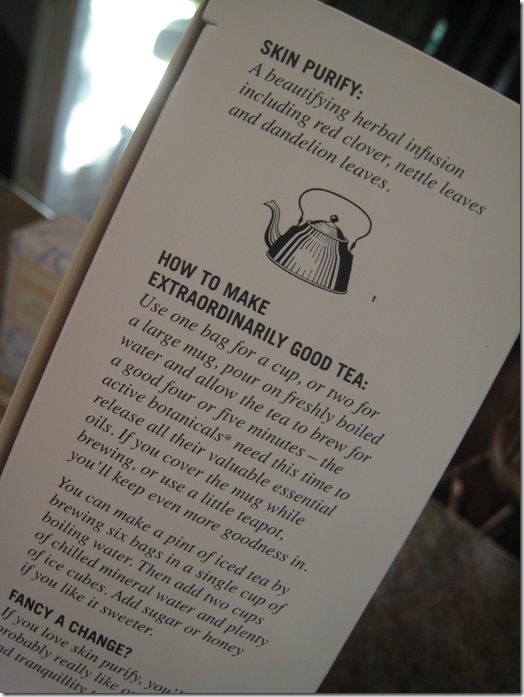 Whole Foods was everything I expected and more:
Awesome selection + variety
Super expensive
Because it was so pricey, I don't think I will be going there often, but it will be fun for a treat every now and then! :) Many of the products that I can buy at Loblaws were at least $1 more at WF!
An added bonus that I didn't expect was the amazing customer service! There were people all over the store to help! I love that. :)
Stay tuned tomorrow and this week for ton's of new first time food experiments and green monsters! It should be interesting :)
Also, regarding the Shop 4 A Cause that I had originally scheduled for Tuesday- I have to post pone it for a week or two (I am working with the organizer of the race I want to run in June and she is trying to put Shop 4 A Cause in their flyer that goes out to 10,000 runners!) I will keep updating as I know more. Thank you for your patience!!!
My night tonight is going to be OSG stuff– I have lots of exciting things coming up and some possible partnerships coming into fruition. Eric and I are also going to have a late dinner (he's doing yardwork right now). I am hoping to centre the dinner around that lovely Multigrain loaf we bought at WF. :)
Have a lovely evening!! For those of you who are Canadian as well- enjoy an extra day off tomorrow!