Last night my stomach pains continued until I finally broke down and took a Zantac pill around 7pm. Finally the pains went away! It is weird because I think when I eat lots of nuts, I get stomach pains. I almost always get pains from eating a Larabar (although they don't last that long). I wonder if it is the higher fat foods that bother me? I'm assuming my meal yesterday was very high in fat due to all the nuts they use for sauces and creams. For example, the frosting on the carrot cake was made from nuts (macadamia nuts I think?).
Neither of us were hungry for dinner at all! That tells me that the meal I had was probably VERY high in calories because I am usually the type of person who eats every couple hours! All I had was some toast and margarine. I figured it would be easier to digest.

After that I unpacked my Supermarket Sweep loot! I got many comments yesterday when I made reference to this show! I was so happy others remember it as fondly as I do. Supermarket Sweep used to be my FAVOURITE GAME SHOW!!! It was honestly the best! :)
So even though Eric said, "Get whatever you want", I refrained myself quite a bit!! lol. I had my eye on a juicer and a food dehydrator, but I resisted. :)
Here is what I got: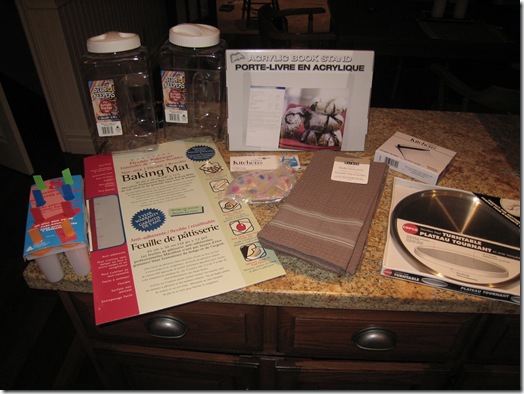 Top left, going clockwise: Storage containers for Glo Bakery, a Book stand (they had many kinds but I just got the cheapest one for $6!), a dough scraper, a multi purpose turn table (for decorating cookies and cupcakes), tea towels (I got dark ones because they hide stains better), bowl covers, a baking mat, popsicle makers!!!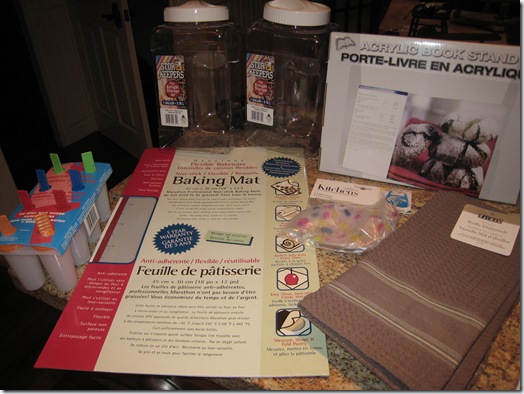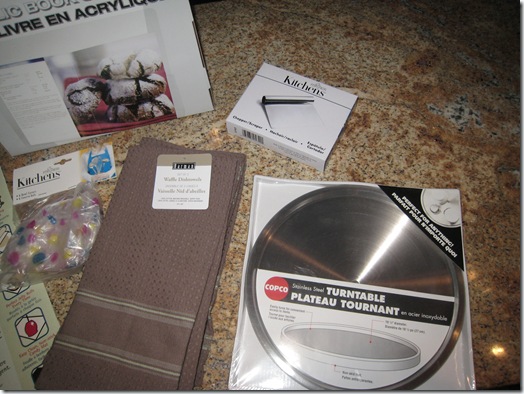 I also got a few spice jars because I have needed some for ages!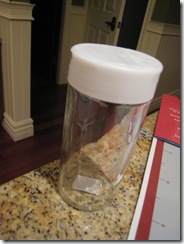 The book stand in action! It's simple and does the trick.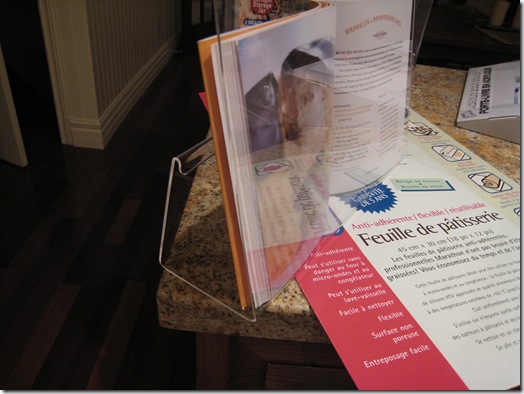 And the BIG GIFT!!! A new Kitchenaid Food Processor! :) That I decided on after much researching and then playing with all of them in the store.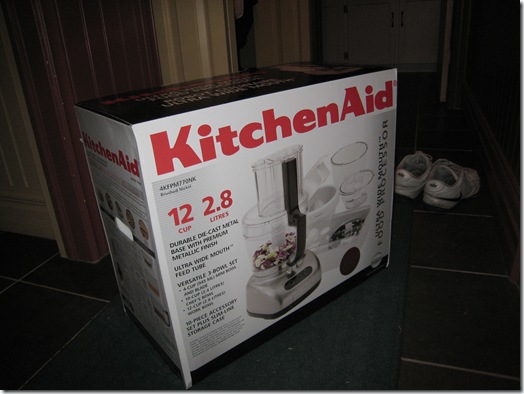 I am so excited for this! My old food processor has been on the fritz for months now and it is so frustrating to use it.
Eric teased me because I am 'so practical'. He says, I told you to get anything you wanted and this is all you get??? lol. :)
We decided against going to the Comedy Club last night because my stomach was still not feeling great and we were both exhausted!! We decided on a romantic, candle-lit 24 marathon. We watched 3 episodes! We are now on Episode 17 of the current season. I made it all the way til 12:15 before I finally fell asleep during the last 10 mins. of episode 17. I was zonked!!
It was a really fun night! :) And a great way to end my birthday!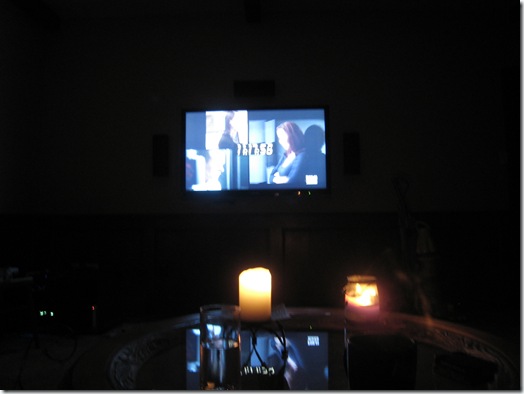 I got the most touching gift from my mom!!!! I have been just dying to post about it.
Look at the email my mom sent me a few days ago:
Hi Ange,
Since I won't be seeing you on your birthday, I have attached a pic of one of your wrapped gifts to be unveiled on Saturday via email.  You can keep guessing until then — ha ha!
Love,
Mom
And here is the teaser pic: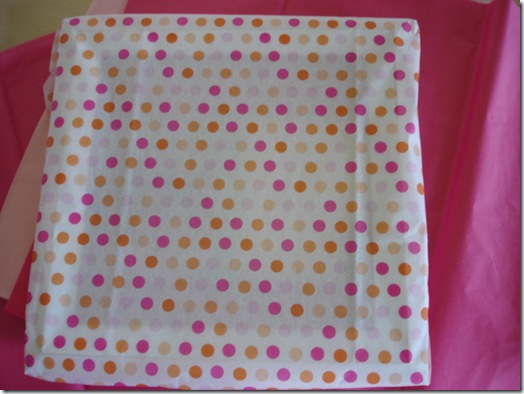 And here is the email she sent me on my birthday yesterday:
Hi Ange,
How is the Birthday girl??  Looks like you had a fun night planned, and I hope you all enjoyed yourself.
I have attached a poem I created for you about your cupcakes along with the mock up of Glo Bakery.com shop.  I had a lot of fun creating it and hope it brings a smile to your face on this special day.   I wish I could be there with you today!
Love,
Mom
XXOO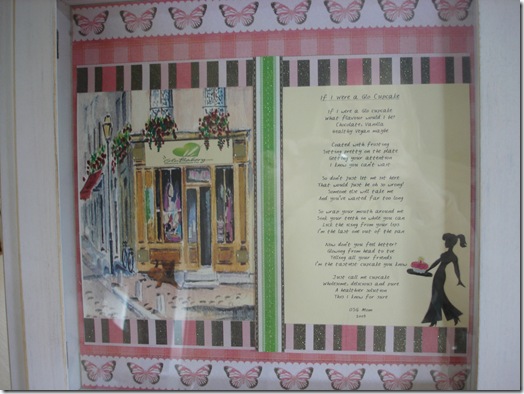 She even got the Glo Bakery logo on there!!!
Click to enlarge!!!!!!
The poem zoomed in: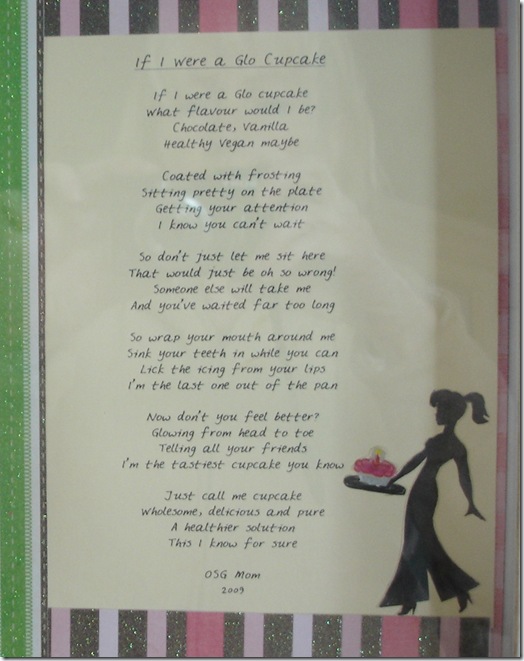 I'm not going to lie, I teared up when I saw this!!!!!! I was so touched that she did this for me. I told her it is the first thing that is going up in my future bakery. :) I am also going to put it up in the kitchen so I can see it everytime I am baking. :) What a mom!!!!! :) :)
I also received this super cute email from Kayzilla:
I couldn't resist. :D
Here's an awkward haiku to go with the gift:
Happy birthday, yo.
Oh She Glows rocks my socks off.
I wish you the best~!!
XD
– Kayzilla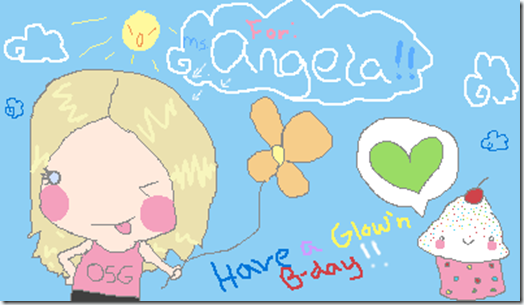 LOL!!!!!! How cute is that!?!?! :D :D
Well, it is clear that I had a rocking birthday!!! I am so lucky to have all of you wonderful and amazing people in my life. I reflected a lot yesterday about where I was a year ago, and it is crazy the amount of change I have been through:
Spring 2008- Started full time research job while in grad school full time
Summer 2008- 6 billions revisions on my MA thesis + job + wedding planning
End of July 2008: Defended MA thesis (oral defense)
August 31, 2008- WEDDING
HONEYMOON
Second week of September: Back to work
Oct 14, 2008: Listed our condo for sale
Oct 16, 2008: We sold our condo
Oct 31, 2008: Started Oh She Glows!!!!!!!!!!!
November 2008: MOVED out of the city + bought first house
January 2009: Left job and pursued my life's dream of starting up a healthy bakery
And the rest was history as they say!!!!!
I have been meaning to thank all of you who gave me such great advice and support when I first wrote about wanting to be happier with my career.
I got flooded with comments and emails about it and some of you even shared similar stories telling me that you left well paying jobs to do what you REALLY LOVED to do. I don't think I would have been able to do it without your support!!! :)
When I left my job it was probably the hardest decision that I have EVER made. I had so many sleepless nights where I would silently cry myself to sleep over it all. But I can honestly say that you don't experience greatness in life unless you take some big risks.
Since my last birthday I feel like I have grown so much. I feel wiser and more confidant in myself and my abilities. 2008 was truly a testing year for me, but it made me all the stronger.
On that note, we've got a busy day planned:
Workout (Yesterday was a birthday off day, obviously!!! :) + BBBC
Whole Foods (didn't have time yesterday since Cayne's closed early!)
Lowes to look at hardwood flooring
Mow the lawn
Organize new bakery stuff/Bulk barn/grocery shop since Monday is closed due to holiday!
See you later Alligators!!!!! :)

The only difference between a rut and a grave is their dimensions.  ~Ellen Glasgow