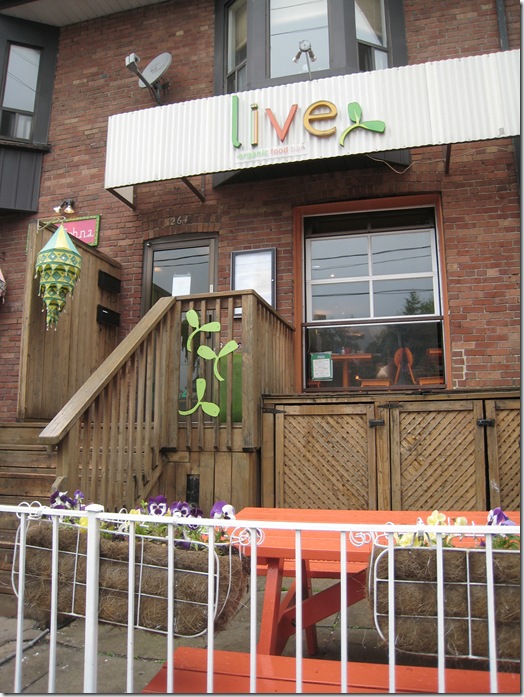 Live was everything I dreamed it would be and so much more!!!
Eric and I decided to go out for lunch because it just fit in better with our shopping trip in Toronto today. :)
Immediately upon entering Live, you are greeted with vibrant colours and fabulous quotations. It really sets the mood!
I love this quote below: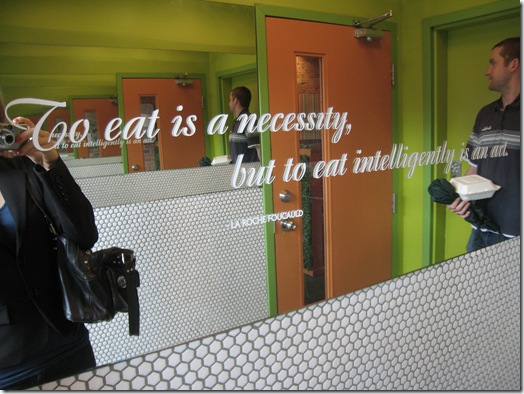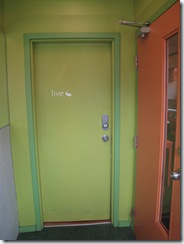 It was quaint and edgy looking: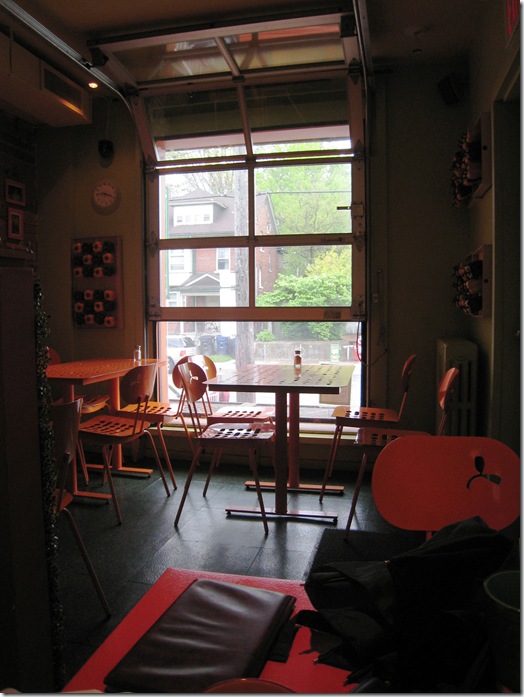 With an open patio feel. Sorry for the dark picture- I should have used flash!
The menu was a vegan lover's dream come true!!!!!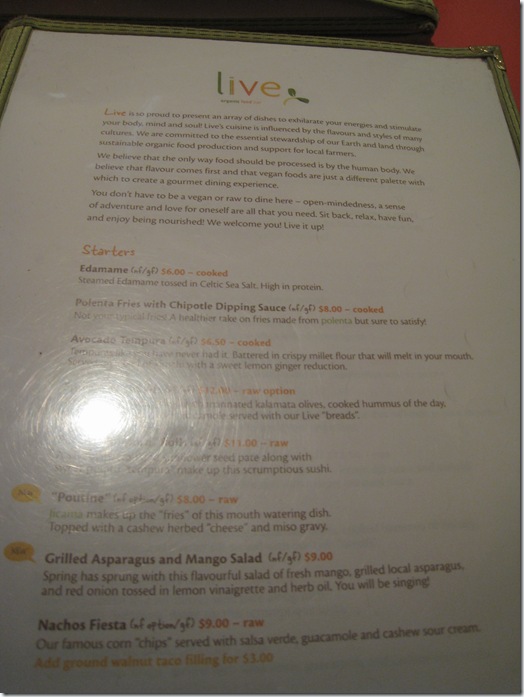 Looking for some awesome homemade salad dressing recipes: Click below!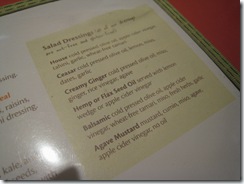 I almost died when I saw their GREEN MONSTER MENU!!!!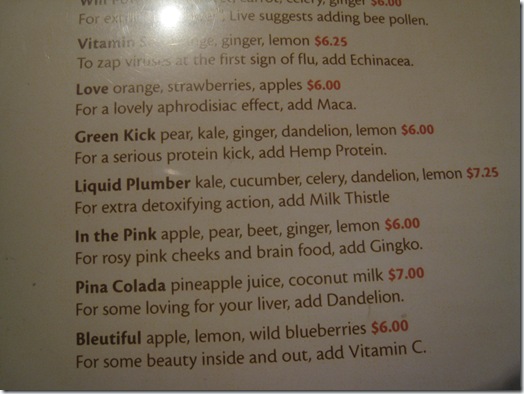 Can you guess what I got???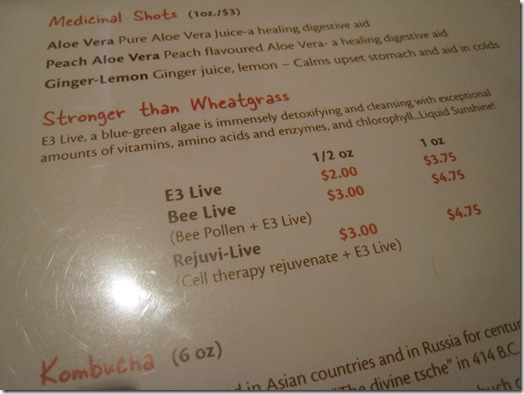 I ordered a 'Liquid Plumber' smoothie with kale, celery, cukes, dandelion (!!!!), and lemon AND a 'shot' of Rejuvi-Live. Dandelion is supposed to be a great way to detox your liver!!!! UMM HELLO!!!
Here I am with a (healthier) birthday shot!!!!! It's all about balance right? ;)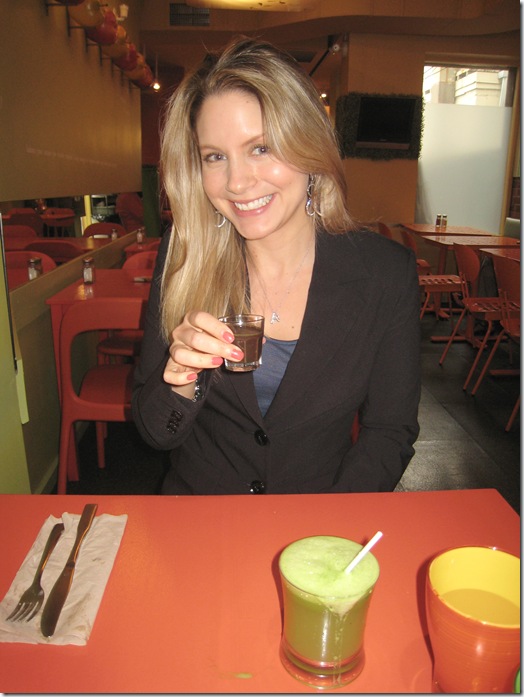 Let's just say it was better than some of the shots I had last night. ;) The Liquid Plumber smoothie was exactly what I was looking for- detoxifying and INTENSE. This was not sweet AT ALL and I had a hard time getting all of it down.
My liver thanked me!
More quotes: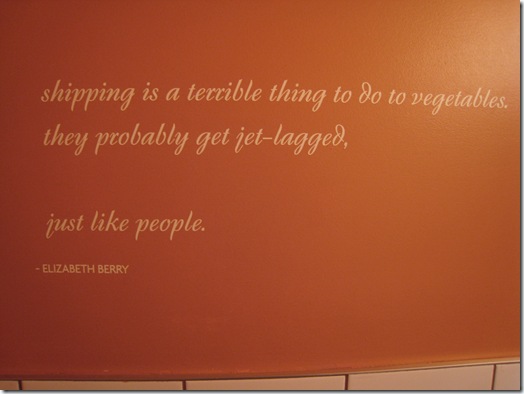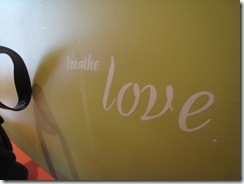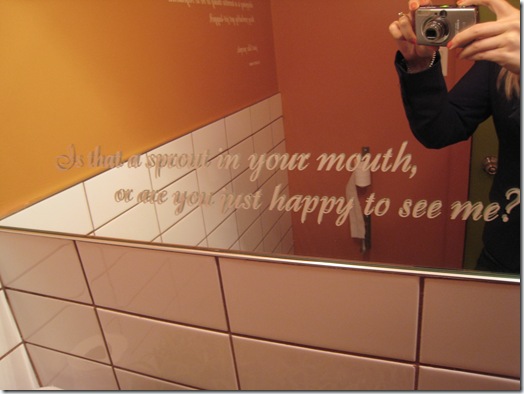 The menu was also filled with descriptions of all the foods! I loved this part as I didn't know many of them.
Eric and I both had a salad to start. His was the Caesar salad and mine was a house salad: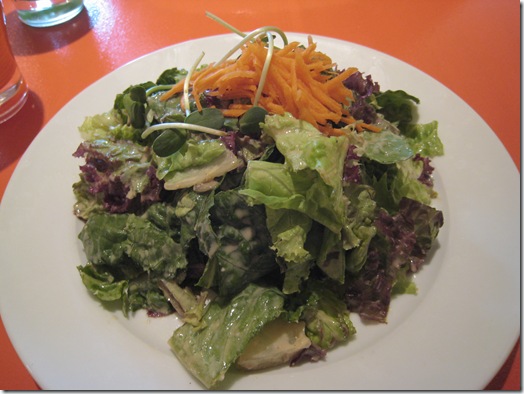 I didn't care for the dressing on his, but I really liked mine.
Eric got The Better Mac burger:
(there was a top to the homemade live bun but I didn't photograph it!)
The Better "Mac"
Our high protein seed and grain burger topped with lettuce, tomatoes, red onion, and 'secret' sauce served on a sprouted Ezekiel burger bun is sure to curb your burger appetite!
Eric didn't really care for the texture of this burger and I will admit it wasn't my favourite either. He was SUCH a good sport about the whole thing though and didn't complain once!!! What a guy! :)
For my main I decided to go big or go home. I got the Raw Platter Sampler!
I admit I was shaking in my boots ordering this!!! I had never eaten RAW FOOD before!!!!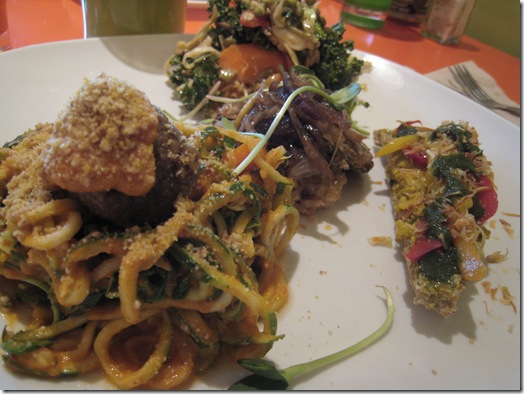 Top center: The Un-Stir Fry Mixed vegetables, hemp seeds, and sprouted mung beans in a "teriyaki" sauce served over parsnip "fried rice".

Right: Canadian Pizza Eh! A personal buckwheat pizza topped with a sundried tomato sauce, eggplant "bacon", green peppers, marinated mushrooms, and a rich macadamia mozzarella "cheese".
Center: Portobello mushroom burger
Bottom Left: Spaghetti and 'Neat' Balls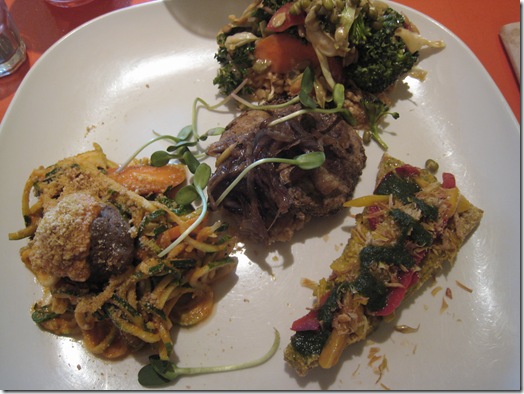 The taste?
The pizza was by far my favourite item! So delicious
The spaghetti and neatballs were good too, my second favourite.
I didn't care for the portobello burger (texture) or the sauce on the unstir-fry.
I ate about half of my plate and was pretty stuffed! But not too stuffed for…
RAW CARROT CAKE!!!!!!!!!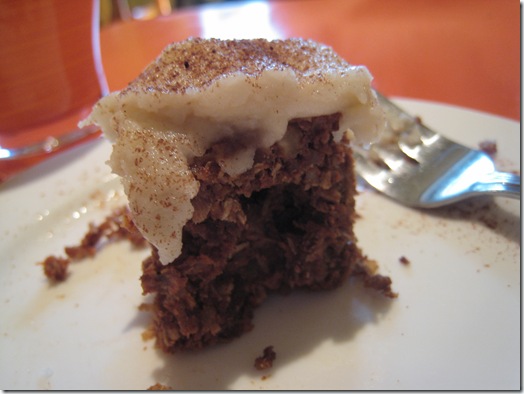 This was every bit as amazing as I hoped it would be!!! GAH!!!!! I ate almost every bite (Eric had one bite, lol).
What I wanted to do today I succeeded at. I wanted to try authentic raw food at it's best! I was a good sport and didn't hold back- I tried EVERYTHING.
While I enjoyed some of the raw foods (especially the pizza) I still very much prefer to eat my food cooked. There is just something about the warmness of foods and the satisfaction it brings. So no, I won't be going raw, but this was really fun!
I definitely want to go back to Live and try out some of their 'cooked' menu items as everything looked so great!!
One thing that I decided after today's visit was that I definitely want to explore more raw desserts in my bakery!!! They are just so delicious!!!
The only drawback from my lunch today???
Indigestion!!
Does anyone else ever get bad stomach pains from too much raw food? My stomach has been quite uncomfortable ever since lunch. :( Hopefully the ginger tea I am drinking will help!
On the way to Cayne's Supertsore, we drove through some fancy neighborhoods in Toronto. I love looking at houses!
Cayne's Superstore was a BLAST! Eric took me there for my birthday and told me to 'get whatever I needed' Ummm…hell yea! :) It was sort of like supermarket sweep! lol. No, no, I'm only joking, I was actually on my best behaviour!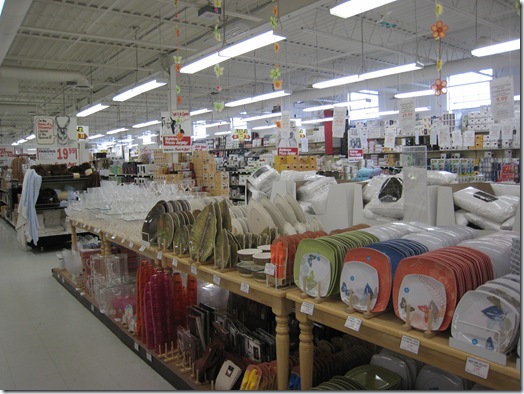 More on my shopping trip later- this girls needs a nap with hubby!!
Aka- me laying down and fidgeting while Eric snores! I can't nap for the life of me!