Day 50 (May 15): To start the weekend off on the right foot, we're going to do raised leg side planks today! These are super challenging for me and I will admit, I can't hold them very long. That is ok though! If you need to put your leg down in regular side plank form, do so until you can get your strength back up to life the leg again. I did each side for about 1 minute. Note: My body is not in perfect alignment- I am leaning a bit too forward in this shot. Like I said its a tough one! :)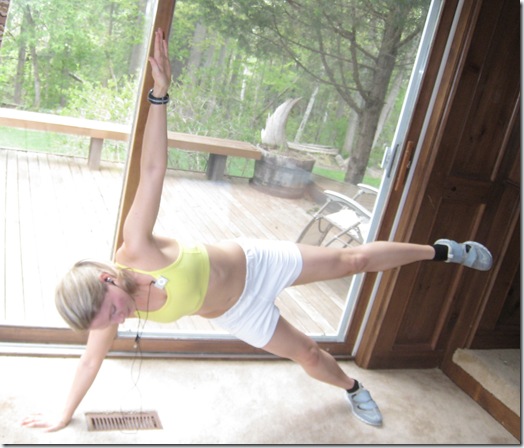 Edit: In all the excitement, I forgot to post about my workout- DUH!!!!
My workout:
Treadmill hill walking (4.0 mph, incline 15%)
Max heart rate: 168 bpm (I cranked it up to 4.4 mph!!)
Avg heart rate: 149 bpm
Feel the burn: 429 kcals
Duration: 45 mins
Today's workout was INTENSE and I wanted it that was because I am going to be eating and drinking a gazillion calories tonight!!! lol. :)

Lunch was super quick and easy today because I have been rushing around like a mad woman!!!
I had an organic granny smith apple smothered in raw almond butter (YUM!!!):
My company was some birthday cards and lovely roses :)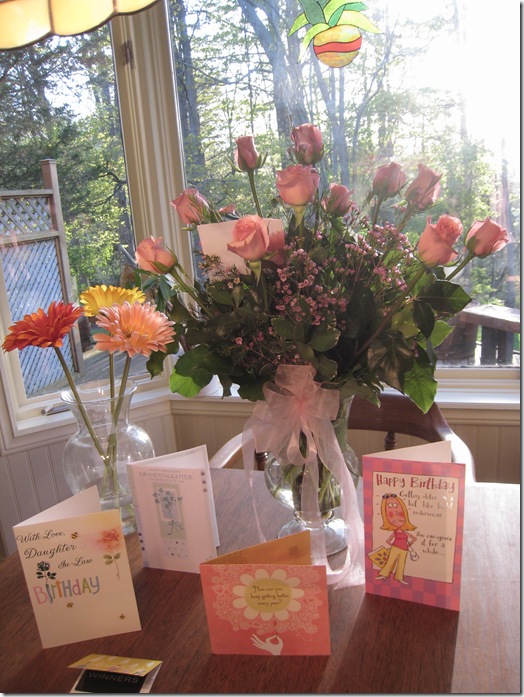 The main event was a huge spinach & chickpea salad!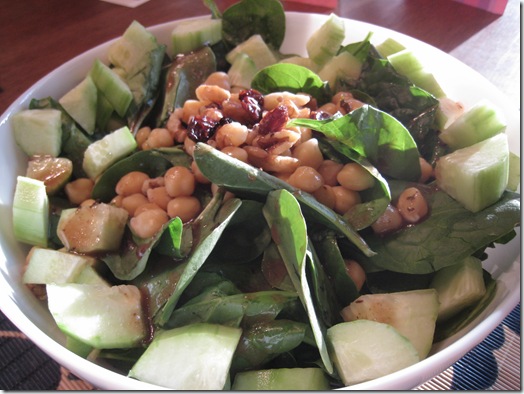 In the mix:
4 cups baby organic spinach
2 cups cooked chickpeas (I needed LOTS of staying power for my busy afternoon!)
1/2 English cuke
3 T walnuts
Raisins
Balsamic dressing by Kraft (light)
Black pepper
Oh yea: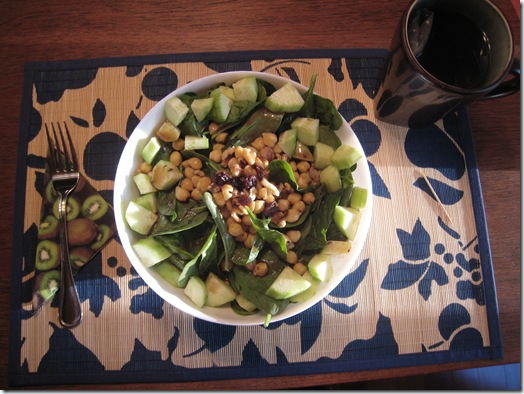 I also brought some trail mix in the car with me this afternoon and had a few handfuls. I wasn't really hungry, I think I just ate it because it was there. :D
More fun things arrived in my mailbox today!!!!
Cards– I put all of them in the kitchen desk area!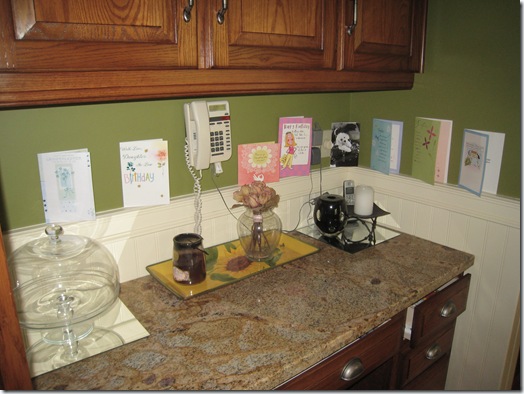 More gifts!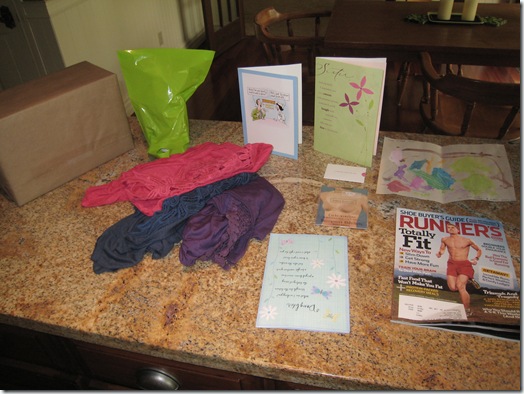 My Runner's World arrived in my mailbox today!
My nephew gave me a handmade painting :D
My sister Kristi got me a gift card to Chapters to buy some cookbooks
I bought 3 summer shirts with a gift card from my grandparents (I'm returning one of them because it has pulls in the fabric that I didn't see!)
I got a package from my best friend Allison
And I bought my friend a lil birthday gift for tonight (Its hiding in the green bag!)
Look what Allison gave me: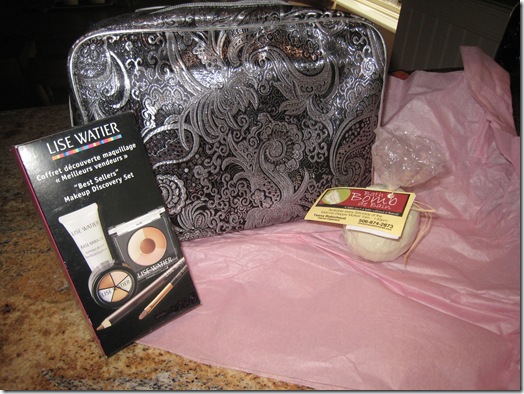 Lise Watier Best Sellers Collection, a beautiful make up bag, and a green tea bath bomb!
:) :) :) Birthdays are the best!
Jogger's Life made my raw granola bars and got them to stick together- get this- with a food dehydrator!!!! Check it out!
Lauren also told me about this amazing soundings raw food bar called Live Organic Food Bar in Toronto!! So now I don't know whether to go there or the one I mentioned in this morning's post called Fressen! I'm thinking Live looks a bit better. Thoughts???
I will try my best to post tonight- I'm making a batch of vegan cupcakes from VCTOTW!!!
Yes, I am the only person who bakes for their own birthday! bahaha