I wanted to address this reader question that I received the other night, as well as my answer! Sometimes I think that the question and the answer can benefit others so I post it on the blog.
Here we go:
Hi Angela,

I have quite a few things I want to say and ask, so I'm going to make a list! :)




1. I LOVE your blog.  I read quite a few food blogs, but lately I am just really, really drawn to yours.  You are a great example of health, and an inspiration to me.




2. I am really interested in your food philosophy.  I'm a vegetarian, and have been for a long time (I'm 29 and became veg at 13) and have played with veganism on and off for the last three years or so.  I'd like to start eating a vegan diet about 90% of the time because I don't really believe dairy is that great for me and I know the greenest way to live is to eat absolutely no animal products.  For some reason, though, at times if I'm too strict with myself about the no dairy thing, I end up binging on something cheese related.  I guess I'm mentioning this because I know you avoid dairy and maybe you could tell me about your journey to that place.




3. I saw on your site that at some point you had trouble with binge eating.  I didn't binge eat until a few years ago, when I was putting lots of pressure on myself to lose weight, imagine that! I did lose weight, but I couldn't maintain it because I…well, because finally the binging got the better of me.  I think part of it was the constant unhappiness with myself, even though I was at my goal weight…I thought being thin would make me happy, but I didn't even believe I was thin anyways. Your section on your road to health was really, really inspiring for me.  (I just read it again.)  I love the idea of getting rid of the scale and the idea of long term goals…instead of constantly thinking, I need to lose this weight by June! I'd rather be thinking, what do I want my health to be like in a few years?  Overall I'm a very healthy eater and love to exercise, but it's time for the binge eating and I to part ways.  And I want to be free from this. No more fighting with myself about my body, no matter what my size.




4. I'm help others for a career.  So sometimes, I get wrapped up in the idea that I need to be perfect, because how can I guide other people through their life's goals if I still struggle with myself?  But I think that's silly.  I think my struggles make me stronger, and help me relate to others, just as your struggles help you relate to all of your readers. 

…what I really want is freedom.  I feel like if I dropped my end of the rope, the end that I pulling so hard on, that I need to look a certain way and need to be a certain weight, I wouldn't even have the desire to overeat and my healthy weight would find it's way to me.  That's why you are so inspiring, you seem to have that part of your life under control, and even if you overeat you don't beat yourself up.

Anyways, thank you for your blog, and thank you for writing honestly about your journey.  I hope I can be an inspiration to others in the same way you are an inspiration to me.

~J*
Yea, I know…wow. I constantly say that I have amazing readers, and this email is proof. So many of you are so candid, open, and honest with me and I really feel a connection when you share similar problems that I too have gone through.
Here is my answer:
I honestly can relate to your situation SO very very much. Did you know that I initially wanted to be a therapist when I was in school and I feared that I could never do it because I wasn't 100% perfect?

What I have realized is that NO one is perfect. Even counselors or life coach's or Oprah or whoever. Everyone battles their demons. We all have them! I think what is important to realize, and what I think you have realized yourself, is that you don't have to be perfect or have all your problems fixed, to be able to help others. Sometimes just the fact that you are going through a similar situation as someone else is enough to help them through. I find the feeling of being alone with a problem is so alienating for people. Just to know that 'hey I'm here and I'm going through it too' is all that they need, at least temporarily.

I think you are wonderful and the fact that you are this concerned about whether you are a good fit for your career tells me that YES you definitely are. You obviously care so much and are sensitive to the people that you help.

What you said about binges was dead on. Many people forget that binges don't start until we start dieting!!! Crazy huh??? Not really if you think about our evolution and survival mechanisms. Our bodies respond to threat:

Too little food combined with intense mental pressures (I'M FAT, LOSE WEIGHT!) results in binges.

Once I stopped dieting my urge to overeat eventually stopped too. They won't stop right away (We are creatures of habit) but eventually they do.

About diary, I suffered from stomach problems for years until I finally figured out it was diary that gave me pains in my stomach. Now I don't get them AT ALL. Its amazing. I would only suggest going diary free if you absolutely WANT to, not because you think you should. See the difference? I don't feel denied with respect to diary because it was a free choice.

Keep your chin up and keep smiling. :) It takes time to find an inner peace, but I know you will. All the effort in the world is worth being content with yourself and your life situation.
Thanks for your email J! :) I'm sure you have helped so many others simply by opening up.

After yesterday's strong run, I was just itching to get out for another- blister or no blister! I applied the moleskin to my blisters and I also used the lace locking method. I think both of them helped. I was able to run in minimal pain. :)
I also wore a different pair of sneakers- my Nike Free's. These have a super soft heel and don't rub against my blister like my other sneakers do.
The weather was beautiful- crystal clear blue sky and 27C!!! How could I not go for a run???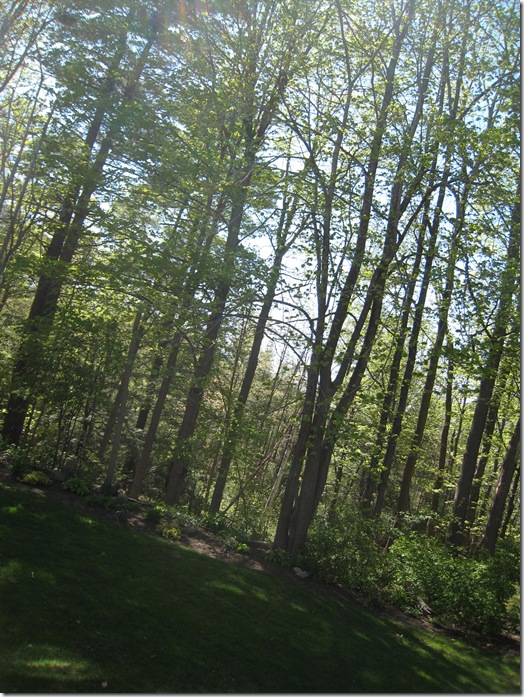 I couldn't believe how tight this lace locking method got my sneakers!!!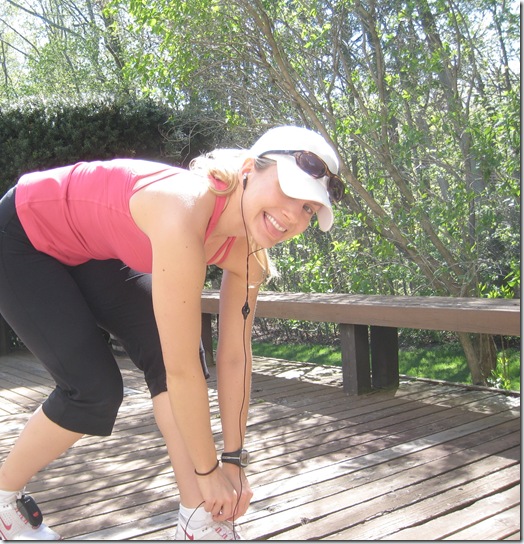 My workout:
Distance: 3.28 miles
Avg pace: 10:12 min/mile
Max pace: 8:29 min/mile (saw a bee)
Max heart rate: 166 bpm
Avg heart rate: 149 bpm
Feel the burn: 270 kcals
It was a wonderful run with only minor blister pain! It feels SO good to be running!!! :) I am going to do lots of stretching tonight to make sure my muscles aren't tight (which they currently are!).

Sweet Wheat Egg-less sugar cookies CUPCAKES!!!!!
Royal Icing: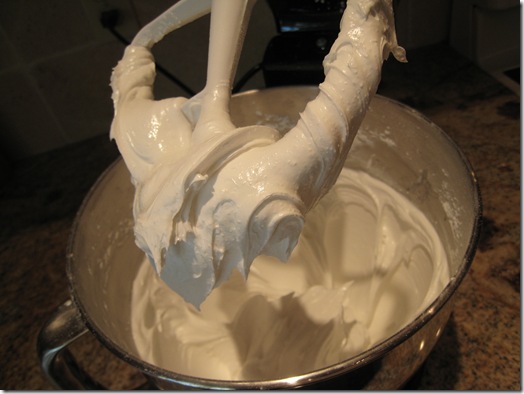 Flooding the cookies with Royal Icing: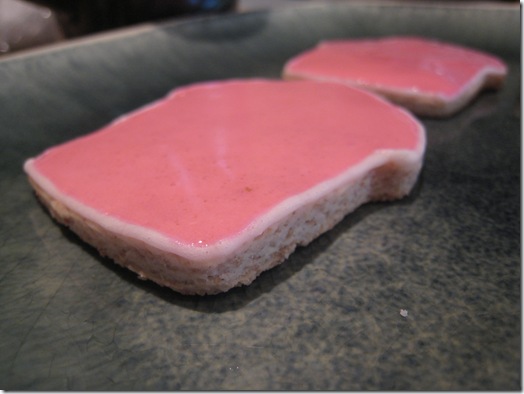 Here are a few of my favourites: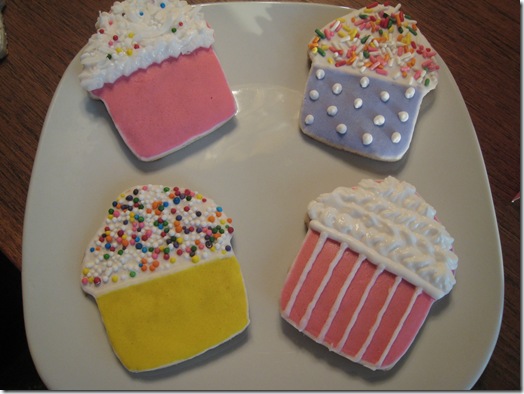 Krista is coming to pick the cookie order up tomorrow around 9:30am!! They are for her daughter's birthday! I hope she likes them. :) I will be doing a fun recap tomorrow AM! Weeeeee.
Tomorrow I will also tell you about some exciting birthday plans for this long weekend! I'm pumped :) As well as our PAINTED FAMILY ROOM!! Here is a teaser!!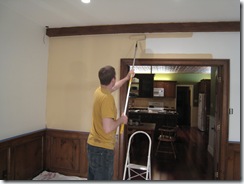 Have a lovely [Office] night!!