I am really glad you enjoyed the video tutorial on how to get beachy hair! :) It's funny because for years I always wondered how the celebs got those kinds of waves and I could never replicate it by using the traditional 'clamp' method with the iron. Who knew it was simply by wrapping the hair around the barrel!? :)

Lunch was a fun change today!
I have been meaning to buy brussel sprouts for ages now and kept forgetting! Last week I finally remembered when Eric asked me if I needed any frozen veggies. :) What a guy, eh?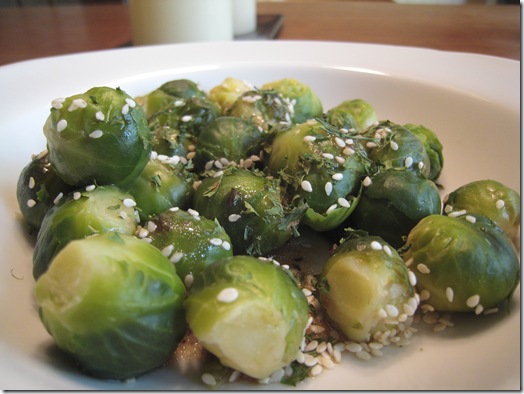 Of course I got President's Choice brand for the great value!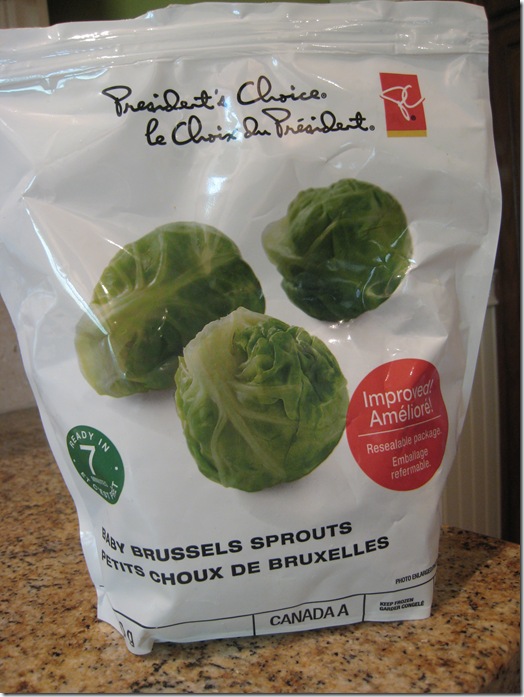 In just 1/2 of a cup there is just 40 calories, 50% of your daily Vitamin C needs (WOW who knew?!?!), 3 grams of fibre, and 3 grams of protein. Of course, 1/2 cup wasn't enough green power for me so I had just over a cup's worth! :) I guess that means I got 100% of my vitamin C at lunch today. Pretty cool :)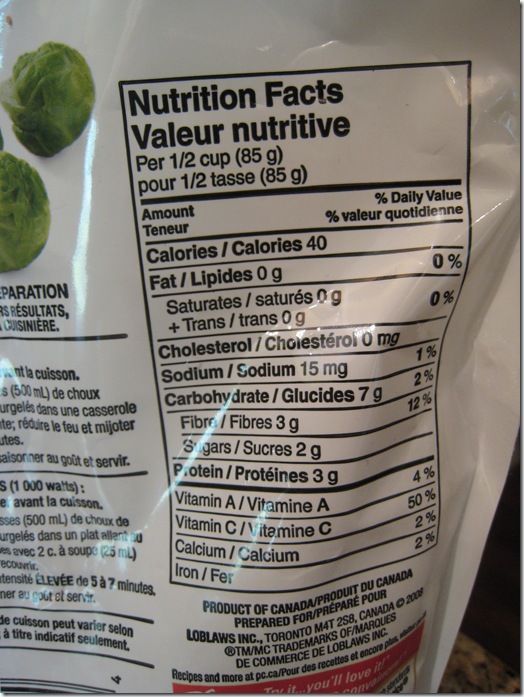 I got these High Protein Pitas by Healthy Gourmet that I used to live off of in graduate school: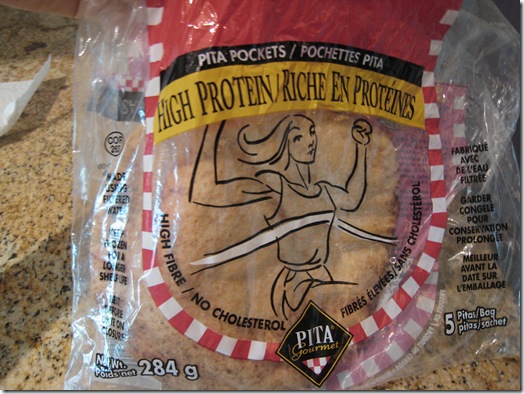 I don't know what happened since I last bought them but they shrunk!!!!!!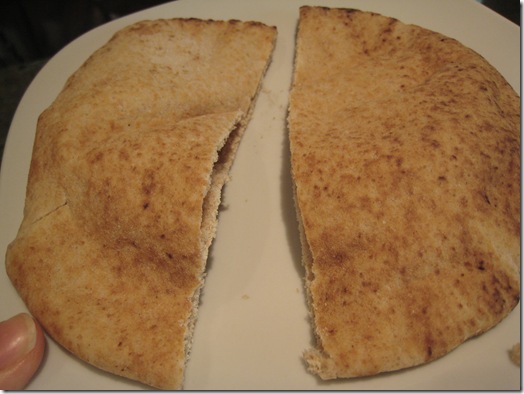 They used to be much bigger than this! Don't you hate when products change on you?
The nutritional profile is pretty darn good though, I will admit: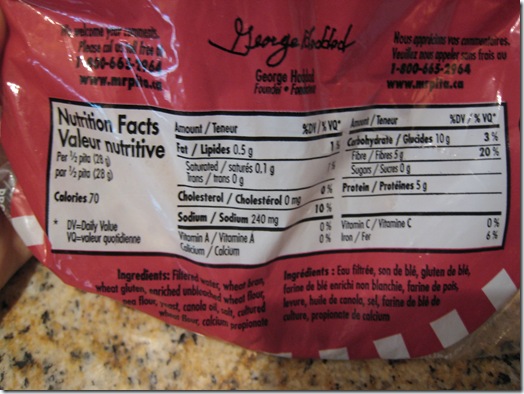 Just 140 calories, 10 grams of Protein and 10 grams Fibre!
I wanted a one pan meal, and I sure got it. :)
With a PC Soy dog and 4 cups of uncooked organic baby spinach: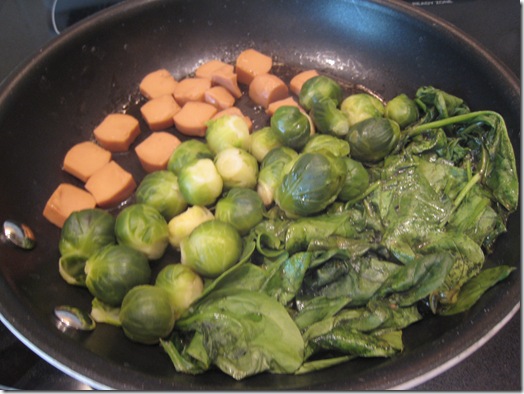 With tomato paste, balsamic dressing, spinach, chopped soy dog: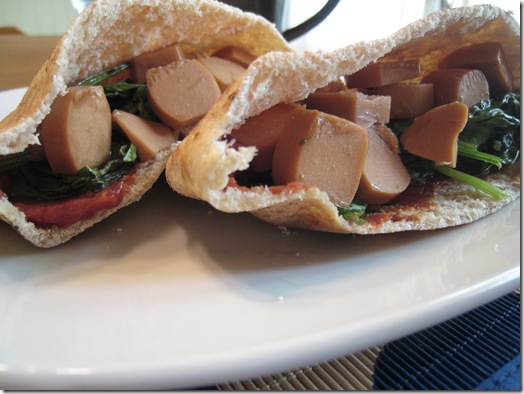 It was like a healthy hot dog! :)
On the B-sprouts, I drizzled balsamic vinaigrette (Flavour) and sesame seeds (for healthy fats!):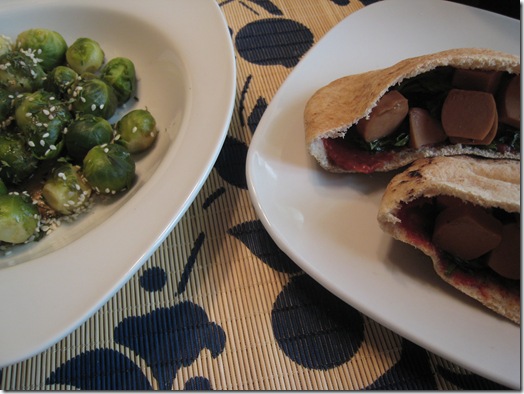 Lunch was pretty rushed today because I had another appointment to get to.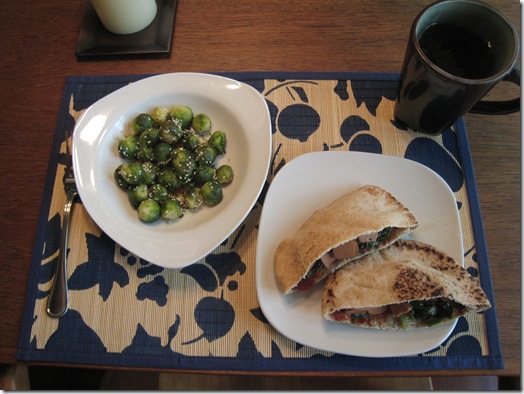 I threw in my raw granola bar into my bag (from the freezer) and ate it while driving. These bars are SO good!!!
There has been so much love for my raw choc chip cookies but no love for the granola bars! Has anyone made these bars yet? Let me know! :) Maybe it's because I told you they crumble? lol. Well, my new trick is to eat them straight from the freezer!!!
They don't get really hard in the freezer, just 'firm' and they are PERFECT. Cool and refreshing. They warm up very fast too. I am still going to play with the recipe a bit to see if I can get them not to crumble. I am going to try grinding the flax next time and reducing the honey or oil a bit. :)
Eric claimed, 'These are the best granola bars I have EVER eaten!!!'
I would have to agree :)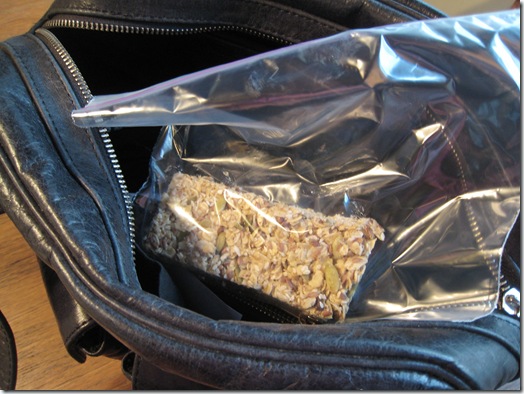 My workout today was all over the map!
My legs were feeling really tired and I couldn't figure out why. Then it dawned on me that I have done 5 workouts in a row walking at incline 15%!!! No wonder- my legs were tired from all those hills.
I think I was feeling a bit tired today because I didn't sleep well last night (I think I got 6 hours?). I was feeling stressed about the bakery and my mind was racing! Hopefully tonight I sleep better. :)
Here is what I did. I like to call it 'Around the World in 40 minutes' :)
1) Walking fast up and down the stairs with a 22 pound weight bar (3-4 mins)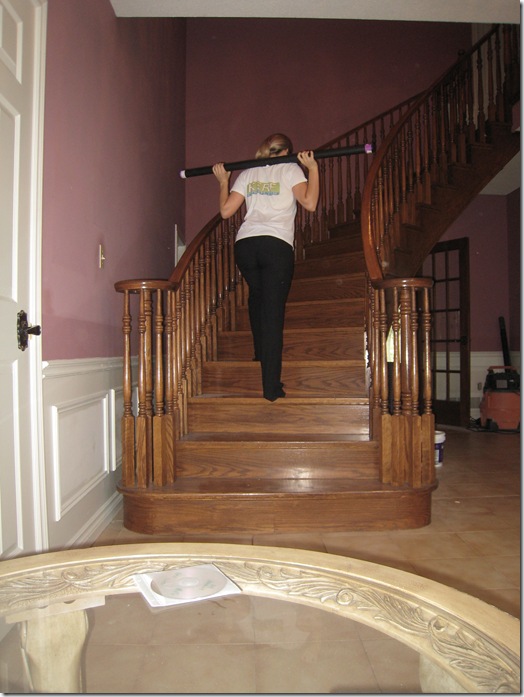 2) Lunges on a step with weight bar (1 long set on each leg, approx. 20 reps)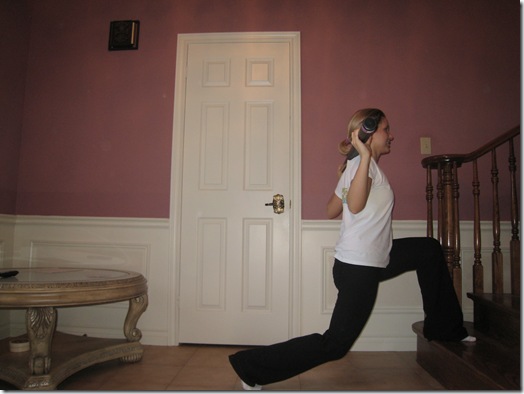 3) Treadmill hill walking (Speed 3.9-4.2 mph, incline 15%)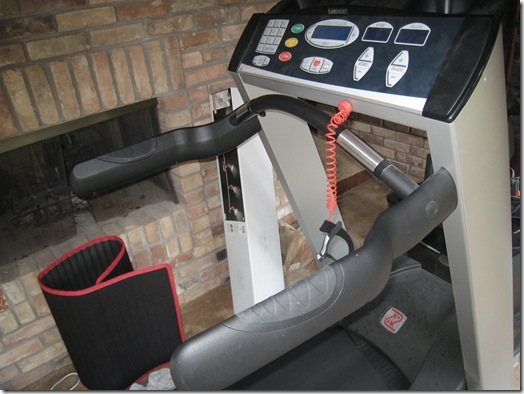 4) Outdoor stair running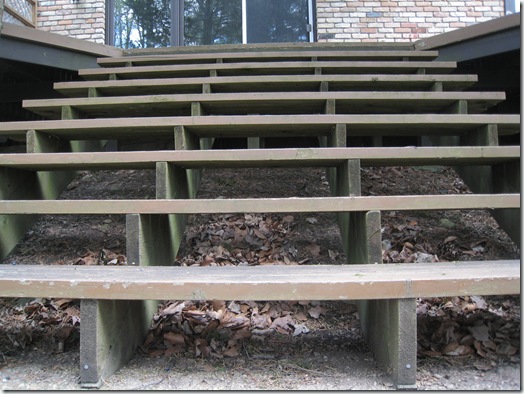 5) More treadmill work
6) More stairs
5) 2 side planks with leg raise, plus one normal plank
7) Treadmill (Speed 3.5, incline decreasing from 15%)
Stats:
Duration: 42 mins
Max heart rate: 165 bpm
Avg heart rate: 136 bpm
Feel the burn: 302 kcals
Some interesting things I noted:
My heart rate while fast walking the indoor staircase with weight bar (140 bpm)
My heart rate while walking at 4.0 mph and incline 15% (150-160 bpm)
Heart rate while running outdoor stairs (135 bpm)
Heart rate while running on flat to small incline (130 bpm)
By far the hardest and most challenging workout for my body is fast hill walking!

As I mentioned last week, I am interviewing a trainer/nutritionist that works with A list celebrities! Now, I have to come up with some good interview questions!
My question to you all today is: If you could ask one question to a celebrity trainer what would it be? I will try to fit as many of your questions in as I can!!! :) I am SO pumped for this interview!
Have a GREAT healthy day!