PETA sent me their new cookbook to review for you all and to do a fun giveaway!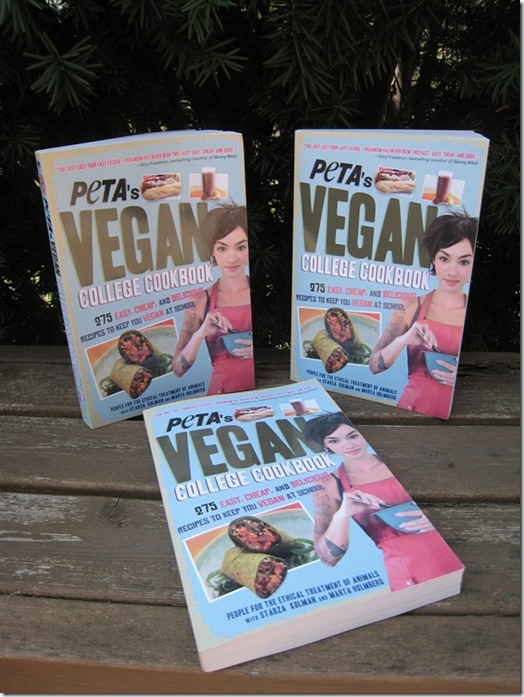 My first thought was 'Wow I wish I had something like this when I was in university!' I was not into cooking in university so these 275 super easy recipes would probably have helped me out a lot.
What amazed me (and also scared me) was that none of the recipes in this cookbook require a stove. Nope, they all use the microwave. Seeing as I am no longer a university student, the microwave doesn't really appeal to me anymore. But thinking back to those days I actually used the microwave a lot!
My favourite part of the cookbook is the beginning few chapters. You will find information about:
Cliff notes for cooking
Vegans- what can you eat?
Stock your kitchen
Vegan alternatives to meaty, eggy, and milky stuff
I looked through almost all of the recipes in this book and if I am to be 100% honest here I was a bit disappointed.
The reason? Well, almost all of the recipes in this book include some type of veggie processed food (like veggie sausage links, veggie ham, vegan cheese, vegan chicken strips, etc). While these types of veggie products can be a quick and easy way to get some extra protein, I don't think they should be relied upon for all of one's meals. It was hard for me to find a lunch or dinner recipe that didn't include some type of fake meat.
And let's be honest here, fake veggie meat isn't exactly cheap is it?
What I would have loved to see instead is that PETA educated vegetarian and vegan readers about other food options save for those often expensive packaged goods. I didn't find anywhere in the book a mention of alternatives such as protein and fibre packed lentils, beans, or other non-processed options. Perhaps this is because students don't have much time to cook these products? I am sure that is part of it!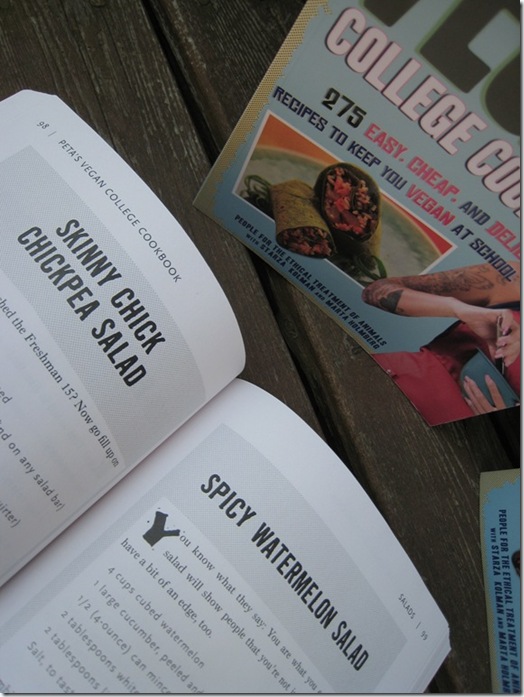 With this being said, the book has some really fun and quick recipes. This one really made me laugh.
Broke-Ass Cinnamon Roll
1 slice white bread
vegan margarine, to taste
Cinnamon, to taste
Sugar, to taste
Cut the crust off the bread. Flatten the bread with a can or a rolling pin and spread it with the margarine. Sprinkle with cinnamon and sugar. Roll up like a burrito and microwave for 15 seconds.
Hey, they said the recipes were easy right? :D
Rules of Entering
Leave a comment below with your correct email address filled out
Details:
Winner will be chosen on Wednesday May 13, 3009 at 9pm EST
One entry per person
Contest open to anyone anywhere in the world
One copy up for grabs (the other one will be in my Shop 4 A Cause Auction)

I tried my green monster this morning with some nutritional yeast!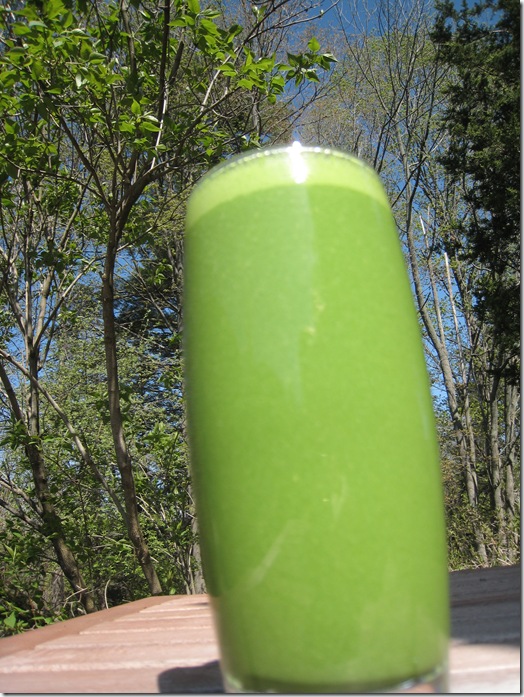 Ingredients:
2 Tablespoons nutritional yeast
1 cup Almond Breeze
1/4 cup Grapefruit juice
1/2 ripe frozen banana
1 T flax
1 T raw almond butter
2 organic kale leaves
In just 2 tablespoons of nutritional yeast this is a bit of what you will find:
60 kcals
3.9 grams fibre
8.34 grams protein
11 mg calcium
56 mg Niacin
9.6 mg B1
9.6 mg B2
9.6 mg B6
240 mcg folic acid
8 mcg B1
220.8 mcg Biotin
174 mg Phosphorus
and more!
Wow , amazing isn't it??
The taste? I didn't really notice the nutritional yeast at all! I think this is a great way to get in some extra B vitamins. Make sure you are buying the kind that is fortified with B vitamins because I hear that not all kinds are.
Raw Chocolate Chip Cookie Sighting!
My raw chocolate chip cookies were spotted over at Whole Foods Whole Me. The wonderful Mi even calculated some nutritional information on them. Mmm, makes me want to whip up another batch!
Back to work I go! See you this afternoon. :) Have a wonderful Monday.

Today's question: Are there any condiments that you really hate?
Me, I can't stand relish! I also hate mayonnaise too. I never ate them as a child and so I never got used to them I guess!