I'm Done.
That's what I said to Eric when he arrived to pick me up last night at 3:30am!! LOL
My only goal last night was to ensure that my friend Jen had the best bachelorette experience possible!  You only get one shot at it, right?
Here we are living it up on the dance floor of a gay bar called 'Zippers' in Toronto.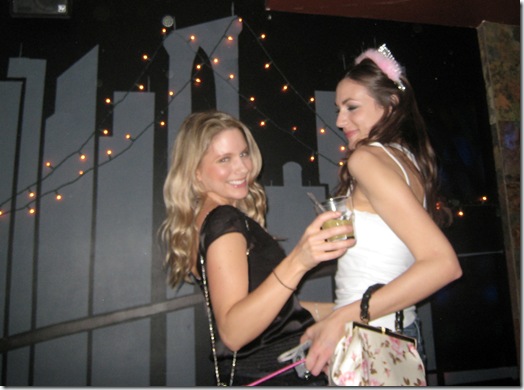 Let me rewind a bit, shall I?

What I wore:
My favourite Aldo Stilettos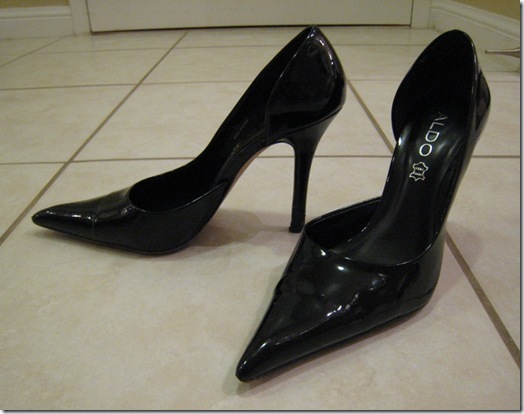 A gold metallic clutch from Aldo: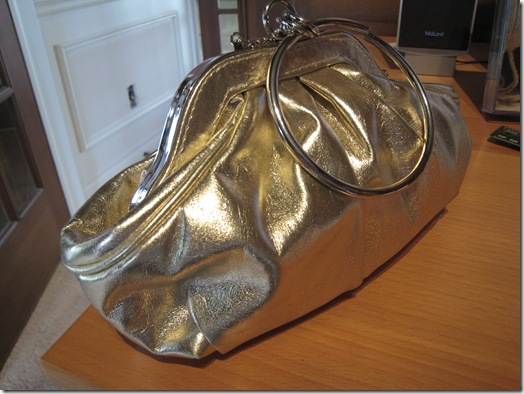 A peek inside: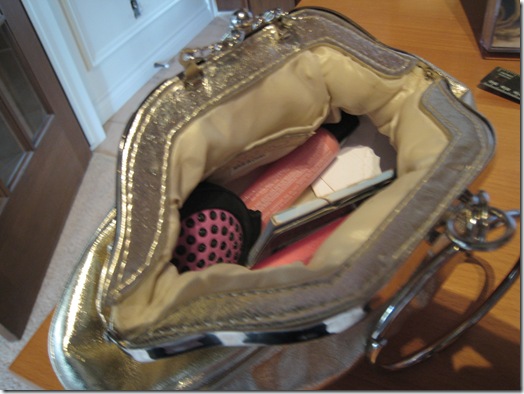 Yes I come fully prepared:
Revlon powder
A gift card (late wedding gift from Jen and Laura!!)
Sephora compact brush
numbers (friends not strangers, lol)
ID + credit/debit card
Bath and Body works pink lip gloss
Clean and Clear Oil Blotting Shetts
Floss
Listerine breath strips
2 hair clips
a camera battery
Notice there is no money– this pic was taken this morning! :)
Beautiful black chandelier earrings that were a gift from my sister to myself and her bridesmaids for her wedding: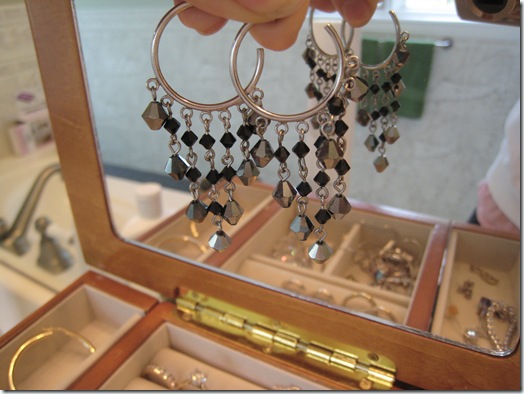 I did some loose beachy wave curls with my curling iron. I was pretty impressed that they stayed in the whole night! I made a point not to touch my hair all night and I think it worked.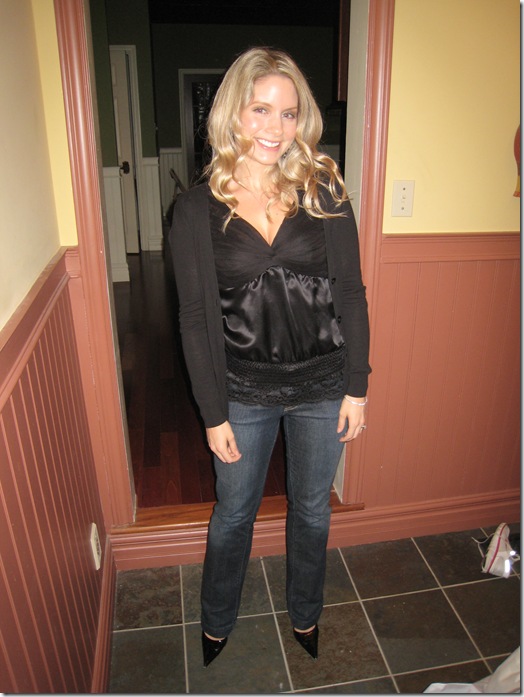 Cardigan: Smart Set
Black V-neck top: Bebe
Jeans: Gap, curvy straight leg
Stilettos: Aldo
Black lace Muffin Wrap (lol): Jean Machine
With my coconut rum all the way from our Mexico trip!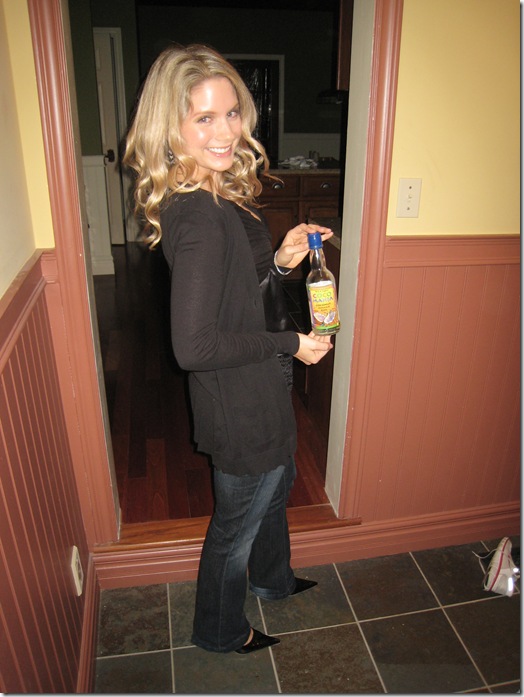 I got to the hotel to meet the girls at 10pm. Jen loved her gift that I got her!
They had some really cute I Do cups and other fun plates and napkins: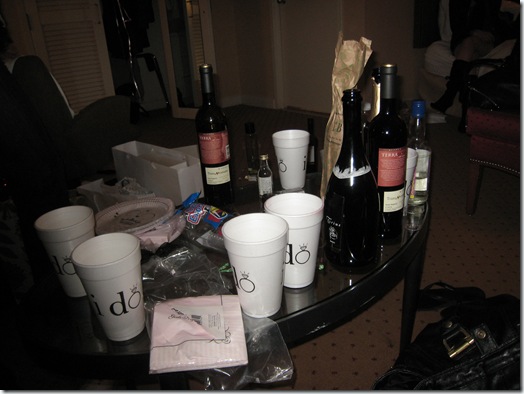 How cute is Jen? :)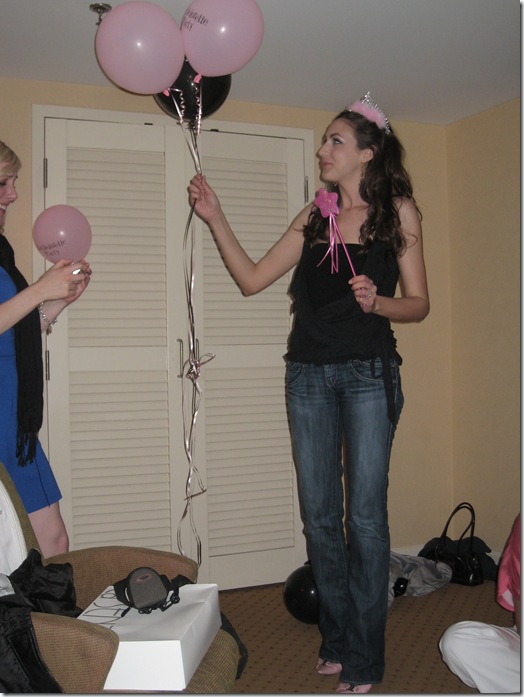 Putting on her pink heels: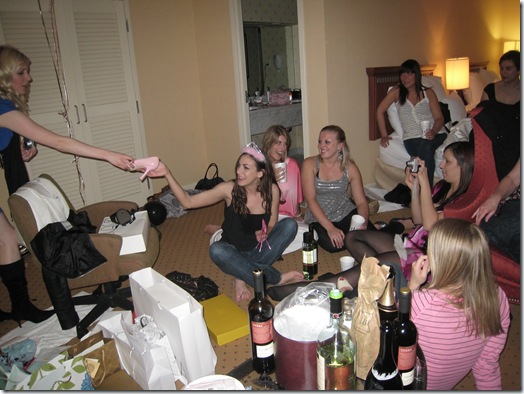 We left for the first bar called Zelda's around midnight. Much to our disappointment, we missed the drag show so we just stayed for a drink or two.
We had the only straight waiter in the bar and he was loving the ladies!
Jen with 'Felicia'. He showed us his business card.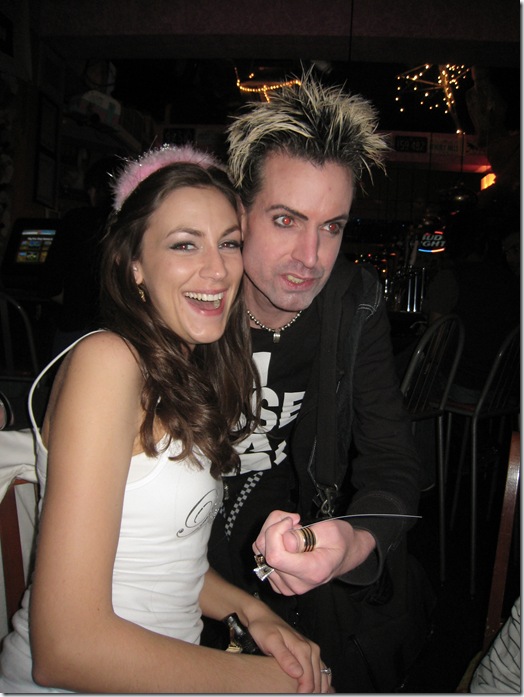 Luckily I didn't do any Tequila shots!!!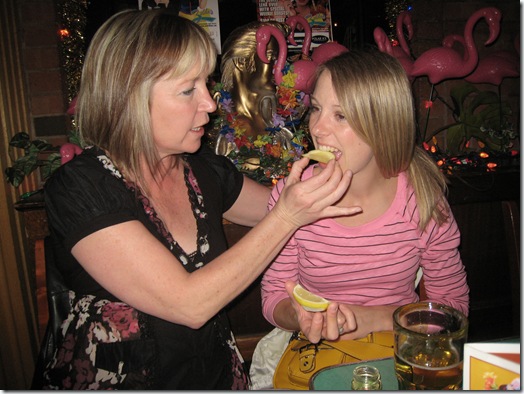 Around 1am, we were off to the next and final bar called Zippers.
We danced the night away until the bar closed at 3am.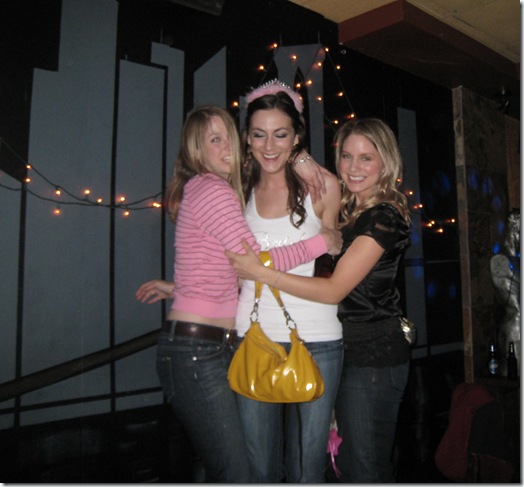 The dance floor had a fan- awesomeness! Lindsay and I were loving it. Why can't all bars have fans on the dance floor?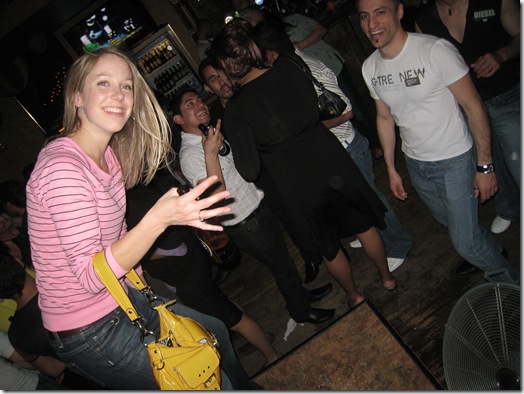 Our hair held up well even after 2 hours on the dance floor!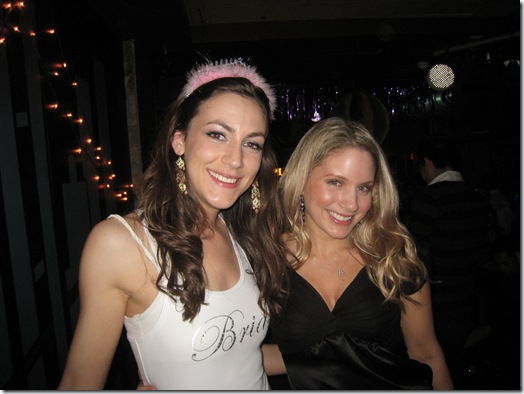 Funniest moment of the night: I was in the bathroom waiting for Jen to come out and a drag queen started putting bronzer on my cheeks and chest!!! lol. I was like I'm just going to go with it. :D As you can see my cheeks are quite 'bronzed' in the pictures. lol.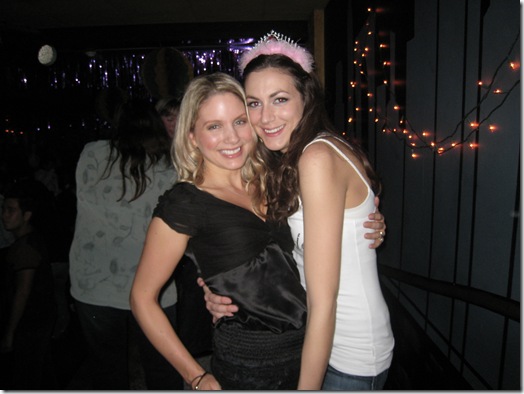 From what I recall this is what I had to drink:
2-3 oz. coconut run + diluted grapefruit juice
a few sips here and there of other drinks
8oz Pinot Grigo white wine
A Screw (OJ + Vodka)
I think that was it?? Oh wait, I was forced to do a half ounce shot of Sour Puss– BLECH I hate that stuff!
I am such a light weight drinker now…one drink and I am feeling it!
Eric stayed in Toronto and hung out at a bar with a couple of his buddies from work. Don't worry- Eric was DD!! Then he picked me up at 3:30am and we finally got home around 4am.
I immediately did my '99.9% effective Hangover Prevention Kit':
2 glasses of water: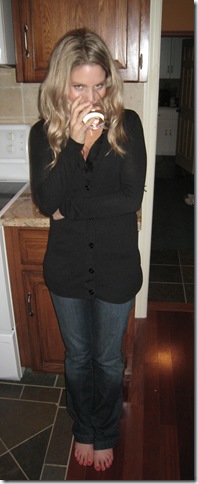 and every vitamin in the cabinet: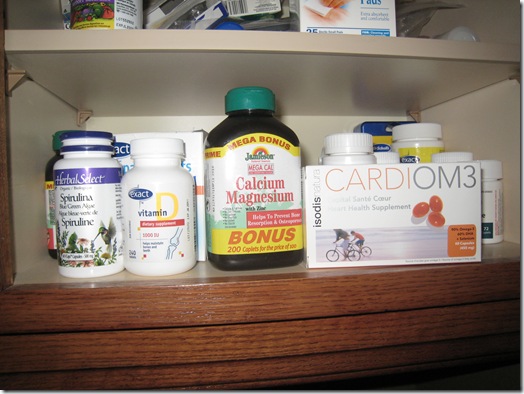 I had 1 Spirulina, Vitamin D, Omega 3, Cold FX, and Vitamin C.
Every time I have done this HPK I have never woken up with a hangover!!! No headache or anything. :)
I am very happy to report NO POST-BAR food passed these lips! :) I must have been zonked because I am now starving. I'm going to go make a super detoxifying green monster and probably some toast + margarine (I LOVE toast after a night of drinking!).
All and all it was a super fun night and I am so glad I went!! :) I definitely am not a big partier now, but when I do party, I party hard. Work hard, play hard– that's what my doctor always tells me!
HAPPY MOTHER'S DAY to my beautiful mother and sisters and all the mothers out there!!! I wish I could be with my mom today!!!!! miss you guys!!! xoxo
See you later alligators!

A mother is a person who seeing there are only four pieces of pie for five people, promptly announces she never did care for pie.  ~Tenneva Jordan