Today was all about the butt! I don't know about you, but my butt looks a little 'soft' after a long winter. :) Time to whip it into gear, right??
I started my butt workout with a super hill workout on the treadmill at the maximum incline 15%. This workout really works my glutes– I can feel it working!
Pre workout snack: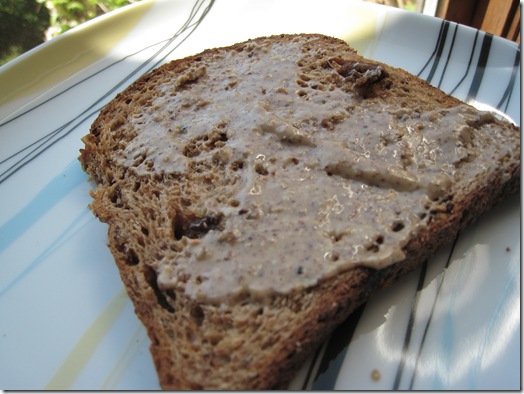 You'll never believe it but I found a few slices of frozen Ezekiel bread in the back of my freezer this morning!!! I squealed with delight. I still can't believe it has been 4-5 months since I last bought some??? :)
It was the cinnamon raisin flavour and I had it toasted with a glob of raw Almond Butter.
The workout:
Duration: 55 mins.
3.8 mph, incline 15%
Distance: 3.19 miles
Max heart rate: 164 bpm
Avg heart rate: 148 bpm
Feel the burn: 460 kcals
Butt exercises- see below
The butt exercises I did were the step ups as shown on this morning's BBBC video!
One:                                       Two:
Three:                                       And then I did some backwards step ups:
I did about 15 per leg and really squeezed my butt when I lifted my leg! make sure the movement is very controlled- especially when you land. The more controlled you make it the harder your body works!

Lunch was exactly what I needed to fuel my body after the workout!
Quinoa, tomato sauce, and avocado wrap:
This is how I cut my avocados:
One: Slice while it is still in the skin,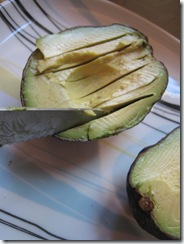 Two: Now scoop out with a spoon.
Three: Place on food and spread out with the spoon!
I decided to mix some Eden Organic No Salt Added Spaghetti Sauce with my leftover cooked quinoa: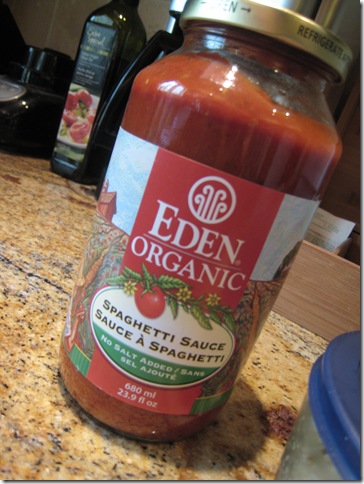 1 cup cooked quinoa
1/2 c spaghetti sauce
I also added a handful of black beans when I discovered I had some to be used up!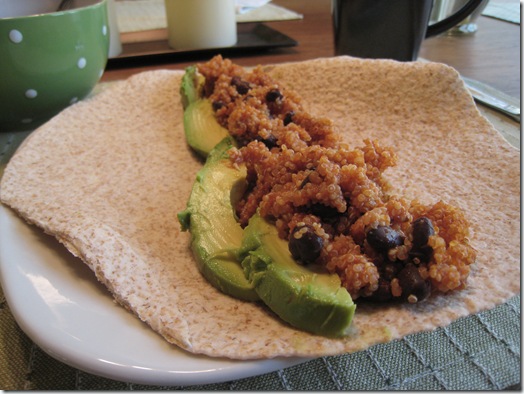 Then came the solgurt (soy yogurt), Nature's Path Spelt Cereal, walnuts, agave nectar, and cranberries!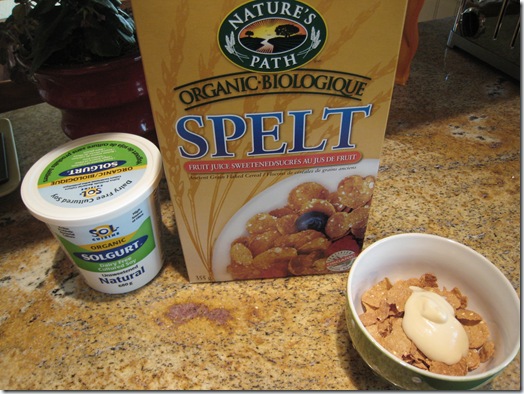 Since I buy the unsweetened Solgurt, I have to add a drizzle of sweetener or this is way too tart! I probably added about 1 t of agave.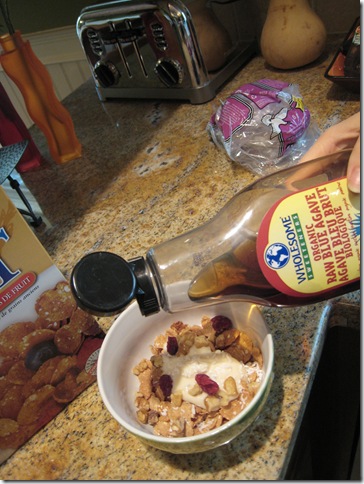 The sweetened Solgurt has something like 22 grams of sugar in it per serving- a bit too high for my liking.
This wrap was really tasty! I loved the quinoa in it with the sauce.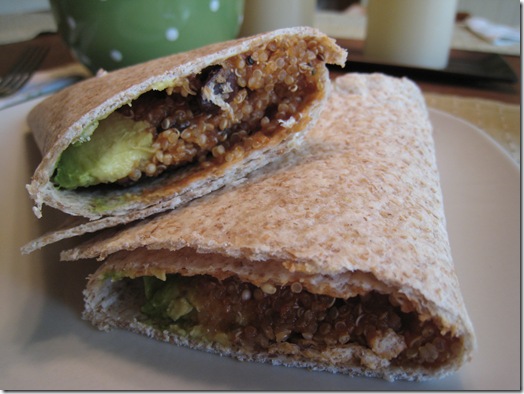 Fun facts about Quinoa:
Quinoa is very high in protein and is a high protein seed that is used as a grain
It is a great source of complete protein as well as magnesium
It is rich in Vitamin B6, Vitamin E, dietary fiber, phosphorus, iron, copper, zinc, and manganese

Those Lace pant cover-up thing a ma bobs…
PPP told me that they are called Bella Bands
Sarah suggested this hilarious name for them: "Muffin wraps for those muffin tops!"
Kelly says you can find them here: www.myhip-t.com
Angie says you can buy them here and they are called JAKs
Thanks everyone!! :) Those jaks look awesome!
I am going to try to do a FAQ either tonight or tomorrow depending on how much time I have after my work is done.
Enjoy your Friday afternoon!! :D