I have never been a grapefruit fan, that is, at least without sugar on them.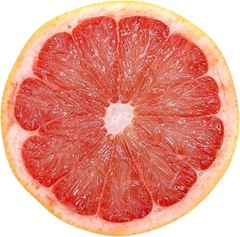 I had a sip of the Tropicana 100% grapefruit juice that is in our fridge and I thought, 'Hmm…not bad…' It was tart but not as tart as I remembered.
Maybe my taste buds for sweet things are slowly becoming accustomed to less and less sugar?? It is a thought I could get used to!
So today, I did what any other normal human being does in the morning. I made a green grapefruit monster!
I got the idea from yesterday morning's guest GM post from the wonderful and creative Nadia who tried grapefruit in her GM!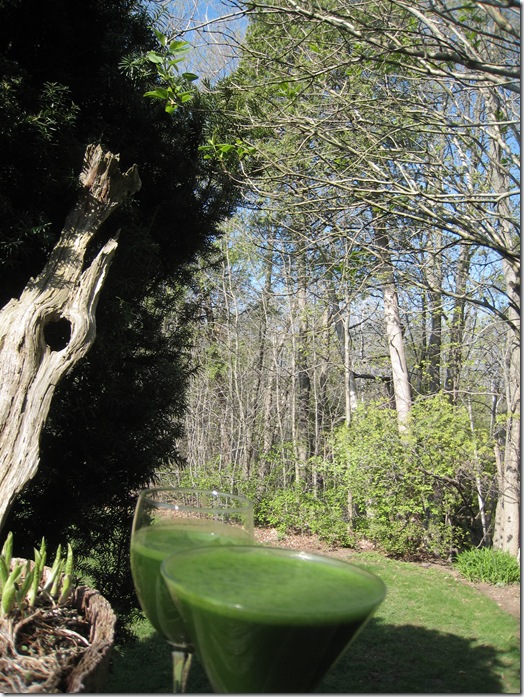 Ingredients:
1/4 cup 100% grapefruit juice
1 cup Almond Breeze unsweetened
1/2 frozen, ripe banana
3 organic kale leaves
ice
1 T flax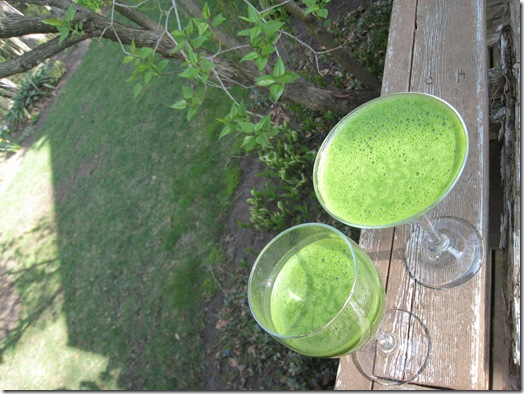 The taste?
Was fresh and fantastic! After my first sip I said WOW, this IS good!! :) I don't know why but the first thought that came to my mind was 'orange creamsicle'. It was much better than I was expecting! I suggest trying it out- even if you are not a grapefruit fan (or am I??).
The weather here has been nothing short of wonderful this spring!! Last night we cut the lawn and I was pleased to see a bunch of new flowers bloomed!

Dinner last night was almost more volume than I could handle!
While I was preparing dinner I got really hungry so I had an entire English cuke, fresh dill, and balsamic vinaigrette: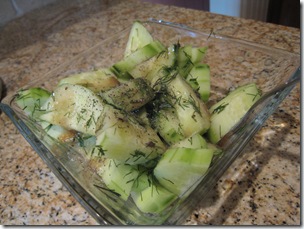 It was like a healthier version of dill pickle chips!
With dinner I polished off this bottle with a glass of Merlot: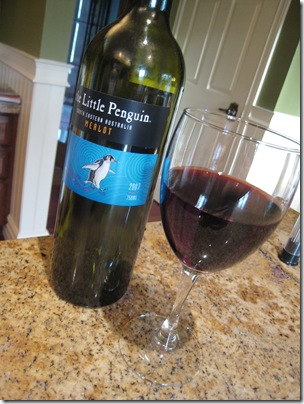 I needed to free up some space in our fridge due to our kale surplus, so I thought a big stir-fry would be great for dinner!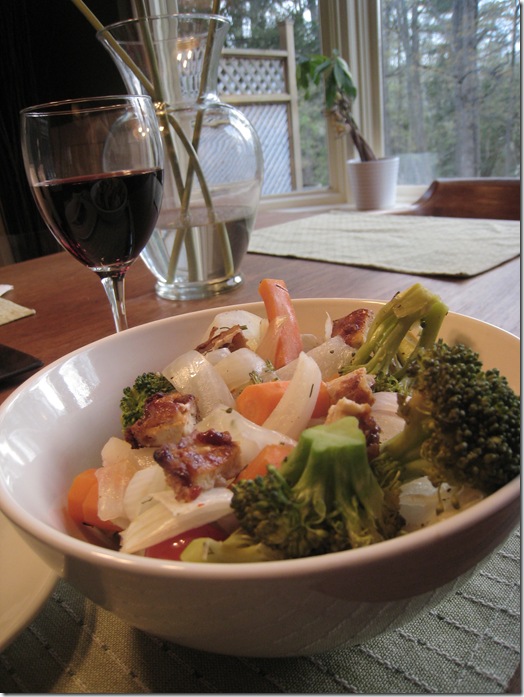 In the stir-fry:
4 organic carrots
1 sweet onion
1 whole broccoli
Balsamic vinaigrette
Twice baked BBQ tofu (see below)
Ladies and gents, I salvaged my rubbery tofu!!! :D
I could almost hear your sighs of disappointment after Wednesday night's failed tofu attempt. Don't worry tofu isn't getting rid of me that easy!
I had about 4 pieces leftover from last night's meal. I refuse to throw out food, so I thought I would twice bake it to make it more crisp. I also spread a thin layer of Tipsy Whiskey's BBQ sauce on it for a little more flava.
At first I broiled it for 10 minutes, but it got the sauce too black, so I baked it for about 30 minutes at 350F. It became dark and crisp. Almost like BBQ chicken, I swear!!!!
In a President's Choice Flatbread 'hotdog' bun with the leftover Almond Butter Sauce: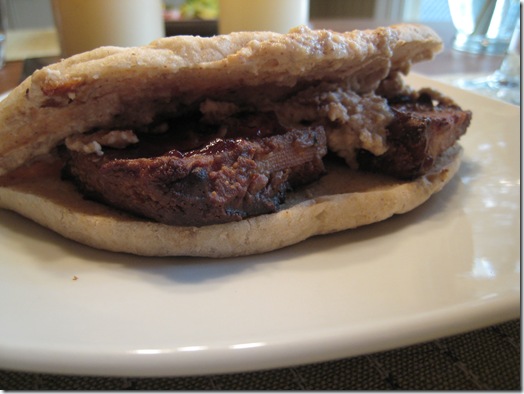 This was HEAVENLY! I swear I heard the angels sing from above. Hi my name is Angela and I just had my first ever smitten experience with tofu!
Well, not counting in my green monsters, that is. :)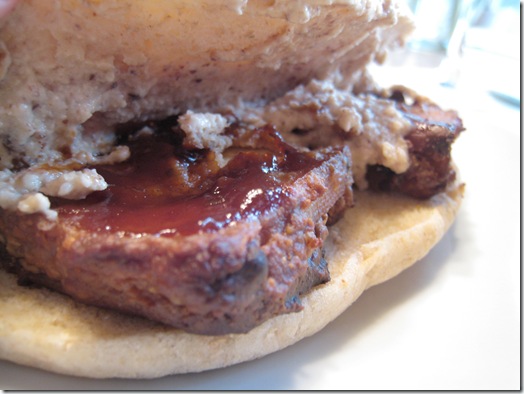 My belly almost exploded half way through the meal, but I persisted on like a champ. It was just too good. Normally I suggest listening to your hunger cues, but I knew if I didn't finish the meal I would be hungry in an hour (veggies always do that to me!).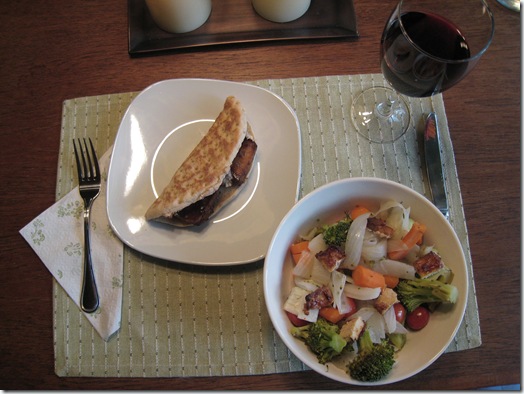 Look at this awesome shot I got with the sunset coming in through our dining window!!!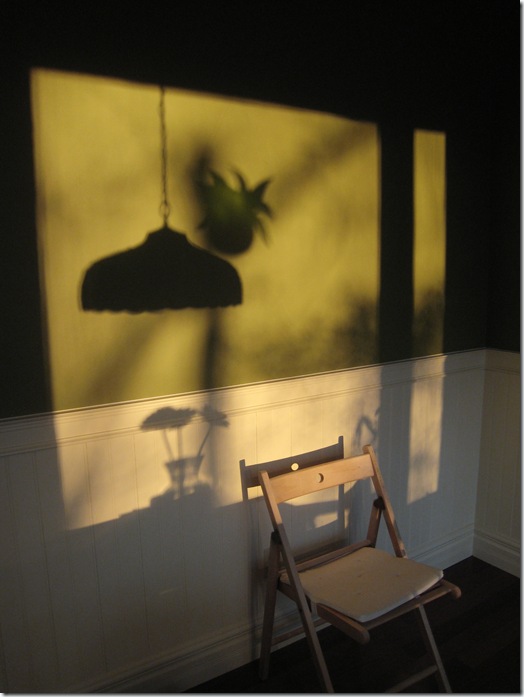 Wouldn't that be a cool painting? I love art and photography.

Day 43 (May 8th): Time to TONE THAT BUTT!! The butt is one of the things I focus on the most when it comes to bikini season! I found this awesome video featuring the best butt exercises you can do to whip that butt into shape. Pick two exercises featured in this video and do 2 sets of each. I LOVE this video!
Also please remember, if I don't post about the daily challenge in one of my posts, please look for it on the BBBC page. At minimum, it will be updated there daily. Some days I just don't have time to always remember to post about it here too. :)
Oh She Glows RAW Chocolate Chip Cookie sightings:
Ryan from Chase Daylight made my raw chocolate chip cookies!
Priyanka from Priyanka Loves Food made them too!
If you have made the raw CCC let me know. :D
HAPPY FRIDAY!!!!!!!

"I don't want to be that person, but I just don't like the spirit of music!"
~Angela, The Office :D
How funny was the dance-off???!?!?!