My fridge!! Where the fun happens, right?? :D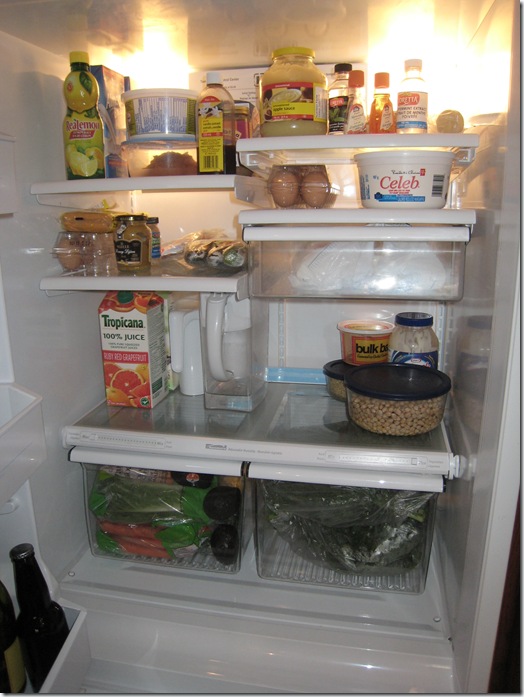 TOP SHELF:
Glo Bakery ONLY products! Eric knows not to touch anything on this shelf. lol

Vanilla extract, almond extract, peppermint extract, lemon juice, almond milk, non-hydrogenated olive oil margarine, marzipan, fondant, applesauce, soy yogurt, pumpkin, etc.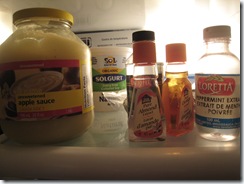 MIDDLE SHELVES:
Organic brown eggs, light PC Margarine (hate this crap!), cheese slices (we bought for the family BBQ), 3 english cukes, honey dijon, pureed organic garlic. In the pull out drawer is Eric's bagged 1% cow's milk.
BOTTOM SHELF:
100% grapefruit juice (I bought this for my father in law while he was here this week), soy milk, cow's milk, brita filter, chick peas (soaking overnight to make hummus tomorrow), cooked quinoa, mayonnaise (in laws), tahini (for hummus mostly).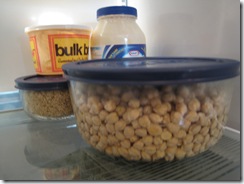 Produce Drawers (bottom):
Right hand side: 4 bunches of organic kale (I told you we had a major surplus!!! bahaha)
Left hand side: 3 avocados (once they ripen they go into the fridge), organic PC romaine, more kale (!!), 4 lemons, organic carrots.
THE DOOR: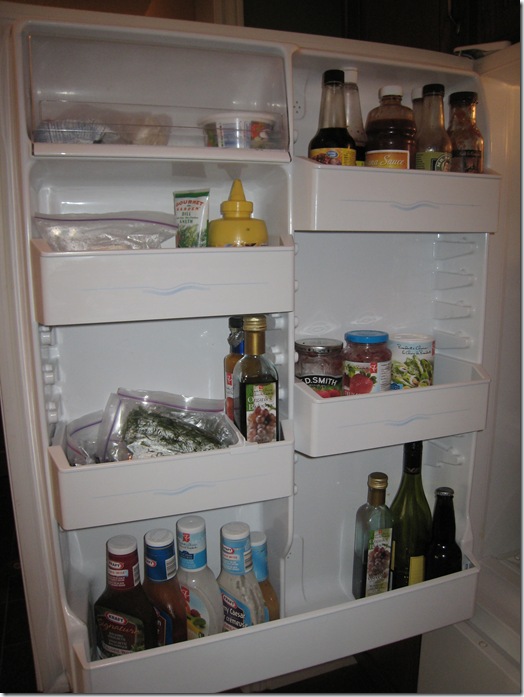 The basic sauces, condiments, dressings, blah blah blah!!! :)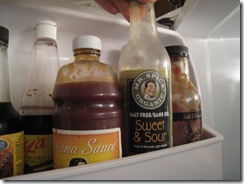 So there you have it!       

I felt SO amazing after today's workout. You know those workouts that leave you drenched in sweat, glowing and energized?? That's how I felt today. Nothing beats it.
The workout:
Duration: 54 mins.
Speed: 3.8 mph, incline 15%
Max heart rate: 162 bpm
Avg heart rate: 148 bpm
Feel the burn: 454 kcals
This hill workout is tough, tough, tough! It was the same workout as the past couple days only I walked a bit fast (3.8mph vs 3.6/3.7). I also did 2 side planks (50 sec each-full arm extension) and a downward dog for kicks.
I studied my food safety manual while I exercised and my attention span capped out at 30 mins. :D Same with yesterday. At that point I just don't want to be studying while working out. It is a great way to kill two birds with one stone, though! Now all I have to do tonight is a quick review.

The other day I came across Spring and Summer 2009 colour pallet trends by TLF. Apparently, TLF 'forecasts' the colour trends 21 months in advance!
Here they are for Spring/Summer 2009. TLF divides the colours into 3 categories: Chic, Classic, and casual. Click on the image below to enlarge!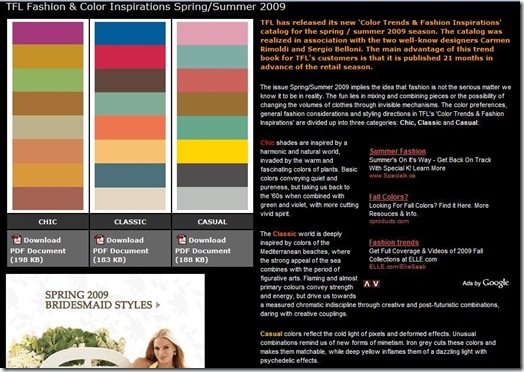 What colour pallet do you like the best?
I think my favourite is the classic colour pallet. That or casual. I think the chic would wash me out too much with all those beiges.
This is what it says about the classic:
The Classic world is deeply inspired by colors of the Mediterranean beaches, where the strong appeal of the sea combines with the period of figurative arts. Flaming and almost primary colours convey strength and energy, but drive us towards a measured chromatic indiscipline through creative and post-futuristic combinations, daring with creative couplings.
Awwww…takes me back to our mediterranean honeymoon!!!! *sigh :D
It's Office night…yawhoo. Have a great night!!
Tomorrow I will be showing you experiment #2 with my tofu! Did it turn out? We shall see…I will also be doing another round of your favourite- FAQ's!! :) Lots of great questions to address.