This morning I had to meet with someone about Glo Bakery Packaging. It is a warm and sunny morning out so I wanted something that would be cool, summery, yet slightly put together. This is what I wore!!
I love this beautiful neckline. If I could describe my style this top would be it- frilly, feminine, and delicate.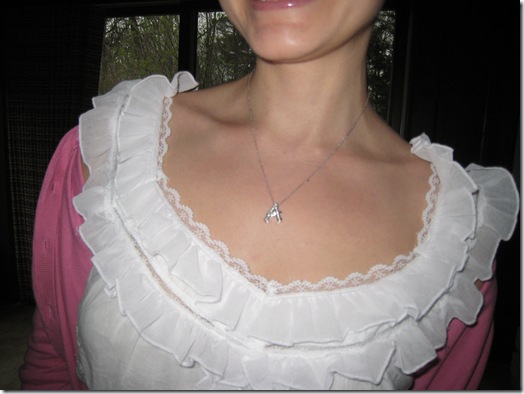 More frills and detailing: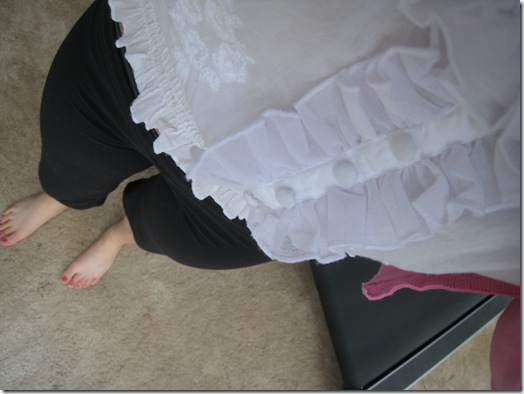 I love the accessories today. The diamond earrings were a gift from my sister Kristi when I graduated university!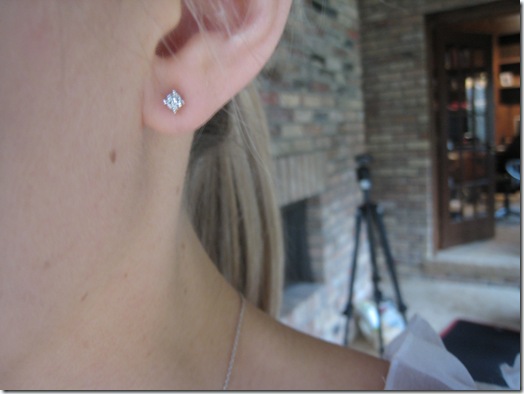 This A shaped diamond necklace was a gift from my mom when I graduated. It is such a lovely set and I feel so warm and fuzzy inside when I wear it. :D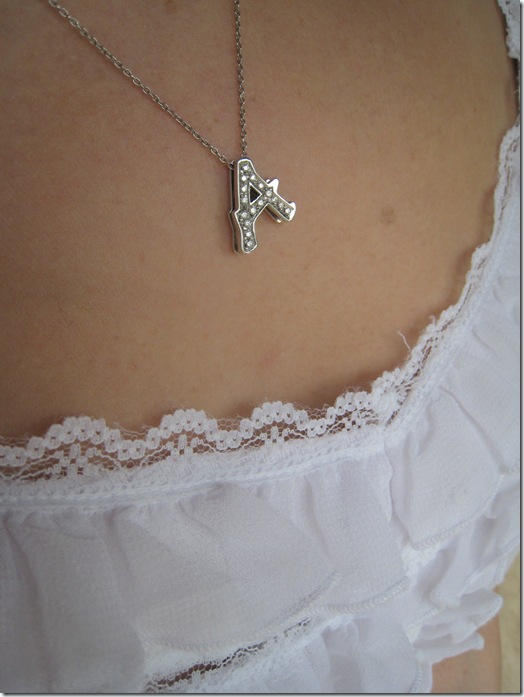 With a funky beaded bracelet: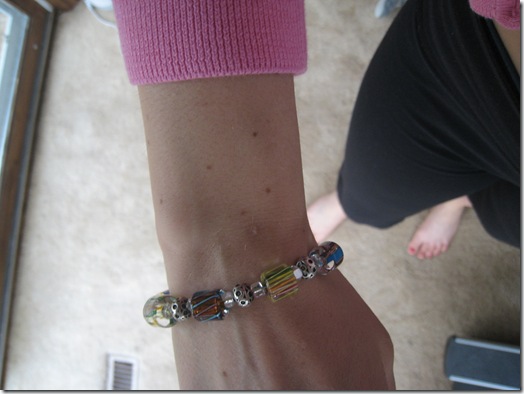 All together: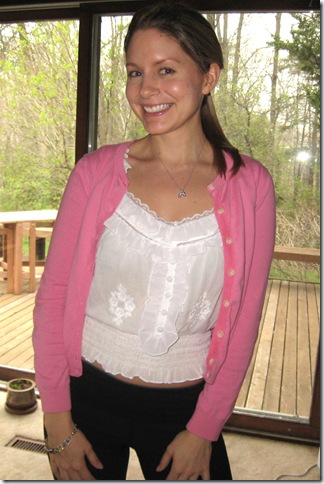 What I wore:
White off the shoulder top– Bebe Summer 2008
Pink Cardigan– Gap clearance rack Spring 2008
Black capris– Lululemon 2007 or 2008, can't remember!
I also added a white lace 'pant' cover thing a ma bob. Anyone have one of these? It is a fun way to dress up casual clothing, especially when your shirt is really short and doesn't cover the top of your pants!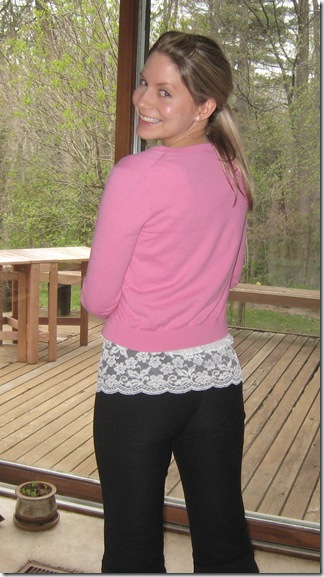 Pretty basic clothing, right? I love wearing basic and casual clothes and dressing them up a bit with accessories and a fun top!

I have a couple fabulous reader green monster's to feature today!
The first one comes from Nadia:
Hi Angela,
I've been following your blog for a few months now and really enjoy reading it, trying out your recipes, and especially trying to follow your workouts.
Your Green Monsters have inspired me! I started making them about 2 weeks ago, and am now drinking 1 a day. I'm not sure if you tried this combination, but it's great: the other day as I was juggling a 9 month old in a sling and a shopping cart, I went to grab a large back of navel oranges, but when I got home discovered that I had bought a bag of grapefruit instead! As much as I like grapefruit, I didn't know what I was going to do with 5 lbs of the stuff, so I had the inspiration to try them in my GM! I microwaved two for about 10 sec each to release the juices, and then squeezed them into my the mix for my GM which included 2 kale leaves, some spinach, a banana, and 3 fresh strawberries (I left out the Almond Breeze). The result: delicious! And hopefully I'm getting a bit more iron too, as the citrus/spinach combo is supposed to help iron absorption. Anyway, just wanted to share this.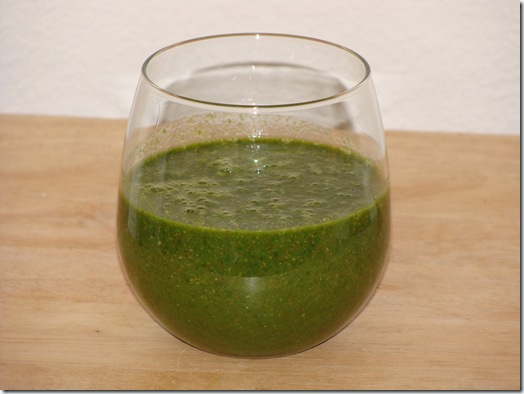 Wow that sounds like a heavenly combination! I can't wait to try this. Thanks for the creative idea, Nadia! :)
The second one comes from Erin of Care To Eat: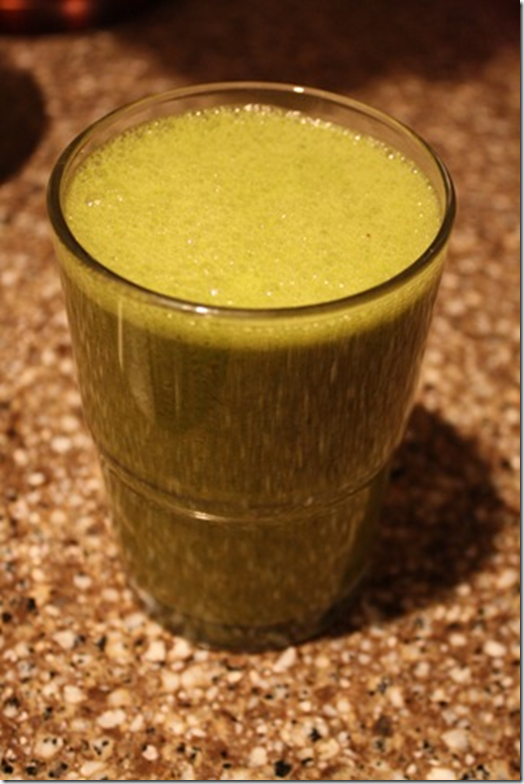 I love this picture!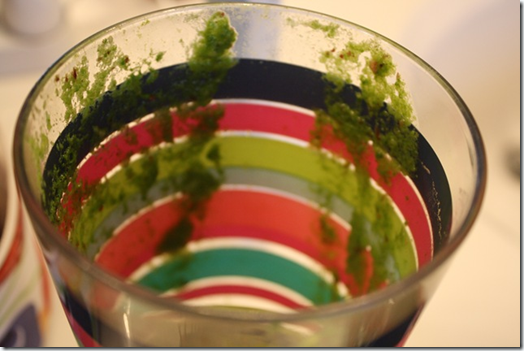 So far I've taken suggestions from everyone else and come up with my own mix:
massive handful(s) of spin
1/2 cup unsweetened vanilla almond milk
1 cup ice cold water
a few chunks frozen mango
strawberries OR frozen cran
big spoonful of nooch for B12!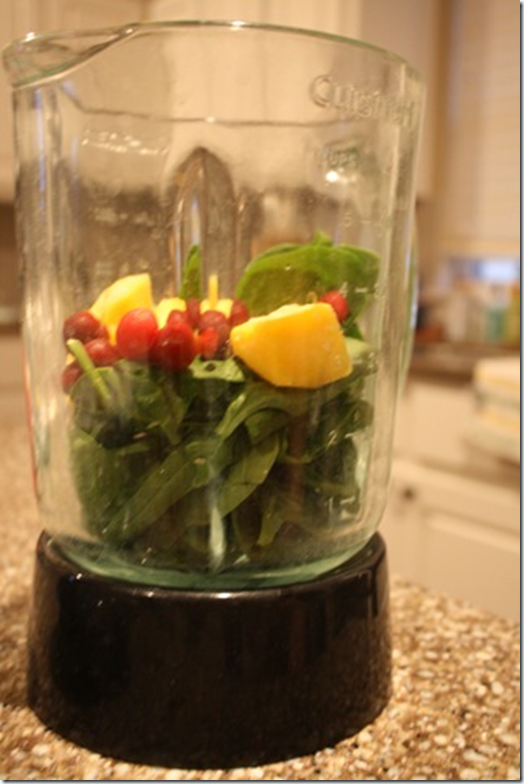 Thanks for sharing ladies- they both look delicious!
I'm off to update some recipes for GB– the hardest part is deciding which ones 'make the cut'! I'm veeeery picky.
Today's question: What clothing are you the most excited to wear now that the weather is warming up?
For me it is summer dresses and flip flops. I couldn't live without them!
Have a wonderful Thursday!