Aunt Bun's Dianthus is sprouting!!!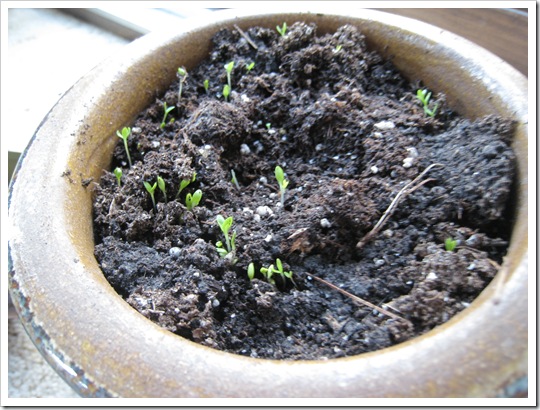 I couldn't believe my eyes. It has only been a week! She must have given it a magic touch. :D
The trees also took off in the last 2 days. I find once the buds start to open it is a QUICK process!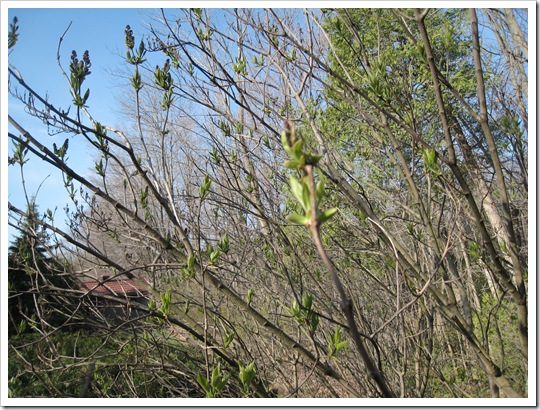 The forest is going to be filling in very soon!

I have a really fun update this morning from my sister Kristi! In case you are still wondering, Kristi is still doing amazing with her commitment to healthy eating and exercise!
She hasn't had time to do a final update on her progress since she is working so much (and has 2 young boys!), but she is doing awesome regardless.
Here she is yesterday working out on my mom's treadmill: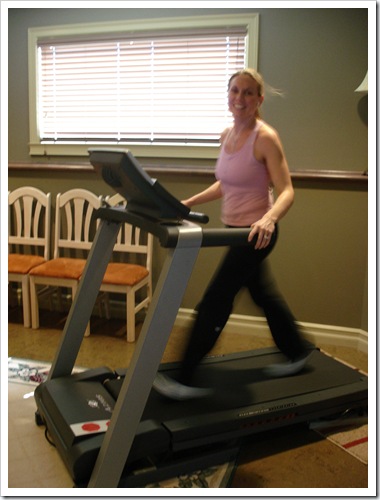 Enjoying a refreshing green monster afterwards and checking out OSG: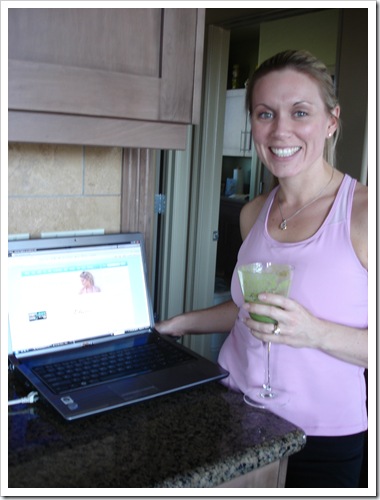 Isn't she beautiful? :D What a lovely smile!
We were up LATE last night– as in 2am! Yikes. I am quite tired today! For some reason when I stay up late, I can't sleep in because my body clock still wakes me up at the same time. Anyone else?
Of course I bolted to the kitchen for my morning pick me up: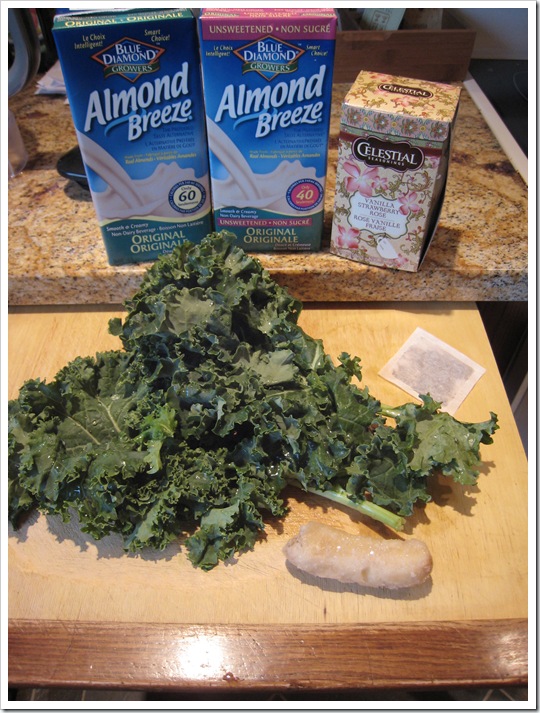 Look at all that glorious kale!
Ingredients:
1 T homemade almond butter
1/2 frozen banana
2 huge organic kale leaves
1 bag of Celestial Seasonings Vanilla Strawberry Rose tea
1/2 c unsweetened Almond Breeze
1/2 c Original Almond Breeze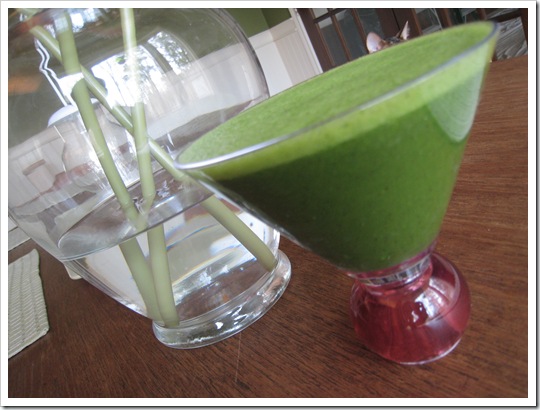 It made this glass plus almost another 2/3 of a glass! :)
On today's agenda:
Buy MIL's Mother's Day gift
Buy DIL's birthday gift
Buy Jen lingerie for her stagette May 9th
Workout (outdoors because it is beautiful out! Maybe hiking with Eric? He can fight off the snakes! haha)
Order Glo Bakery Business Cards (I can't wait to show you my final design!)
Bookstore/research Diabetic cooking
Buy Canisters?
Yard Work
Shop 4 A Cause Update: We have over 30 entries now and I can't even begin to tell you how excited I am by these generous donations! Coach Purse, anyone??? See you this afternoon for more teasers!
Have a healthy + happy Saturday!