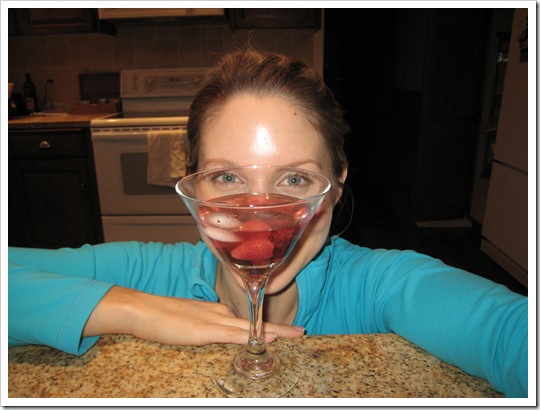 Happy Friday!
I made a lovely cocktail while I was making dinner tonight. The ingredients were simple: Yellow Tail Rose, water, ice, and frozen berries.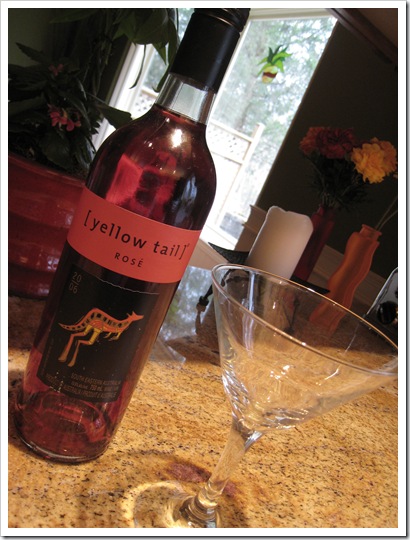 It was very summery feeling!

I took my measurements for the BBBC again today. When I took them on April 19th, I didn't do all of them and I also wasn't using a tape measure (I used a string because I couldn't find it). 
My first measurements were taken on March 26th, 2009.
Here are the changes at week 5:
Bust:

Down

0.4 inch
Arm (widest part):

Down

0.75 inch
Waist (Narrowest part): No change
Waist (widest part):

Down

1 inch
Hips (widest part over butt):

Down

1 inch
I am pleased with this progress so far. Seeing as I haven't been doing tons of extra resistance exercises, it just goes to show that you can see real progress by just adding a few minutes of resistance each day!
I have received some emails from you guys telling me you are already down a dress size. Great work!
Remember the BBBC goes until June 1st! You can join anytime. :)

I was feeling a bit 'off' today as I eluded to in this afternoon's post. A bit sore in my injury area from yesterday's run. I suspect it might have been from the bouncing on yesterday's run.
I was trying to run on the balls of my feet and it made me bounce more. I think this is harder on my joints! Alas, I am feeling a bit discouraged with all things running at the moment!
Luckily, running is not the end all and be all of fitness as we know. There are so many great ways to get active (especially with summer coming) and I want to really experiment with trying out new things! That's not to say that I won't go for a run here and there, but I am not going to do something that harms my body.
To keep it simple today I did some resistance exercises! Since I have been having such great results from the BBBC strength exercises, I decided to just extend my session a bit more today. I did about 10 mins or a bit longer. I used 5 lb. weights in each hand and did some bicep curls, arm raises (front and side), and some triceps. I did it until my arms couldn't lift anymore! They were tired (still are!). Then I did some abs and core work.
Bicycles: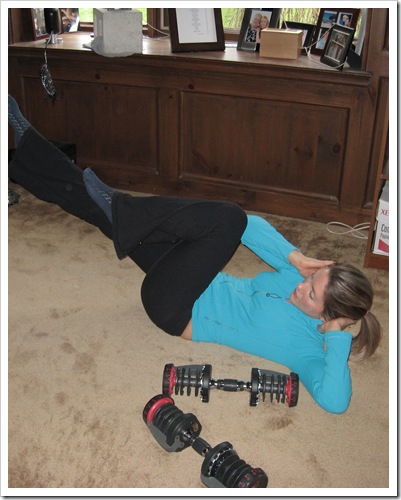 Leg lifts: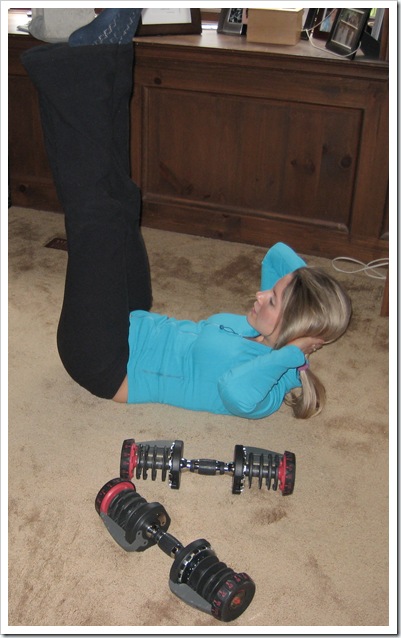 I definitely wasn't feeling the treadmill today. Nothing is worse that doing a treadmill workout when you don't want to!

Leftovers for lunch was delicious today! So quick and easy. That is the bonus of trying out new recipes- there always seem to be plenty of leftovers for the next day.
Whole wheat wrap + 1/2 avocado + tomato with 2 cups Lentil Stew (last night's post) and an apple: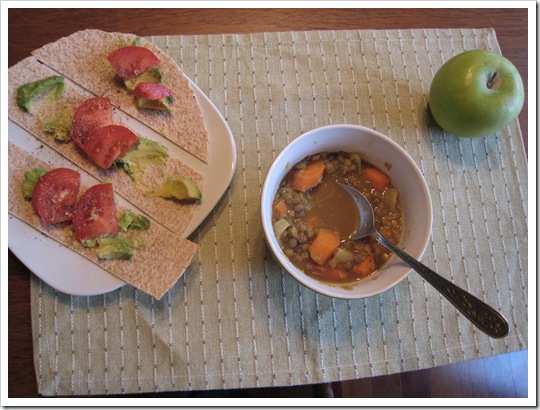 It kept me full for a good 4 hours!
Along with some Spelt + Cranberry cereal around 4pm when my tummy grumbled:
My delivery went well today!
I met this lovely woman who is very good friends with my mother in law. She showed me all around her gorgeous house that my MIL designed. It was so beautiful and well decorated. I can't wait until we have our house looking better- I'd even take paint on the walls and some furniture right about now! :D
The lady I met would like me to develop some Diabetic Friendly baked goods for her husband! Of course I said I was up for the challenge. However, I have never baked for a diabetic before. Does anyone know about it? Is there a certain suggested 'cut off;' for amount of sugar grams per serving?
For dinner tonight, I made a modified version of these delicious looking bean and mushroom burgers.
I wasn't in the mood to follow a recipe, and I'm not even sure about the amounts I used! Sorry guys, sometimes I just throw caution to the wind. :D It's fun!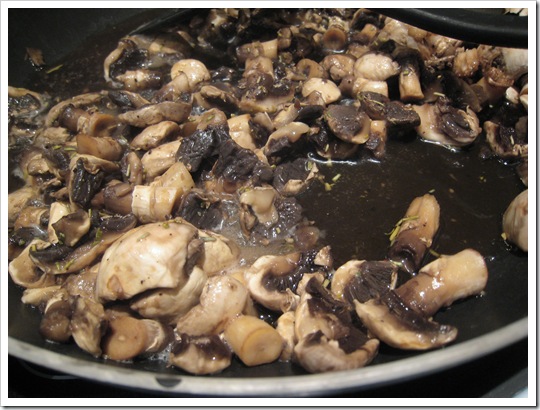 At the last minute, I decided to turn my burgers into a pie (don't ask me why!!! haha)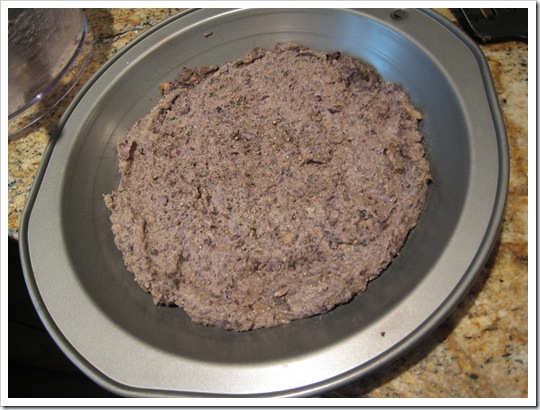 After baking for 20 mins at 350F: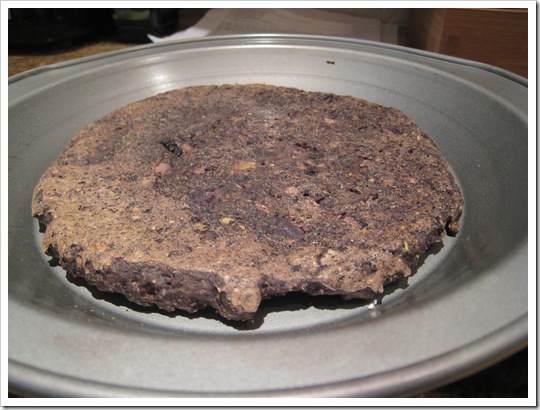 Eric goes, "What's that….?" He looked a bit worried! I said, "It's a bean and mushroom pie, obviously." :D
I also made a couple regular bean burgers.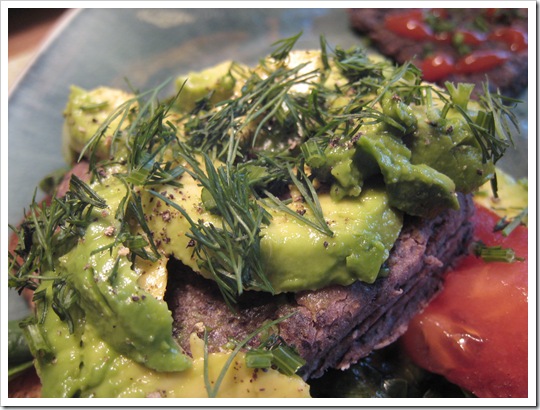 Pie, anyone?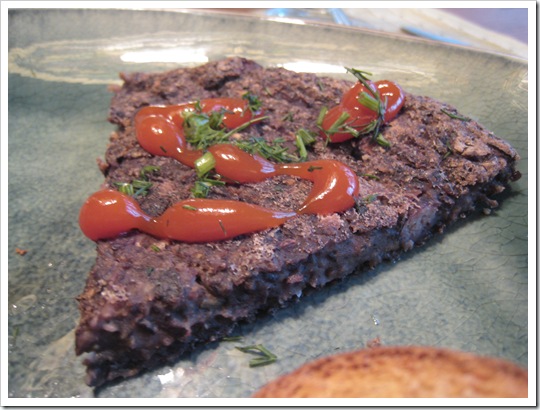 This pie was SO good with ketchup. And a little fresh dill. It was just divine!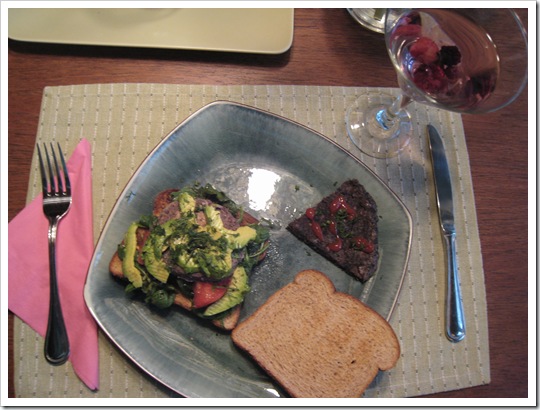 For dessert, I had a few squares of dark chocolate. I've been on such a chocolate kick lately! yum!
Well, Eric and I are going to have another drink and call some friends. :)
See you tomorrow AM!!
Enjoy your Friday everyone!