Good afternoon!
I hope you are enjoying your Wednesday. :)
Last night, I ended up experimenting with two new batches of muffins (Batch 4 and 5 of the day!). One of them turned out (Carrot Spice Muffins) and one of them didn't. I felt like I was cursed in the kitchen yesterday!
I probably spent about 6 hours in the kitchen and had 1 batch of muffins to show for it. Creating healthy recipes from scratch can be really challenging and I have had to go through lots of duds to find the perfect recipe.
So, a a result of yesterday's disappointments, I am still not close to being done my order. So this morning I was back in the kitchen baking up some goodies. I will be showing the pictures in tonight's post!
Lunch today was great. Someone told me that this green bean casserole was better the next day, and they were certainly right.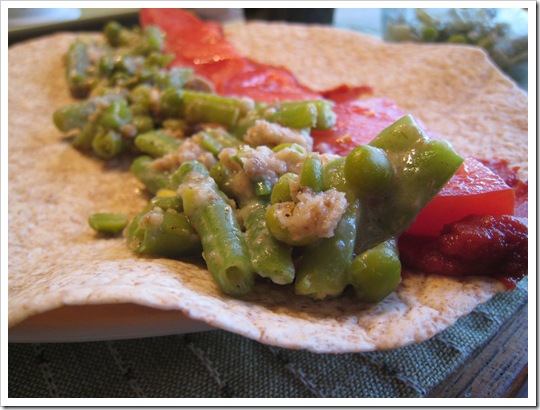 Of course I had a wrap, like any new wrap addict would do!
These are a new brand of wraps: President's Choice Whole Wheat. They aren't as tasty as my usual ones, but they are bigger!
I mixed in 1 cup of green split peas for extra protein and fibre: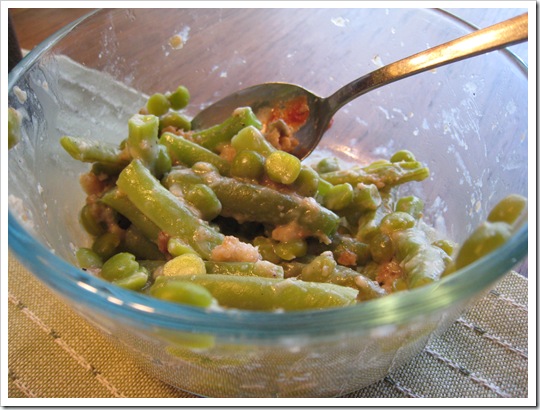 I also had tomato paste + tomatoes as the base. Tomato paste, or any cooked tomatoes, are nutritional powerhouses for lycopene. Lycopene is a known cancer fighter!
In just 100 grams, tomato paste offers 29.3 mg of lycopene, while a raw tomato offers just 3 mg of lycopene. Cook your tomatoes, folks!
All wrapped up: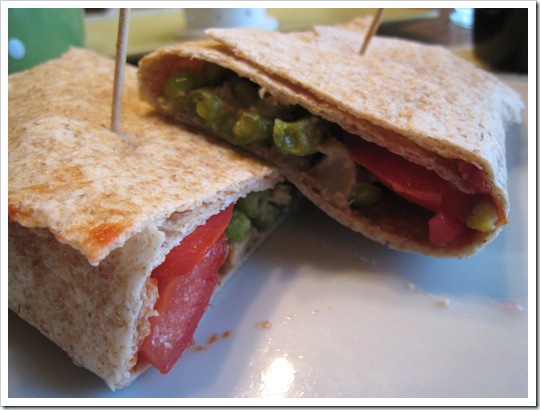 Along with a banana, 3 T walnuts, and some Soy Milk: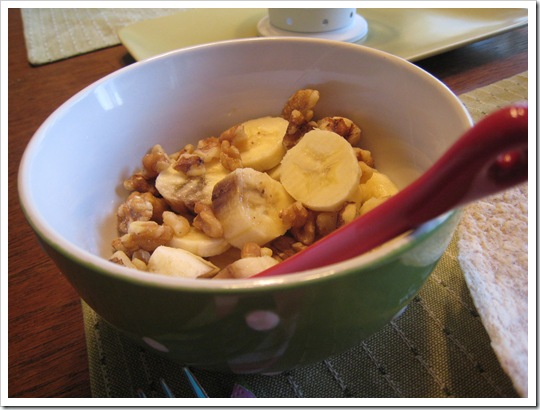 That's my new favourite snack!
And a PC Organic White Tea: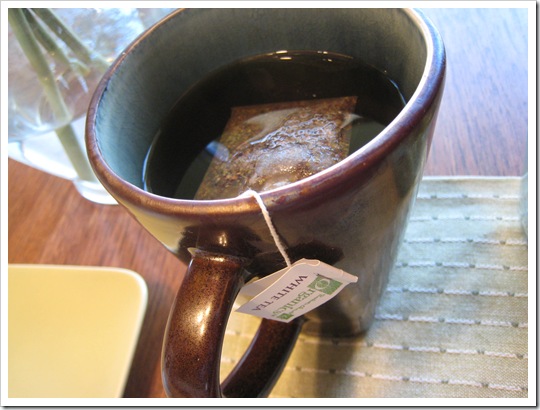 Want to know a secret?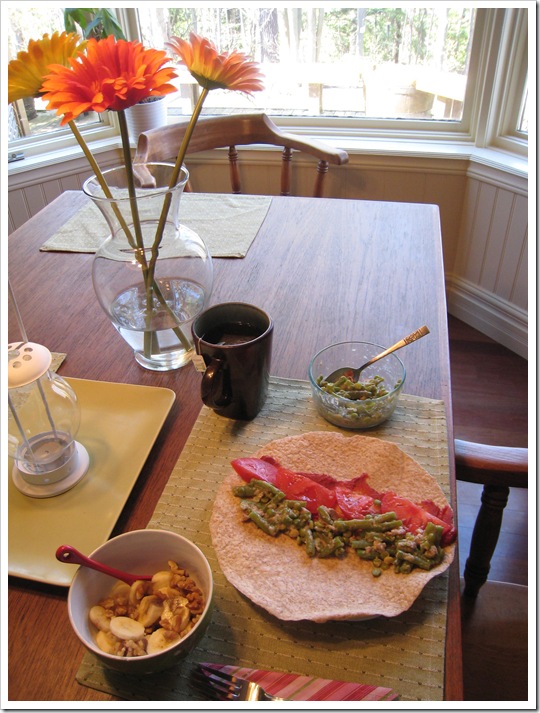 The gerbera daisies are FAKE! hahaha.
Did anyone else notice? Do you like my water trick?
These gerbera daisies are from Dollarstore too…just $3 for 3!
Yes, I do love fresh flowers but sometimes the budget doesn't allow for it, so I got the next best thing. You know what's funny? They make me SO happy when I look at them. I think I have even convinced myself they are real with the water! LOL. :D Oh the simply things in life, eh?

Today and yesterday have been quite mixed up and thrown my plans for a loop!
My brother rescheduled yesterday so renos didn't get done and thus we didn't have our BBQ with the boys. He is coming today, so we may have the BBQ tonight. Since I was in the kitchen all day yesterday until about 8pm, we just had a quick dinner that wasn't part of the original menu plan. Life happens!
It is going to be quite hectic in here today so I might have to leave for a bit from all the dust and noise. If I leave I will probably go buy my kitchen canisters and get that done. My bro is staying the night, so the renos will probably be going on until at least 10-11pm!
I filmed another running video this AM (Front and Back) but I don't know if I have the guts to show the back view. I don't think ANYONE should have to see themselves running from the back view. lol.
Not sure what will happen with respect to exercise today since it is such a random day and all. Might take the day off or just do some resistance core work. I have been doing great with taking off days lately. I used to be scared of taking off days, but now I realize that they are integral to my training and overall health. All of our discussions about running, social comparison, and the blog world have really helped me. Thank you all for your amazing comments!
Keep those Shop 4 A Cause entries coming in! We have some awesome things up for auction.
Want to see what some people are doing to recycle pizza boxes? You won't believe this video!
Ok, I'm off to finish baking my order. See you tonight!

Today's Question: Do you have trouble taking off days?