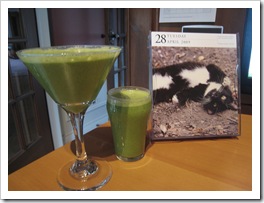 They had a special 2 for 1 deal on Green Monsters today! I told Eric I made him a special treat this morning, but he wasn't buying it. Has anyone out there been successful in getting their boyfriend/husband to try green monsters? I have yet to hear about a man that has tried them! If you have been successful- or haven't- leave a comment below and let me know! I need to know the secret.
I spent the morning baking for my next media related review for Glo Bakery. I will admit, it is pretty stressful knowing that someone is going to be reviewing my baked goods for the world to see!
I also had a few setbacks in the kitchen today and I was feeling a bit stressed!
I made my Zucchini Breakfast Power Muffins and today I used paper liners. Big mistake! The muffins stuck to the liners like nobody's business.
Then I realized I was out of lemons right when I was in the thick of things, so I had to leave and jet to the store.
And in my 3rd batch I realized I was out of soy yogurt! I had to use soy milk in a pinch. I know it doesn't seem like much, but when it all happens within a span of 3 hours it can get a bit hectic. :)
Luckily I made sure to have some fun on the side:
I had to taste each muffin of course!
Flax 'n Gl'oat Power Muffin: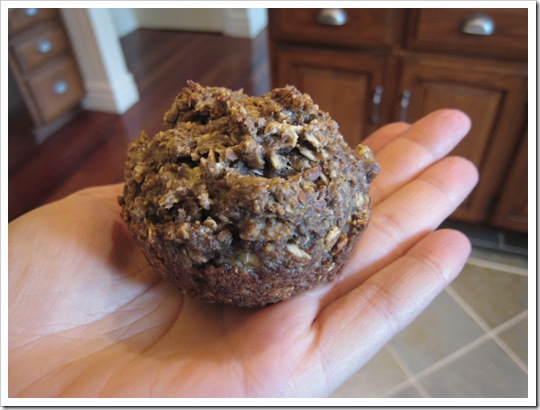 Carrot 'n Raisin Spice Muffins: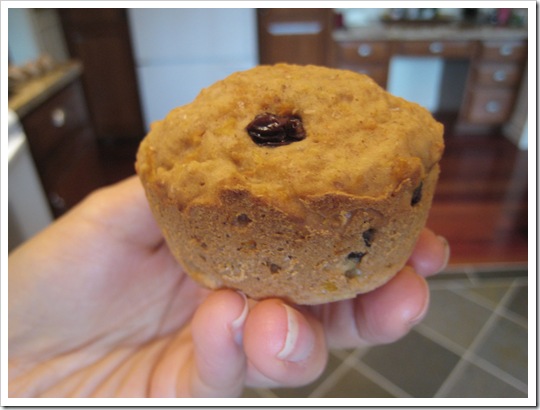 Sweet 'n Spicy Zucchini Breakfast Muffins: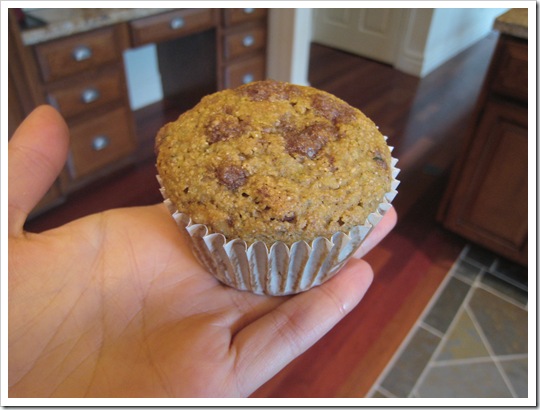 Yes, I ate all three muffins! Plus 1 more. Luckily they are super healthy right? :)
Unfortunately though, I have to re-bake all 3 muffins. The zucchini ones are stuck to the paper and I don't feel good delivering these! So Eric will get the rest. The carrot ones flopped too I think because I cut the recipe in half and used soy milk. And lastly I didn't like how the carob chips tasted in my flax muffins. 3 stikes, I'm out! :( I guess I will be back to the drawing board tomorrow.
Needless to say I spoiled my lunch and I am not hungry one bit! Opps!
I also did some more organizing in the kitchen while I was waiting for them to cook:
Eric installed this spice rack for the drawer, so I started to put my spices in it. Don't worry I have more than that, I just took this picture before I filled it up :)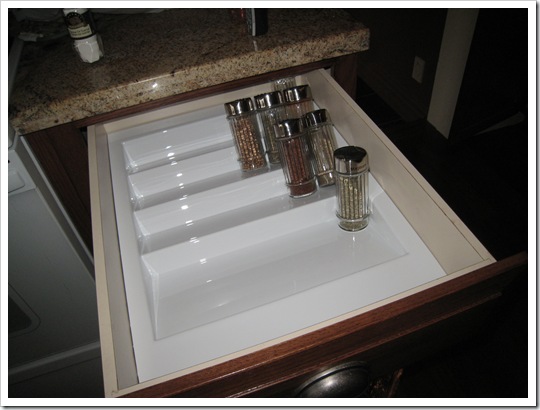 I also organized another cupboard and changed the height of the shelves. I made the bottom two shorter to fit all our supplements and medicine, and then I put the cookbooks on top.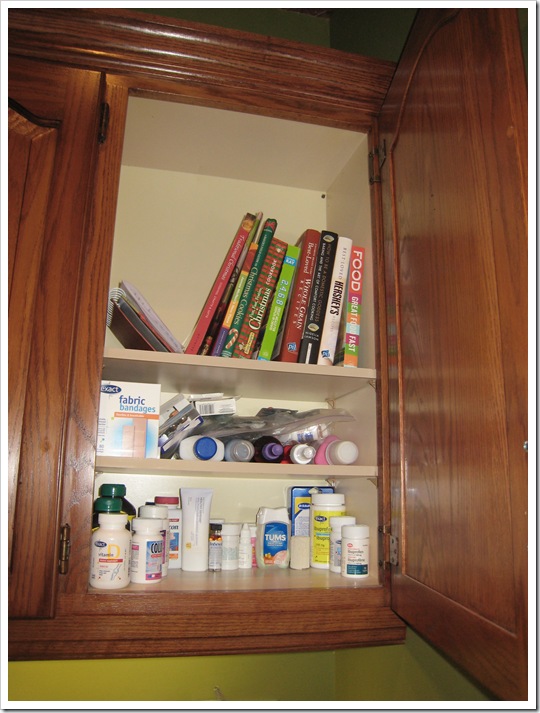 NEW CHALLENGE ALERT!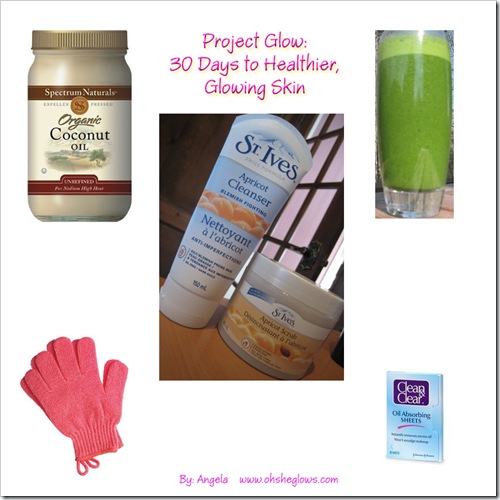 Just when you thought you couldn't handle one more challenge, Caitlin and I have teamed together to rock one out!
This time the goal is Glowing and healthy skin for the summer!
Caitlin wrote me last week looking for a glowing skin challenge! She was sick and tired of dull and sallow looking skin. I think her skin is gorgeous, but of course we are always our own worst critic, right?
See Caitlin's post this morning for all the details!

Day: 33 (April 28, 2009): Today we are going to work on the legs! I hadn't done some traditional leg lifts in a long time so I thought it would be fun to add to the BBBC Challenge!
Here is me doing the traditional leg lift. I did 3 sets of 50 per leg.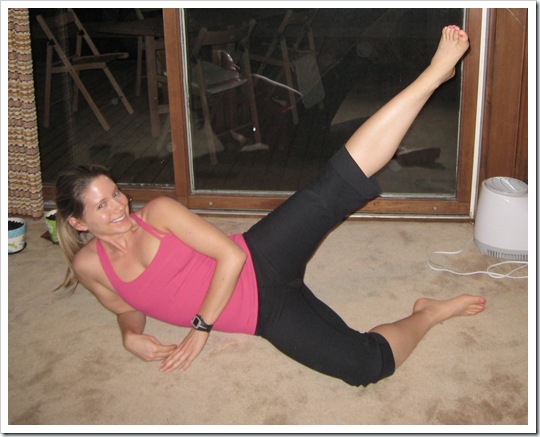 And here I am doing inner thigh lifts. A reader named Andrea recently reminded me that strong inner thigh muscles prevent running injuries. So I am bringing them back baby! :) I did 3 sets of 50 per leg.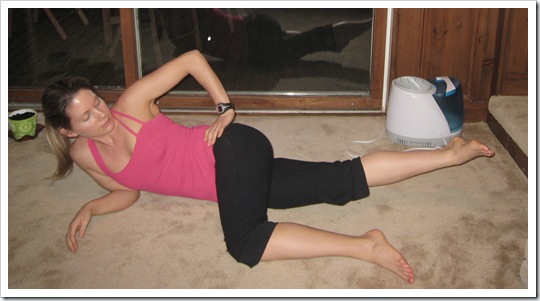 And no, my downward dog has not gotten any better as of late: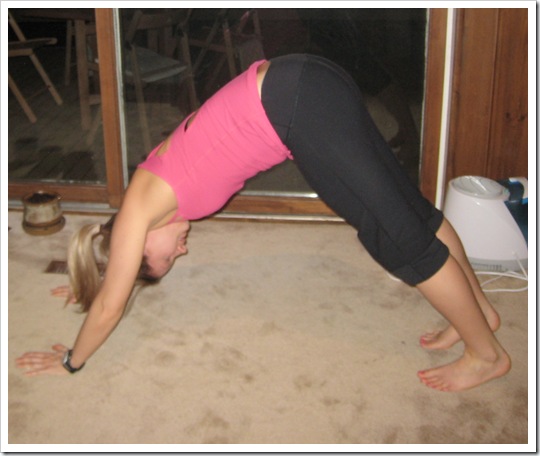 DOH!
Damnit, I want to be flexible! I hope with time I can get better at it. I don't know why this one pose bothers me so much! haha.
On this afternoon's agenda:
Treadmill workout
Finish filing taxes online (I am getting a hefty return this year from my tuition in 2008- sweet!)
Mail in GST Application
Find headshots for interview
Input receipts
Shop 4 A Cause
Read all comments from this AM post
Hope you are having a GLOWING day!!