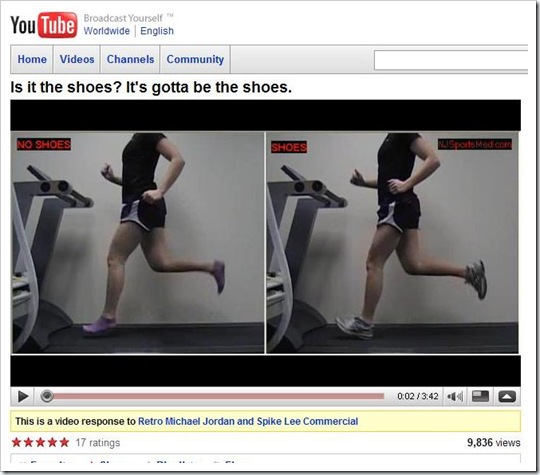 Recently a lovely reader named Karen passed along a video to me about running. This video shows a woman running with proper form in the left screen as well as with improper form on the right screen. The only difference? She was barefoot in the left and wearing sneakers in the right.
Apparently, what this video shows is that when she is wearing sneakers her body + brain compensates for this fact by pointing the toe upward when it is preparing for landing. Pointing the toe upward places unwanted strain on the IT band, quads, hamstrings, etc. However, when she runs barefoot her form is correct and her toes are not pointed upwards.
You can view the video here:
I must say I have never really given my form much thought. I mean sure, it has crossed my mind, "I wonder if I run funny." but aside from that I just carry on on my merry old way. I got some orthotics made for me last fall because I have flat feet. I figured that aside from getting orthotics, there probably wasn't much I could do.
Oh was I wrong.
Enter Karen's email. She not only showed me this great video above, but she told me to look into the POSE method.
Oh…the POSE method. You mean the one on America's Next Top Model. I got that one down. Smile Wit Yur Eyes.
Not that one? There is a different POSE method?
So I Goggled it of course.
[Again I ask, what did I do before Google? I think I leafed through an old, dust covered dictionary. Now THAT is scary!]
And I found a whole website dedicated to the POSE method for virtually every sport you can think of! If you can play it, they can tell you the proper form for it.
Their slogan goes something like this:
"Pose Method® [pohz] [meth-uhd] – Efficient, injury-free movement taught through poses. Use the Pose Method® techniques to prevent injuries and to dramatically improve your athletic performance."
Prevent injuries? I think we are onto something here.
I clicked on POSE for Running.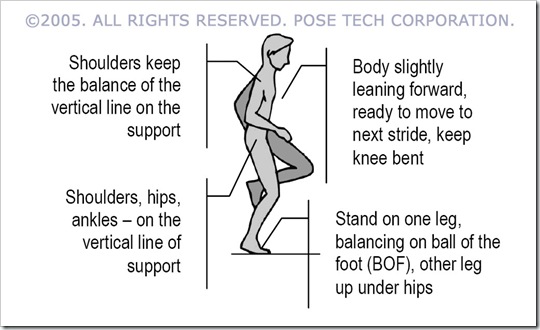 POSE Technique Running Characteristics:
1. S-like body position with slightly bent knees
2. Forward lean from the ankles to employ gravity and work with it not against it
3. Pulling or lifting feet up under the hip not behind the buttocks
4. Ball of foot landing under your body (your GCM – general center of mass)
Now I am not sure, but I think I just may be a toe pointer-upper! Could this be part to blame for my injury?
Their website also boasts that POSE Method of Running reduces impact on the knees by 50%! Yowza. Now we are talking.
After a hefty search, I think I found the starting point for reading up on the POSE Method for running. Click here for the link.
And if you really want to see the most amazing running form, watch this guy's video.
[Am I the only one who finds the POSE website to be a complete MAZE? I'm lost! MY eyes keep averting across every which way on the page. All I want is a link that says "RUNNERS: DO THIS".]
Tonight's Question: Have you given your running form much thought before? What about for other activities like swimming, cycling, and skating?
Have you ever heard of the POSE technique or practiced it before? Do you know how I can get started?
And yes, I do realize the irony that I am posting about running after our discussions about it the past 2 days. I work in weird and wonderful ways, don't I?

I'm off to pester Eric to video me while running. Hopefully I will have something funny for you to watch tomorrow. I also am going to post the recap of my workout today on my RUN page shortly.
READER quote of the day:
"One day my husband saw me take a green monster out of the fridge and drink it- he said "OMG you drink that stuff? I thought it was for cleaning!!" So needless to say -I have no tips on getting your hubby to drink one."
~sminnick