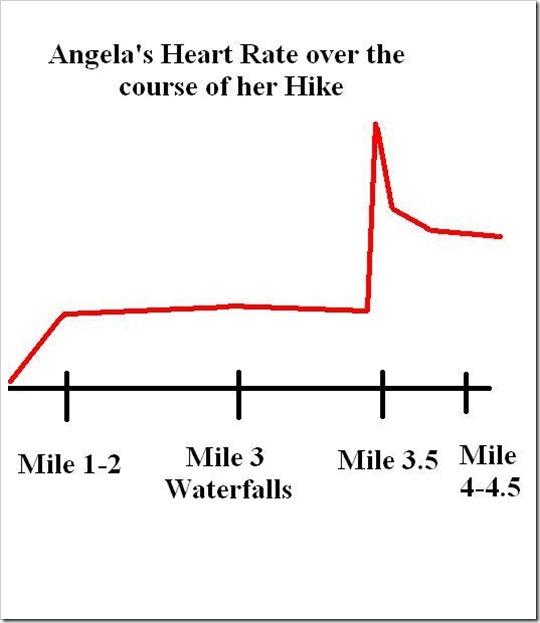 Imagine this:
I am having a wonderful hike over my lunch break today. Soaking in the nice weather and enjoying the sites. I am working on ideas for OSG and Glo Bakery as I walk and listen to my Shuffle.
I see some beautiful waterfalls and then head back on my route.
What happened at mile 3.5 you ask?
SNAKE!!!!!!!!!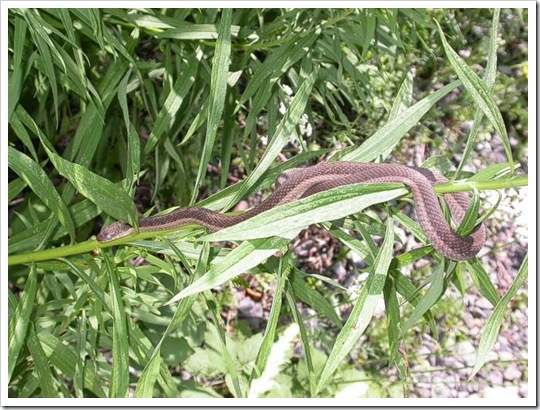 [Note: Not actual picture!]
I saw a HUGE garden snake. Only 5 feet in front of me was the biggest garden snake I have ever seen- it must have been 2 feet long! I yelped, turned around, and ran.
I said to myself NO WAY AM I GOING BACK THERE.
And I ran in the opposite direction. And then it hit me. That was my EXIT. I had to go back and face my fear.
What does this snake think it's doing anyways? I thought angrily. Doesn't it know that this is CANADA?! We could have 2 feet of snow tomorrow for all it knows!
I knew what had to be done.
I turned around and decided to go through the snake infested war zone. I turned off my music and ran like hell. I ran so fast I don't think my feet hit the ground. And I didn't stop until I was out of the danger zone.
Sometimes you HAVE to run even though you don't plan on it. :)
I only wish I had brought my camera. Although I probably wouldn't have had the guts to take a picture anyways!
The Hike:
Duration: 1 hour 11 mins.
Max heart rate: 145 bpm (SNAKE!!)
Avg heart rate: 110 bpm
Distance: 4.67 miles
Average pace: 15:14 min/mile
Feel the burn: 311 kcals
Aside form the snake sighting it was a great hike and a fun example of cross training. :)

Breakfast was a green monster in a new Dollarstore Stemless Martini glass: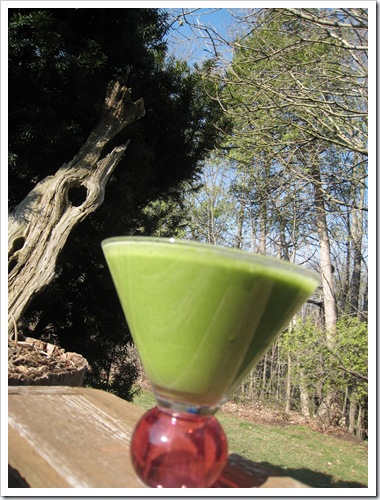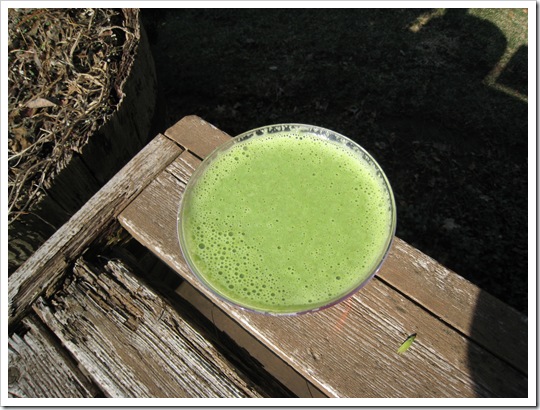 I also had a bowl of Nature's Path Synergy Cereal + Soy Milk (not shown).
I packed a ground flax banana sandwich with me on my hike: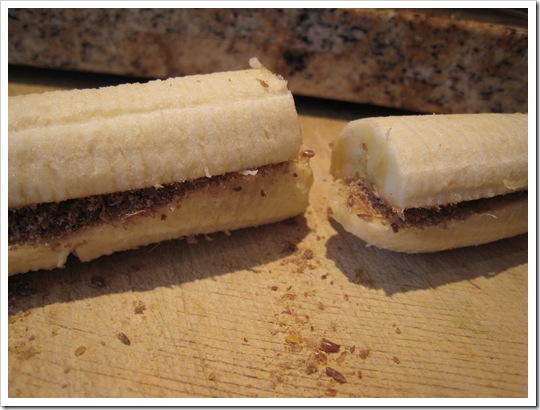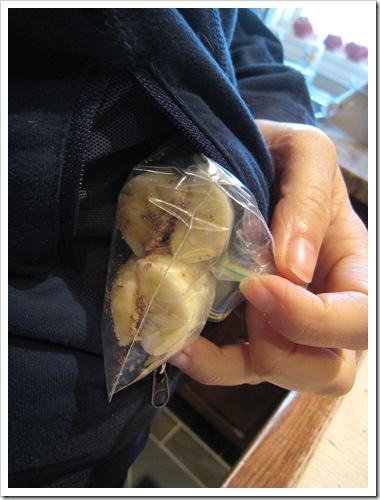 After all that excitement, I was starving for lunch when I got home.
I came up with a delicious open faced sandwich, I'd like to call:
Hold The Chips Dill Pickle Sandwich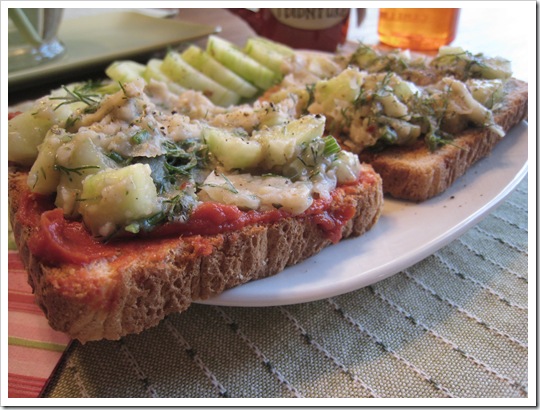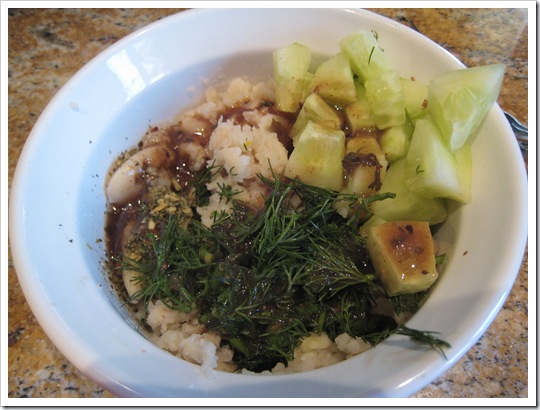 Ingredients:
3 sprigs of fresh dill

1/2 cup chopped cucumber

black pepper

balsamic vinaigrette

1 cup mashed lima beans (1 cup lima beans has 11 grams of protein and 10 grams of fibre)

2 pieces whole wheat toast

on 1 piece only I had tomato paste for cancer fighting lycopene boost!
This combination of ingredients was wonderful! The sandwich tasted just like a bag of dill pickle chips. I'm not even joking! I used to be obsessed with dill pickle chips when I was young so I was pleased to find a healthy alternative. :)
With my new favourite tea mug: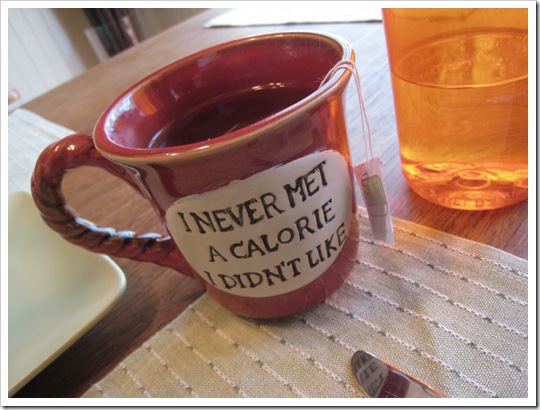 Some large cantaloupe slices with a side of Sketchie: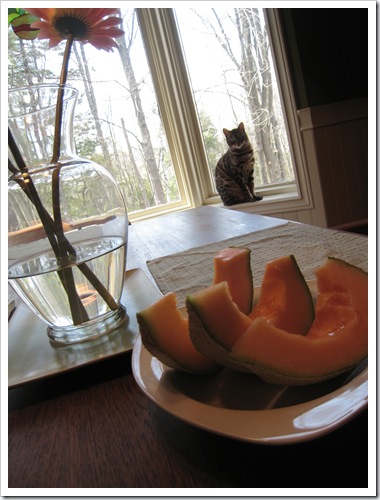 Some dill pickle 'chips' on the side, drizzled with some white vinegar: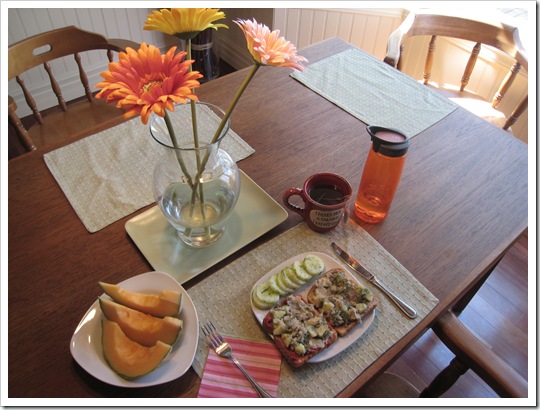 And for dessert: Two of my mini vegan banana walnut cake balls: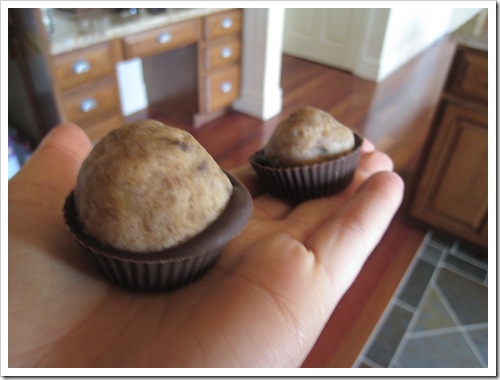 I can't get over how warm it is today! Just awesome spring weather we are having. I might have to bring the laptop outside and get a bit more sun while I work.
This morning I finished my up and coming interview with a health website and I also completed the price list for BG GB. This afternoon is studying for my food handler certification and organizing my orders this week.
See you tonight for a recap of this morning's post, the BBBC for the day, and my first planned dinner!
Today's question: What is the scariest or most exciting animal you have ever encountered while outdoors??
I must say I am a huge chicken with strange animals/insects even though I spent a few years living in Florida. We used to have alligators in our back yard!