211. Ashley asks, "Have you checked out the Cakes Canada website? It's a great Canadian resource for decorating with tones of amazing pictures and advice.
Are you planning to take any classes? I took an intro class with Bonnie Gordon and she was just phenomenal. I learned some much in that class!!"
No, I have never heard of the Cakes Canada website but I will be checking it out soon. Thanks for the tip! Yes, I do plan on taking some classes, most likely cake decorating, cookie decorating, and cupcake decorating! I still need to look into it more and find out where I can get the best prices. I hear Wilton is good for decent prices. My mom and sister recently took the intro cake decorating class and loved it.
212. Kayzilla asks, "Just curious: was your style the same as it is now when you were a teenager? Did you ever do anything extremely bold fashion wise when you were younger?"
Oh wow great question! I had to think about this one for a minute to remember how I dressed as a teen. From what I remember it wasn't too fashionable! Lol. I mostly wore baggy jeans and cords for pants. I remember this awful awful pair of pants I wore in high school (maybe my best friend Allison remembers these) but they were GREEN PLAID polyester pants. Maybe I was channeling my inner green monster? I tended to wear baggy t-shirts like Nike tees when I was ages 12, 13, 14, 15. Pretty tom-boyish, actually. Then once I was 16, 17, etc. I started to wear clothes that fit my body better. My fashion turned pretty girly toward the end of high school. At my first year in a new high school my nicknames was 'skirts' because I wore plaid skirts every day. Now I enjoy a mix of feminine, soft and girly clothing along with my basic casual wear. Everything I wear is pretty form fitting because I find that is most flattering to my body. I can't wear those trendy balloon tops because it adds 10 pounds to me.
213. Heather asks, "I have a question for you… do you eat mostly organic? If so, what do you think are the most important foods to eat organically? I eat about 90% organic and always get a bit wary about that last 10% of non-organic food. One of the main reasons I ask is because I use Quaker Old Fashioned oats for my oatmeal and was wondering how important it would be for Oats to be organic. Just thought I'd get your expert opinion ;)"
See this post where I talk about the dirty dozen and the tops foods that you should eat organic.  I follow the dirty dozen principle and the 'clean 15', meaning that I tend to buy only the high risk foods organic and the less risky foods I don't buy organic. It is a cost effective way of eating organic. I don't buy organic oats and I am really not sure what the risk factor for oats would be.
214. BethAnn asks, "You and Eric are so cute! I wish I had access to a back yard in my apartment building because I would love to start a garden. Do you know anything about indoor gardening? I've thought about trying it for some time now."
I don't know much about indoor gardening although I do plan on growing some herbs indoors in pots. One thing my mom ingrained in my head yesterday was to buy pots with a drain hole. If you don't have this, she said you can put rocks at the bottom of the pot too. I like that trick. I would probably start with some herbs if I were you. I hear they grow fairly easy just make sure they are in a place that gets lots of light. If anyone else has any tips please leave them below!
215. Heather asks, "YUM! I just love big, filling salads! It's so fun to be able to be so creative with the ingredients! Quick question about avocado… How do tell if one is ripe? What do you look for when you buy one?"
If the avocado is firm to the touch and you can't squish your finger in it, it is not ripe. Leave it in a paper bag with a banana for the quickest ripening and it should be ripe in 1-2 days. Once it is ripe you can put it in the fridge so it won't go bad as quickly. You will know it is ripe because it will be soft to the touch and you will be able to make indents with your fingers in the skin.
216. Elaine asks, "Hi Angela, I've been keeping up with your site for a while now because it is so inspiring. I am a habitual binger, throwing myself into cycles of bingeing and restricting only to feel (and see) the effects of yo-yo dieting. Until I was 16 my body and food was never really an issue for me, I remained quite slim around 112 for my height of 5′ 4". I ran cross country throughout high school which was something I enjoyed, but also blamed my thunder thighs for it. Looking back now, they weren't thunder thighs at all. When I turned 17, there was a significant amount of stress in my life, and I guess I looked to restriction to control all of the chaos that was going around me. I got help for it, but now I just binge. I have such an emotional attachment to food. My weight stayed at a pretty steady 120 throughout my freshman year of college because of cross country, but I took a year off from running this year and my weight has ranged from 120-136 within a short span of a few months. I think you mentioned that you used to binge…how did you get over it? I just can't imagine ever shaking off this habit, but I so desperately wish I could. I'm seeing a counselor right now, which helps with the stress, but not with the habit that comes with the stress. I know it's bad for me yet I still keep on doing it…"
Thanks so much for opening up to me about this. I know firsthand how difficult it is to talk about! I just want you to know firstly that you aren't alone in your struggles with binging. So many women have opened up to me about this issue.
I want to direct you to one of my FAQ posts where I talk about binging questions. Let me know if this helps you and if you have any more questions!
217. Sarah asks, "as for the footpod calibration — do you get an accurate calibration from the treadmill? I have the same footpod (I think — Polar rs200SD) and I LOVE it but to calibrate it theoretically you should be on the same kinds of surfaces that you run on outside. the strides used on the treadmill are not going to be exactly the same, and you may not get as perfect a calibration.
that said, if it works — it works! Also, not everyone has access to a marked path (I am lucky to have one nearby) so I completely understand if this is the best way to do it for you. I was just curious to how accurate it was (i.e., if you've done any races and seen if your 1 mile agrees with the mile markings!)"
After I read your comment I realized that you were absolutely right, I should have calibrated it outdoors. So what I did is I measured the route on Map my Route and we also measured it with the car to make sure it was accurate. Lo and behold my treadmill calibration was dead on. I was quite shocked! I guess my strides must be fairly consistent from the treadmill to the road right now as I am taking very small strides so as to not get injured again. I will probably re-calibrate it again once I am running a bit differently.
218. E asks, "Two questions 1) Did your mom continue to do green monsters besides the first one she did at home? 2) I can see you are a natural blond but do you highlight? If so do you do this yourself or go to the salon? Enjoy the visit w/your folks and what a great stepdad to donate."
My mom is proud to say that she now has several green monsters per week! She is convinced that they are the reason why she has not gotten sick lately. I read my mom the highlights question and this is what she replied, "I guess only my hairdresser knows for sure!" lol. I love that answer. I have said in the past that I get highlights at a salon. My natural haircolor is what I like to call 'dishwater blonde' and it is dull looking if I don't get highlights. I get them about every 3 months if I am on top of them. I just hate the cost! I once tried doing them myself with a highlighting kit and it was a HUGE fail. I will never do that again! I always go to an Aveda Salon for highlights because their products are natural and by far the most gentle on my hair. They also do lots of great things for the environment!

Yes folks, another Green Monster lover!
This email came from the fabulous Hilary who was bursting with green monster excitement:
"Yup. I'm a green monster-o-holic. It only took 3 to get me completely hooked!!! Point the way to the support group! :) I've enjoyed your posts today. Very timely actually. James and I were talking last night about our own mortality and how we need to take advantage of our time here (in a non-morbid way…more like carpe diem). It's just crazy to think how our lives are really only a blip in time. Really makes you want to take advantage and live a happy and healthy life!!"
And here is her beautiful green monster: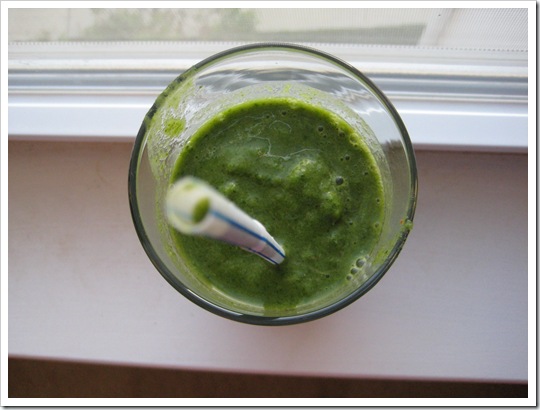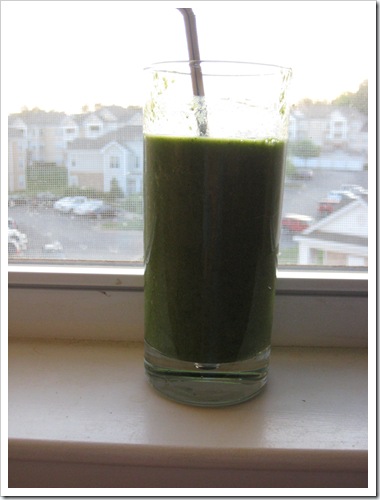 Angela Flexes Popeye muscles and says in a deep, muscle man voice:
"The support group is DAT WAY –>"
:D
Thanks Hilary!
By the way I have a cute quote from my mom yesterday morning. We were talking about how my mom has several green monsters each week now and she said, "I am almost positive that the reason why I haven't been sick is because of the green monsters! I haven't gotten one cold since I started drinking them even though others around me have been sick."
My mom's trademark ingredient? Garlic! She cracks open a tasteless/odorless capsule and dumps it in. Awesome. I need to get some!

Day 31 (April 26): Are you as bad as me for planning meals ahead of time? If so, I challenge you today to plan at least 3 healthy dinner meals this week ahead of time. One of my goals is to start planning new meal ideas on Sunday and then going to the grocery store with a game plan. If you plan ahead you are more likely to include variety in your diet which I believe is one of the keys to preventing boredom in the diet.
Today is going to be a cross-training day for me as my muscles are quite sore after my run yesterday. I think I am going to do some more yoga and core work.
Good news to report- I have over 20 entries now for the Shop 4 a Cause Auction! I am so amazed by the awesome stuff that people are donating!
Enjoy your Sunday!