We soaked up every minute with my parents today. I was so sad that they had to leave tonight. It was such a short visit, but I was so happy to be able to spend this time with them in this glorious weather to boot!
We started off the morning like any mother/daughter would: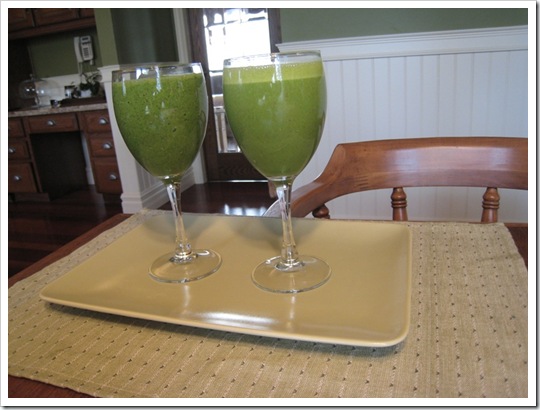 Green Monsters!
Note my green monster on the left is with kale, and my mom's on the right is with spinach. I made her the classic 1st Timer GM. I made mine too thick. oops.
Although she wasn't thrilled about getting her picture taken first thing in the morning:
lol…I'm bad!
We also had some cereal. I ate my new Nature's Path cereal.
After breakfast, my mom and I worked on my Glo Bakery pricing. We only got through half of it because we were calculating the cost of making each batch first.
The sun was calling my name and I set out for my run while my mom showered and got ready to go outside with Eric and my stepdad. The boys were changing the tires on Eric's car.

I set off for a run and boy was it hot! It hit about 29C/84F today.
The workout:
Duration: 37 mins
Max heart rate: 171 bpm (going up the hill)
Avg heart rate: 150 bpm
Feel the burn: 320 kcals
Total mileage run: 3.66 miles
Average pace: 10:29 minute/mile
I took this run slow except when I went up the hill. The hill is about 0.3-0.4 miles and I ran about an 8 minute mile while going up the hill. I love hills and the challenge they provide.
I was a starving marvin when I got back from my run: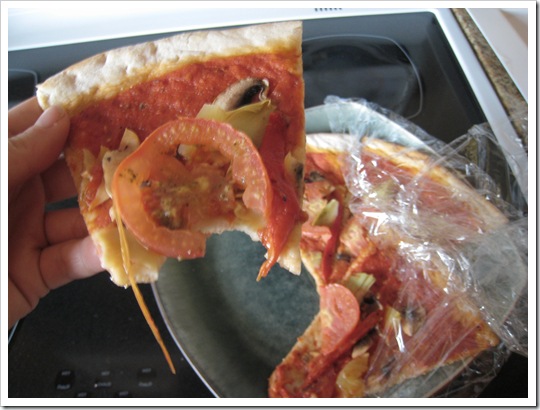 I had one slice. I LOVE leftover cold pizza.

I came home, showered, and then the others did gardening while I prepped lunch.
The 1st BBQ of the year!
Eric and I had BBQ'd Money's Garden burgers while my mom and stepdad had BBQ'd chicken basted in Tipsy Whiskey BBQ sauce.
Dining outdoors: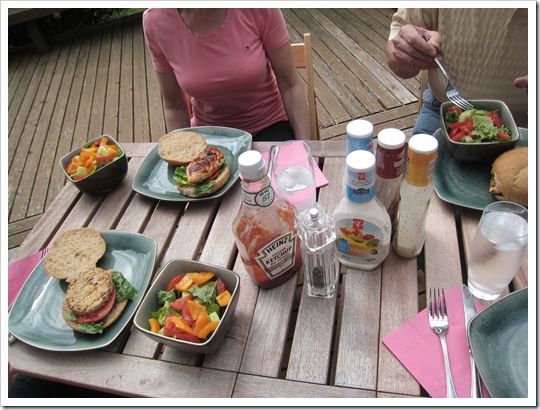 My plates: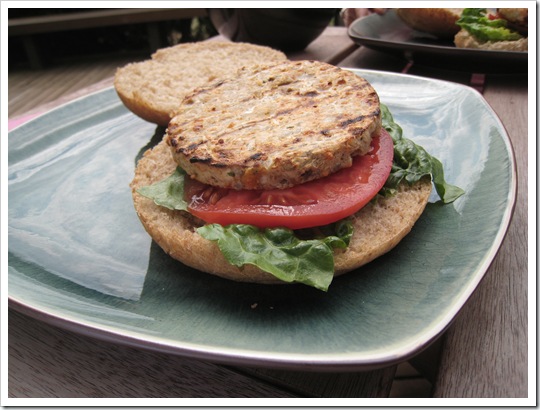 Along with a huge romaine, orange bell pepper, plum tomato, and cucumber salad: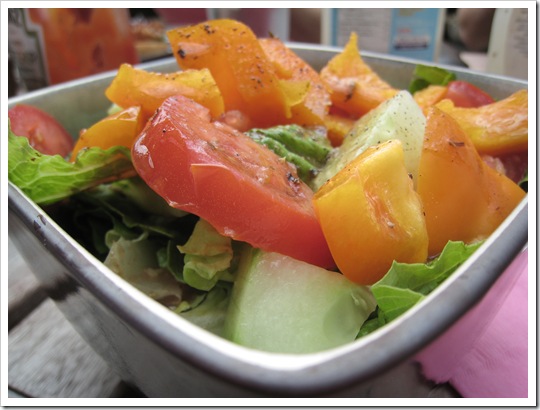 After lunch, we went out shopping.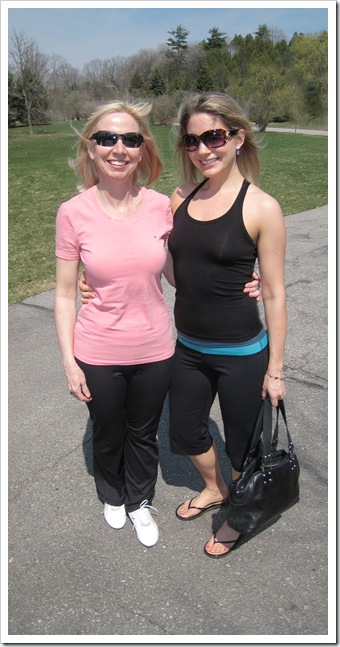 Of course, my mom was just dying to hit up our new Dollarstore!!
Look at all the cool stuff I got for just $6 bucks!
A fun polka dot door bowl: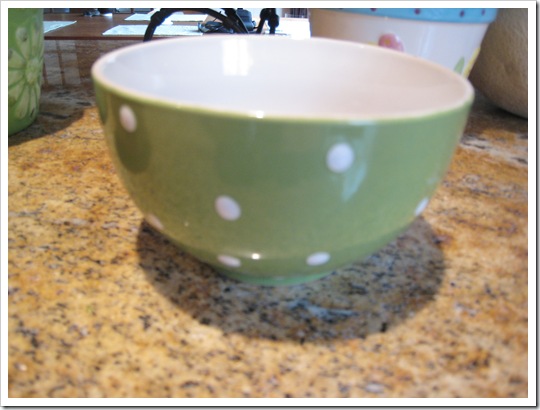 Am I getting old??? I must be, because I LOVED this Welcome sign. LOL!!!!! :D Eric just rolled his eyes. He knows he can't win.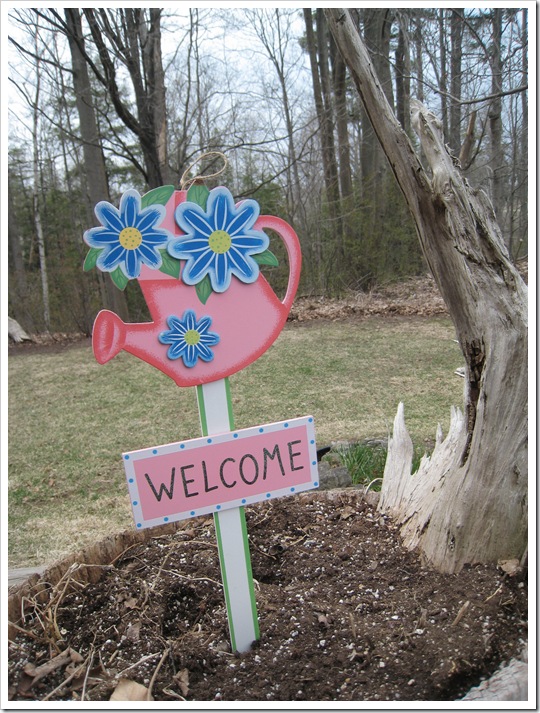 You are looking at the new Stemless, ever-so-sophisticated Green Monster glass!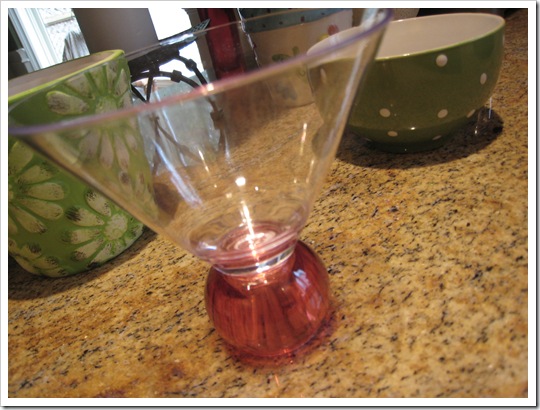 This cracks me up!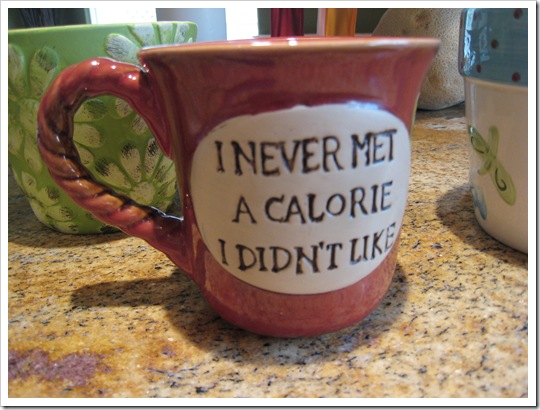 Ok, there was once a calorie I met and I didn't like. It's called any POST-BAR/DRINKING calorie. Seems so good at the time…but…
And 2 small pots for my herbs that I will be planting soon.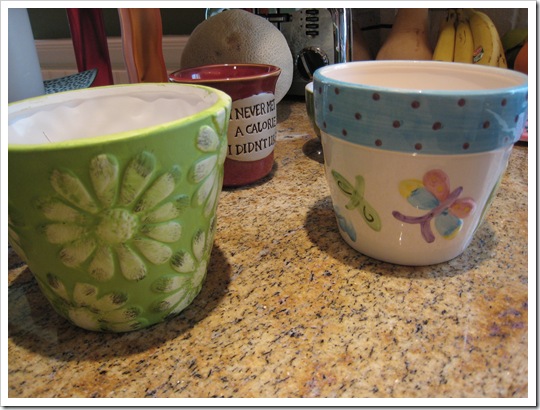 Once home my mom and I decided to plant our first seeds in Aunt Bun's honour.
It was really sweet. :) I am going to send pictures once it blooms (knocks on wood) to my Uncle Gerry.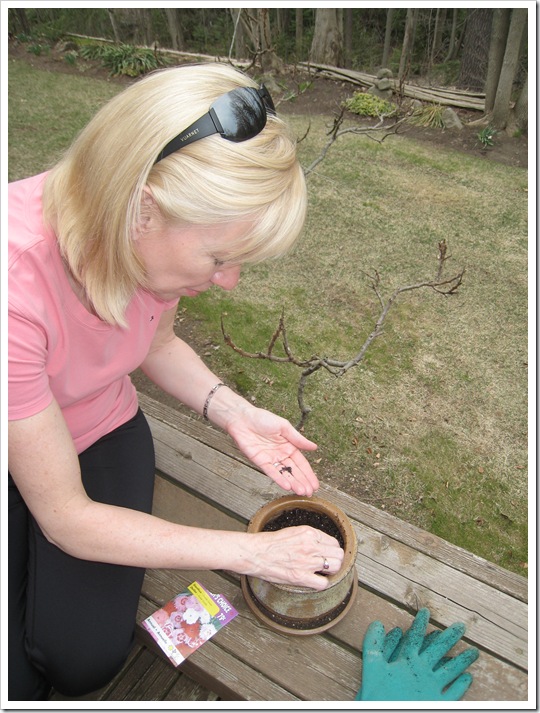 I said a little prayer that I wouldn't fail. I'm not going to lie, there is a lot of pressure riding on this pot.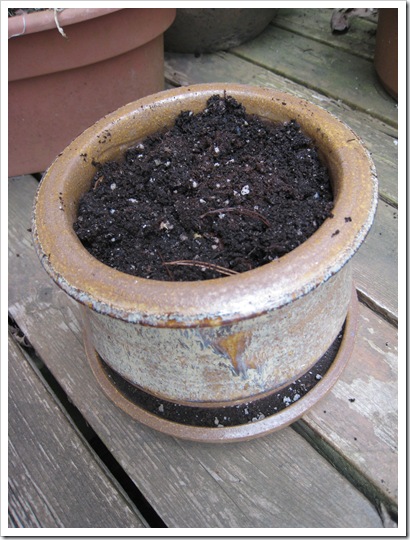 My mom also started to write Aunt Bun a poem this morning. It was so sweet. My mom is a great writer. We both started to cry when we read it.
She is going to mat it with a canvas and paint a bunch of flowers along the edge and send it to Uncle Gerry. I think he will love it.
And now I am Back 2 Blogging with a Lemon Ginger Yogi tea and a cute kitty. Well, two cute kitties.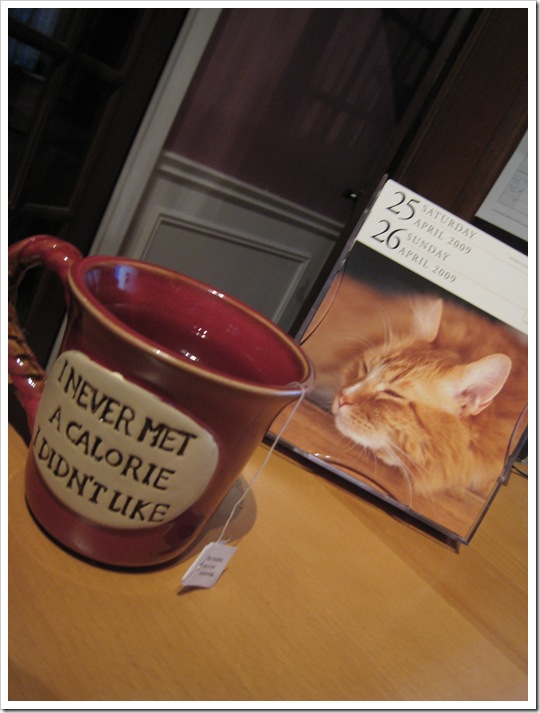 And finally the Yogi tea quote of the day: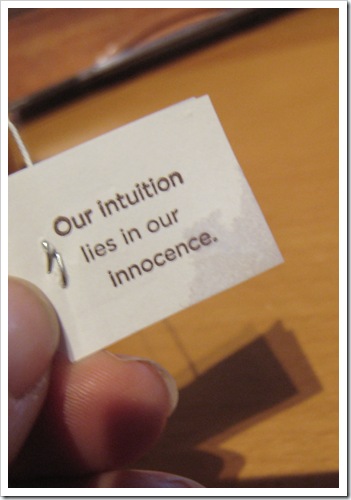 I hope you are having a fun Saturday. Not sure what we are doing tonight. Eric's working so I will likely end up working too. We may also install our new kitchen cabinet organizer. I am really excited for this. I will be posting before and afters, of course!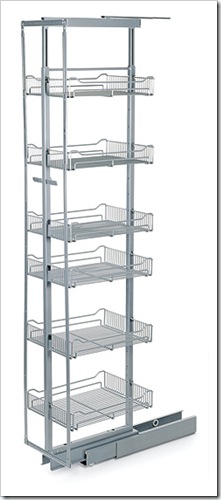 Well, it is almost getting time to eat again! Seems that's all we do around here…and I wouldn't have it any other way! :) I'm thinking a huge lentil stir fry tonight.

I wanted a perfect ending. Now I've learned, the hard way, that some poems don't rhyme, and some stories don't have a clear beginning, middle, and end. Life is about not knowing, having to change, taking the moment and making the best of it, without knowing what's going to happen next. Delicious Ambiguity. ~Gilda Radner