Today before my workout I decided to gently stretch my knee sleeves a bit before putting them on. I didn't pull too hard for fear of ruining them, but I think it definitely helped! My legs are either adapting to the knee sleeves or the knee sleeves are just a bit looser… or both! My run today wasn't nearly as tiresome as the past 2 days.
I was able to run 25 minutes straight today at 5.0 mph and incline 6%.
The workout:
Duration: 50 minutes
Max heart rate: 163 bpm
Avg heart rate: 143 bpm
Feel the burn: 392 kcals
Today I did the following workout on the running beast:
2 min walk (4.1 mph)
25 min run (5.0 mph- first time hitting the 5's!!!)
2 min walk (4.1 mph)
2 advanced 50 second side planks (see below)
6 min run (5.0 mph)
Walking cool down (4.1 to 3.5 mph)
all at 6% incline
My total running mileage was about 2.6 miles today. :)
My training plan for the 10k on May 9, 2009:
| | | |
| --- | --- | --- |
| DATE | START OF WEEK: | GOAL BY WEEK's END |
| Week of April 20th: | Starting speed: 4.9mph; total distance: 2 miles (3.22k) | Speed: 5.2mph; total distance: 3 miles (4.82k) |
| Week of April 27th | Starting speed: 5.2mph; total distance: 3.2 miles (5.14k) | Speed: 5.5mph; total distance: 4.5 miles (7.24k) |
| Week of May 4th | Starting speed: 5.6 mph; total distance: 4.7 miles (7.56k) | Speed: 6.0; total distance: 6.2 miles (10k) |
I think I am progressing along well for hitting my week end goal of 3 miles.

Day 27 (April 22): For today's challenge I want you to try to do two advanced side planks. I thought my old side planks were hard until I tried these. Previously, I had been bending my arm and resting on my elbow when I did a side plank as shown in the photo.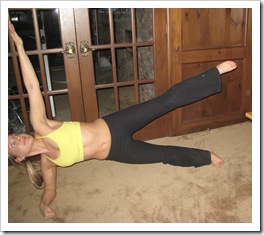 Little did I know that you can actually make planks much more difficult if you extend your entire arm straight. I did 2 of these (one on each side) in the middle of my workout today and I was shaking like a leaf. I could only make it 50 seconds on each side. Granted, I was tired from the workout, but still. I want to get better at these! :) And not have to curse like a trucker in the process.
For the advanced side plank, simply extend the bottom arm straight.

MaryBe asks, "I have entertained the idea of using cloth napkins – but then I would use resources washing and drying them. So would I really come out ahead?"
This is a wonderful question and one that I have thought about as well. The way I see it is that if you throw your cloth napkins into the wash (along with other linens that you normally be washing), I don't think it is using up much more energy.
Say you wash a dozen cloth napkins a week. That isn't much room in the washing machine, and technically you wouldn't be washing them on their own load (or at least I would try not to).
Also, if you spot wash stains and then wash in cold water I would think that you are using less energy that piling up paper napkins that end up straight into the landfill.
I need to start using my cloth napkins again. I have deep red ones and I wouldn't recommend buying red cloth napkins because I can basically only wash them with other red loads, and I don't do red loads often. Of course, there is the option of hand washing in a small amount of water in a basin…but I have just been too lazy to do so! I must get on this.
Thanks for the thought provoking question Mary!
Earth Day (Continued)
Despite all of the things I have heard about plastic bags and bottles, nothing impacted me as great as today's Oprah show.
If you saw it, you know what I mean.
These pictures speak for themselves.
Want to know where your plastic is going? This bird sure knows where.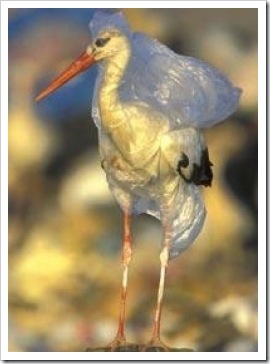 Oprah had on an Earth Day special. And the beginning of the show was just heart-breaking. Thousands of animals die daily because our obsession with plastic bags and other plastic products.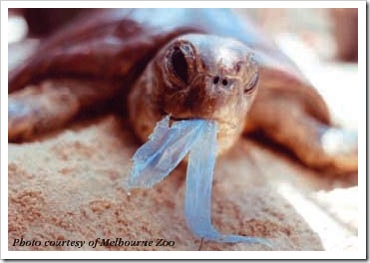 This picture below really got to me. It made my heart sink. This turtle lived its' whole life with a plastic ring around it: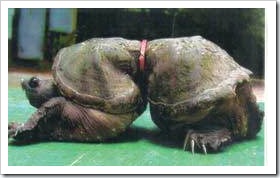 As I was running on the treadmill watching this show, tears streamed down my face. I felt for these animals, for our oceans buried in garbage, and for the future. It was quite overwhelming to see.
In some places of the Great Pacific Ocean the floating garbage—"estimated to be about 90 percent plastic—goes 90 feet deep. Elsewhere, there are six times more pieces of plastic than plankton, the main food source for many sea animals." The garbage in the Pacific ocean is estimated to be the size of Texas.
Another shocking piece of information:
Beluga whales are being diagnosed with breast cancer, which may be caused by the chemicals they're ingesting.
Marine animals are getting breast cancer!!!!!! Breast cancer!
Shocking, isn't it?
The good news is that we can take small steps each day to make a huge impact. Visit more info found on the Oprah site for ways that you can save thousands of dollars while helping the planet.
Tonight's question: Has Earth Day made you think any differently about how you live your life? Has it made you more aware?

We do not inherit the earth from our ancestors, we borrow it from our children.  ~Native American Proverb