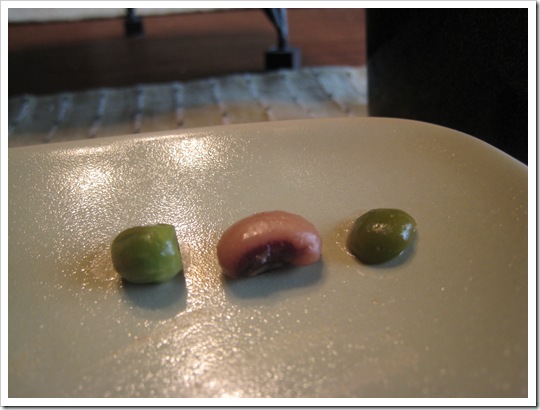 I think I covered my pea bases in today's lunch.
From left to right: The regular pea, black eyed pea, split pea.
Who knew there were so many 'peas' out there?
Today's lunch was nothing short of wholesome, filling, goodness.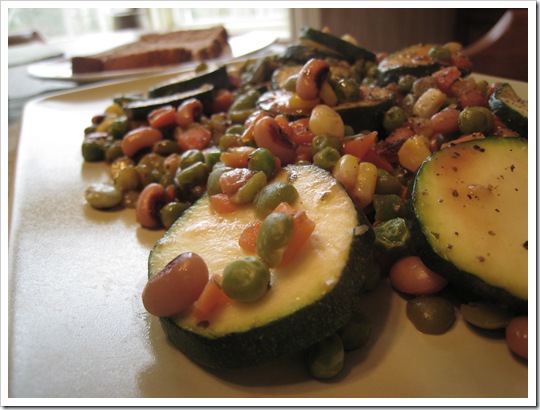 Black Eyed Peas 'Pump It' Power Lunch
On the menu:
1/2 cup Black eyed peas
1/4 cup green split peas
1 cup frozen veggies
1 whole zucchini, sliced
Black pepper
Italian Seasonings
Sauce:
1 dollop of Tipsy Whiskey BBQ Sauce
couple T of Almond milk (to thin out)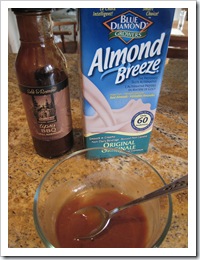 This sauce was amazing and super easy!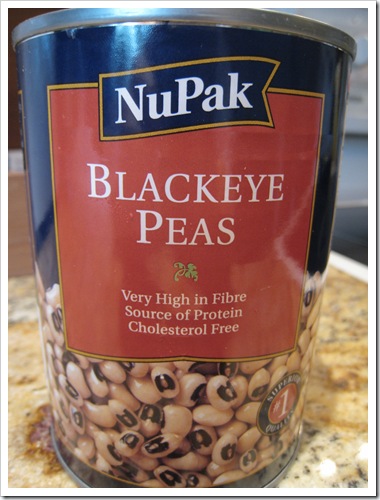 Black Eyed Peas pack a lovely nutritional punch! 14 grams of protein and 6 grams of fibre per cup!
I also threw in some green split peas (above right).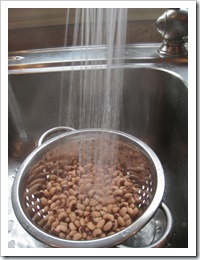 Canned beans are high in sodium so in effort to reduce my sodium consumption, I always rinse off the peas under water. This helps remove sodium!
Speaking of Black Eyed Peas, one of my new favourite songs to work out to is "Boom Boom Pow"…anyone else? I LOVE this song!
Lunch for 1: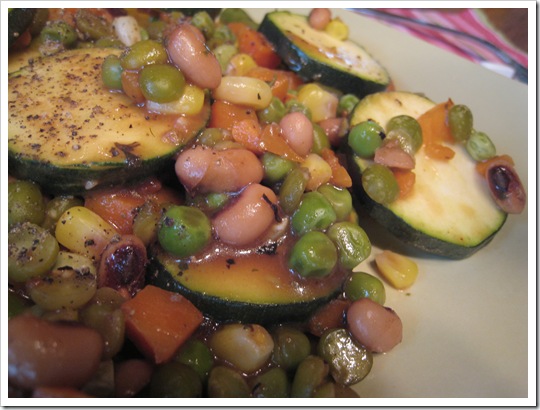 Lil Dempster's Flax bread 'fingers' a la Kath: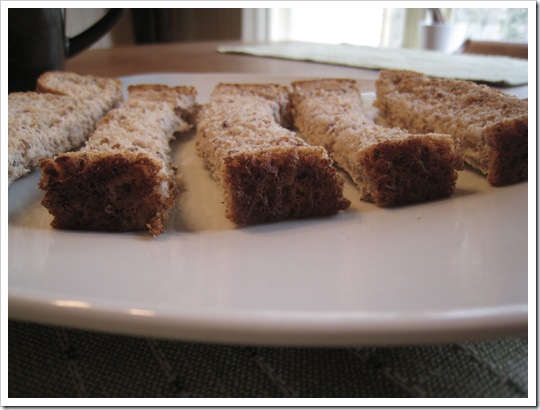 Chandelier view: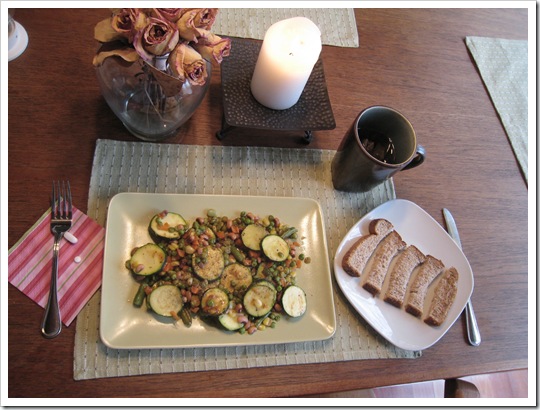 This lunch was super easy to make- my specialty!
I was thinking this would be a great lunch to prepare the night before work and just pop it in tupperware. It took me all of 15 mins to prepare and cook on the skillet!

A couple things to review on Oh She Glows:
SHOP 4 A CAUSE
Pertaining to Shop 4 a Cause: Thank you for everyone's interest! We are up to 15 amazing readers who have volunteered to take part. There are going to be so many exciting things up for auction, I can't wait to tell you all about it! When you email me (

[email protected]

) please let me know if you will ship to both US and Canada or just one or the other (specify). You also have the option of shipping to the UK if you'd like. It is in your hands, just let me know! Also, please try to submit the photos of your goods to me as soon as possible. The sooner I get them, the sooner we can get this underway! Some exciting items being auctioned off: Aluminum Sports bottles (I've always wanted one!), original painting by a fabulous artist, designer cards, homemade journals/photoalbums, delicious baked goods, OSG Track Pants, GLOW By JLo perfume, JEWELRY, a huge set of the most up to date workout DVDs (Including Shred!!), books, a special 'on the go' package, and much much more! I will need to restrain myself from bidding on everything! lol.
EARTH DAY
Thank you for all of your awesome environmentally friendly suggestions in this morning's post! I have such a great group of readers who obviously care so much about the environment. Throughout the morning, I thought of a few more things that Eric and I do that I forgot to mention in all the excitement:
9) Reduce your meat consumption

According to a 2006 U.N. report, the meat industry produces more greenhouse-gas emissions than all the cars, trucks, planes, and ships in the world combined—providing further evidence that meat's not green. These gases worsen climate change and might lead to catastrophic disasters—like droughts, floods, hurricanes, rising sea levels, and disease outbreaks—unless we drastically reduce the amounts emitted into the atmosphere. Source.

10) Get Rid of Plastic

Stop using plastic bags and bring your own reusable tote bags with you when shopping. Many of our local stores have eliminated plastic bags which I think is a huge step in the right direction! I am also happy to report that we stopped buying plastic bottles!

11) Buy Used Items!

Many of you would be surprised to learn that I actually buy most of my favourite Lululemon clothes- used! I shop on Ebay. It is simply another way to recycle and to save money.

12) Pay bills online

Another thing I have done is asked my billing companies to stop sending me paper copies of bills. I do all of my payments online so I don't need the waste of paper each month! It is a great way to cut back on paper use.

13) Switch to Todoist

I used to be a chronic post-it gal. Until recently I was known for having about 20 post it notes all over my desk. Not anymore! I finally use Todoist to create E-notes and I will never go back!
And there are so many other great tips and tricks in this morning's comment section! Check it out.
Glo Bakery
Glo Bakery is going to be in the media once again! Stay tuned :)
OSG Maybelline Stiletto Lash Mascara Giveaway
The contest ends tonight at 8pm EST! Don't forget to leave a comment to enter. One of you lucky readers is going to win my FAVOURITE mascara!
Well, back to work! This morning I got half-way through my Glo Price List. I also got quite a bit done with respect to organizing Shop 4 A Cause. I am going to finish the price list while my stomach digests this wonderful food and then it's that time again- exercise!
Today's question: What is one habit you have now that isn't very environmentally friendly that you would like to stop?
Mine would have to be paper napkins! I just haven't gotten around to using cloth ones.

"You will find, as you look back on your life, that the moments that stand out
are the moments when you have done things for others." – Henry Drummond