Wondering what is hot off the press in health news? I have hand picked the top health stories in the headlines and across the blog world right now! Just don't forget to come back when you are done!
Have you recently come across some interesting health news? Tell us about it in the comments!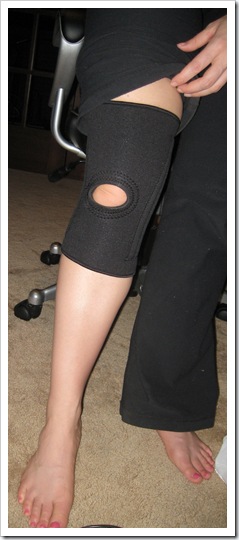 Today was the first day testing out my new knee sleeves. I ended up exchanging the white ones I bought this weekend for these black ones made out of a stronger material called Neoprene.
My first thought when I put them on?
I felt weightless!
I honestly was not expecting to feel such a difference from wearing them. My second thought was 'wow are these ever snug!' I measured my knee so I know I am wearing the correct size, but I was not expecting them to be this tight.
Let me just say this- my butt is sore from mountain biking yesterday! I have always had this problem with bike seats. I even have one of those super cushy seats with tons of padding. I think I need to invest in some padded biking shorts!
Has anyone ever tried these or know any tricks for not getting sore when biking long distances?
Fast forward to my workout!
Exercise stats:
Duration: 42:30 mins.
Walk/run intervals (Walk = 4.1 mph; Run = 4.9 mph), incline 7%. Run = 22 mins, Walk = 18 mins.
Max heart rate: 167 bpm
Avg heart rate: 144 bpm
Feel the burn: 385 kcals
My impression of the knee sleeves:
So my knees felt weightless. That was a huge plus. But I also found that they made the rest of my legs work much harder (hamstrings, quads, etc)!!! I was shocked at how tired my legs felt after just 5 minutes of running. I also noticed that my heart rate was a bit higher as I was working harder.
So this is what it feels like not to be putting all this work on the knees??
I honestly could barely run my normal distance without taking a break. Every 5 minutes I had to stop because my legs felt like jelly. I got off the treadmill and did 3 sets of pushups (15-20 reps). I also walked when my legs were tired.
Has anyone else every experienced this with knee sleeves? Is it normal? I think my other leg muscles will eventually adapt, but wow what a surprise! Here I was thinking my legs were quite strong. Little did I know my knees were doing the grunt work.
The good news?
My knees didn't hurt during or after the run- yay!
Hope you are having a happy, fun, and healthy day. Let me know what health stories you enjoyed the most and I will be sure to feature more of those in my next health round up!
PS- Congrats to Bobbi from N Her Shoes for completing the Boston Marathon with an amazing time!!

True friendship is like sound health; the value of it is seldom known until it be lost.
Charles Caleb