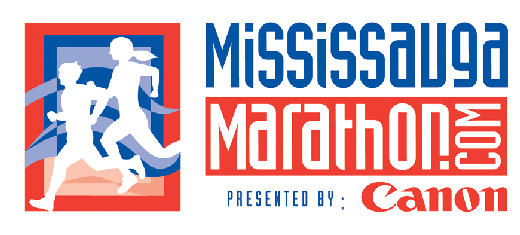 I got official confirmation today that the race organizers changed my half marathon registration to the 10k race. Part of me was relieved and part of me was disappointed.
Prior to my injury back in January of this year, I was perhaps 1-2 weeks away from being fully ready to run a half. I was running better than I ever had and for the first time in my life I didn't need to stop and take occasional walking breaks. My heart could finally handle the long distance running. This was a huge accomplishment for me seeing as when I first started running I couldn't run more than 1 minute at a time.
But life happens and things don't always go as planned…and that is OK!
I'm still here. I didn't die from sadness or lack of activity or weight gain. Life goes on.
While it felt like a long time, in retrospect the 2 months was a mere blip on my radar of obstacles to overcome.
Seeing that I only started to run a few weeks ago, I decided that switching from the May 10th half marathon to the May 9th 10k race would be a reasonable option. This way I can still experience my first race, but not have the pressure of running a full half.
Which leads me to today and the realization that I have 19 days until the race!
I am going to do my best from now until then with my training without overdoing it of course. If I have to take it slow during the 10k that is fine by me. I am just happy to be back in the game.
My game plan right now is to keep increasing my overall running time and speed every couple of days. I hope that by doing so slowly, I will gradually build myself up to a 10k in 19 days.
Note that 'total distance' means PER workout.
For example, for this week my total distance per workout is 2 miles running logged. I hope to log 3 running miles per workout by this week's end.
| | | |
| --- | --- | --- |
| DATE | START OF WEEK: | GOAL BY WEEK's END |
| Week of April 20th: | Starting speed: 4.9mph; total distance: 2 miles (3.22k) | Speed: 5.2mph; total distance: 3 miles (4.82k) |
| Week of April 27th | Starting speed: 5.2mph; total distance: 3.2 miles (5.14k) | Speed: 5.5mph; total distance: 4.5 miles (7.24k) |
| Week of May 4th | Starting speed: 5.6 mph; total distance: 4.7 miles (7.56k) | Speed: 6.0; total distance: 6.2 miles (10k) |
Now the last week will be a bit tricky because the days leading up to a race should technically be a taper week. I am hoping to achieve my 'goal by week's end' by Wednesday May 6th. Then I will take Thursday off and just run a very light mile or two on the day before the race.
If anyone has any suggestions on a training plan or any tips, please leave me a comment below!
I am also considering (depending on how my training goes) running the Niagara Wine Country Half Marathon on June 14th 2009. I will have to see how it goes! Hopefully the race doesn't fill up because I don't plan on registering until I know I am ready.

You may have noticed this new clickable image on my left sidebar: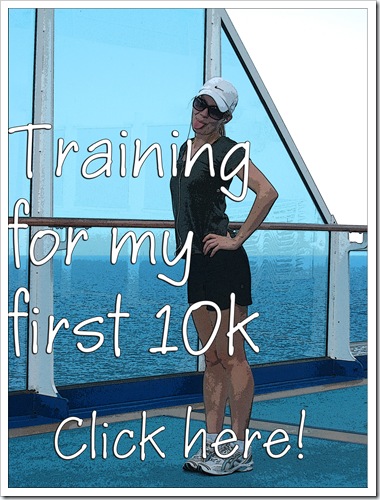 Yes, I am loving Photoshop lately!
I have updated my Run page today (that is why tonight's post is a bit late) because after reading it over again, I realized that it wasn't totally clear. I want my injury + training to be beneficial for others, so in effort to do this, I decided to reformat it a bit!
When you click on the page you will see this (after scrolling down the page a bit):
Workout Log: Post Injury Recovery

 

Because eventually the body does heal and life goes on! =)

First workout post-injury: March 3rd, 2009: 35 mins. elliptical, resistance 10, incline 12 (A tough workout to start off with but man I felt great afterward!)

March 3rd-14th– I did non-impact exercise daily for about 40-45 mins. on the elliptical and stair mill. During this time I was preparing for a photoshoot, so I dove right into the exercise each day. However, because I stuck to non-impact exercises I was not sore at all. It was a great way to ease back into it. My first week of workouts were tough. During my injury I definitely lost endurance and muscle and when I 'got back in the game' I didn't feel as fit as I did pre-injury. Such is life, though! After a week or two of exercise, my body already felt like it was bouncing back quickly (cardiovascular-wise anyways).

March 16th onward: Since my two-week pass at the gym expired, I decided to shift back to home workouts on my treadmill. I was nervous about doing impact exercise once again, so I took it really slow. I started off walking slowly at 2.5-3 mph. If I noticed any pain, I stopped. But generally I was fine. I always walk (and run) at an incline on the treadmill so I started at an incline of about 5%. Over the next couple weeks, I worked up to incline 12-15%. I told you I love my hill workouts!

April 1st onward: Around April 1st, I introduced running intervals into my hill walking workouts. At every 5 min. marker, I would run for 1 minute at speed 4.2 mph. I did this for several days and then I increased my speed to 4.3 mph and my running intervals from 60 seconds to 90 seconds. It is now April 6th and I am at speed 4.4 mph with 90 second running intervals. I am working out about 45 mins a day on the treadmill.

Another big part of my post-injury plan has been introducing core work! One part of my fitness that I neglected while training for my half marathon was my core strength. My sports medicine doctor told me that many running injuries happen because people are too weak in their core. Makes sense, right? Part of my goal for the Bikini Body Boot Camp is building back my muscle strength that I lost while in recovery.

April 8, 2009: Walk/Run intervals (Walk = 4.0 mph, Run – 4.5 mph, incline 7%) I ran 1 1/2 mins. at every 5 min interval. I also did 3 sets of pushups and some yoga poses. Duration 57 mins.

April 9, 2009: Walk/run intervals (walk = 4.0 mph; Run = 4.5 mph, incline 7%) I ran about 20 mins out of 53 mins. I also did some downward dog poses.

April 10, 2009: Walk/Run intervals (Walk = 4.0 mph, Run – 4.6 mph, incline 7%) I ran a total of 40 mins out of 62 mins. I also did pushups, downward dog, and wall sits. Duraton 62 mins.

April 11, 2009: Walk/run intervals (Walk = 4.0 mph, Run = 4.6 mph, incline 7%) I ran a total of 30 mins. I also did 2 downward dogs and 20 pushups. Duration: 45 mins.

April 12, 2009: OFF- Happy Easter!

April 13, 2009: Walk/run intervals (Walk = 4.0, Run = 4.7-4.9 mph, incline 7%) I ran a total of 30 mins. I did 3 1-minute planks (reg., left side, and right side). Duration = 47 mins.

April 14, 2009: Walk/Run intervals ( Walk = 4.1 mph, Run = 4.9 mph). I ran a total of 35 mins. (approximate). This was my first time running this long since pre-injury! I also did 3 sets of 20 tricep dips. Duration: 47 mins.

April 15, 2009: Walk/Run intervals (Walk = 4.1-4.2 mph, Run = 4.8 mph) I ran 2 out of 3 miles today on the treadmill. I also did 3 1-min. planks (reg., left side, right side)

April 16, 2009: My first run outdoors of the year! I warmed up on the treadmill/outdoors jogging (7 mins) then I ran for 39 mins. outside on gravel. I also did 3 sets of Wigg's abs. Duration: 46 mins.

April 17, 2009: OFF day + 1.5 hours gardening

April 18, 2009: 2 mile run (4.8 mph, incline 7%) + 5 min walking cool-down (curation: 31 mins), plus 1.5 hours yardwork (raking, gardening, etc).

April 19, 2009: Cross training: Mountain biking 1 hour, various core exercises (The Hundred, side planks), 30 mins gardening

April 20, 2009: Walk/run intervals (walk = 4.1 mph; Run = 4.9 mph). I ran for a total of 22 mins, walk 18 mins, all at incline 7%. I also did 3 sets of pushups and 1 downward dog.

 
So as you can see on this Run page you can follow along my training progress as I train for my upcoming races this Spring!
You can also use the page to ask me questions about running as well.
I hope you will find this beneficial to follow along with. :D
Tonight's Question: Are you running any races this Spring and Summer? If so, which ones, what distance, and what date? Is it your first race or have you run many races?
On that note, I am off to do some core exercises (The Hundred, anyone?) and some yoga while watching TV. Eric and I recently started watching The Mentalist, anyone seen it? I love it!
Note: Being the amazing Windows Live Blogger that I am, I just somehow saved this post over my Run page. GAH! Working on it now…
Have a lovely evening!