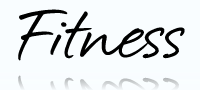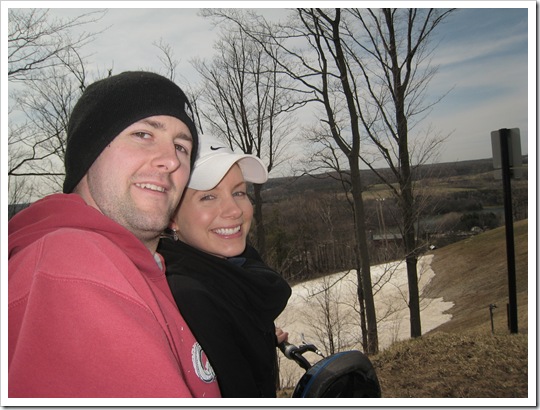 Eric and I had such a fun day together. It felt really nice to share an activity. As I mentioned in my previous FAQ post, I have been trying to find ways to help Eric enjoy exercise again.
So today I told him I would try mountain biking with him because I know that he enjoys biking a lot. I think he was quite happy to be doing it too! :) It was a fun way to spend time together in a healthy way. I told him that I would go every weekend this summer with him if he wants to! I am just happy to see him being active.
Despite the cold weather today, it was gloriously sunny and beautiful. We bundled up and once we got warmed up we were fine.
Here is a fun little video I put together of our day today- complete with a Beach Boys theme song!
haha sorry about the random text at the end…I guess I didn't edit that part out!
So all and all today was a fairly active day! We biked for about 1 hour and then I did about 30 minutes or so of gardening once we got home. Today was another great example of cross training! No treadmill needed. :)
I don't know about you, but as soon as I saw the commercial for Maybelline Stiletto Lash Mascara I knew I had to try it!
I love stilettos after all.
I am constantly asked how I walk in 4" stilettos by friends and family. The truth is I don't know how. I just love them.
I knew this mascara would be for me.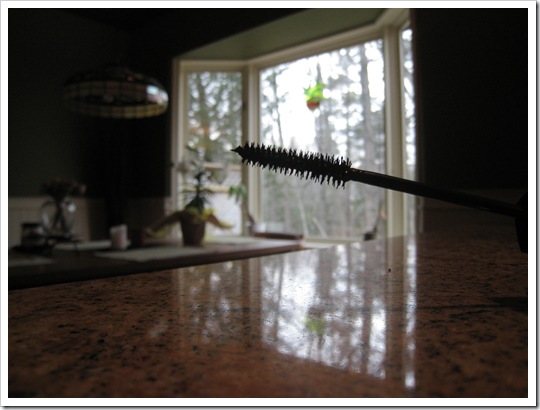 I opened it up and looked at the wand. I am a pretty good judge of how I will like the mascara when I see it.
The wand was narrow and feathered, and the mascara itself has a nice sheen to it and looked a bit glossy. I instantly knew that the mascara would probably go on with minimal clumps. I find Maybelline has always been good at this!
Before Make-up: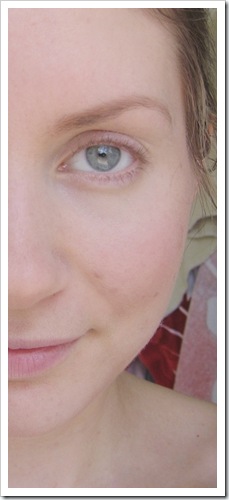 Notice the blonde, pale lashes!
And Voila…
After with Maybelline Stiletto Lash Mascara: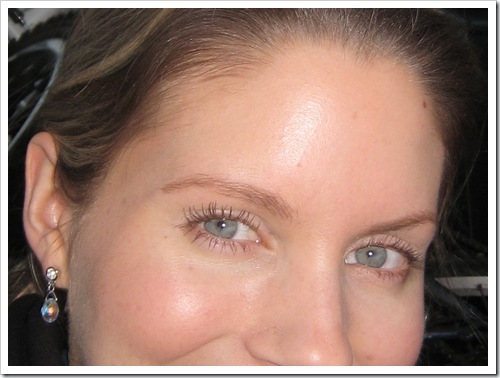 My review?
I think it is obvious that I LOVED this mascara! From the moment the brush touched the tips of my lashes I knew it was 'the one'. I didn't have to wipe off any excess from the brush before using. Which rarely happens for me. I had no flakes even after a long day + activity + cold winds. There were also ZERO clumps! Tonight, I tried another coat just to see what it would do, and to my amazement my lashes got even longer! I think this mascara more than doubled the length of my lashes– sans falsies!
I loved it so much that I went back to the drugstore and bought 2 more! With my luck they are going to discontinue this stuff. :)
Because I love this mascara so much, I am going to do my first ever beauty product giveaway on Oh She Glows!
That's right, I am giving away one of my brand spanking new tubes of Maybelline Stiletto Lash Mascara (Value $12 CAD).
All you have to do is leave a comment below telling me your #1 beauty trick. Link back to this contest and you will get 2 entries! trust me, you WANT to win this mascara! It will change your life. :)
Contest open to anyone in any country!
Contest closes Wednesday at 8pm EST.
Goodluck!

"The secret of happiness is to make others believe they are the cause of it."