Since the weather was so beautiful outside today, I decided to do some gardening for my 'exercise' of the day: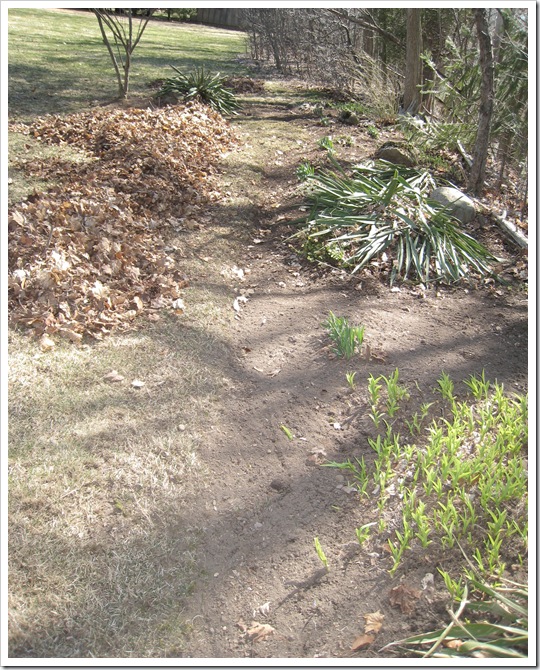 I raked, and raked, and raked the flower beds! Until I got some nasty blisters! I put gloves on but they didn't help.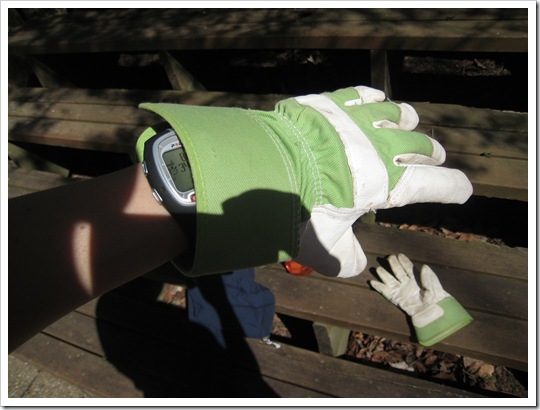 Tulips??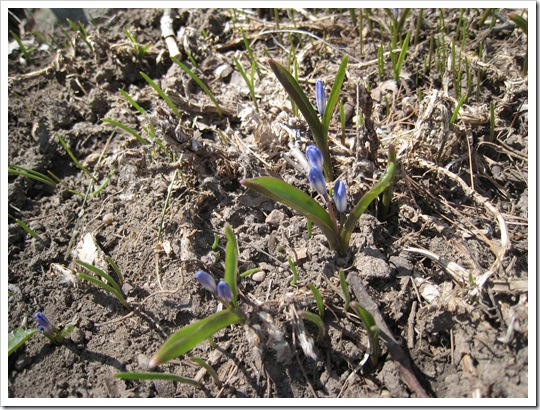 The plant below looks like chives…I'm so confused! hahaha.
More Orange: I had some delicious lemon water for mini breaks. It was so refreshing! In the summer I love making flavoured waters with lemons, oranges, cukes, strawberries, etc.
Progress!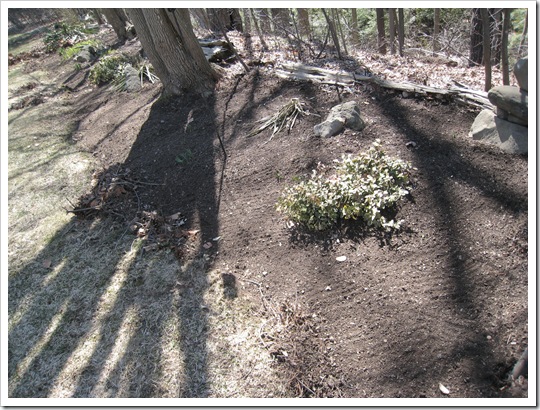 Some yoga stretching. :D Complete with a creepy gardening glove!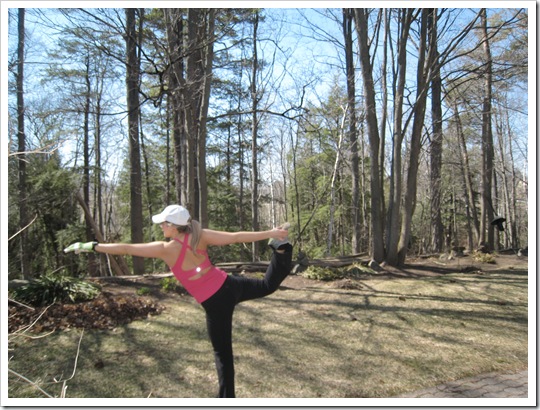 Beautiful Crocuses!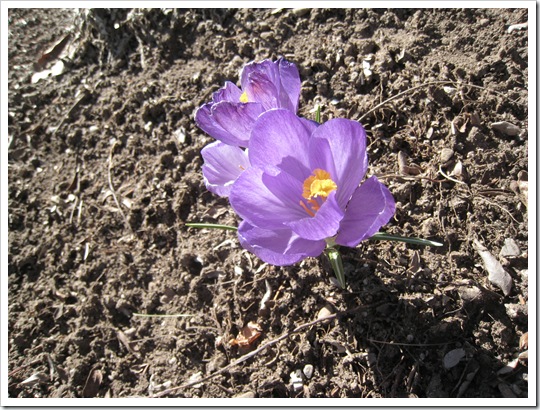 I raked for 1 hour and 25 minutes! Well, that included some mini breaks :) Before I started gardening I threw on my Heart Rate Monitor just to see what kind of calorie burn this type of exercises produces.
'Workout' stats:
Duration: 1 hour 25 mins
Max heart rate: 111 bpm
Avg heart rate: 90bpm (so low! I swear it felt harder)
Feel the burn: 200 kcals
Not to shabby for an 'off' day of exercise! :) As I mentioned in this morning's post, I decided to take today off of formal exercise because my quads and glutes were sore from my outdoor run yesterday. I think I got a great arm workout today from all the raking! Today was a great example of cross-training.
Not all exercise needs to come in the form of 'traditional' exercise to be effective! Sometimes it is fun to just get outside and play.
And to reward myself for my hard work, I took out the lounger from the garage and set it up on the deck!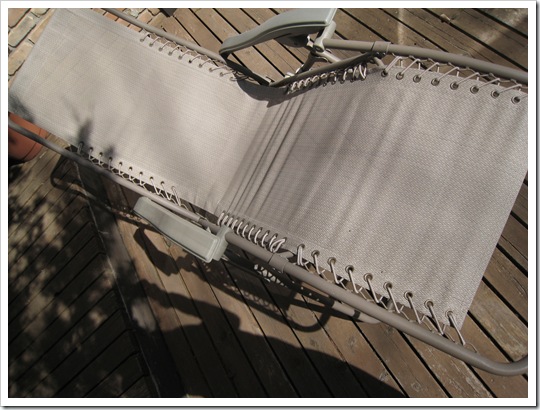 Of course I had to test it out!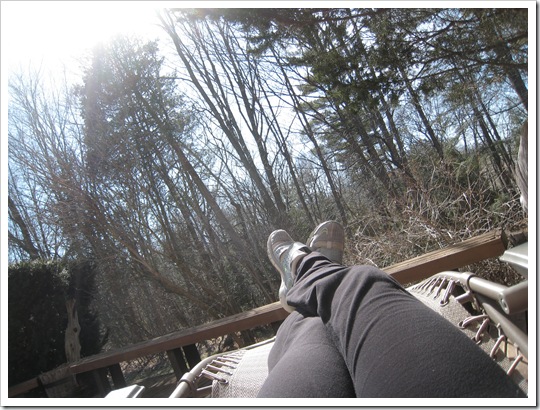 Once inside I was starving! I had this huge, juicy orange to keep the orange theme going. :) Then I had not 1, but 2 bowls of cereal! My cereal included Spelt flakes, dried cranberries, pumpkin seeds, and ground flax. I was finally satisfied after 2 bowls!
I also nibbled on a protein bar + other things while I waited for Eric to get home for dinner. Today wasn't the best example of ending mindless eating I will admit!
Dinner was a wrap…yes, again!
I am obsessed with these wraps lately! I need to start making my Spelt tortillas again and saving some moula. ;)
The toppings:
1/2 avocado
2 T tomato paste
3 cup cooked spinach
black pepper
1 Money's Gardenburger
2 tomato slices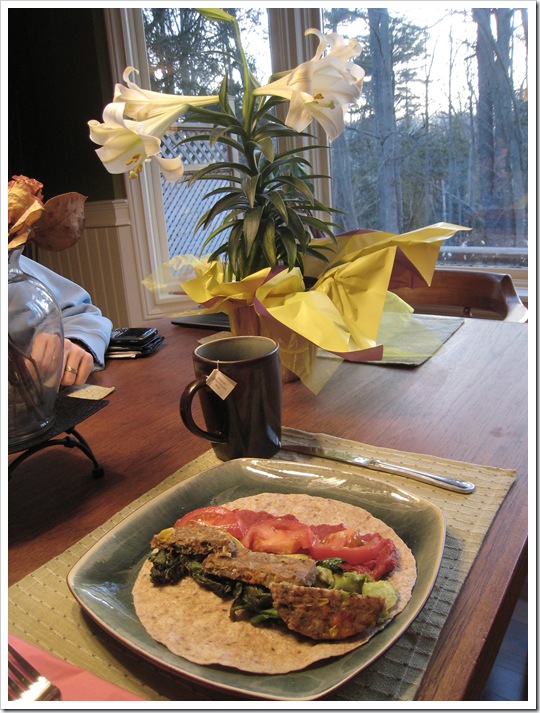 It hit the spot! But of course I knew something amazing was cooking in the oven…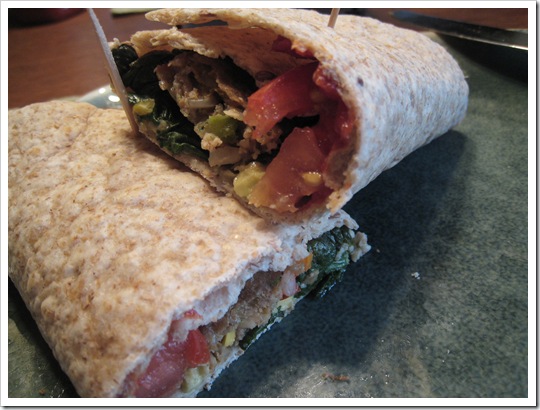 I present to you, part 1 of my next baking experiment!
Part 1 = Vegan Banana Cake
I modified this recipe found here.
Yes, that's right. I crumbled the whole cake apart!
But not before I served myself a piece of cake– the cook needs to sample! And then I went back for another. It was that good! I used toasted walnuts and it made the cake. Finally the hunger monster inside me is satisfied today! :)
Stay tuned tomorrow for Part 2 and Part 3 of the crumbly cake experiment- you won't believe what I am making with this!
I leave you with the infamous Sketchie: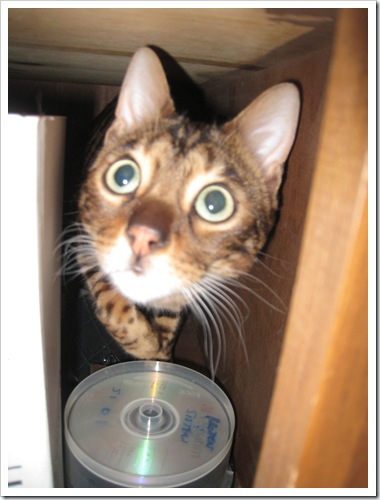 His new thing is opening cabinet doors in the office, crawling in them, and hiding!
What weird and wonderful things do your pets do?