211. Eileen asks, "What is the brand of steamer and do you use it for all your vegs? I have never seen something like it before. Also in a previous post when you first mentioned adding tea bags you mentioned making the tea and letting it steep vs the tea leaves themselves. Which one do you prefer? One last question ~ the brand of cal/mag you use is that a strictly canadian brand?"
The steamer is a Black and Decker. I actually hadn't used it in a long time because it was buried in the back of my cupboard, but I intend to use it more. Steaming is a great way to preserve the vitamins and minerals when cooking.
Regarding the tea in GM, I first tried adding 1 cup of already steeped green tea to my smoothie. It was ok, but I didn't put any fruit in it that day so it was bitter. Next time I do this I am going to try a new recipe out. I love, love, love putting a peppermint tea bag into my smoothie. I just cut off the top of the tea bag and dump in the tea. It makes it so refreshing and minty. I use President's Choice Organic Peppermint Tea. It is found in Canada. I am going to experiment with using different types of tea flavours too. I use Jamieson brand of Cal/Mag and Exact brand of Vitamin D, both of which are Canadian and both of which are low-end. I take 1000 IU's of Vitamin D every day. In one cal/mag pill there is: 333 mg of calcium/167mg Magnesium/20mg Zinc. I try to take 1 with my breakfast and 1 at night with food.
212. Leslie asks, "As you know, I am a HUGE FAN of the green monsters. I made a different one this morning. I combined spinach and Kale this morning, with banana, flax and almond milk. I know kale is supposed to be great for you, i just think it smelled a little weird, and put me off a little when I made it. Also this morning after drinking it i have been feeling a little strange. Usually after having my 'normal' green monsters i feel great! I usually feel fresh and ready to take on the day. any thoughts? suggestions? i know you have kale in yours all the time, i have never actually had kale before this morning at all. i thought combining the kale with spinach would 'baby' me into using it, but it tasted SO different from when i just use spinach. maybe it was just the batch of kale i bought, i don't know, but i wanted to know if you ever ran into that kind of thing?"
Kale is much more bitter than spinach, so it doesn't surprise me that you would notice a big difference in the taste. How much kale vs. spinach did you put in? I would start with one small kale leaf (not a big one). You can also cut off the stem because the stems are more bitter tasting. Also, if the kale is old, it will taste more bitter than if it is fresh. I have on occasion felt a bit queasy after drinking a GM and I think that was because I was super hungry and then I drank it really fast. Afterward I felt a bit off. I am guessing that this wasn't your case (chugging down the kale! Haha), but I thought I would throw that out there. I'm sure it was just a matter of the smell and taste combined that you weren't crazy about. I also find my stomach is more sensitive in the morning. I would probably try using half the amount of kale that you used last time and see if that makes a difference. Also, make sure to blend, blend, blend on a liquefy setting on your blender if you have one. Sometimes, I blend my GM's for a good 3-4 minutes to get the right consistency. If it's chewy you need more liquid and more blending time. Keep me posted on how it goes!
213. Heather asks, "Would you happen to have a recipe for that flax and pumpkin seed bread?  It looks SO amazing!
Gotta love those LaraBars!  What's your favorite flavor?"
For the Flax and Pumpkin seed bread that I make in our breadmaker, the recipe is the following:
¾ c warm water
1 tsp bread machine yeast
2 c whole wheat bread flour
1 tsp salt
1 T sugar (I omitted and it made no difference in rise)
1 T milk (I use Almond milk)
1 T shortening (I used non hydrogenated olive oil margarine)
After 25 minutes the machine beeps and I throw in about ½ cup pumpkin seeds and ½ cup flax (ground flax is best because it is more bioavailable).
My favourite flavour of Larabar is Chocolate Mint. I make a mean knock off too. :)
214. Jessica asks, "Hi! I've been reading for a while now, and I am loving your site and the BBBC!!
Also, I really like the logo you chose and think it fits in perfectly with the goal you have for the bakery. Inspired by you, I have picked up some awesome lululemon workout gear and pants. Just wondering, do they have special washing instructions because there is no care for them on the tags. I don't want to ruin them since they are pricey. Also, I always notice you are wearing them while on the treadmill. Are you able to workout in the shape jackets you are wearing. I feel like I get quite warm wearing any type of jacket while running.Okay thanks. Loving the website and all the help you give!"
Oh boy I love Lululemon! I like to refer to each purchase as an 'investment'. I got my first Lulu gear in 2007. The items that I bought back then I still wear on a weekly basis! They are in great shape. All of Lululemon's items are pre-shrunk which is awesome because it means that I can put my stuff in the dryer if need be and I know that it will come out looking the same. With that being said, I always prefer to hang my Lulu stuff to dry if I have the time. Someone in the comment section said that you shouldn't put Lulu items in with cotton or they will pill- I didn't know this and it is a great tip! My Lulu pants start to pill over time so I should probably take more care with what I throw them in the wash with. Also about working out in the shape jackets- I only wear the shape jacket for my warm-up and cool-down when working out inside. Yesterday, however, I ran outside and I wore my shape jacket for the entire run. It just depends on the temperature and how hard I am working out (yesterday was fairly relaxed for a run). I love the Lulu tanks and Jackets because they tend to have a zipper or fold pocket to put a house key in!
Note: Lululemon just opened their online shop on Wednesday. You can now buy Lulu gear online. I was a bit disappointed in it though because the selection they have online is not great. It is a start I guess! If you want my biggest tip for buying Lulu gear- try buying gently used items off Ebay. This is where I have purchased most of my Lulu items. I get them for about half price and they still have tons of life left in them!
215. Rachel asks, "I'm curious if/how you get Eric to workout. My hubby has definitely gained a few post-wedding pounds but I'm not really sure how to bring it up to him. He eats healthy when I cook but he works all day, eats crap for lunch, and I feel like I can't bug him about it constantly, you know? His parents both are on meds for high blood pressure and I worry that one day he'll get there too. Okay, I'm totally rambling now – any ideas?"
I think this is a really common thing for both men and women post-wedding! Actually, Eric does not currently workout and hasn't for a long time. He used to workout when we met in highschool, but hasn't really done a consistent routine since. I have pestered him to workout with me (because hey, who doesn't like a workout buddy at times!), but he is not interested. He also hates running- so I have only been able to get him out for 2 runs for the whole 8-9 years we have been together. It is hard for him to feel motivated to workout because he has quite a hefty commute on top of his job, much like I was doing when I worked in Toronto. I always say that you have to want to commit to working out or it just isn't going to stick. For a while, the more I asked Eric to workout with me, the more he resisted, so I finally just gave up. I think what would work best is finding an activity that we both enjoy and doing that together. That is why I am excited about us trying out indoor rock climbing! It has always been something he said that would be fun. I think you just have to find that activity that you can do together. Think about any hints he may have given you that you didn't notice. Even if you can get him doing something active without you- say shooting hoops with the guys- that is progress, right? If anyone has any suggestions who have been through the same thing, leave a comment below!
Thanks everyone for your awesome questions! Keep 'em coming! I still have a few more to get to, so if I didn't get to your question today rest assured I will in the next installment.


Exciting news!
Oh She Glows has been nominated for "Best Health Blog'" by the Blogger's Choice Awards!
If you are a fan of OSG, show your support and vote for me!
What do you do to vote?
You click on this icon below. It will bring you to my page. Then you click on vote and you need to sign up. I know, I know, I hate signing up for these kind of things too, but it only took me about 30 seconds to sign up. You can even put in a fake address if you aren't comfortable with putting in your own.
And that's it!
Thank you to all of your support!! :D

Day 22: April 17, 2009: For today's challenge, I want you to stop mindless eating today. I don't know about you, but I can often be found snacking straight from the box or bag in the kitchen- while making dinner or preparing my lunch. It is always better to plan a snack and put it on a plate. Sitting at the table helps cue your mind and body that you are eating! I also eat in front of the TV a lot at night and I am going to not do this tonight and see how it goes. This is going to be a big challenge for me today because I do lots of mindless snacking and nibbling all throughout the day. Goodluck!
Enjoy your Friday everyone! I am off to input receipts into my spreadsheet and enjoy this delicious Apple Cinnamon tea by Stash (one of my new favs!).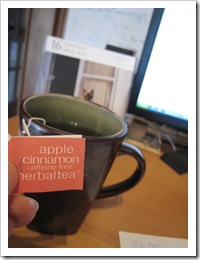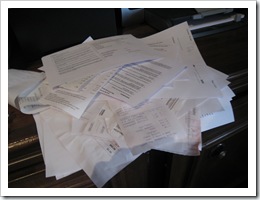 When I am anxious it is because I am living in the future. When I am depressed it is because I am living in the past.
Unknown