I wonder where the birdies is!
Did anyone else's dad ever recite that when they were younger? My dad still says it to this day! haha. I did a quick google and someone said that it came from the 50's. Sorry dad! lol.
Today is all kinds of good. Let me tell you why.
1. It is hella warm and sunny. As in 16C/60F.
2. We have flowers coming up in the garden.
3. I went on my first run outside of the year.
4. I had a really good 'steamed' spinach monster this morning.
Ok, I just had to delete a bunch of exclamation marks because I was getting a wee bit excited.
More wonderful perennials coming up: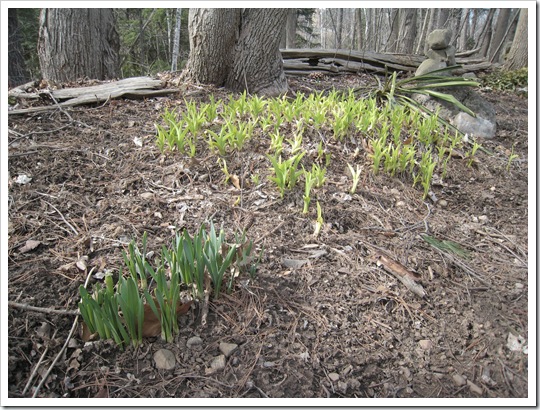 My mother in law was going through all of the flowers in the garden with me yesterday and I think I remember 5 out of 10 (Daffodils, tulips, hostas, lillies, and lily of the valley)! There are so many. If you remember, we bought Eric's parents house from them, so she has been running this beautiful garden the past 20 some years!
I told her I need a Gardening BootCamp!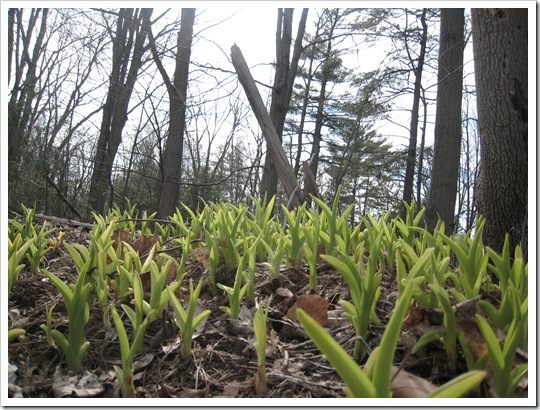 I have never gardened before so I am a bit 'green' so to speak. :)
But I have big plans for gardening! I want Eric to build me a vegetable bed too. :)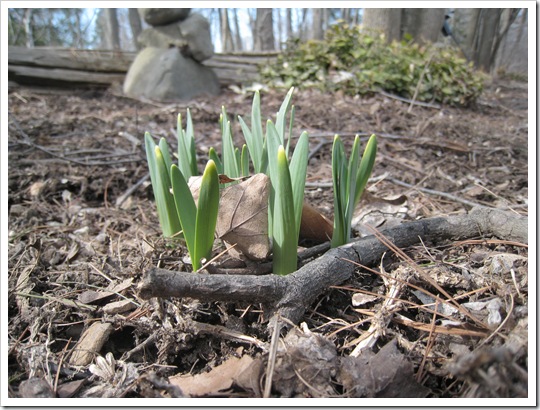 Daffodils (left) and does anyone know what that is on the right? She said it is amazing when bloomed.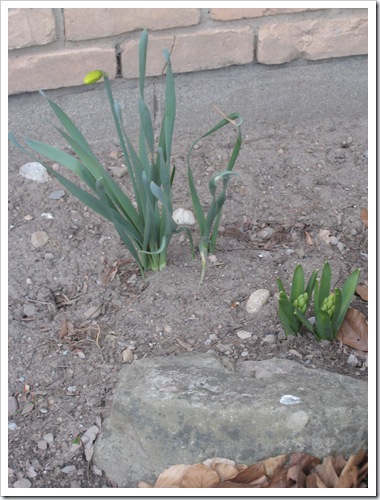 I was out of kale so I made a delicious peppermint spinach green monster today! Since spinach is more bioavailable (absorbed easier) when cooked, I decided to steam my spinach before blending this morning. I steamed it for about 5 minutes until it started to just wilt.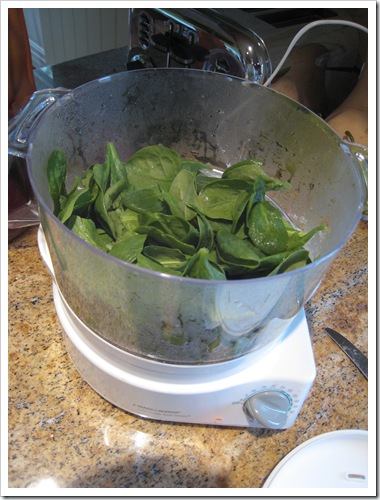 Ingredients:
3-4 cups baby organic spinach
1 cup Almond Breeze
1 T flax
1 organic peppermint tea bag (just the mint, not the bag, lol)
2 large icecubes (to chill up the warm spinach)
It was fabulous!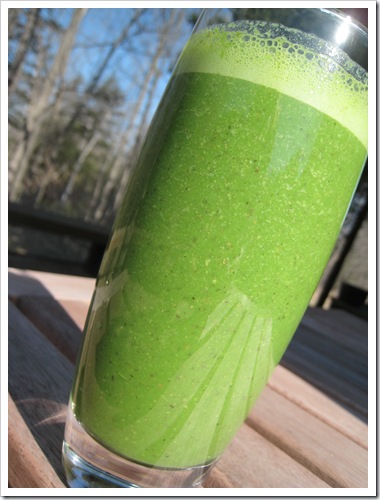 I enjoyed it on the deck while inspecting plants!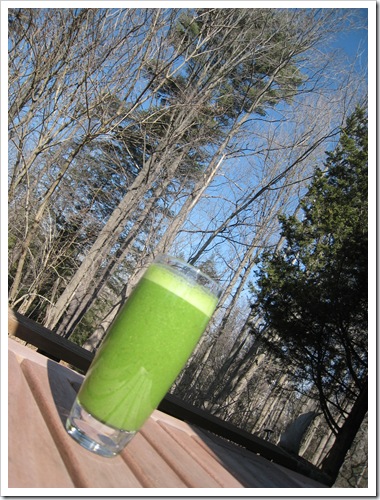 After some work, I got hungry again and had a large banana with 1-2 T of my homemade almond butter (so good!) before my workout.
I decided since it was so beautiful outside I was going to try running outside for the first time this year and the first time post injury!
First, I did a quick 1/4 mile warm up on the treadmill (4.8 mph, incline 7%) and then I did a couple 'test loops' around the house. I was good to go!
Workout stats:
Duration: 46 mins. (this includes the 7 min warmup before I left home)
Max heart rate: 166 bpm
Avg heart rate: 136 bpm
Feel the burn: 330 kcals
Instead of running on the pavement, I ran on the gravel on the side of the road. It was perfect and cushy!
I also ran quite slow. I'm sorry I don't have my speed and distance stats today, I forgot to put my food pod on my sneaker. I have to re-calibrate it today since I took it off over the winter. The next run I do outdoors I will have speed and distance stats for you all!
All and all, I was pretty stoked about my run. I ran for about 39 minutes straight without having to rest. It felt amazing!
One thing I noticed again was how low my heart rate was. While running, I would say my heart rate was around 130-135. This is in part because I was going slow, but also in part because I have trained my body to workout at high inclines. I did one hill today where my HR got up to 169, but that was the only major hill. I LOVE hills! Am I nuts or what?
My knees have been a bit sore while running the past week or so. The pain goes away after the run, but I am going to pick up some knee sleeves to help.
My question to everyone today is this: Do you have any good knee exercises you can recommend that I can do for weak knees?
I really need to build up the muscle around my knees if I am going to be running again.

Day 21 (April 16): If the weather is nice where you are, I want you to get outside for some exercise today! It has been a long winter. I find that getting outside changes things up and renews motivation in one's exercise regime. Especially if you are used to working out indoors like me! Also, do three sets of Wigg's infamous ab exercises! Enter her exciting Itunes giveaway while you are at it!

I love leftovers! So quick and easy for lunch the next day.
Dining Alfresco:
With a Tazo Green tea: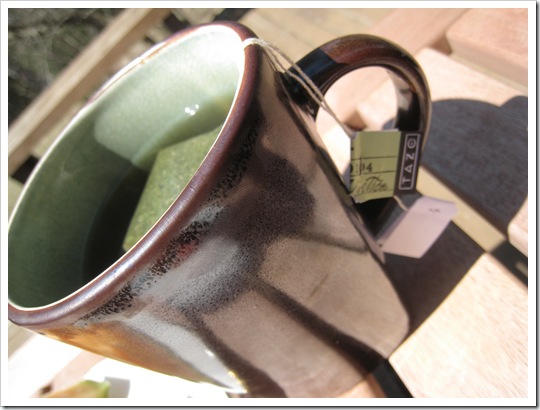 Toast with tomato paste: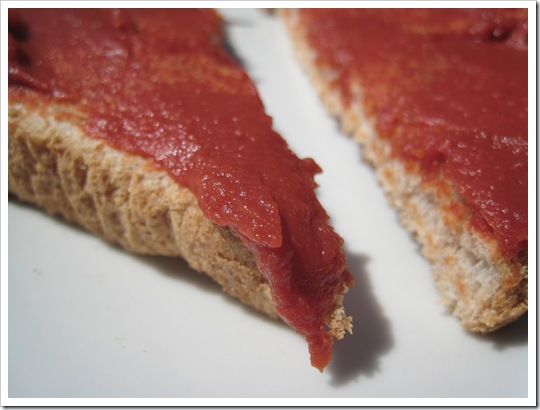 1/4 of the Bean and Lentil Protein Packed Casserole from last night: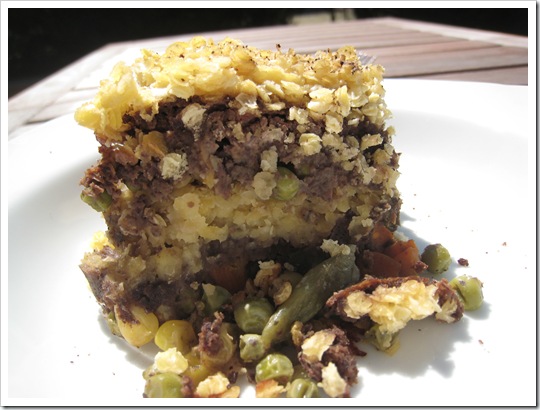 4 large melon slices: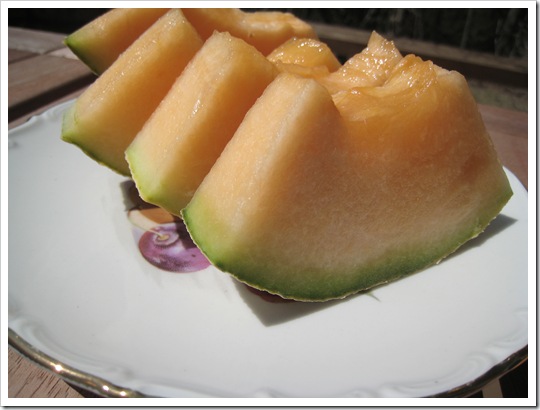 Superb!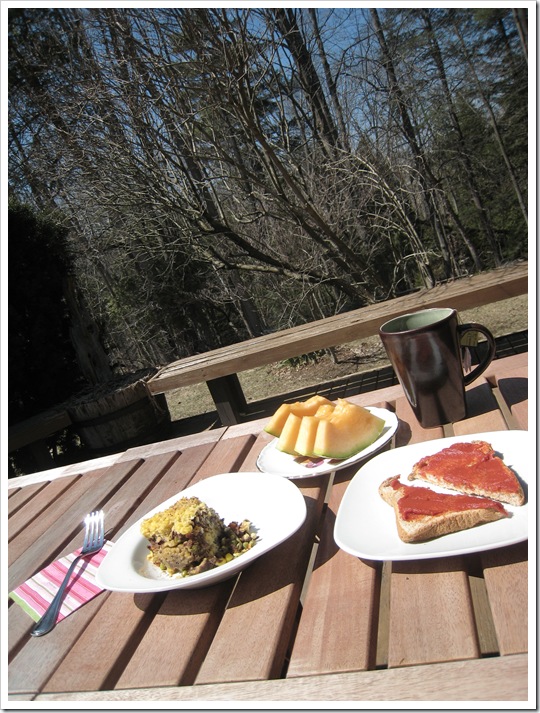 Then I had 1/2 a larabar along with my calcium/magnesium and Vitamin D pills (for stronger bones!):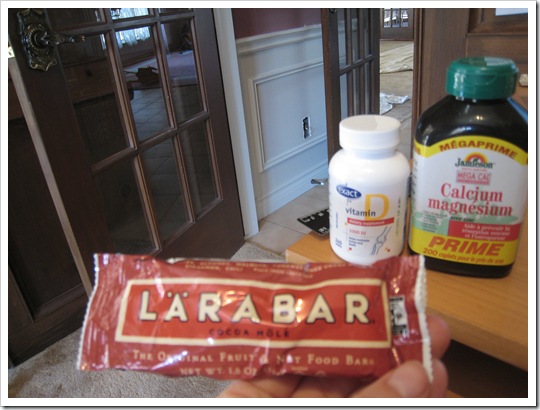 Well, back to work. Tax studying + receipt tracking.
I hope you are having a fabulously healthy day!