208. Kayzilla asks,  "I'm having academic struggles, and I'm just so mad about it.
Because I'm mad about that, I'm also mad and frustrated with my body
image, and because of that I just want to eat more then usual, and
then I feel all crummy about wanting to eat more then usual. I've
stopped binging in the past, and I thought I had emotional eating
owned, but I'm still so very impulsed to just be like "No more. I'm
not making progress quick enough, to hell with eating healthy and
making progress!" because of my frustrations. Have you ever felt that
way while you were losing weight? Do you have any good tips to deal
with that "let's just give up" feeling during those tough times?"
Let's just say if I had a dime for everytime I felt that way I would be rich!! I think it is totally normal to go through these struggles and difficult times with our journey to health. Even though it has been a few years since I felt truly on the right path, I have still struggled many times with my eating, exercising, and body image. For example, when I started grad school it was a tough time for me because we just moved into Toronto. I didn't know anyone and I was dealing with insane pressures at school. I didn't know what I wanted to do career wise and so I decided that I would get my Phd and then my post doctorate and become a professor. Deep down I knew that this wasn't the right path for myself and it caused me stress in all areas of my life. I know firsthand that academic struggles cause much stress. I had the pressure of getting straight A's, writing my GRE exams, and completing my thesis in my last year of university in order to have a competitive application for grad school. I was really stressed out and I would often overeat at night time out of stress. I wasn't eating properly, I was working out too much, and I was taking out my negative feelings on myself rather than getting to the root of the issue. The point of all of this is that all of us will always go through these times that challenge us and force us to grow as a person. These times help us appreciate the good times when things seem to be going along smoothly. My injury and 2 months of sitting was another one of these bumps in the road!
In my undergrad, I ended up going to a school counselor to talk about everything. It was a weekly or biweekly venting session where I could let it all out. I also went to see an academic counselor to discuss course issues and future career options. I relied on my thesis supervisor as a mentor as well. I lucked out and had an awesome and caring supervisor that gave me tons of tips on the whole grad school thing. I also saw a tutor a few times when I was struggling with  advanced neuropsychology for one semester.
I would probably suggest going to see an academic counselor as they can show you your options and help you with a heavy course load. I think if you deal with the root of the problem, it will make your goals of living a healthy lifestyle much easier. Unless you reduce the stress you are feeling with your academics I think you will find that you will struggle with healthy eating. Best of luck!
209. Kayzilla asks,  My new boyfriend is out in the sea somewhere doing.. NAVY stuff. I
haven't spoken to him in a month because he doesn't have any access to
computers, and well, snail mail is slooow. As you can imagine, I'm
pretty bummed and lonely about it. Have you and Eric ever held a long
distance relationship before? Do you have any tips on dealing with
that bummed and lonely feeling?"
Eric and I have never had a long distance relationship before but I can imagine how difficult it would be. The farthest we have ever lived apart is 1 hour, and even that was difficult at times. I would probably suggest taking up a new activity or hobby. When I was injured I learned that I needed to find something to take exercise's place and so I wrote a lot and focused on building Glo Bakery. I'm not saying that you should find something to take your boyfriend's place of course, but try to find another activity that you can do when you normally would have been spending time together. Maybe use this time as a way to reconnect with friends. Friends are great because you can complain and moan and cry and they will be there for you and help you through it. I hope it all works out for you and he will be home soon!
210. Mi asks, "I would love it if at some point you did a post about your beautifying routine – you always have perfect skin/hair/smile and seeing this review reminded me that you do need to go that extra little bit to achieve the best glow possible. I've always wanted to be that well-pampered woman who can be bothered to exfoliate/moisturize regularly, but unfortunately I tend to take good care of my face skin and get too lazy and leave my poor body behind! I don't have major problems with my skin, but i would love to know what your daily/weekly regular routine is!"
My routine is pretty basic! And I will be the first to admit that I neglect my body too.
Body: At best, I am quickly slathering on some Coconut Oil on my skin when I get out of the shower. I also always exfoliate my arms and legs quickly while in the shower with an exfoliating glove. I should exfoliate my entire body but I am usually quite lazy! Exfoliating before shaving helps to get a smoother shave too.
My face skin care routine is pretty basic too.
Night time: I remove my eye make-up with Neutrogena eye make-up remover pads (still using these up!), then I wash with St. Ives Cleanser for Acne Prone Skin. I pat dry with a facecloth, then apple Neutrogena Healthy Skin Anti Wrinkle Cream in a thin layer over my face. I couldn't be bothered to buy both the day and night cream, so I just bought the day cream with SPF and use that at night too! I also apply a small dab of Vitamin E gel on my eyes. It lasts all night and keeps them moisturized.
Morning: I remove any leftover mascara and Vitamin E gel and then I exfoliate almost every morning with my St Ives Scrub. I rinse very well (it takes a while to get it all off) and then pat dry. I apply the same Neutrogena moisturizer and while my skin is still moist, I apply my Marcelle Foundation. Applying foundation to freshly moisturized skin makes it go on much smoother and gives it a bit of luminosity.
About 3 times a week I use my Neutrogena Healthy Skin Rejuvenator and once a week I use my REN Glycolactic Peel Mask (see my shop page for details).

We have another Green Monster of the Day!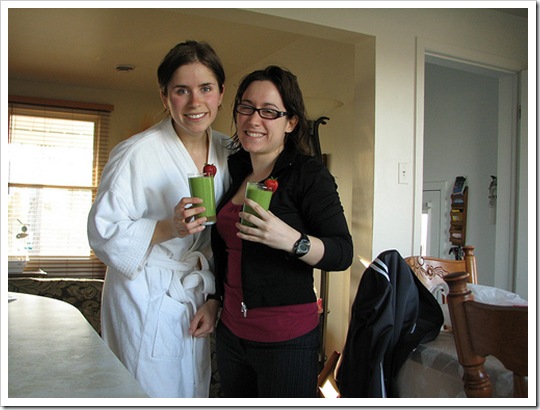 Good morning Angela!

My mother, sister and I had our first green monster this morning after our morning jog! It was delicious!
We tried the recipe posted on your website yesterday, the green  monster of the day. It was so easy to do and tasted AMAZING.
It felt like drinking ice cream, what's not to like! We'll def do them again. They're such a boost of energy in the morning!


New green monsters fans,


Leatitia (26), Marie-Soleil (21) and Aline (49)!
Plessisville, Canada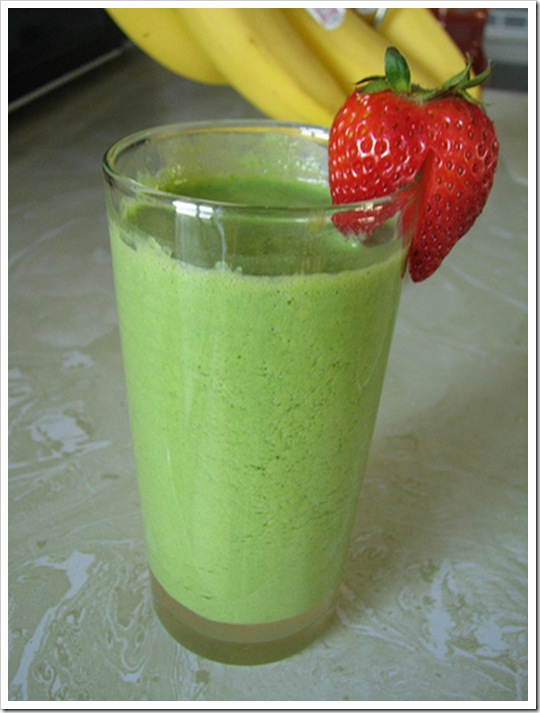 Thanks for sharing! :) My morning no longer feels complete without a cleansing and energy-boosting GM!

What a close race the Fundraising Contest poll was yesterday! Congrats to Brandi C for taking home the win of the prize package.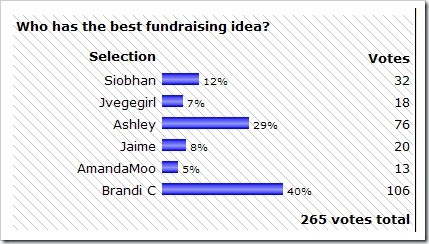 In case you forgot, Brandi's idea was the following:
Brandi C says, "Have a recipe contest to see who can make the next healthy bar/cookie/cake/etc. to be sold on "Glo Bakery." Contestants have to pay to enter and the winner will recieve a very small portion of the profits from the sales of that item or they can just recieve recognition."
Please leave me a comment below and let me know what you think about this fundraising idea. Would it work? What would the entry fee be? Leave your suggestions below!
Brandi please email me your address so I can ship you this wonderful package!
Off to read more on tax stuff! See you around lunch time. :) Enjoy your Thursday!

"What do you first do when you learn to swim? You make mistakes, do you not? And what happens? You make other mistakes, and when you have made all the mistakes you possibly can without drowning – and some of them many times over – what do you find? That you can swim? Well – life is just the same as learning to swim! Do not be afraid of making mistakes, for there is no other way of learning how to live!"
~ Alfred Alder