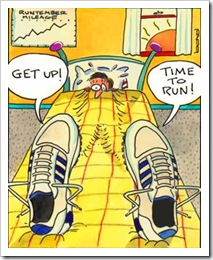 Remember in this post when I told you what my nine in two thousand and nine were?
Things I have never done but want to in '09
RACE! [my first half marathon (May 10th 2009); my first 5k (March 29th)…etc]
Run 1,000 miles in 2009
Visit a new country (we are thinking Ireland this year)
Start an online bakery
Raise over $2,500 for Cancer research
Renovate our new house (e.g., learn how to install hardwood, do basic repairs, etc)
Start working on my first cookbook
Secure a BIG ($$$) contest giveaway on Oh She Glows
What is number 9 you ask?
As you probably can see, some things have changed since I pledged my little heart away at the beginning of the year!
I thought being 1/3 of the way through 2009 (can you believe that!?) and exactly 1 month away from my birthday, I should re-evaluate my goals.
I am not hard on myself when I don't succeed with all of my goals. I realize that life happens and sometimes you just need to roll with the punches! There is a lot of psychological research that shows that individuals who adapt and embrace change are better off mentally, physically, and emotionally.
The key to adaptability is to learn how to modify our goals or objectives in times of change!
When I gained weight during my injury, I could have beat myself up over it and made the situation much worse. But I decided to make the best of a bad situation and find new challenges and goals.
So here are my jazzed up and current 2009 goals:
RACE! [my first

half marathon

10k* on May 10th (see below );

my first 5k (March 29th)…etc

Either another 10k or half-marathon June 14th]

Run 1,000 miles in 2009

How about this

: Don't push my body too hard!
Visit a new country (we are thinking Ireland this year) Due to me starting up my own business, traveling to a new country probably won't be financially feasible this year, but I'm hoping for a miracle! ;) If it doesn't happen I will say 'visit a new city' this year for a mini vacation.
Start an online/homerun bakery –> CHECK! :D
Raise over $2,500 for Cancer research (oh boy, this will be tough but I hope with everyone's help I can still do this!)
Renovate our house (e.g., learn how to install hardwood, do basic repairs, etc) In progress!
Start working on my first cookbook (hmm…MIGHT happen. Maybe this Fall when things slow down a bit?)
Secure a BIG ($$$) contest giveaway on Oh She Glows (I'm thinking an expensive kitchen gadget like a Kitchenaid mixer or something equally cool- I guess I better get on this and email Kitchenaid.)
Learn and practice YOGA! I am finally getting into some yoga by doing poses on my own (self-guided)
*Hot off the Press: I am thinking about running the 10k race for the Mississauga Marathon instead of dropping out of the race all together. I have 23 days until the race. If I am ready, I am ready. If not I will have to drop out as planned. No worries!
NEW GOALS:
Secure a couple weddings this summer for Glo Bakery (do favours)
Pass my Food Safety Certification exam
Take Decorating class(es) for cakes, cupcakes, or cookies
Start Project Glow
Get really good at downward facing dog! (It ticked me off how bad I was at it for a long time. Ok, I still am, but improving!)
Create healthy recipes for Glo Bakery
Secure more advertising for OSG
Advertise Glo Bakery locally and country-wide (wedding magazines, wedding websites, flyers, newspapers, local shops, etc)
That should keep me busy for a little while. ;)

As I mentioned in this afternoon's post, I had to calibrate my foot pod today. I hooked it on my sneaker and ran 1 mile on the treadmill. I didn't really feel like it, but I knew I had to get it done! I actually felt quite refreshed after the mile. I ran it around 4pm, which is when I usually hit my afternoon slump so this was a nice pick me up!
I also found this great You Tube video on stretching the IT band:
It felt so good to stretch that area!
And a couple of thank yous:
Thanks to everyone for your great advice for knee strengthening exercises! I have a huge list to Google now! It helps so much to read about your own experiences and what you did to overcome the knee problems.
Thank you to everyone who gave me such great feedback for my Glo Bakery logo and website design. I got sooo many wonderful ideas- now I just need to figure out how to do them all in Photoshop! A couple of you have so kindly offered your help to me so I may have to take you up on the offer. :)
Tonight's Question:
What were your 2009 resolutions and have they changed at all? Why or why not? Did you have to modify your goals or let go of any all together?
Ok, back to the receipt tracking. The good news is I finished my tax research for the day! I actually got quite a bit accomplished.
Ok, I almost forgot- receipt tracking AFTER The Office!!!

In the pursuit of happiness, the difficulty lies in knowing when you have caught up.
– R. H. Grenville
Loooove that quote!