I found this article by Scarlett Johansson and I just had to share it. I think it promotes a great message and is in line with the goals of Oh She Glows- promoting self-acceptance, a balanced lifestyle, and moderation!
Recently, Scarlett Johansson has been all over the tabloids due to her recent weight loss (which by the way, is reportedly for a role).
Here is a picture taken of her in February/March 2009: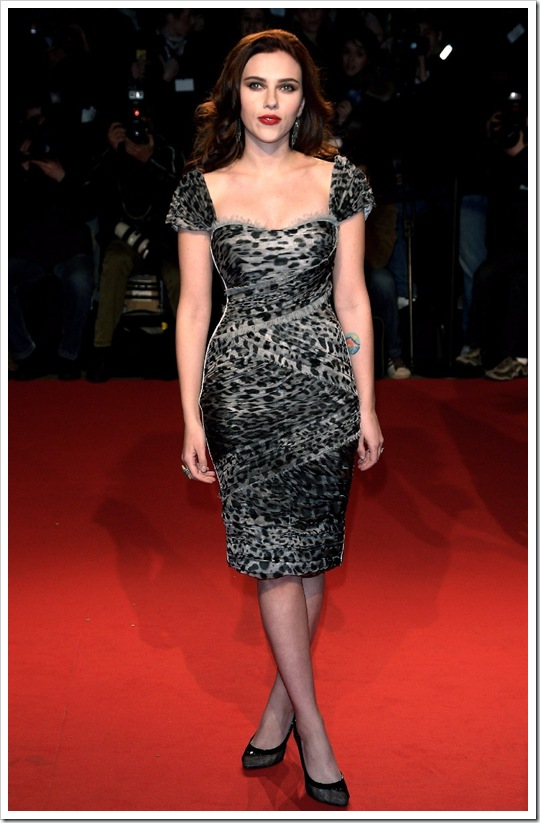 And here she was last year, February 2008: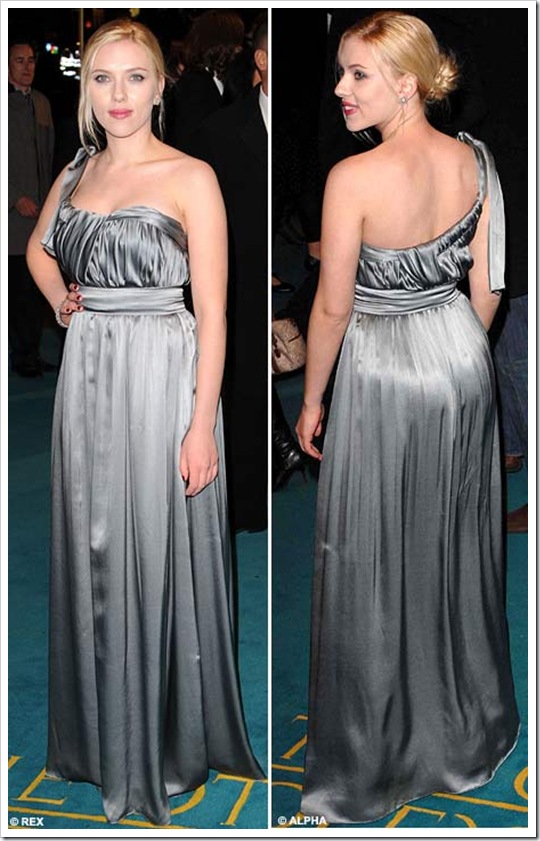 Scar Jo decided to fight back against these 'toilet paper rags' by giving the real scoop. Here are some highlights of the story as featured in the Huffington Post:
"Eating healthy and getting fit is about commitment, determination, consistency and the dedication to self-preservation. While I've never been considered a gym rat, I have, in fact, worked up a sweat in the name of cardio before, and although I enjoy a grilled cheese as much as the next person, I combine the not-so-good foods I crave with an all-around balanced diet."

She also says what she will continue to do once her training for the role is over:

"I'll commit to working out at least 30 minutes a day and eating a balanced diet of fruit, vegetables and lean proteins. Pull ups, crunches, lunges, squats, jumping jacks, planks, walking, jogging and push ups are all exercises that can be performed without fancy trainers or gym memberships." (Amen!)

And she gives the real scoop on her weight loss:

"Claims have been made that I've been on a strict workout routine regulated by co-stars, whipped into shape by trainers I've never met, eating sprouted grains I can't pronounce and ultimately losing 14 pounds off my 5'3″ frame. Losing 14 pounds out of necessity in order to live a healthier life is a huge victory. I'm a petite person to begin with, so the idea of my losing this amount of weight is utter lunacy. If I were to lose 14 pounds, I'd have to part with both arms. And a foot."

What she truly believes in:

"I'm someone who has always publicly advocated for a healthy body image and the idea that the media would maintain that I have lost an impossible amount of weight by some sort of "crash diet" or miracle workout is ludicrous. I believe it's reckless and dangerous for these publications to sell the story that these are acceptable ways to looking like a "movie star.""

On who is at fault:

"The press should be held accountable for the false ideals they sell to their readers regarding body image — that's the real weight of the issue."

She talks about the unfortunate results of extreme dieting:

"The media has packaged for us an unhealthy idea that one must suffer loss, be in the middle of a nervous breakdown, feel pressure from friends or coworkers, battle divorce or have a bitter dispute with an ex in order to get into acceptable bikini shape."

What kind of role model she doesn't want to be:

"I would be absolutely mortified to discover that some 15-year-old girl in Kansas City read one of these "articles" and decided she wasn't going to eat for a couple of weeks so she too could "crash diet" and look like Scarlett Johansson."

"I'm not normally the type to dignify toilet paper rags with a response, but in this case I feel it's my responsibility to comment. In a way, I'm glad some dummy journalist (and I use the term "journalist" loosely) is banking on my "deflating" so that I can address the issue straight from my healthy heart."
I must say, I was really happy to read this article. I just love when celebrities take a stand and speak out on important issues rather than pretending like it isn't happening. I think Scarlett is a strong, intelligent, and beautiful women who is a great role model for women everywhere.
With that being said, I will be curious to see if she returns to her previous weight after the movie role or if she will feel the pressure to maintain her weight loss.
What are your thoughts? Let me know in a comment below!
Today's Agenda:
Today and tomorrow my brother Chris is here (9am-3:30pm) with a buddy to do renos on the house! My brother is a full time firefighter and also runs a construction business. He will be showing Eric how to do the electrical work, wiring, and installing pot lights in our family room.
Fitness
I got up at 6:30am and worked out so I would be out of the room before they arrived. The poor running beast is now covered in plastic once again! lol.
Workout stats:
47 mins

Max heart rate: 166 bpm

Avg heart rate: 145 bpm

Feel the burn: 416 kcals
Today I ran- get this- over 3 miles! It was quite a strange feeling. I just felt 'ready' and able to keep going. Now mind you, I am still running at a speed less than 5 mph (4.8 mph, incline 7%) so I am not over-exerting myself or joints.
Here is what I did:
2 min walking warm-up, 4.1 mph, incline 7%
20 min run, 4.8 mph, incline 7%
20 tricep dips, drink of green tea (I needed a caffiene boost as it was early!)
10 min run, 4.8 mph, incline 7%
20 tricep dips, drink
10 min run, 4.8 mph, incline 7%
Walking cooldown, 3.5-3.0 mph, decreasing to 0% incline by finish
20 tricep dips
Felt great and the time flew by!
Today's BBBC Challenge is to do 3 sets of tricep dips as well as stretching after your workout today.
 I also made another loaf of bread so the boys will have some fresh bread by lunch. :)
I'm not sure how much work I will be able to get done in the office today with all the noise going on! I may have to find a secluded area of the house and bring my laptop there since my office is located right next to the family room where they will be working. Later this afternoon, I am also babysitting my niece for a bit. :)
It is going to be a random day, so we will see how it goes! If I find I am not getting any work done, I may go out and try to find some canisters for my kitchen organization project.
See you later for a recap of all the reno madness going on! I can't wait to go 'gross out' the tough guys with my green monster! haha
Don't forget to vote for the winner of the Fundraising contest!

"Setting goals for your game is an art. The trick is in setting them at the right level neither too low nor too high." Greg Norman